For an espresso-free caffeine experience that's more akin to a meditation than a coffee break, Melbourne's Assembly may be just what the coffee guru ordered. A compact minimilist caffeine shrine in inner Carlton, Assembly is about all things coffee- all things, that is, except espresso.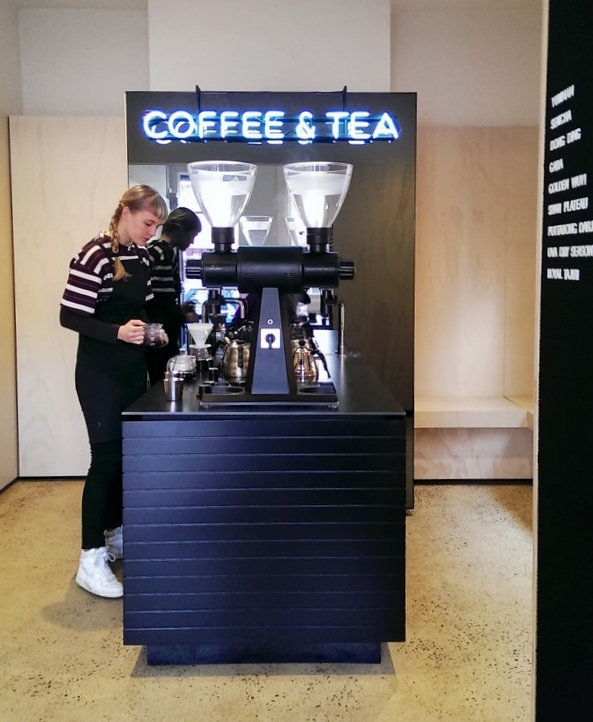 We arrive on a blustery Saturday morning well and truly ready for a warming brew. Assembly is a small, whitewashed, wood-panelled and filled with light. At the front of the space sits a small communal table that seats 6, temptingly laden with cakes as if we'd arrived just in time for morning tea. I spy Matt Forbes doughnuts amongst the cookies and cakes, almost impossible to resist, and there are arch-shaped indented wall shelves stocked with one of each and every third-wave coffee gizmo I know of.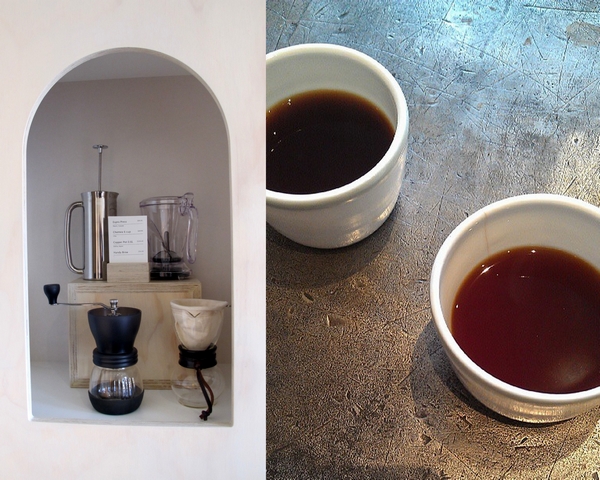 Assembly's mission is to spread the word of non-espresso brews. To this end, they source, and beautifully repackage, a range of teas and coffees from the likes of Reuben Hills, Market Lane and Small Batch. They painstakingly prepare the brews in-store, but you can also purchase beans and relevant coffee geek paraphernalia to take with you.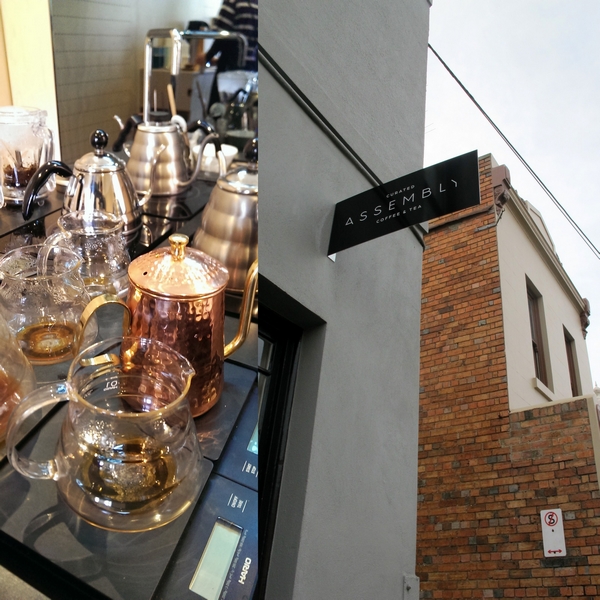 We're run through the flavour profiles of four different filter coffee options. There are also 9 teas on offer. We try are the Los Nubes Miramar from Guatemala, roasted by Market Lane and the Ethiopia Yirgacheffe Kochere roasted by Market Lane, both black, as well as the Candyman blend, served with milk and roasted by Small Batch Roasters. There's also the Finca El Naranjo from Honduras. The coffees are brewed one at a time, but for those who don't have time to wait, there's a cannister of batch brewed coffee ready to go, so you can help yourself to a paper cup and be on your way.
My partner in crime and I taste the two black coffees, and, serendipidously, I prefer the Los Nubes Miramar, with its gorgeous flavour of stone and dried fruits and nutty undertones, and he prefers the Yirgacheffe Kochere's citrus and berry tones. The two couldn't be more different, and we buy 100 grams of each for some further aeropress experimentation.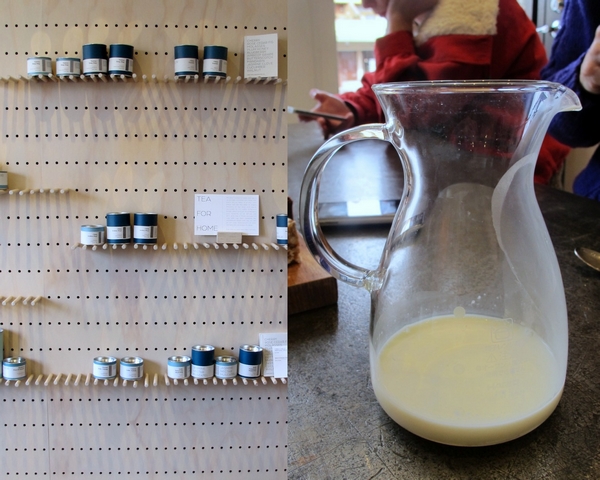 What I love about this concept is the ability to purchase tiny lots of beans – as little as 100g or even 50g, which means you're buying what you will use in its optimum state – a dose of coffee is about 15 grams, so 100g will get you about 6 filter cups. It also means you can try a bunch of different beans and see what flavours tickle your fancy.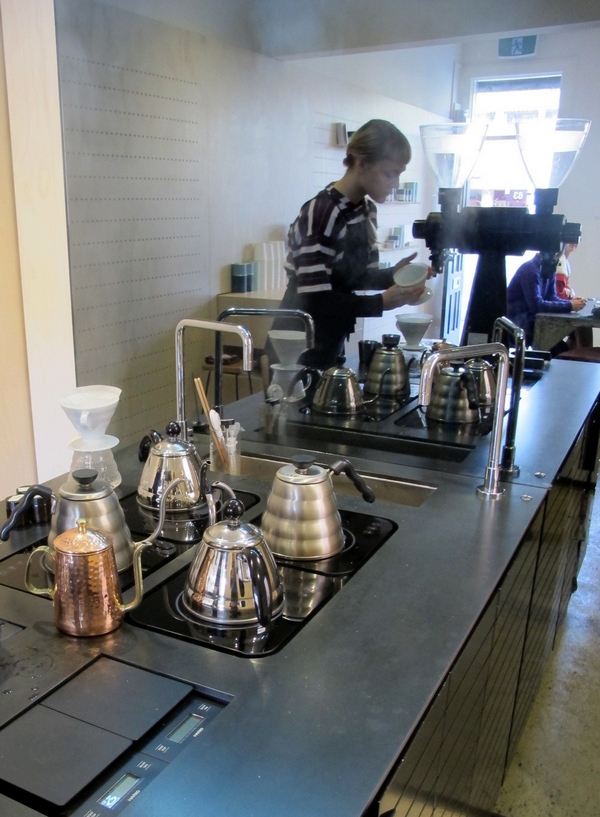 I'm surprised to find that I like the small space, and appreciate the communal feeling of sitting at the only table in the house and chatting to your neighbour. Assembly also have an online store, and you can join their 'Coffee Fellowship', in other words, buy a coffee subscription, either for yourself or as a gift for someone super caffeine-mad. *Hint hint*
Assembly Curated Coffee & Tea
60 Pelham Street Carlton VIC 3053
Monday – Friday 7:00am – 6:00pm
Saturday – Sunday 10:00am – 5:00pm
About me

Sharing easy recipes, hunting down the

best coffee

. Honest accounts, nothing too serious.

Read more...

Popular posts this month…

This work is licensed under a

Creative Commons Attribution-NonCommercial 2.5 Australia License

.

Disclaimer:

All opinions in this blog are mine, an everyday, real-life person. I do not accept payment for reviews and nor do I write sponsored posts. I do not endorse the content of the comments herein.