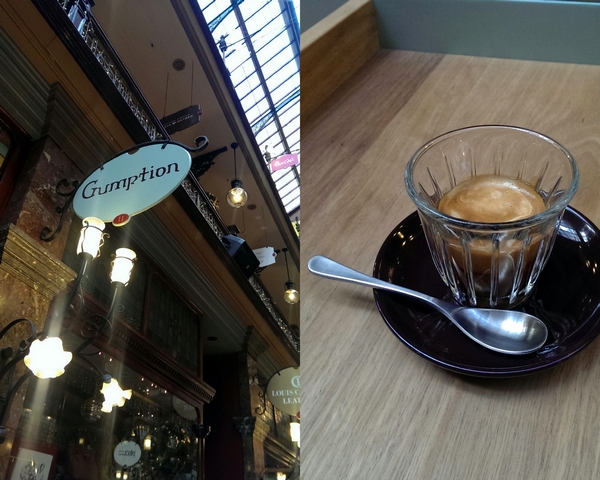 Serving coffee and coffee only, no brownies, no banana bread, no toast and nary a canelé in sight, Coffee Alchemy's 'Gumption' launched last week with little fanfare and much positive word of mouth. You'll find it on the ground floor or the iconic Strand Arcade on Sydney's Pitt and George Streets.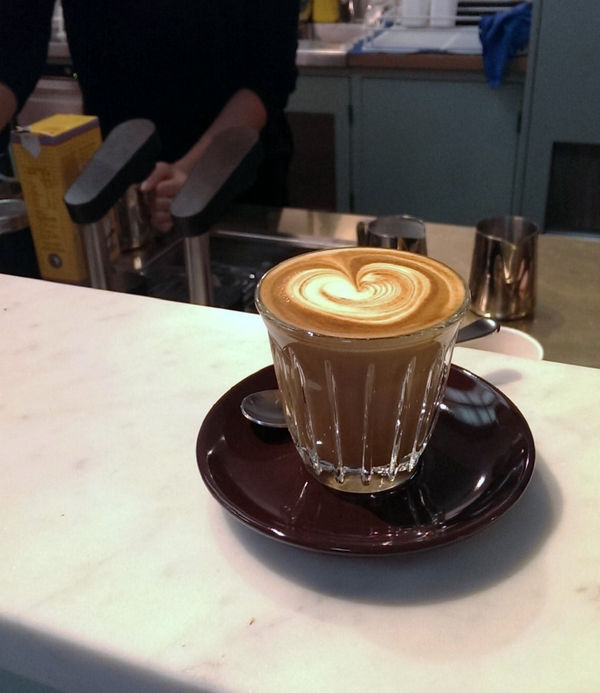 Browse through writeup after writeup after writeup featuring the ever-humble Alchemy co-owner Hazel de los Reyes and you won't be surprised by this lack of self-promotion. Although de los Reyes and Alchemy have won a slew of awards and are generally regarded as pilgrims of specialty coffee in New South Wales, they're eager to let their coffee speak for itself.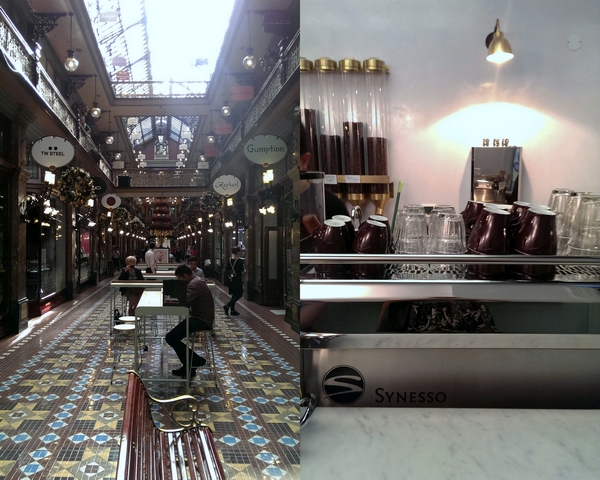 Here's what to expect at a place that serves coffee and coffee only. Expect to pay at least $4. Order and pay at the counter. Ask for a glass of water. Take a seat at one of turquoise benches. You may have to wait a while. One of the staff will bring you your brew. They will tell you what it is, and, whatever it may be, they will sound absurdly enthusiastic about it. Drink your coffee. Sit in the lovely Strand arcade (or, if there's no room there, cram yourself into the standing room only section inside) and scrape out every. last. dab. of caffeine with that perfectly shaped spoon they have helpfully provided you. Have a lovely day.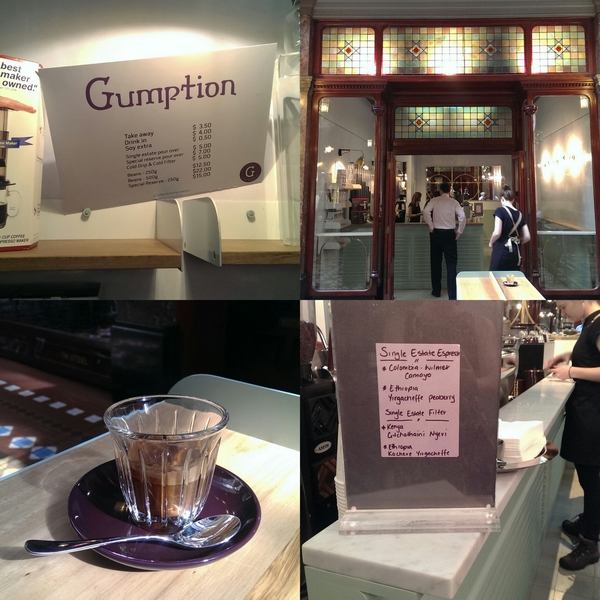 In case you can't tell, the large handful of visits I've had at Gumption have left me pretty impressed. They just really care about their coffee so damn much, and they know what on earth they're supposed to do with it. I was always an Alchemy fan, but Addison Road is a long way from home, and this little nook is right on my way to work. And I love a place where 'I'm just having a coffee' is the only option for ordering, rather than a statement that causes the waiter to give me the side-eye.
So thank you, Hazel and crew, for setting up shop in the CBD. Long may you serve coffee at The Strand, and coffee only.

Gumption by Coffee Alchemy
Shop 11, The Strand Arcade (412-414 George Street)
Sydney, NSW 2000
02 9232 4199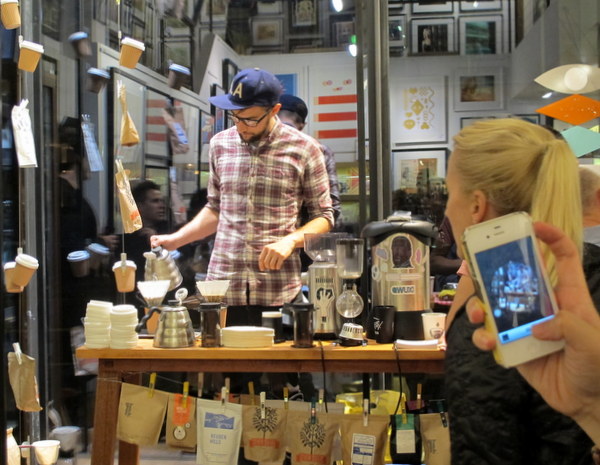 When I say coffee, I mean espresso. So it's easy to forget that there's more than one way to brew a bean. Luckily, the Black Coffee Pop-up is in Sydney this week showing off the ins and outs of non-espresso coffee methods, brewing pour-over, siphon and the aero-press coffees from 19-22 April at Outré Gallery in Surry Hills.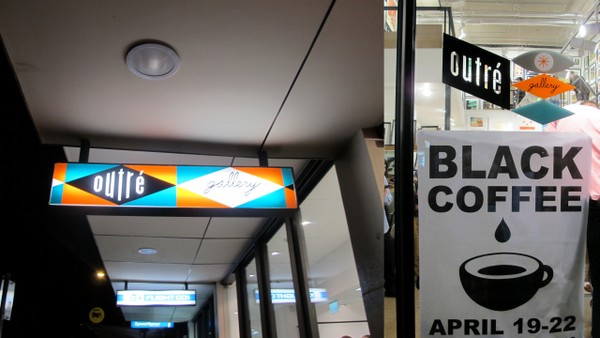 Black Coffee is exactly what it sounds like. The brainchild of Seven Seeds barista Mark W Free (the one in the hat), Black Coffee has appeared at Somewhere Store Gallery in Melbourne and serves nothing but black coffee – no milk, no sugar, no espresso, and, according to their website, 'no bullshit'.
There are a range of Sydney and Melbourne beans to sample – Mecca, Single Origin, Reuben Hills and Coffee Alchemy, Market Lane, Seven Seeds and Small Batch by Auction Rooms.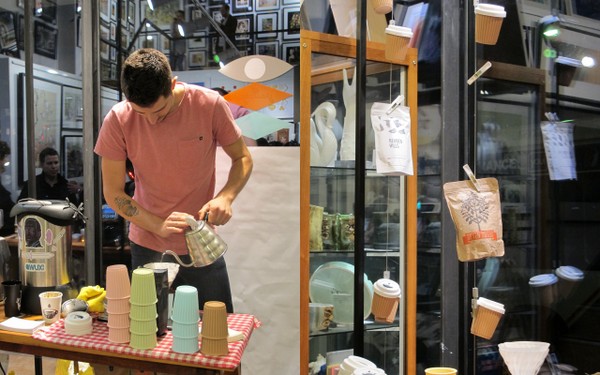 The focus on the coffee part of coffee makes sense to me. And I have to admit it's nice to savour more than a thimblefull and really drink in that aroma. We tried the Market Lane Boa Vista from Brazil (pourover), its heady aroma of roasting chestnuts drawing us in. The taste is far mellower than the smell, far from the concentrated hit I'm used to, but it grows on you.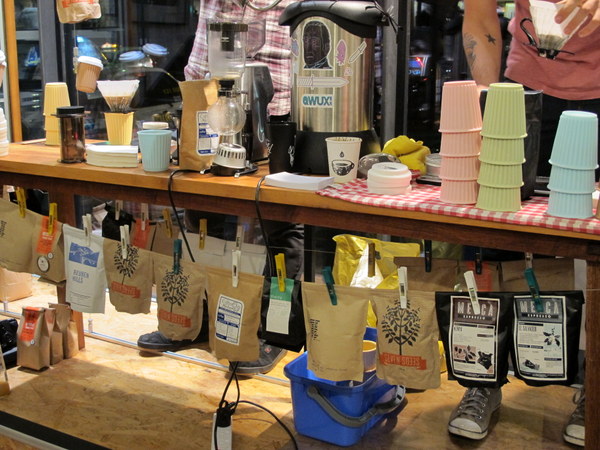 Recently there's been a growing trend towards coffee geekery and gadgetry (in fact, towards geekery and gadgetry in general), but also a renewed interest in no-fuss food and drink. The time is right for something like the 'pay what you you feel' Black Coffee pop up, proving that anyone can make coffee, you don't need a fuck off espresso machine, a commercial grinder or a crash course in barista basics.
It's a good time to be a caffeine addict, however you take your coffee.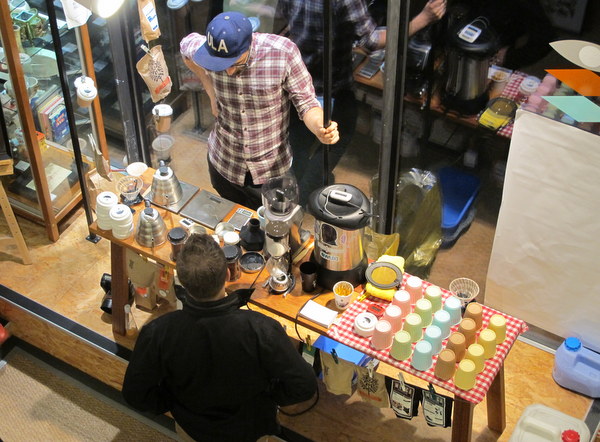 Black Coffee Pop up Sydney
19-22 April 2012
Outré Gallery
7/285A Crown Street
Surry Hills NSW 2010
(02) 9332 2776
http://blackcoffeeshop.tumblr.com/
http://blackcoffeeshop.com.au/
So by now you probably know the macchiato is my current coffee of choice. I love an espresso or a ristretto, but a few too many black-coffee-on-an-empty-stomach days on a Portuguese holiday kinda cured me of the habit, as did my frugal nature; $3 or more for a shot of coffee with no additions just seems like bad value. A macchiato is also a bet-hedging drink; the milk tempers a short black which may or may not be brilliant, hiding any extra bitterness it may have. Here's a list of 3 places I think make a great one (in no particular order).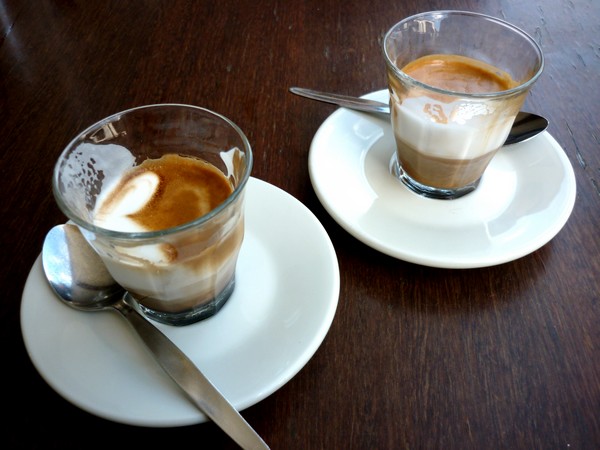 1. Plunge Coffee, Summer Hill
This had been on my wishlist for ages and I wasn't disappointed. Sitting on a street that real estate agents would describe as 'funky' and local council marketing would describe as 'a village', it's a nice place to sit and there's plenty of seating. The coffees here are beautiful and taste as good as they look. A bit steep at $3.50 but the milk is silky smooth and so is the flavour. They use coffee alchemy coffee.
Plunge Cafe
48 Lackey Street,
Summer Hill NSW 2130
(02)9799 9666
www.plungecafe.com.au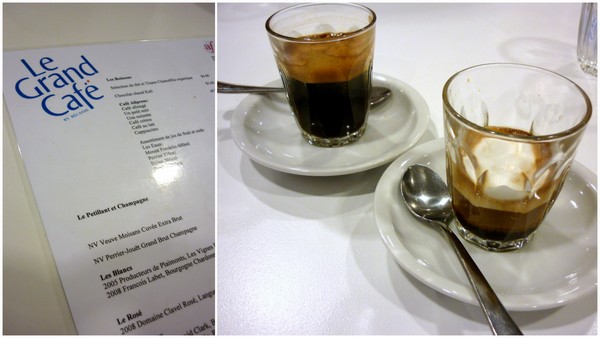 2. Le Grand Café, Clarence Street
The café in the foyer of Alliance Française sells scrummy looking pastries by Bécasse and does more substantial food as well, but I'm more interested in their coffee. All coffees are $3, unless you prepay and buy a bunch at a time and then the work out at $2.50 each. They use Allpress coffee which I like and their macs are not too long with a generous daub of froth. The service is good too.
Le Grand Café
257 Clarence Street,
Sydney CBD NSW 2000
(02) 9267 1755
http://www.afsydney.com.au/Cafe/Default.aspx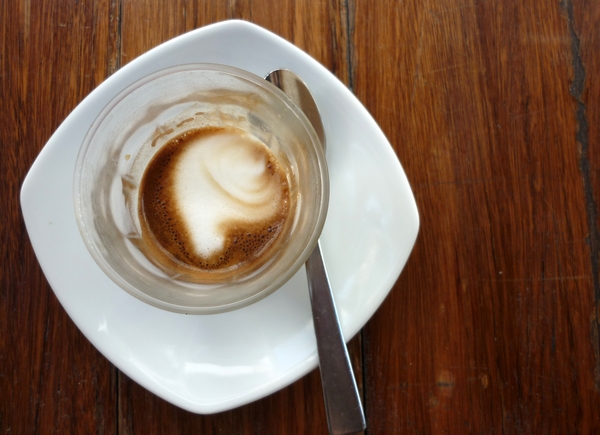 3. Single Origin Roasters, Surry Hills
This macchiato is so ridiculously expensive I considered not recommending Single Origin on that basis. It is also hipster paradise and only open on weekdays. That said for $4 you'll feel no qualms about returning it if it's not to your liking. I've been there quite a few times and have never had to. You also get a choice of beans if you so desire. The branding of this place is such that 250g bags are sold at 15 bucks a pop. Not so rapt on the tiny stools and tables either.
Single Origin Roasters
64 Reservoir Street,
Surry Hills NSW 2010
(02) 9211 0665
www.singleorigin.com.au
About me

Sharing easy recipes, hunting down the

best coffee

. Honest accounts, nothing too serious.

Read more...

Popular posts this month…

This work is licensed under a

Creative Commons Attribution-NonCommercial 2.5 Australia License

.

Disclaimer:

All opinions in this blog are mine, an everyday, real-life person. I do not accept payment for reviews and nor do I write sponsored posts. I do not endorse the content of the comments herein.