Café review – Flint and Steel (Coffee Alchemy), Marrickville
Flint and steel in Marrickville is one of the many cafés I've been itching to try for ages now. It's on Addison Road, one of those hip, up-and-coming main drags in the inner west, the kind of exposed, cracked and uneven arterial Marrickville Council road that make the City of Sydney Council look like an overbearing helicopter parent. It's dotted sparingly with second hand furniture stores, Thai takeaways and of course, cafés.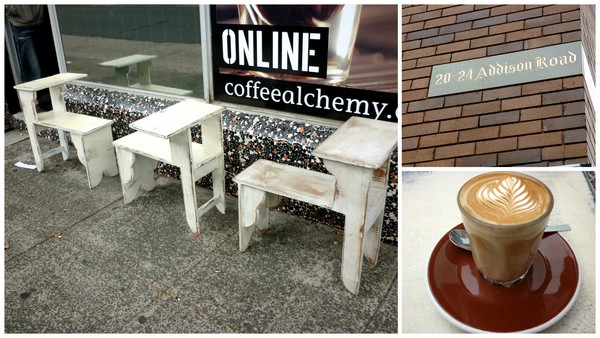 Apart from house hunting, a few trips to Reverse Garbage and the bogus Marrickville Organic Market (not all of it is organic, not all of the prices are marked), it's a road I've been down without stopping many times. This is not a criticism of the Marrickville/Enmore border; far from it.  Everything you need is there, but not so much that it's overwhelming. You're just outside the action, just outisde of Enmore/Newtown, a few bus stops from Sydney's Little Portugal and a half hour bus ride from the CBD. The area has a lot in common with my current home, Alexandria, with its wealth of industrial conversions, dog parks and cafés. But Alexandria is a 25 minute walk from the CBD and I'm one lazy blogger who cannot drive her boyfriend's manual car, or any manual car for that matter, so it has always seemed quite far out to me.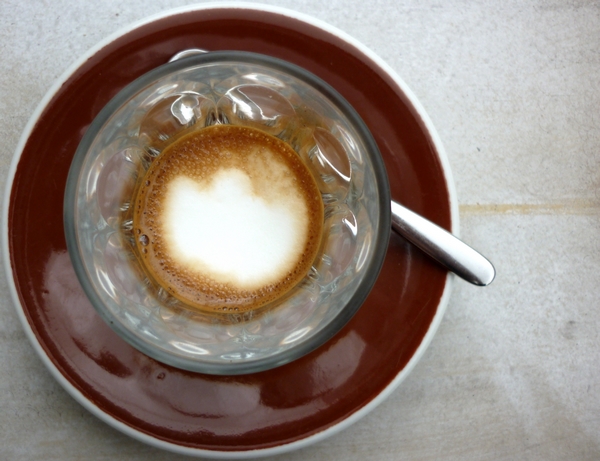 I stepped off the ever-reliable 355 bus to find I was more than 10 minute early, again! As I turned the corner I could already smell the coffee roasting. I followed my nose and the smell was even more enticing inside the shop. I ordered a macchiato and sat out the front as it's quite dark inside. The barista brought out my coffee soon afterwards with a little glass of water which I appreciated. The macchiato was very short, the way I like it, with a beautiful striation. I took a sip and the first flavour I tasted was this overwhelming caramel note, I know that sounds pretentious but there you go. I'm not well-versed in coffee tasting lexicon but it was a very singular flavour, not rich or deep but clear and sweet. I was impressed with the clarity of flavour but I have a preference for something a tad darker and richer.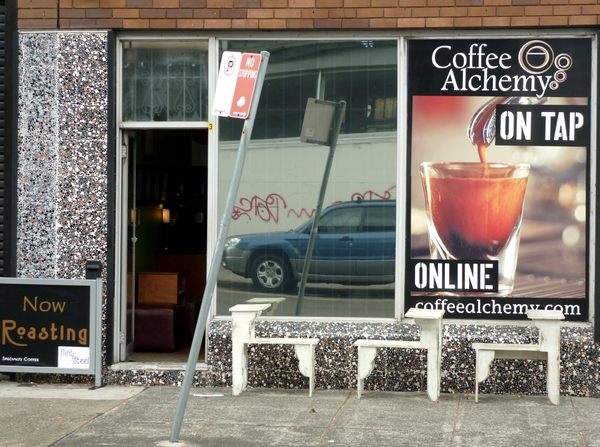 Waiting for my usual coffee pal, I was a tad nervous as I wanted to take photographs. I knew that Coffee Alchemy is primarily a coffee roaster and training facility, so it only has a tiny espresso bar at the front (Flint and Steel). I was going to have to ask permission. I generally feel ok with photographing interiors of cafés without asking as café owners don't seem to mind and I consider cafés semi-public spaces. But in a small space it was inevitable that I would end up photographing staff and/or customers so I felt the need to ask.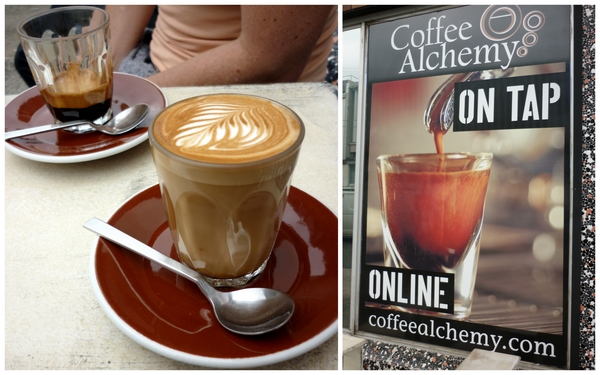 My friend arrived and ordered a short black. The barista offered her a choice of three single estate coffees, and she chose the Guatamalan, which promptly arrived with a glass of water and had a darker, more chocolatey flavour and a tad longer shot, as she's specified. We ordered two more coffees for good measure, a piccolo latte for me and another espresso for her. My piccolo had a gorgeous pattern on it, very photogenic. I wasn't actually in the mood for a milk coffee, I just wanted a point of comparison and that's the largest coffee I can bear to drink. It was smooth and creamy but lacked the body I was after and I couldn't finish it. I wanted a short black if I'm honest.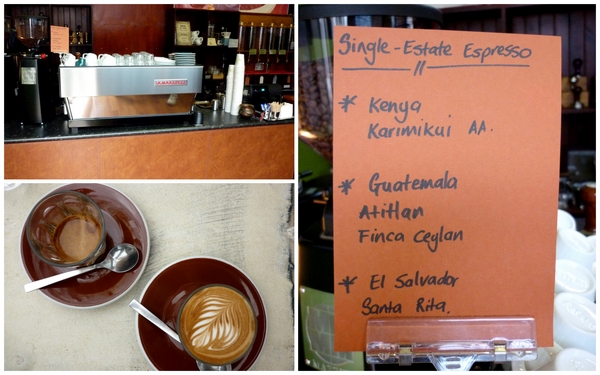 Flint and Steel describes itself as 'a little café tucked away in a quaint suburb'. While this description may seem a tad corny, it is a blink-and-you'll-miss-it kind of shopfront, if not for the massive logo on the front window. Inside there are a few benches facing the front counter and a couple of side tables, and outside are three shabby-chic stools with large arm rests, so there is always somewhere to rest your coffee. However it's not a place to wile away the hours and they don't serve any food whatsoever, as they are primarily a coffee roaster. It wasn't particularly busy, but then it was 10am on a weekday in Marrickville. We were there about an hour as people popped in and out, mostly getting takeaways, beans or freshly ground coffee to take home. I popped in 15 minutes prior to closing on Saturday arvo and they were a lot busier, with about 8 customers squeezed in sipping coffees and 5-or-so more ordering coffees and beans to takeaway.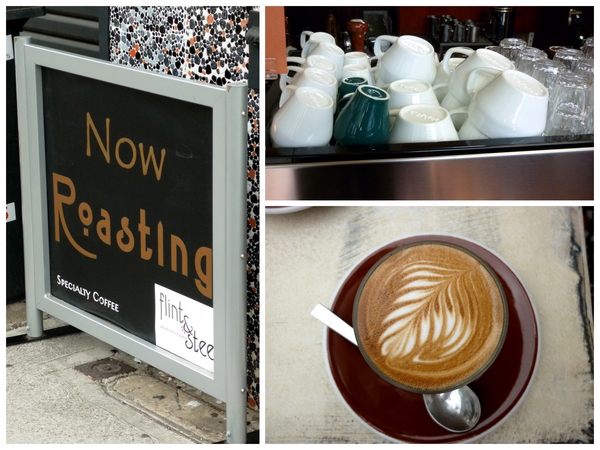 Overall, I thought it was definitely worth the $3 each coffee cost. The staff were pleasant and knowledgeable and their attention to detail was impeccable, they were clearly focused on what they were doing and knew their stuff. My friend tried two coffees, the Guatamalan and the El Salvadorean and preferred the Guatamalan  as she found it to be just a little bit smoother, richer and with less of an aftertaste. When I went back on Saturday they had three completely different blends on offer, so there's plenty to try.
At the end of our visit, I stammered out 'Uh, do you mind if I take a couple of photos? I write a blog…' 'Sure!' the cheerful barista beamed at me. Phew. No stress.
Flint and Steel (Coffee Alchemy)
24 Addison Road
Marrickville, 2204
(02) 9516 1997
Weekdays: 7:00am – 2:00pm
Saturdays: 8:00am – 3:00pm
About me

Sharing easy recipes, hunting down the

best coffee

. Honest accounts, nothing too serious.

Read more...

Popular posts this month…

This work is licensed under a

Creative Commons Attribution-NonCommercial 2.5 Australia License

.

Disclaimer:

All opinions in this blog are mine, an everyday, real-life person. I do not accept payment for reviews and nor do I write sponsored posts. I do not endorse the content of the comments herein.