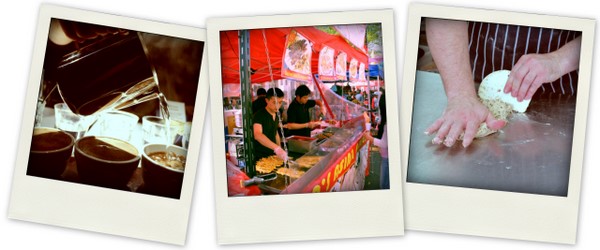 The best way to learn about food is by experiencing it, and I don't just mean eating. Experiencing food through festivals, workshops and classes, learning by listening, watching and doing; there is something so rewarding about being actively engaged in food. Here are some of the things I've been up to on my food journey.
Events
Eat. Drink. Blog. Dinner Kingsley's Steak and Crab House, 5 November 2011
Mi Casa Su Casa in-home restaurant preview dinner, 6 October 2012
Festivals
National Multicultural Festival 2011, 11-13 February 2011
Campsie Food Festival, 4 June 2011
Haberfield Primavera, 22 October 2011
National Multicultural Festival 2012, 10-12 February 2012 (a post in pictures)
Taste of Sydney, 8-11 March 2012
Classes
The Campos Cupping Room, 30th April 2011
Brasserie Bread Grains and Seeds Workshop, 30th August 2011
Behind the Scenes
The Coffee Roaster, April 2011
Have a great suggestion for a food experience? Email me at lau[at]corridorkitchen[dot]com and let me know. I'm always looking for fantastic food adventures…
On the hunt for delicious, cheap and easy meals to whip up in my tiny kitchen. Also searching for the

best coffee

wherever I go. Honest accounts, nothing too serious.

Read more...

Popular posts this month…

This work is licensed under a

Creative Commons Attribution-NonCommercial 2.5 Australia License

.

Disclaimer:

All opinions in this blog are mine, an everyday, real-life person. I do not claim to be an expert on anything. I do not accept payment for reviews and nor do I write sponsored posts. From time to time I give away products and experiences to my readers, all competitions have completely arbitrary rules, all decisions are final and all prizes awarded as I see fit.