Café review – Allpress Espresso, Zetland
We all have that New Zealand export we'd just love to claim as our own. It may be an actress, band, TV show or recipe. It won't surprise you that my case, it's a coffee roaster.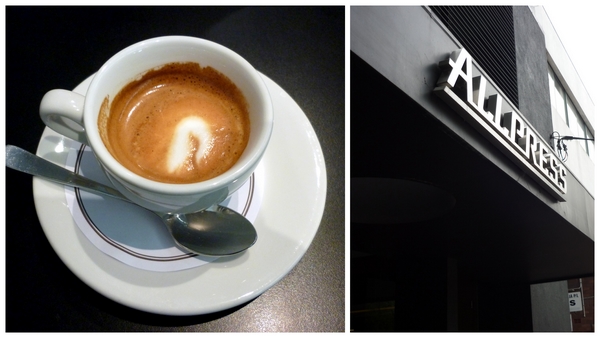 Allpress Espresso started in New Zealand, now has a roastery in Zetland, Sydney, has opened a café in London and is slowly spreading its brand to cafés all over Sydney. They even have an iphone app to help you track down their brews.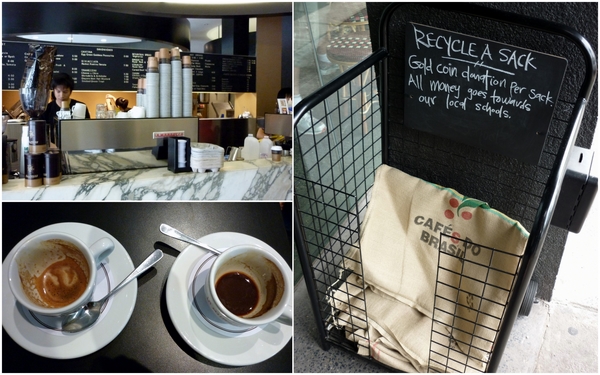 Much like Flint and Steel, Allpress Espresso in Zetland is a coffee roaster as well as a café, but in the case of Allpress, it's more than a hole-in-the-wall. It's all slick stainless steel, marble bench tops and sheets of glass, industrial-chic with a touch of retro fitting right into its Zetland surrounds. You can see right through the cavernous space to the roasterie and watch them work their magic on the beans. Or, you know, forklift sacks of coffee around. Whatevs.

It's one of those places where I've never had a bad coffee but at the same time, the last few times I've stopped by it's been less than stellar. I don't know how to explain what I mean, but the coffee tastes 'rushed' these days. That said, I'm a huge fan of their Carmelo and City Espresso blends which I often buy for home use.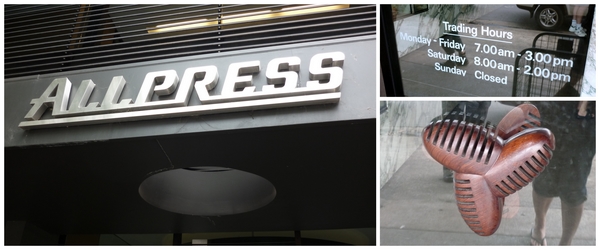 The focus may be on the coffee but there is also quite a good menu of things like pastries, sandwiches, cakes, artisanal breads and breakfasts like soft-boiled eggs with sourdough soldiers, avocado and ricotta. It's the kind of food I'd refer to as 'assemblage' rather than cooking but that doesn't mean it isn't tasty.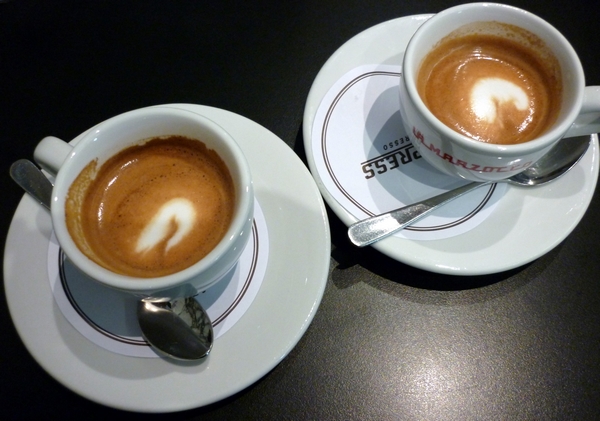 Allpress is one of those places where you want to time your visit carefully. Like many of my faves its closed on Sundays. Unless you're into waiting for a table, on a weekday, the pre-work coffee rush is a bad time to go, and on Saturday it's not so great to show up in the morning as the breakky/brunch crowd takes over. I've had quite good luck at 2pm, but then again, maybe I should just learn some patience.
What NZ export would you like to claim as your own?
Allpress Espresso
58 Epsom Road, Zetland 2017
(02) 9662 8288
Monday-Friday 7:00am – 3:00pm
Saturday 8:00am – 2:00pm
About me

Sharing easy recipes, hunting down the

best coffee

. Honest accounts, nothing too serious.

Read more...

Popular posts this month…

This work is licensed under a

Creative Commons Attribution-NonCommercial 2.5 Australia License

.

Disclaimer:

All opinions in this blog are mine, an everyday, real-life person. I do not accept payment for reviews and nor do I write sponsored posts. I do not endorse the content of the comments herein.