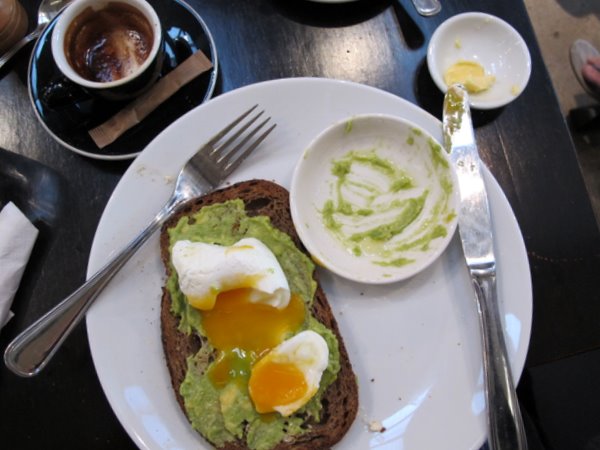 Weekend breakky used to be one of my favourite rituals. I had my places, I had my fave orders. But lately, it's kind of fallen off the radar. So a couple of weeks ago, Senhor R and I jumped in the car and went to one of our all-time best breakky haunts, only to be greeted by sad, overpriced food and lacklustre service. We vowed never again to set out on a breakfast quest without a place in mind.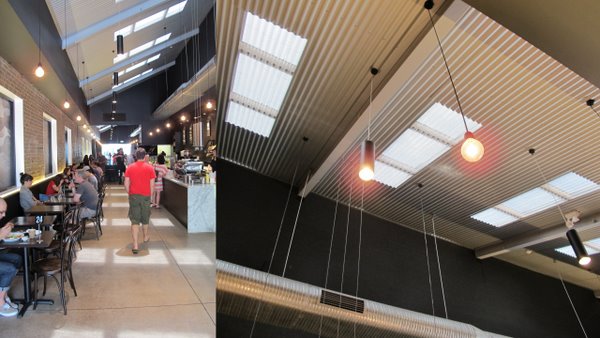 Having heard good things about Sonoma Bakery Café, the relatively new Sonoma HQ, we decided to head southwards for something new. We were greeted by a huge warehouse space, Allpress-like in its interior. An order-and-pay-at-counter affair, said counter was laden with delicious looking sandwiches and pastry. As we stood surveying the offerings, a barista offered us the breakky menu. Easy to see it was out first visit.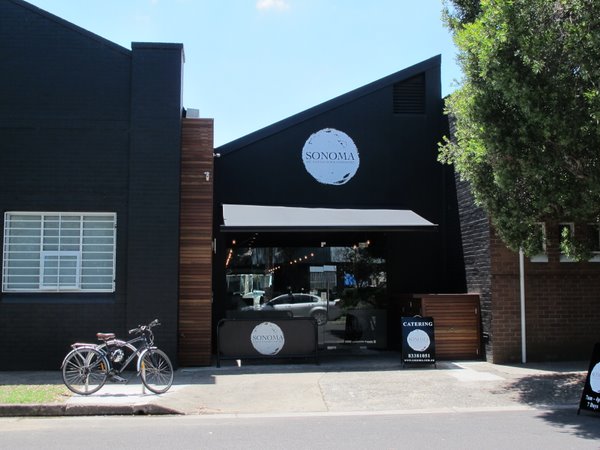 Obviously there wouldn't be much point in ordering a Sonoma breakky if it didn't include toast. I went for the kind of thing I usually choose – toast and poached eggs with a side of avocado. I noticed, weirdly that the blackboard menu worked out a couple of dollars cheaper than the paper menu, who knows, may have been a glitch. Senhor R ordered the Turkish eggs, described as eggs with ricotta, olives, tomato, dukkah and toast.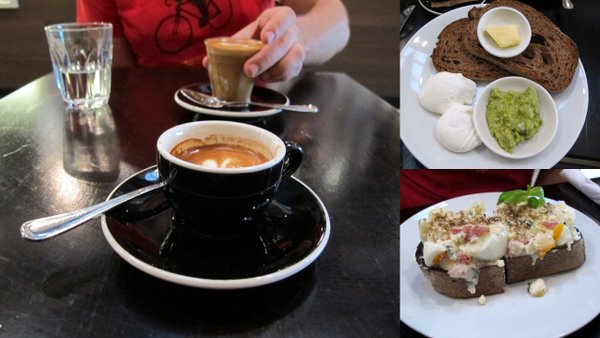 We help ourselves to water from a handy tap imbedded in the bench and grab some salt and pepper shakers as well. Our coffees arrived, soon followed by our breakfasts. I could tell straight away that my eggs were near-perfect, the butter on the side, which I appreciated, especially as I ordered avo. I'm a bit surprised they've mashed the avo though, since its texture is kind of the point. I spread my sourdough (I think it's rye spelt) with butter and avo, whack and egg on top and pierce the yolk. Perfect. Liquid. Centre. Senhor R's breakky is very salty, luckily he loves salt. It's not quite what we expected – a mash of soft boiled egg, ricotta, chopped olives, fresh tomato and dukkah spread on double thick toast. I'm not sure what we imagined, definitely whole (rather than slightly mashed) eggs, something more akin to baked eggs I guess (that's also on their menu). Senhor R admits he didn't really read the description properly.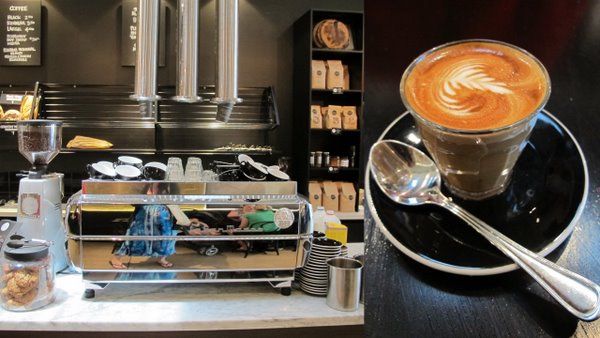 Sonoma has their own blend roasted by Surry Hills hipsters Single Origin Roasters, I'm not a huge fan, nor am I a huge detractor. The coffee was smooth, chocolatey and well made. The staff were all really friendly, so much so that when the barista cleared away our coffee cups, he asked if we'd like another round 'On the house, I'm pretty bored.' Maybe it was me snapping away, maybe he really was bored, either way, can't say no to a free coffee.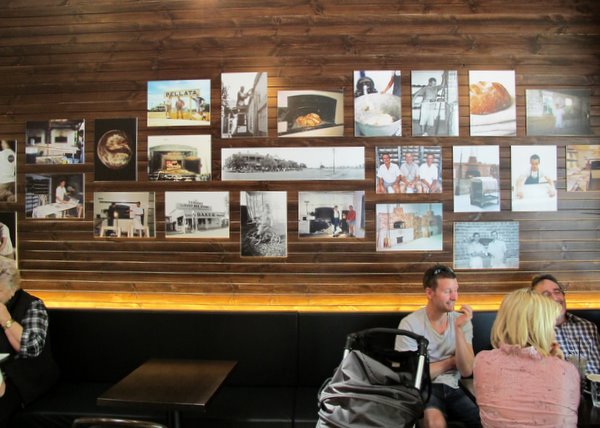 Overall, we were very impressed with Sonoma, so much so that we returned the following day for coffee and to share a sandwich (Moroccan Chicken – amazing). I loved the space – high ceilings, plenty of tables, polished concrete floors, bare light bulbs. It's kind of hard to find, but definitely worth the trek.

Sonoma Bakery Café
32-44 Birmingham Street
Alexandria NSW 2015
02 8338 1051
7:00 am – 4:00 pm
About me

Sharing easy recipes, hunting down the

best coffee

. Honest accounts, nothing too serious.

Read more...

Popular posts this month…

This work is licensed under a

Creative Commons Attribution-NonCommercial 2.5 Australia License

.

Disclaimer:

All opinions in this blog are mine, an everyday, real-life person. I do not accept payment for reviews and nor do I write sponsored posts. I do not endorse the content of the comments herein.