Café review – Bourke Street Bakery, Marrickville
I'm not much for standing in queues. Then again, I'm assuming it's something not many of us look forward to. Let me rephrase that – if I have to line up and wait for a table at a restaurant or café, I won't. The line turns me off. The hype turns me off. The way I see it, there are plenty of other fish in the sea. And some of those fish might even be salt encrusted Portuguese sardines cooked on hot coals. But I digress.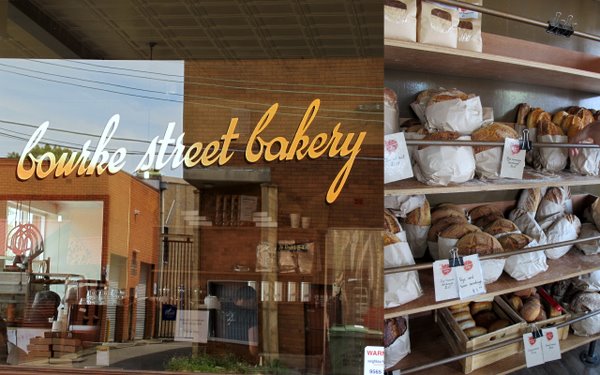 So it will come as no surprise to anyone that I'm not the least bit interested in checking out the Bourke Street Bakery that is actually on Bourke Street- that line around the block is way too Porteño for me (Haha. Clever double entendre there). Until recently I had been to all their other branches, including their now defunct Broadway branch and their offshoot Central Baking Depot.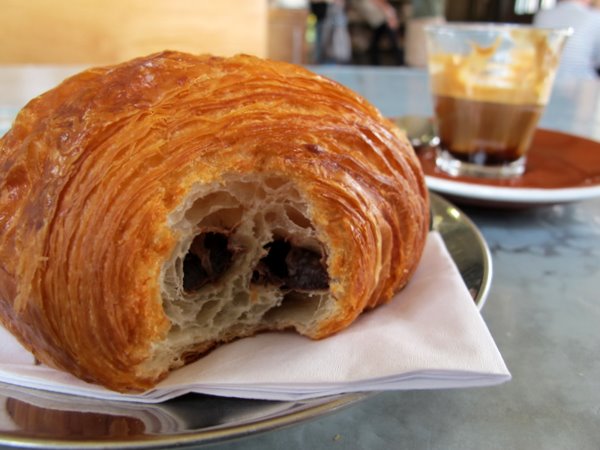 But I hadn't been to their Marrickville store, and I vowed to before they open another branch. Oh wait, they just did. It's in Potts Point and apparently even bigger. Anyway, I finally went to check out a couple of weeks ago, in what shall be known as 'Lau and Senhor R's weekend of bakery madness', where we checked out Bourke Street Bakery Marrickville, Brasserie Bread in Banksmeadow and Sonoma Alexandria (twice). And when I say 'checked out' you of course understand that I mean 'drank coffee and ate pastries at every single bakery.'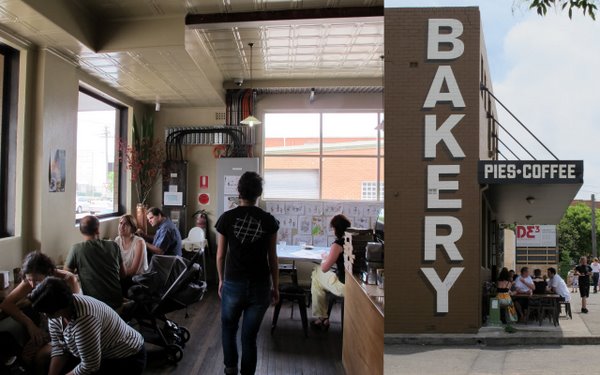 The reason Bourke Street Bakery Marrickville has been on my to-visit list forever is that I heard rumours there's actually room to sit down. And guess what? The rumours are true. The interior, although hardly spacious, does have sufficient seating and there's also a clump of tables outside. The large windows give lots of light, which bounces off the chrome industrial-looking stools. There's a big rack of bread at one end of the shop, a mesmerising fridge of cakes and pastries in the middle and a large communal table at the end. I order two macchiatos and a chocolate croissant and we grab a seat.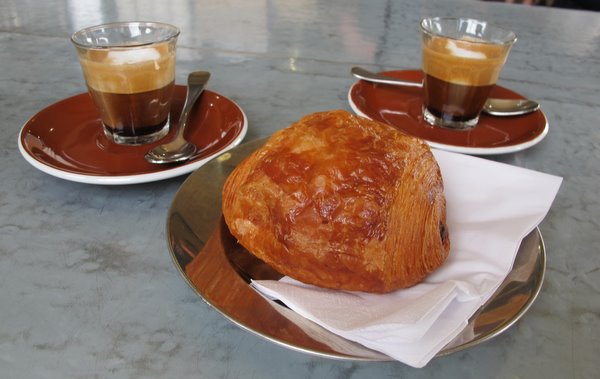 Let me make this clear for those of you who don't know: people RAVE about these guys. Their cookbook is a best seller. Their bread sells out every day. Customers wait with bated breath for the first batch of their legendary pork and fennel sausage rolls (a reliable source tells me this happens around 10:30am). Freaking hell, even David Lebovits loves the place, claiming their bread 'rivalled anything (he) could get back home in Paris.'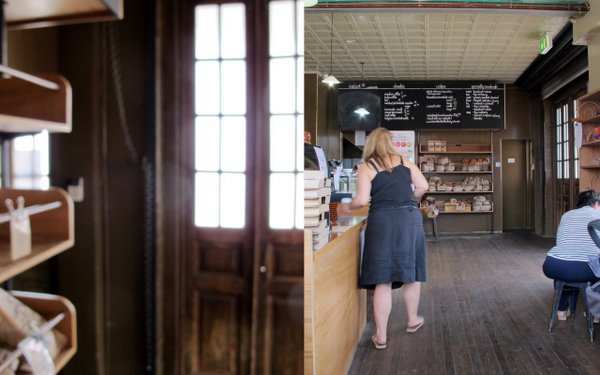 So what did we think? Well, the pain au chocolat, although I'm no David Lebovits, was amazing – the pastry crisp and golden on the outside, puffed and layered in the middle and buttery all the way through. The coffee was lovely as well and I managed to (mostly) resist dunking the pastry in it. Stay tuned in the coming weeks to hear what I think of their sourdough, but I'll give you a hint – we've bought three loaves in the last couple of weeks.
What about you? Do lines outside restaurants turn you on or turn you off?
Bourke Street Bakery, Marrickville
2 Mitchell Street
Marrickville NSW 2204
bourkestreetbakery.com.au
About me

Sharing easy recipes, hunting down the

best coffee

. Honest accounts, nothing too serious.

Read more...

Popular posts this month…

This work is licensed under a

Creative Commons Attribution-NonCommercial 2.5 Australia License

.

Disclaimer:

All opinions in this blog are mine, an everyday, real-life person. I do not accept payment for reviews and nor do I write sponsored posts. I do not endorse the content of the comments herein.