Lau's Ultimate Corn Fritters and the four fritter truths
I don't often go out for breakfast these days, but when I do, I'm a sucker for a fritter and a good poached egg. Recently, I started trying to replicate the flavour and texture of café-style inch-thick, fluffy fritters in my own kitchen, and the results have been pretty amazing. Here are the 4 'fritter truths' I discovered on my journey to corn fritter heaven.
1. Corn fritters aren't just pancakes with a tin of corn chucked in. Not to say a batch of pancakes or pikelets studded with super sweet, fiberless corn kernels ain't a delight to the palate, but there's just so much more they COULD be. So I've discarded the pikelet + tinned corn method I've used since adolescence (served with a liberal slosh of sweet chilli sauce on the side).
2. Good corn fritters are mostly corn, not batter; the main ingredient is given away in the title. The batter loosely bindes together the corn and other flavourful ingredients. It is light and fluffy and whipped-egg-white heavy (easy on the SR flour), and thus maleable. This means the fritters can be shallow or pan fried (even deep fried should the mood take you), in lumps or thick, flat saucer shapes.
3. Fresh corn is better! I'm told there are places in the world where the corn is so fresh and sweet you can gnaw is raw from the cob, but I don't live in such a place so I find the corn needs to be sauteed a little pre-fritter. So saw those kernels off the cob, cook 'em up, let 'em cool and fold them into your feather-light batter, ready to dollop.
4. There are other things in there besides corn. This was a revelation to me, but of course it makes sense. Garlic. Zucchini. Onions. Chilli. Fresh herbs. Salt and pepper. Spices. Mushrooms. Bacon. There are so many amazing tidbits you can toss into your sauteeing corn. Hell, there are so many ingredients you can use in PLACE of corn, I just really like corn.
Lau's Ultimate Corn Fritters
serves 4 as a side
I've served these fritters many a way – with guac and crispy bacon, with tomato salsa and cumin yogurt, with asparagus and fried eggs. They are the perfect breakfast, brunch or breakfast for dinner.
For the guts of it
olive oil for pan frying (I prefer extra virgin)
1 single clove garlic bulb or 4 normal sized cloves
pinch salt
6-8 rashes bacon or similar, chopped
2 spring onions, chopped
1-2 Tbsp paprika
The kernels from 2 -3 small cobs of corn
½ bunch coriander, leaves finely chopped
For the batter itself
2 eggs, separated
¼ cup milk
½-¾ cup self-raising flour
To Serve
Crispy bacon
Guac
Heat the oil in a medium frying pan, sautee garlic with salt until soft. Add in bacon and cook until beginning to brown. Add spring onions, paprika and corn and cook until corn kernels are soft but still have some bite to them. Remove pan from heat and stir through coriander. Transfer to a large bowl to cool (perhaps in the fridge).
Beat the egg whites to stiff peaks.
Whisk milk and egg yolks together.
Once cooled, add enough flour to the corn mix so that everything is well coated. Fold through the yolk and milk mixture completely, then gently fold in the egg whites.
Dollop 8 dollops on a medium low grill or pan (oiled), flip when golden brown. Cook until cooked through.
Serve as you like. Suggestions include: crispy bacon, non-crispy bacon, guac, salsa, hot sauce, sour cream, poached eggs, fried eggs, hummus, greek yogurt, rocket, basil… the possibilities are endless.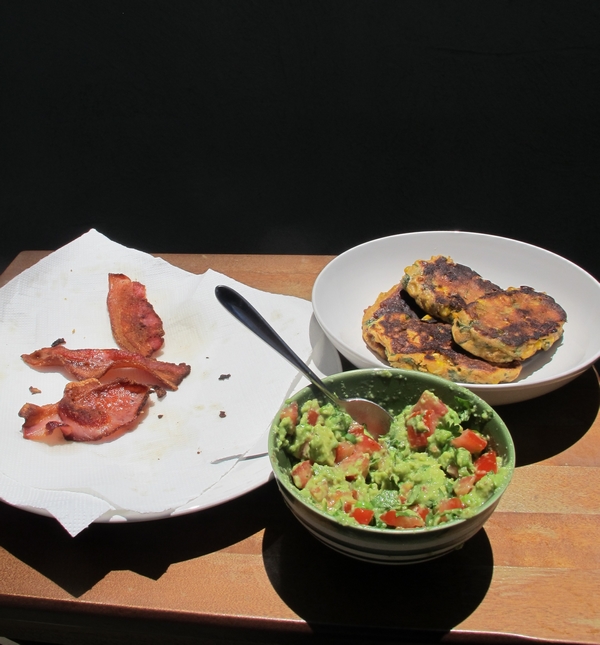 What's your go-to café breakfast?
About me

Sharing easy recipes, hunting down the

best coffee

. Honest accounts, nothing too serious.

Read more...

Popular posts this month…

This work is licensed under a

Creative Commons Attribution-NonCommercial 2.5 Australia License

.

Disclaimer:

All opinions in this blog are mine, an everyday, real-life person. I do not accept payment for reviews and nor do I write sponsored posts. I do not endorse the content of the comments herein.