I don't often go out for breakfast these days, but when I do, I'm a sucker for a fritter and a good poached egg. Recently, I started trying to replicate the flavour and texture of café-style inch-thick, fluffy fritters in my own kitchen, and the results have been pretty amazing. Here are the 4 'fritter truths' I discovered on my journey to corn fritter heaven.
1. Corn fritters aren't just pancakes with a tin of corn chucked in. Not to say a batch of pancakes or pikelets studded with super sweet, fiberless corn kernels ain't a delight to the palate, but there's just so much more they COULD be. So I've discarded the pikelet + tinned corn method I've used since adolescence (served with a liberal slosh of sweet chilli sauce on the side).
2. Good corn fritters are mostly corn, not batter; the main ingredient is given away in the title. The batter loosely bindes together the corn and other flavourful ingredients. It is light and fluffy and whipped-egg-white heavy (easy on the SR flour), and thus maleable. This means the fritters can be shallow or pan fried (even deep fried should the mood take you), in lumps or thick, flat saucer shapes.
3. Fresh corn is better! I'm told there are places in the world where the corn is so fresh and sweet you can gnaw is raw from the cob, but I don't live in such a place so I find the corn needs to be sauteed a little pre-fritter. So saw those kernels off the cob, cook 'em up, let 'em cool and fold them into your feather-light batter, ready to dollop.
4. There are other things in there besides corn. This was a revelation to me, but of course it makes sense. Garlic. Zucchini. Onions. Chilli. Fresh herbs. Salt and pepper. Spices. Mushrooms. Bacon. There are so many amazing tidbits you can toss into your sauteeing corn. Hell, there are so many ingredients you can use in PLACE of corn, I just really like corn.
Lau's Ultimate Corn Fritters
serves 4 as a side
I've served these fritters many a way – with guac and crispy bacon, with tomato salsa and cumin yogurt, with asparagus and fried eggs. They are the perfect breakfast, brunch or breakfast for dinner.
For the guts of it
olive oil for pan frying (I prefer extra virgin)
1 single clove garlic bulb or 4 normal sized cloves
pinch salt
6-8 rashes bacon or similar, chopped
2 spring onions, chopped
1-2 Tbsp paprika
The kernels from 2 -3 small cobs of corn
½ bunch coriander, leaves finely chopped
For the batter itself
2 eggs, separated
¼ cup milk
½-¾ cup self-raising flour
To Serve
Crispy bacon
Guac
Heat the oil in a medium frying pan, sautee garlic with salt until soft. Add in bacon and cook until beginning to brown. Add spring onions, paprika and corn and cook until corn kernels are soft but still have some bite to them. Remove pan from heat and stir through coriander. Transfer to a large bowl to cool (perhaps in the fridge).
Beat the egg whites to stiff peaks.
Whisk milk and egg yolks together.
Once cooled, add enough flour to the corn mix so that everything is well coated. Fold through the yolk and milk mixture completely, then gently fold in the egg whites.
Dollop 8 dollops on a medium low grill or pan (oiled), flip when golden brown. Cook until cooked through.
Serve as you like. Suggestions include: crispy bacon, non-crispy bacon, guac, salsa, hot sauce, sour cream, poached eggs, fried eggs, hummus, greek yogurt, rocket, basil… the possibilities are endless.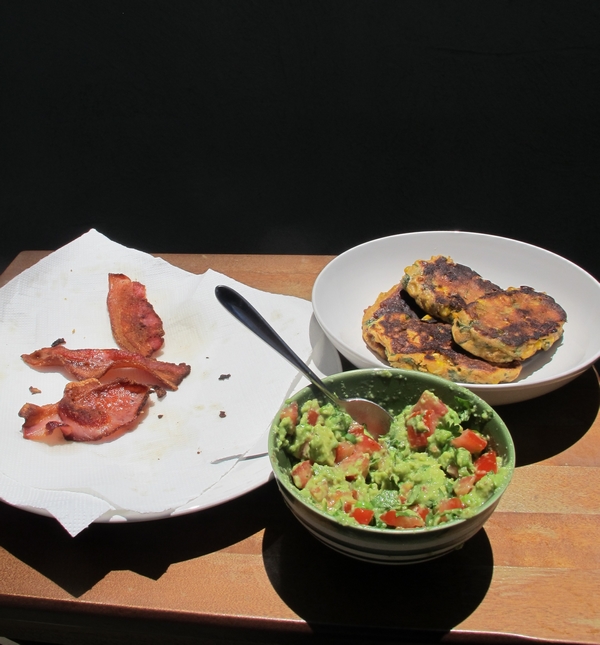 What's your go-to café breakfast?
It's no secret that we Sydneysiders have a diverse culinary world at our feet. From ingredients to restaurants, we can find almost any kind of food, from Korean to Thai to Japanese to Malaysian to Italian, Vietnamese, Hungarian, Brazilian, Portuguese, Israeli, Lebanese…the list goes on, although I have had some trouble finding Ethiopian. And thus, you might conclude, especially if you were American and absolutely if you were Texan, surely there must be some good Mexican food somewhere.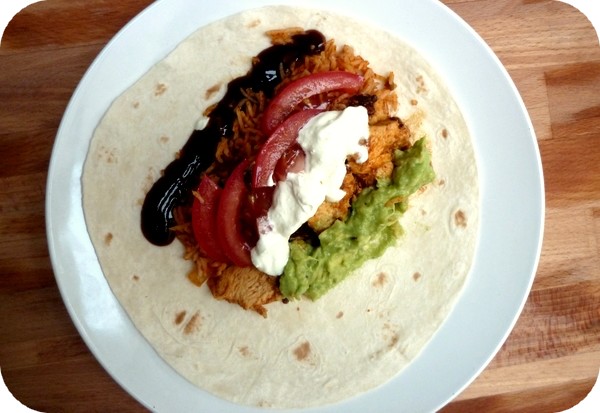 However, it seems there's only room for so many restaurants and, much like tapas, Mexican food is considered  prestige enough to be on the pricey side here in Aus. Add to this the assertion my Texan friend Ms. Phonetic makes that Aussie Mexican grills aren't really worth bothering with (plus the argument she had with the owner of one of them when he wouldn't let her have cheese on her taco, even if she paid extra, because it wasn't 'authentic') and you really might as well have a crack at making them yourself.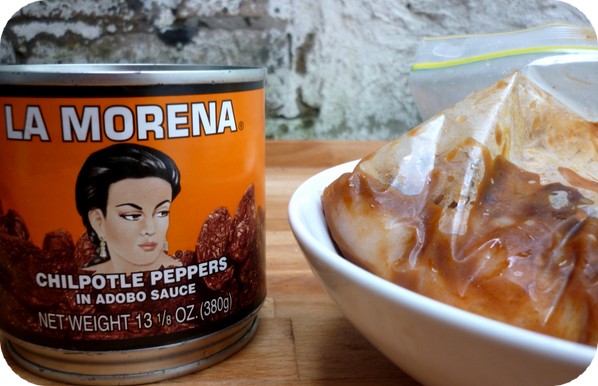 I quite like Mad Mex, Guzman y Gomez et al, especially their chicken burritos. This recipe is my own take on them. I love the smokiness of the chipotle marinade and the way it pairs so perfectly with the fluffy Mexican rice. Wrap it a warm tortilla with a dollop of guacamole and you're in heaven.
Lau's Feisty Chicken Burritos
Serves 4 (2 small burritos per person)
You will need:
For the chicken:
700g chicken breast
2-3 Chipotles in adobo (finely chopped)
Paprika
Salt
Olive oil
1 portion of Mexican Rice (see previous post)
For the Guacamole:
2 Ripe Avocados
1 lemon or lime
Salt
Freshly ground black pepper
To finish:
Chopped lettuce and tomato
1 packet of flour tortillas- I prefer Mission Tortillas, they come in a 12 pack and you can just freeze the leftovers (if there are any).
Sour cream (if desired)
Mexican Hot Sauce (I use El Yucateco Green)
Smokey BBQ sauce (I use Fountain, they even have a facebook fan page!)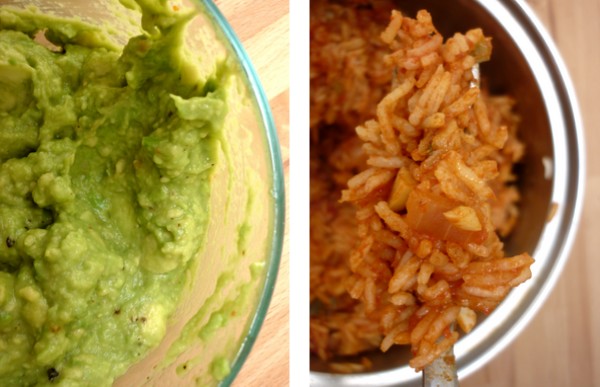 Marinate the chicken in the chipotles and some of their sauce, paprika, a pinch of salt and a splash of olive oil overnight, or at least 2 hours.
Next prepare the rice and while it is cooking (it takes about 20 minutes), make the Guacamole and chop the lettuce and tomato. To make the guacamole, Mash 2 ripe avocados with lemon or lime juice, freshly cracked pepper and salt to taste.
Heat a frypan with a little olive oil until hot. Cook the chicken and marinade on both sides. It's ok if it gets a little charred as long as it's cooked quickly and all the way through. When it's done, slice it into strips. This means you don't have to chop up raw chicken and it's actually much moister cooked this way.
To assemble, microwave each tortilla for 10 seconds. Place some chicken, rice, guac, salad, sauce and sour cream on each tortilla and wrap. Enjoy!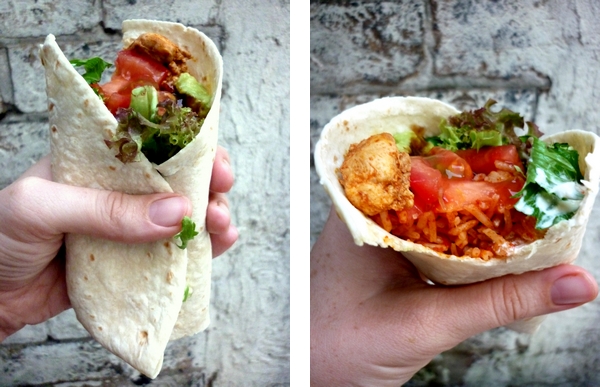 So, readers, where do you get your fave Mexican food?
About me

Sharing easy recipes, hunting down the

best coffee

. Honest accounts, nothing too serious.

Read more...

Popular posts this month…

This work is licensed under a

Creative Commons Attribution-NonCommercial 2.5 Australia License

.

Disclaimer:

All opinions in this blog are mine, an everyday, real-life person. I do not accept payment for reviews and nor do I write sponsored posts. I do not endorse the content of the comments herein.