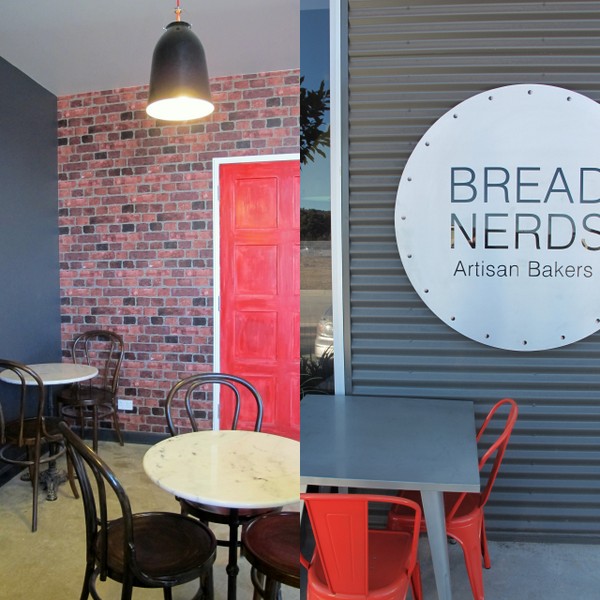 When I was 12, I picked out our new house. Well, that's how it felt to me anyway. Yes, I know it was really my mum who made the decision and handed over the cash. But the second I entered the place, with its rambling, north facing garden, wooden floors and loads of light, I felt at home. Looking back, I think it was that discovery of home that made my adolescence a time of relative sanity. It was also that feeling of having a home that made it so easy, 7 years later, to strike out with no real plan and very little money, enrol myself in art school, and force myself into a place where I would do something productive and wind my way to my own true home. I'm still looking for that home, both metaphorically and literally.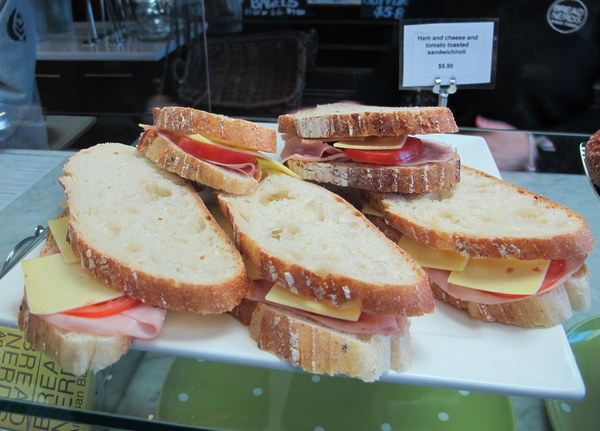 15 Years later and the house is to be sold, at a time when the so-south-other-Canberrans-barely-know-them-suburbs nearby are just starting to furnish themselves with the hip cafés I so cherish so in my new home, inner-city Sydney. It would be trite to say I'm sad to see my home soon go to strangers because now there's finally somewhere to get a decent macch, but it does add insult to injury. Tuggeranong (or thereabouts), you finally have something to recommend you to those who don't call you home. Great timing.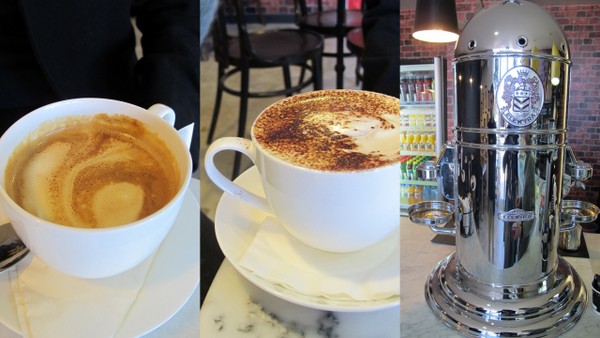 Bread Nerds is so new it's on a street that doesn't exist on google maps yet. Run by Shane and Sharon Peart of 'That Bagel Place' fame, the retail/cafe space is compact, with an industrial-chic aesthetic. They serve sandwiches, pastries, bagels, pizza slices, pies, sausage rolls and coffee and of course, they sell bread. Unfortunately for anyone who doesn't live in the area, they're only open Monday to Friday, but they also sell their bread and bagels at farmer's markets and supply restaurants and cafes.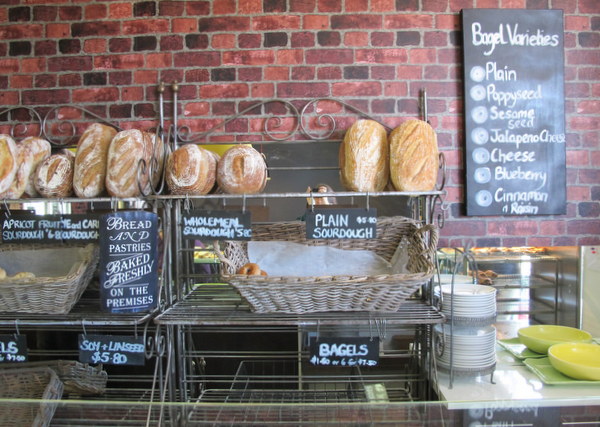 I can't go past the Italian dougnut. It's a delicious, solid morsel and I split it with my mum. Dougnuts never have enough cinnamon in my opinion but this one does. I dunk it in my (weirdly enormous) macchiatto- the smallest cup size they seem to do here is about 250ml. I should've taken note of the barista's slightly puzzled expression when I ordered a macch, a picollo and a cap. Senhor R fares even worse with his picollo, which is basically a slightly strong flat white. He has better luck with his poppyseed bagel with smoked salmon though. I reeeeaaaallly want a sausage roll, but I contain myself. The pies look great too.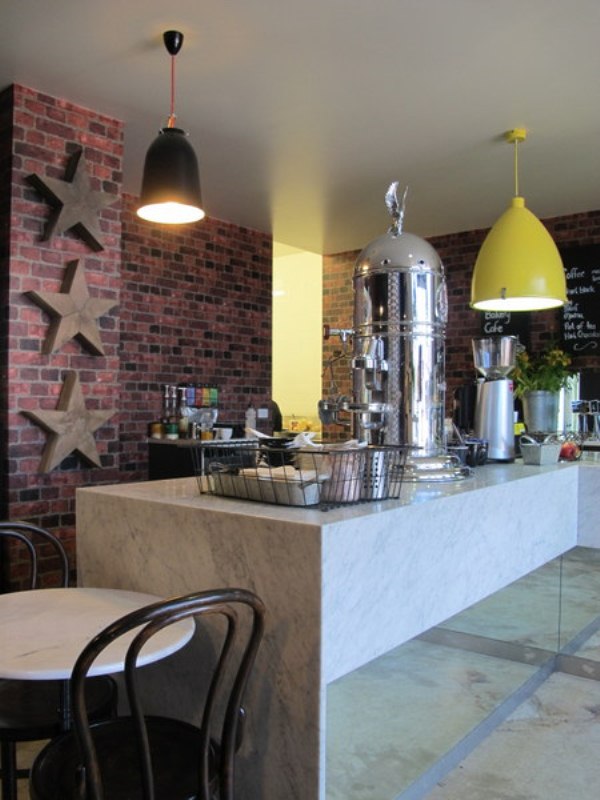 There's a lot of blue-collar business for a Monday morning in an industrial wasteland, and the quality is obviously right up there. I'd love to come back and grab a loaf of bread or a sausage roll to take away, and the cafe is industrial but small enough to be considered cute and cosy – I feel right at home. The price seems right, the staff are friendly, my only criticism is the size of the coffee cups.
What kind of things make you feel at home?
Bread Nerds
4/92 Sawmill Circuit
Hume ACT 2620
02 6260 2062
Monday-Friday
7:00am – 3:00pm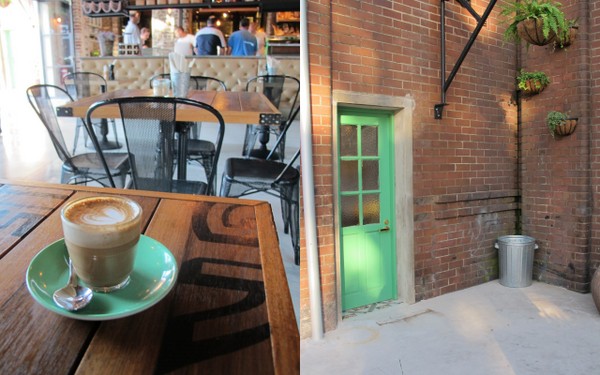 There's something in the water in Alexandria. One by one, disused warehouses are being converted into cafes and bars. Sympathetic renovations abound – think Allpress Espresso, Kitchen by Mike, Don Campos, Bread and Circus or Sonomo HQ. Further afield you've got the likes of Brasserie Bread and Freda's Bar and Canteen taking up residence. Add The Grounds to the list of cavernous and ultra modern spaces slightly off the beaten path of the inner southwest.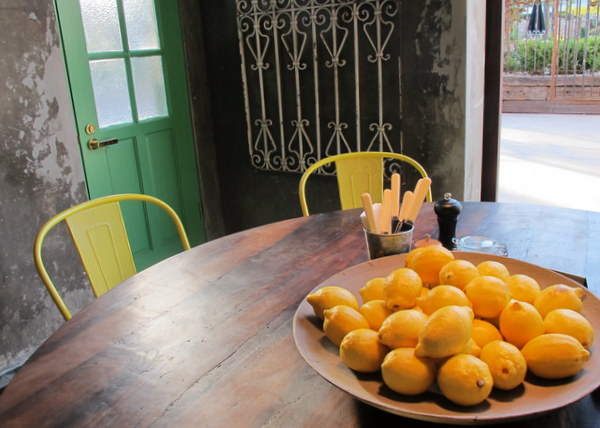 The Grounds is situated on the corner of Huntley street and Bourke Road. It's is in the same 'complex' as 4143 at The James Barnes. It felt like this place would never open, but open it did for the first time yesterday, so this morning I went to check it out.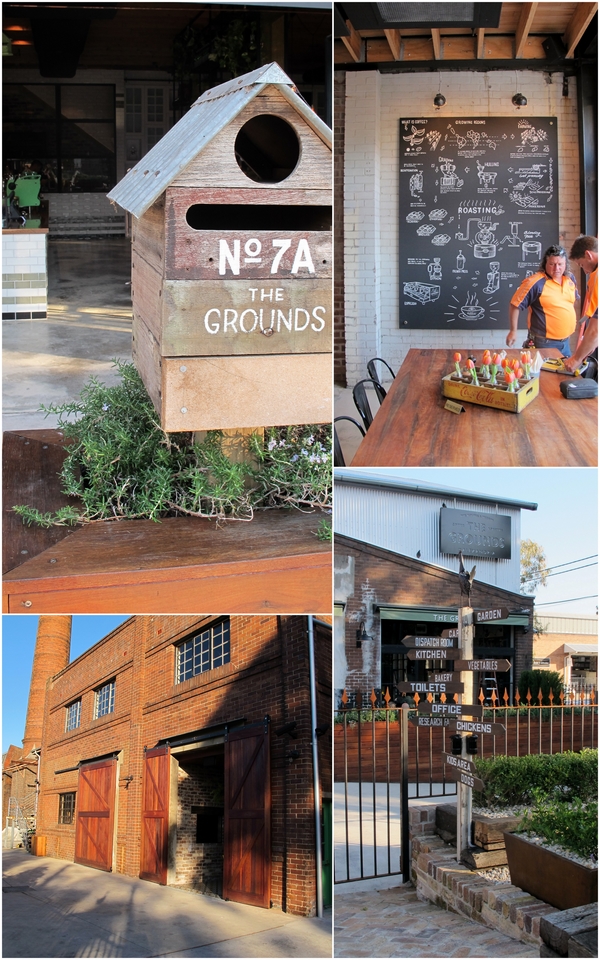 When we arrive, I count ten staff. We order our coffees and are told since we're having them in, to take a seat and then order. The coffee takes a while, which is odd considering the gaggle of waiters clustered around the till and the small number of customers. To be fair, we did arrive at 7:15am on their second day of trade, and I know from experience that a POS system can be a pain in the arse to get going. When it arrives, the coffee is good. Well-rounded flavour, and well presented.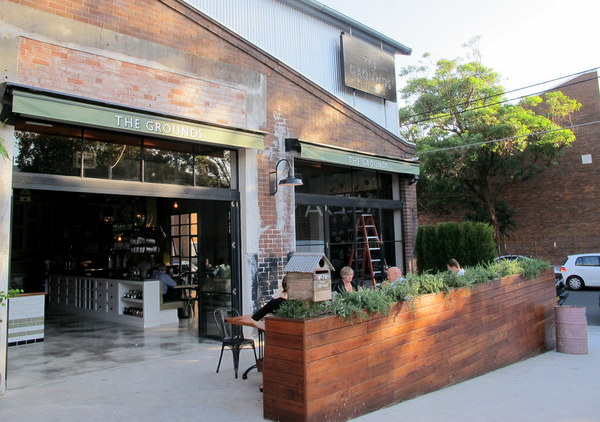 The Grounds is an amazing space. Imagine a kind of barn (well, former pie factory), all rustic wooden finishes and concrete floors (drool), lit with tungsten lights and dotted with industrial touches like exposed copper pipe. This space cries out to be described in cliches – rustic, post-industrial, but above all, beautiful. You can view the coffee roasters through glass panels and on the wall behind neon yellow letters spell out 'Research Facility'.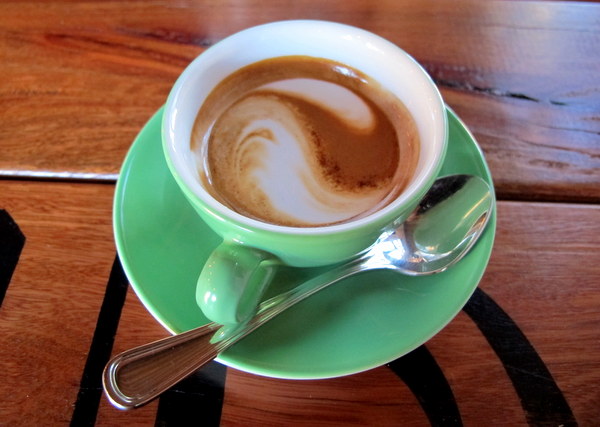 The 'barn' opens out onto a large garden/courtyard and there's plenty of seating to while away the hours. There you'll find a micro-garden of herbs, fruit and veggies, with chickens no less, giving Cornersmith a run for its money in the made-from-scratch stakes. They also bake their own bread and roast their own beans, and plan to hold cupping and coffee making classes. If you take a quick squiz at Katie Quinn Davies' (no relation) shoot for The Grounds, I think you'll agree their home style food (could they BE any more on trend) looks pretty bloody scrumptious. I for one can't wait to try it.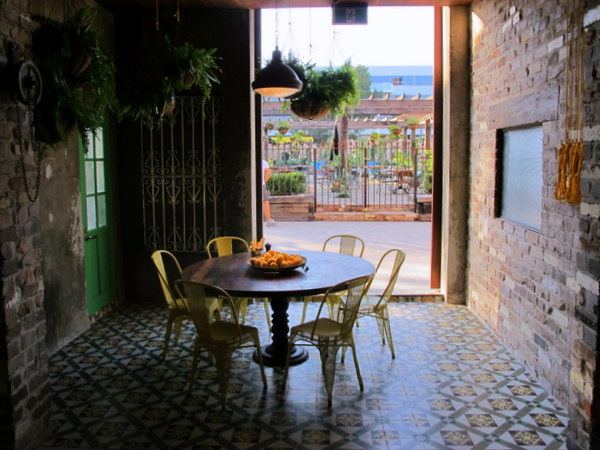 All in all I'm delighted to have these guys in my backyard. And I plan to spend a lot of time in theirs.
The Grounds of Alexandria
7a/2 Huntly Street (corner Bourke Road)
Alexandria NSW 2015
http://groundsroasters.com/
Monday-Friday 7:00am-4:00pm
Weekends 7:00am – 3:00pm
We all have that New Zealand export we'd just love to claim as our own. It may be an actress, band, TV show or recipe. It won't surprise you that my case, it's a coffee roaster.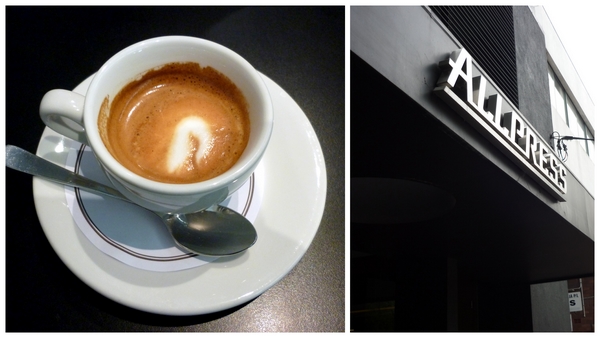 Allpress Espresso started in New Zealand, now has a roastery in Zetland, Sydney, has opened a café in London and is slowly spreading its brand to cafés all over Sydney. They even have an iphone app to help you track down their brews.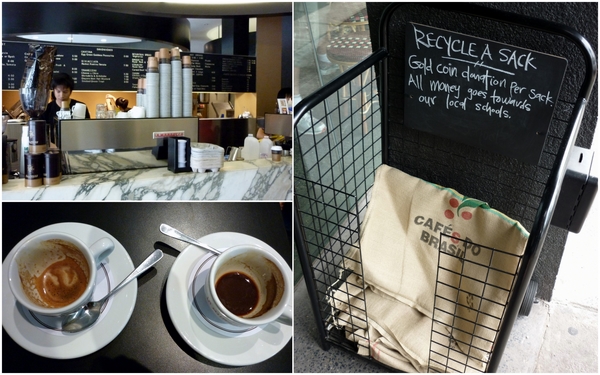 Much like Flint and Steel, Allpress Espresso in Zetland is a coffee roaster as well as a café, but in the case of Allpress, it's more than a hole-in-the-wall. It's all slick stainless steel, marble bench tops and sheets of glass, industrial-chic with a touch of retro fitting right into its Zetland surrounds. You can see right through the cavernous space to the roasterie and watch them work their magic on the beans. Or, you know, forklift sacks of coffee around. Whatevs.

It's one of those places where I've never had a bad coffee but at the same time, the last few times I've stopped by it's been less than stellar. I don't know how to explain what I mean, but the coffee tastes 'rushed' these days. That said, I'm a huge fan of their Carmelo and City Espresso blends which I often buy for home use.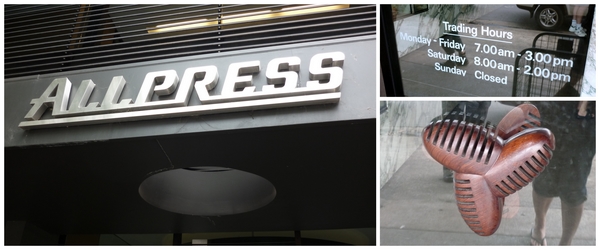 The focus may be on the coffee but there is also quite a good menu of things like pastries, sandwiches, cakes, artisanal breads and breakfasts like soft-boiled eggs with sourdough soldiers, avocado and ricotta. It's the kind of food I'd refer to as 'assemblage' rather than cooking but that doesn't mean it isn't tasty.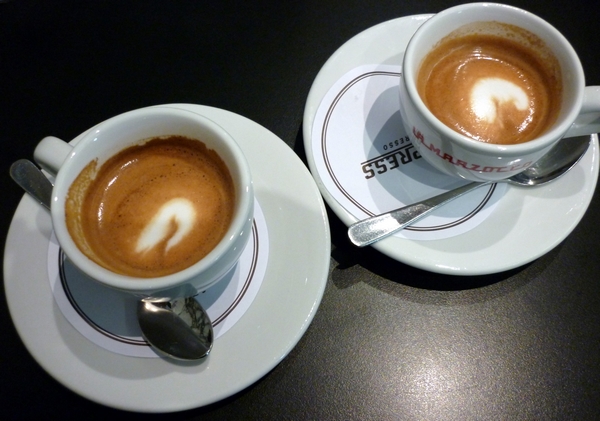 Allpress is one of those places where you want to time your visit carefully. Like many of my faves its closed on Sundays. Unless you're into waiting for a table, on a weekday, the pre-work coffee rush is a bad time to go, and on Saturday it's not so great to show up in the morning as the breakky/brunch crowd takes over. I've had quite good luck at 2pm, but then again, maybe I should just learn some patience.
What NZ export would you like to claim as your own?
Allpress Espresso
58 Epsom Road, Zetland 2017
(02) 9662 8288
Monday-Friday 7:00am – 3:00pm
Saturday 8:00am – 2:00pm
About me

Sharing easy recipes, hunting down the

best coffee

. Honest accounts, nothing too serious.

Read more...

Popular posts this month…

This work is licensed under a

Creative Commons Attribution-NonCommercial 2.5 Australia License

.

Disclaimer:

All opinions in this blog are mine, an everyday, real-life person. I do not accept payment for reviews and nor do I write sponsored posts. I do not endorse the content of the comments herein.