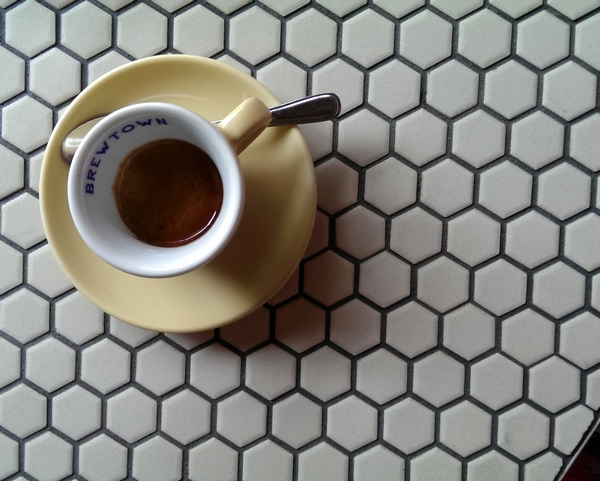 Much has been written (and doubtless, will continue to be written) about Brewtown Newtown, a great addition to the mostly uninspired caffeine scene in the formerly (and now once again?) cutting edge, albeit somewhat crunchy suburb of Newtown. Taking over the ground floor of the lovingly restored barn-like space on O'Connel Street (formerly Berkelouw books), Simon Triggs of Gnome and Charles Cameron of Single Origin Roasters have put together a cracking cafe.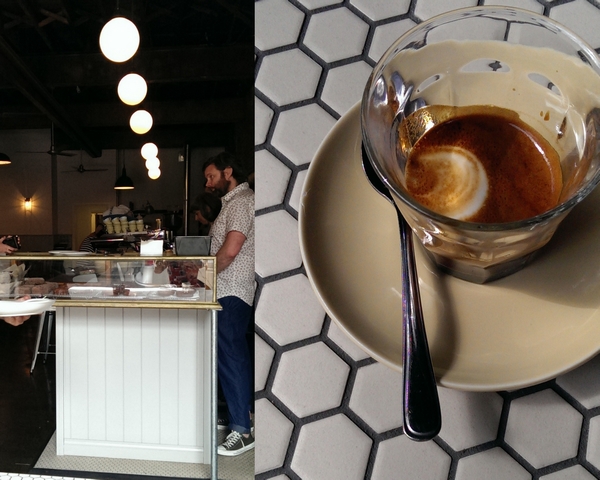 Just off the main drag seems to be the way to play it these days. Brewtown sits on O'Connell Street, which comes off King street. Having visited a handful of times now, I find the service to be very professional; staff seat you, are attentive, and are eager to tell you all about their offerings, especially when it comes to coffee. This is admirable when you consider the place has been an instant hit and is usually packed out; take a sip of your coffee at 9:59, look up at the doorway at 10:00am and it's as if a switch has been flicked to signal that brunch has begun.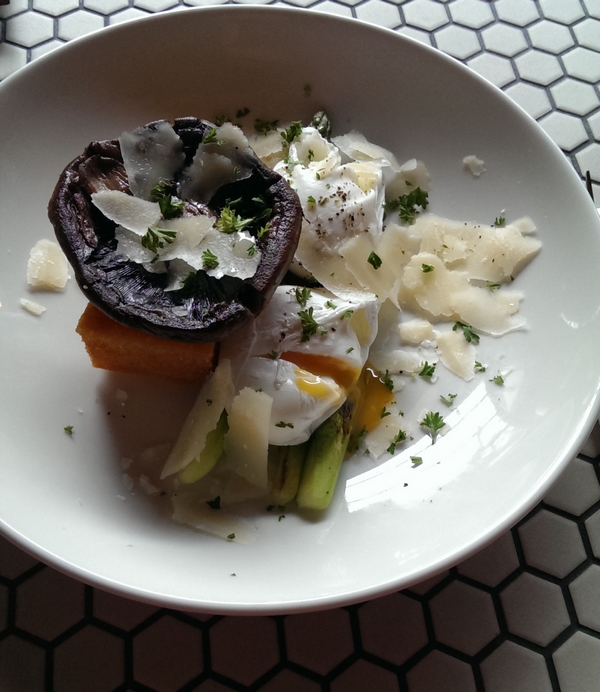 The menu at Brewtown is well crafted enough to make choosing your meal a kind of delicious annoyance, from fruit salad littered with cronut crumbs to beetroot-cured trout on toast to baked (although I'm sure in a decent dousing of fat) polenta wedges served with portobellos and poached eggs to the delicious-looking duck ravioli, and of course, the famous cronuts, it's a tough call.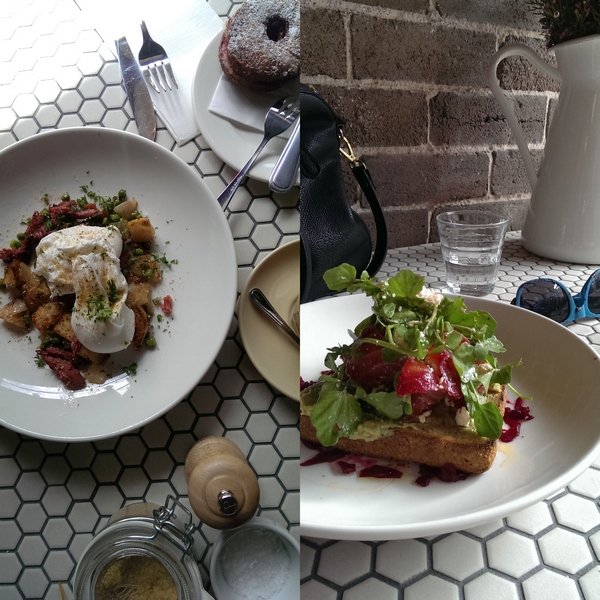 These kids sure know their way around an espresso machine. Each coffee I've had, be it macch or espresso (my go-tos) have been singular and impressive in flavour and I haven't had to wait too long. With their specialty coffee pedigree, Brewtown are currently serving a custom roasted blend from Single Origin Roasters (along with selected Single Origins) but will eventually be roasting themselves.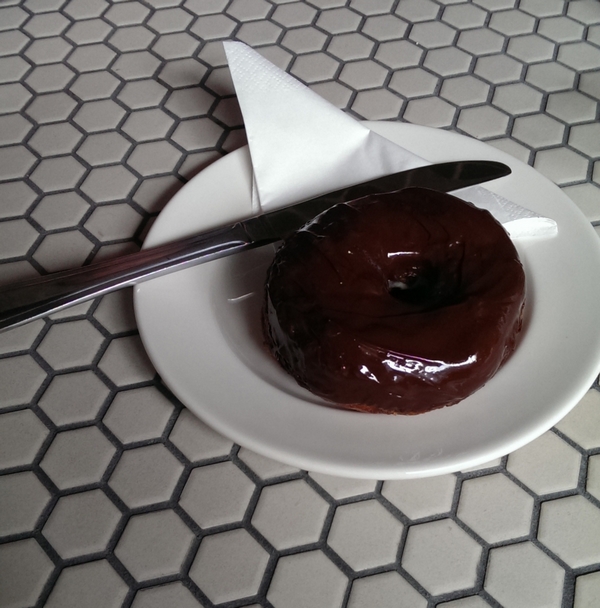 They're also doing the third wave thing as well but I have to say, their filters don't really float my boat. From cold drip to their 'only-one-in-australia steampunk mod filter brewer', my chums and I have been pretty unimpressed. I think I'm going to need to go back and find out more about their methods, maybe take some industry peeps along for the ride. Something may be lost in translation; it just doesn't feel like the filters I've had there are showing the coffee in its best light. I'm looking forward to being proved wrong.
Having said that, this is hands down my fave Sydney cafe to open up in 2013. Somewhere with space, somewhere with style, somewhere professional (neither cooler-than-thou nor slacksadasical), somewhere with a substantial, imaginative yet casual menu, and somewhere with excellent coffee. The cherry on the sundae is that my fave gelato place, Cow & Moon, will be pal-ing up with Brewtown for some upstairs-affogato-project-madness. So stay tuned.


Brewtown Newtown
6-8 O'Connell Street
Newtown NSW 2042
02 9519 2920
There was no doubt, NO DOUBT in my mind what my first (and second and third) stops would be after touching down in Sydney. They were, in no particular order, coffee, coffee and COFFEE. Senhor R couldn't agree with me more as, although it was relatively easy to hunt out decent coffee in Brasil, coffee in Argentina, which was where we spent the bulk of our trip, left something to be desired.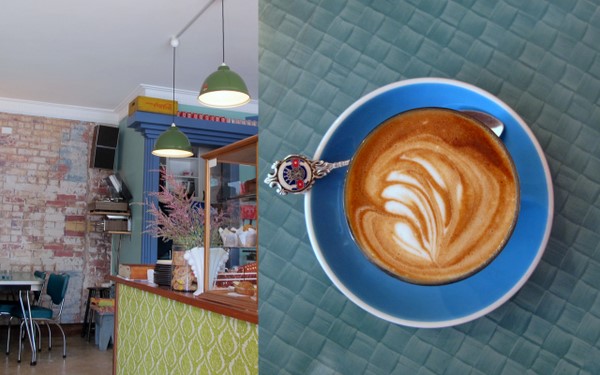 Actually, if I'm honest, coffee was my first stop before we even got to Sydney. We were salivating for Allpress Espresso at Auckland airport, having solemnly downed out 'last real coffee' there on our way to South America. When we got to Auckland, I downed my mach and could not stop grinning, in spite of the 14 hour, Aerolineas Argentinas hell I had just endured. Real. Coffee.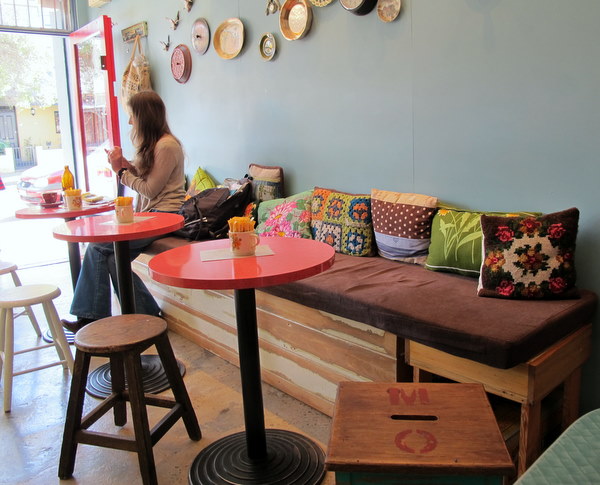 The second stop after dropping off our bags in Sydney was Don Campos nearby. The next morning, we were already on the hunt for somewhere new to try. After catching up on my blogroll I saw John over at He Needs Food had some good things to say about Belljar Espresso in Newtown, so we set off for Alice street.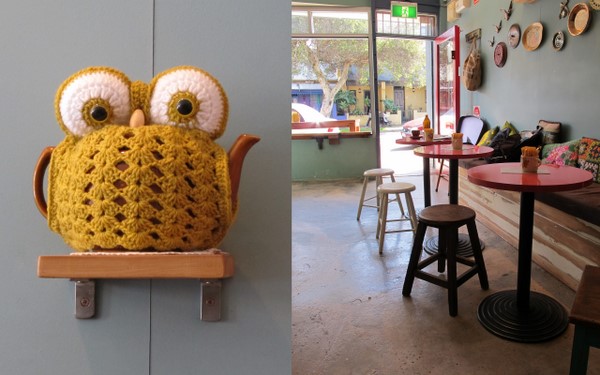 On our way we couldn't resist making our third coffee stop at The Kick Inside, Erskineville which was in the process of renovating so they were only doing takeaways. Senhor R was super happy with his piccolo and, suitably refuelled we continued on our coffee safari. Having wandered through Newtown a while, we arrived at Belljar coffee. It has a similar aesthetic to places like Miss Petty Cash and the aforementioned Kick Inside – knick knacks, bric-a-brac and retro furniture, classic espresso-coloured crockery offset by vintage teaspoons. It's an all too familiar template, yet one I never tire of.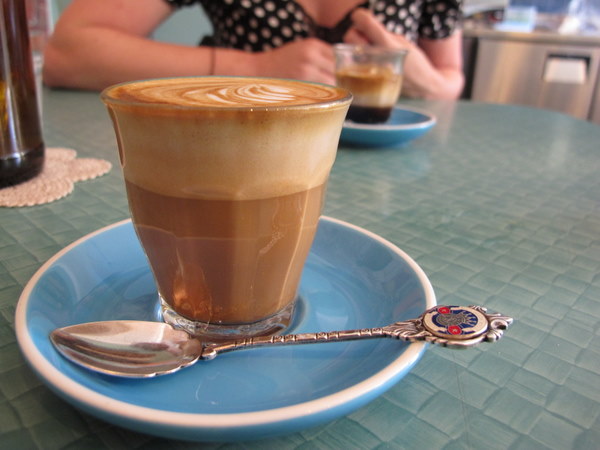 Hipster aesthetic aside, how was the coffee? Pretty good. They use Little Marrionette, which I think is overhyped, but so be it, coffee is coffee. It's a cool place to kick back, they play vinyl from your parents' collection, and the breakky menu looks good. I've been back once since and will most likely return.
Belljar Coffee
(02) 8096 4090
2/104 Alice Street
Newtown, 2042
www.belljar.com.au
While it might be a common occurrence for other food bloggers, it's not usual for me to receive invitations to, well, anything. So when the folks at Campos asked me if I'd like to come check out The Cupping Room above their flagship store in Newtown, it'd be an understatement to say I was excited, especially since it had been on my to-do list since forever.
When I arrive at 5 to 3 on a Saturday, it's hot and crowded and I can't move for the customers. I'm not surprised, it's one of the reasons I don't come here that often, but when my partner in crime arrives, she's shocked. 'It's as if there aren't any other coffee shops in Newtown,' she marvels. Well, for some, that may be true. We elect to wait outside. 10 or so minutes later we're led through the crowd to the back of the store, up the steep stairs lit by a single dangling light bulb. Like an old-time speakeasy, a panel in the door slides open and a pair of eyes peer out. 'Two?' Asks a voice. We nod. We enter.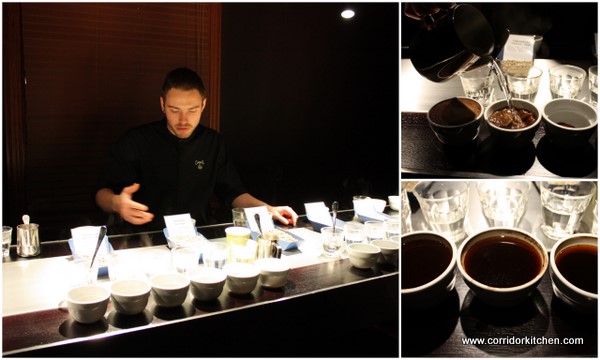 The space is pitch black save for a long wooden table, stainless-steel edged and lit by a line of spotlights. Our host, Todd has laid out 6 small bowls of coarsely ground coffee for each of us to 'cup' or taste. Cupping, he explains, is standard practice for roasters all over the world. The idea of cupping is that because you're removing all the variables inherent in brewing coffee, you're leveling the playing field and you really are just tasting the coffee. Each step of the cupping is usually given a score and that's how a coffee is chosen by buyers.
Latte glasses of water and metal spoon glint in the light as Todd explains the process. The first step, he says, is smelling each grind. We inhale each cup (well, not literally, but you know what I mean) and leave the descriptions to the expert. Next, Todd lets the coffee steep in 93° water for 7 to 15 minutes. We then break the 'crust' of grounds that has formed on the top, careful to expose rather than destroy the crema. Once we've 'crusted' each cup we are to taste each one in turn without speaking – this is the time to form our initial impression. Each coffee must be taken with a single, sharp sip from our spoon. Todd makes a loud definitive 'slurp' with his, practically inhaling the brew but we're more timid.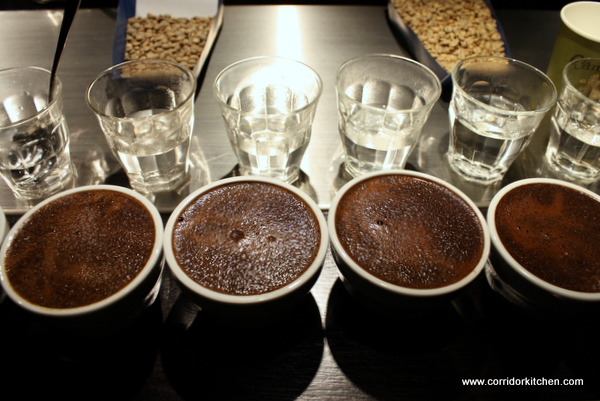 Afterwards we take our time though the 6 grinds, which have been set up in a very deliberate order, and we discuss the flavour profiles of each one. Todd says there's no wrong answer here and encourages us to describe the coffees. I find this very difficult to do, but as soon as he mentions a flavour, for example 'citrus' or 'earthy', I find his description fits what I'm tasting, and it's more than just the power of suggestion.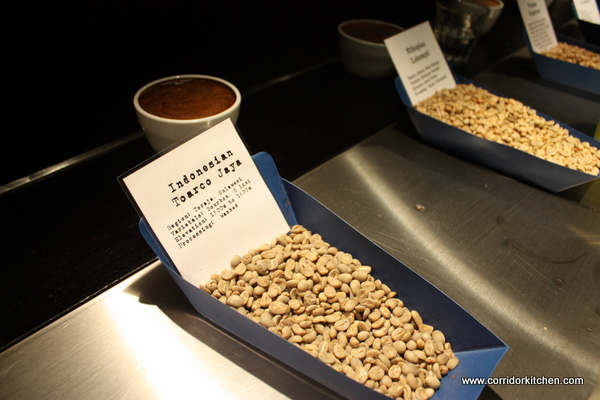 The coffees we taste are:
Indonesian Toarco Jaya – a solid, well rounded base.
The Ethiopian Lekempti – fruity, lemony. Yum!
Panama Emporium – I'm not sure how to explain this, but I don't like it. It reminds me of that nauseous feeling of having had 5 or 6 coffees.
Colombian el tiestro –I liked it but I don't remember much else about it.
Kenya Gethumbbwini – Very strong and zesty, like lemon peel.
Supermarket coffee – tastes like nothing.

Campos cups a variety of beans every day in their warehouse to maintain the consistency of their signature blend, 'Superior'. They will roast on a Monday, cup in a Tuesday and adjust the ratios accordingly on a Wednesday, and this cycle continues each day. Visiting coffee plantations and tasting their crops has been recreated in a much more pristine and theatrical setting here at the cupping room. I ask what coffee producers would think of their gleaming setup and he admits they'd probably find it pretty bizarre.
The Cupping Room
193 Missenden Road,
Newtown NSW 2042
(02) 9690 0294
Sessions Tuesday to Friday at 7:30 and 2.00pm
Saturday's at 8:30am, 1:00pm and 3:00pm
About me

Sharing easy recipes, hunting down the

best coffee

. Honest accounts, nothing too serious.

Read more...

Popular posts this month…

This work is licensed under a

Creative Commons Attribution-NonCommercial 2.5 Australia License

.

Disclaimer:

All opinions in this blog are mine, an everyday, real-life person. I do not accept payment for reviews and nor do I write sponsored posts. I do not endorse the content of the comments herein.