There was no doubt, NO DOUBT in my mind what my first (and second and third) stops would be after touching down in Sydney. They were, in no particular order, coffee, coffee and COFFEE. Senhor R couldn't agree with me more as, although it was relatively easy to hunt out decent coffee in Brasil, coffee in Argentina, which was where we spent the bulk of our trip, left something to be desired.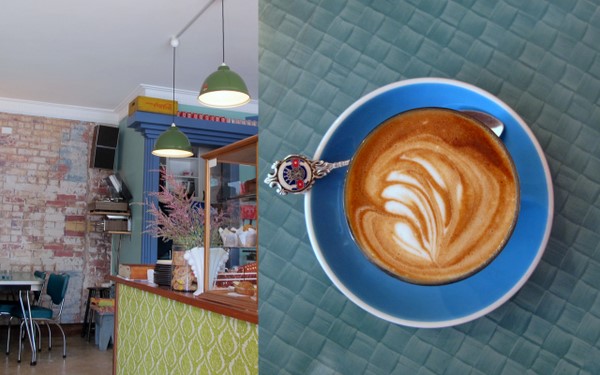 Actually, if I'm honest, coffee was my first stop before we even got to Sydney. We were salivating for Allpress Espresso at Auckland airport, having solemnly downed out 'last real coffee' there on our way to South America. When we got to Auckland, I downed my mach and could not stop grinning, in spite of the 14 hour, Aerolineas Argentinas hell I had just endured. Real. Coffee.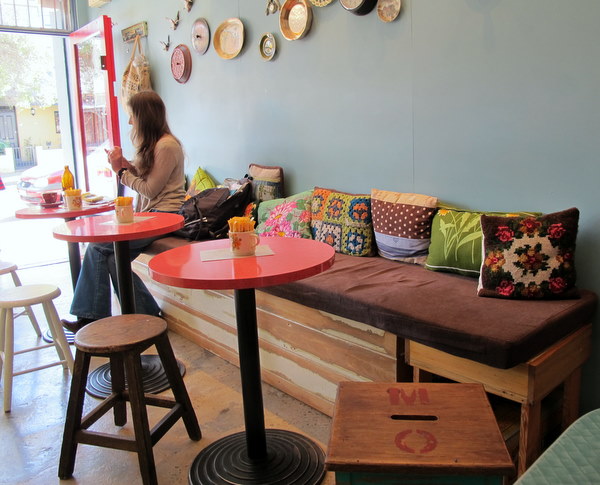 The second stop after dropping off our bags in Sydney was Don Campos nearby. The next morning, we were already on the hunt for somewhere new to try. After catching up on my blogroll I saw John over at He Needs Food had some good things to say about Belljar Espresso in Newtown, so we set off for Alice street.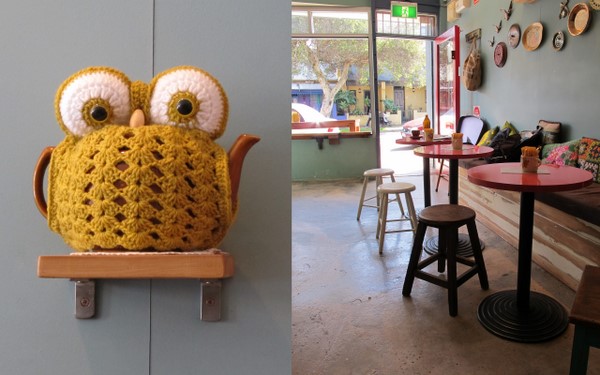 On our way we couldn't resist making our third coffee stop at The Kick Inside, Erskineville which was in the process of renovating so they were only doing takeaways. Senhor R was super happy with his piccolo and, suitably refuelled we continued on our coffee safari. Having wandered through Newtown a while, we arrived at Belljar coffee. It has a similar aesthetic to places like Miss Petty Cash and the aforementioned Kick Inside – knick knacks, bric-a-brac and retro furniture, classic espresso-coloured crockery offset by vintage teaspoons. It's an all too familiar template, yet one I never tire of.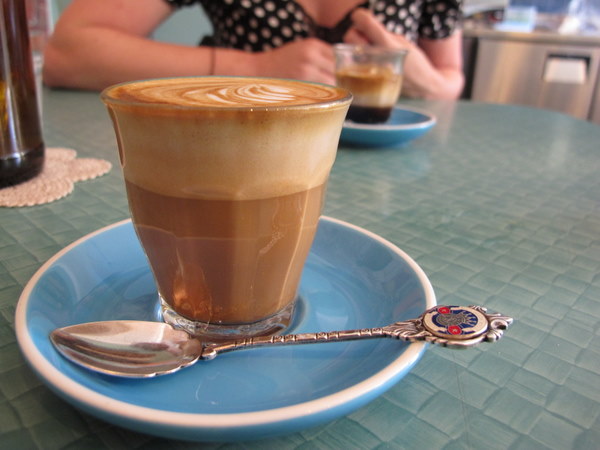 Hipster aesthetic aside, how was the coffee? Pretty good. They use Little Marrionette, which I think is overhyped, but so be it, coffee is coffee. It's a cool place to kick back, they play vinyl from your parents' collection, and the breakky menu looks good. I've been back once since and will most likely return.
Belljar Coffee
(02) 8096 4090
2/104 Alice Street
Newtown, 2042
www.belljar.com.au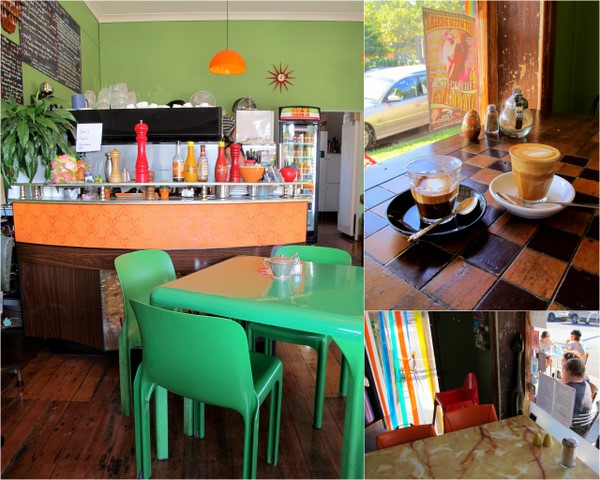 Who doesn't love the inner west? With its rockabilly, gritty aesthetic, it's mostly-gentrified streets, its plethora of ethnic restaurants. There's always something to do, something to see. Every day is a photo opp for one of those clichéd photographic exhibitions City of Sydney puts on in Hyde Park about the real/dark side of/contrasting Sydney – a nun smiling arm in arm with a drag queen, a beaming Italian man out the front of his bakery next door to a brothel. It's a Sydney that may or may not exist, depending on where you are and who you talk to.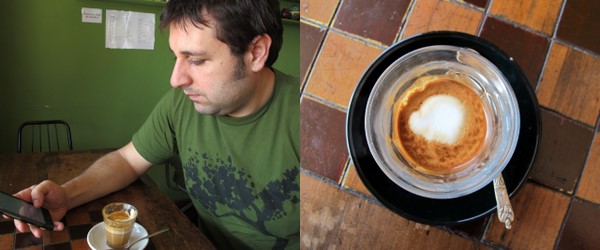 One place that definitely exists is the Petty Cash Café, a retro marvel on the Marrickville/Enmore border right next to Enmore Park. One Saturday morning Rui and I are just driving around, drinking in the visuals when we spot it on a sun-drenched corner. We pull over next to a couple of drool-worthy vintage cars and high tail it across the road to nab a table. Never mind the fact that we've already had a coffee this morning- I'll break my one-coffee-a-day rule for the chance to try somewhere new.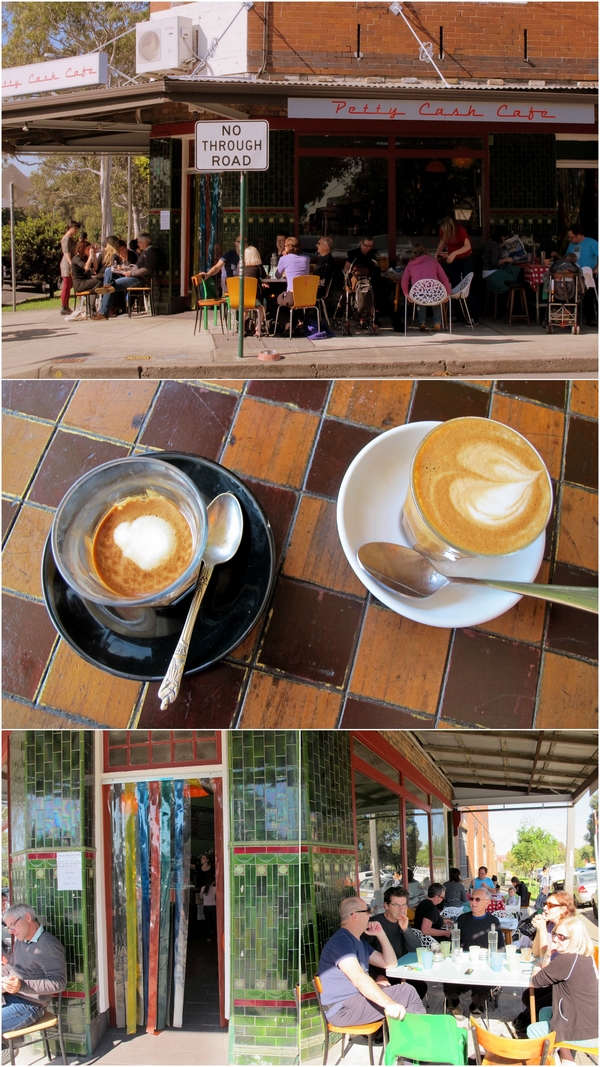 Petty Cash Cafe is one of those places that just begs to be photographed. Perched on the leafy Victoria road it has the retro/rockabilly vibe that I find so much more comfortable than the bare ligtbulbs, concrete floors and upcycled bicycle seat stools of the hipster aesthetic, although those things have their place as well. I love the clashing green/orange/red/warm timber, the retro furniture, the zany sugar bowls, the clientele and staff in the kind of getup I could never even envisage. It's a feast for the eye.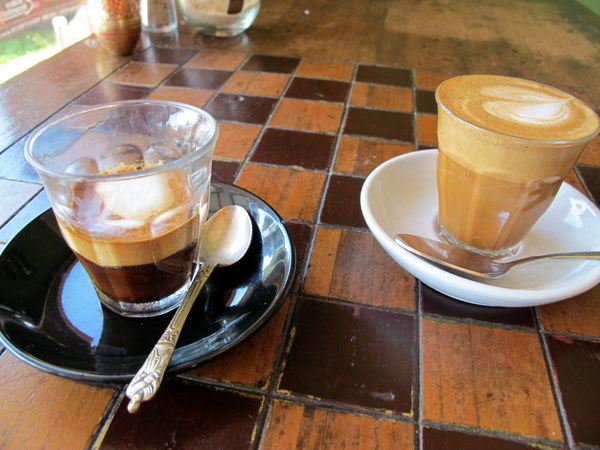 We plonk ourselves down at a chessboard table and order our standards. The food is served on mismatched china, although we don't partake. The cafe offers what you'd expect- all day breakfast, gluten-free baked treats, lunch offerings and delicious coffee. I'd love to come back and have breakky some time but we don't seem to do that much anymore.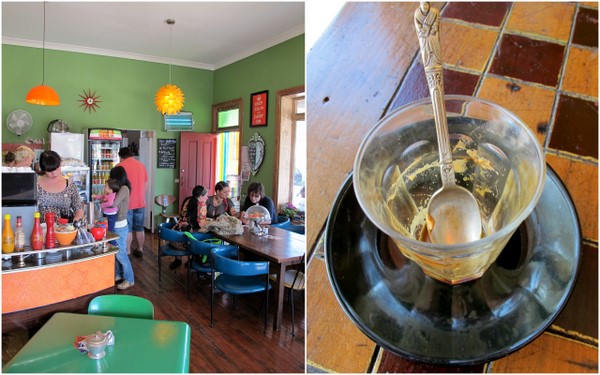 Our coffees arrive and there's no need to rush. I sit and look out the window at the park which, from this angle actually looks pretty amazing as Rui, true to form, plays with his phone. I people watch inner-west parents weilding SUV-sized prams, goths and hipsters taking their Saturday morning stroll side by side, kids clambering over the newly erected playground and an old lady wheeling her groceries back from the Metro. Now all we need is a nun and a drag queen and we'll be right to set up in Hyde Park…

Miss Petty Cash
68 Victoria Road
Marrickville 2204
(02) 9557 2377
We all have those cafés we wander by on a regular basis and think to ourselves 'I really MUST remember to check that place out one day.' More often than not, 'one day' never comes as we continue in our established patterns and habits, hanging out in the same bars and cafés as we always have.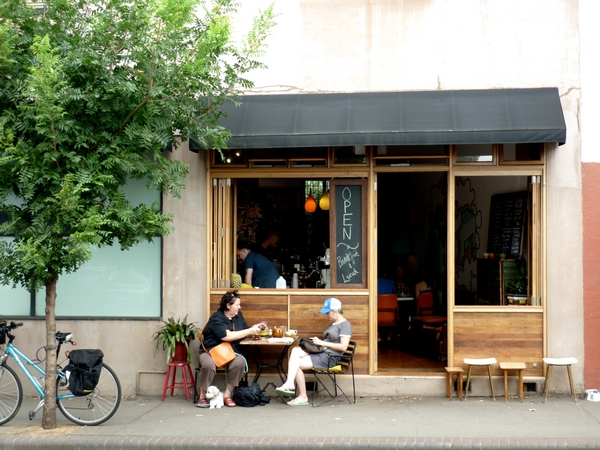 One of the reasons I started writing Corridor Kitchen was as a means of stemming the tide of oft-walked-by places. I hoped that the cafés I had always wanted to check out would also be of interest to others, and that perhaps they, in turn, could suggest places to me. I wanted to develop a list of places that, in my opinion, are worth checking out.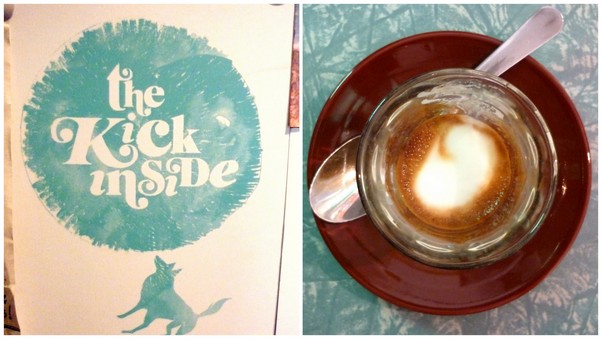 I had wanted to check out The Kick Inside in Erskineville for months, which in reality probably means about a year. I finally headed there a few weeks ago when I had run out of coffee at home. It was about 40 degrees that day and I felt sorry for the guys working there- big open front window, no air conditioning. It's not a great place to go in summer as you find yourself sliding down the retro vinyl furniture in a most unrefined matter.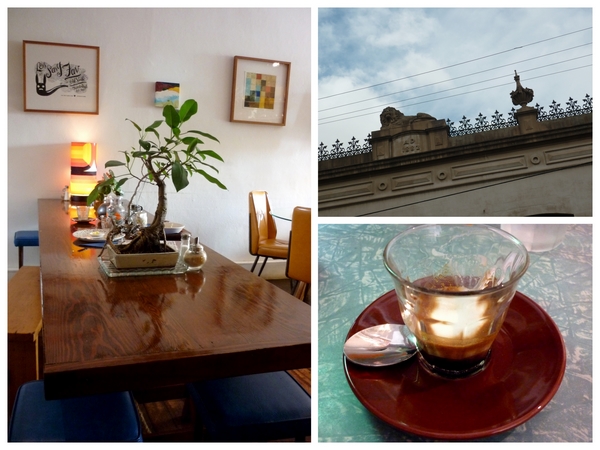 That said it was all worth it when the barista brought me over a little retro carafe of water and a glass as well as the macchiato I had ordered. The heat was a bonus in a way, as I usually have to skull my tiny coffees but this time case my mach held the heat and I read the food-wank section in the Sydney Morning Herald. I glanced around. Photogenic Interior? Check. Good coffee? Check. This place deserves a review.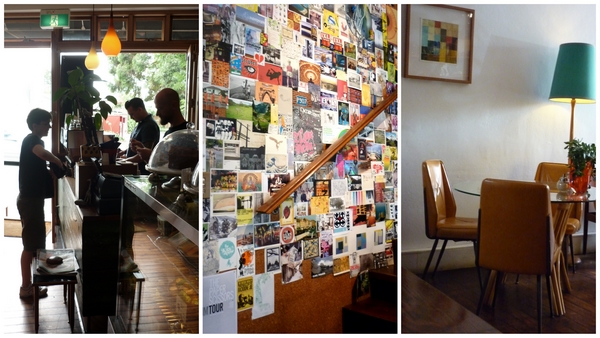 I arranged to meet my always-5-minutes-early friend there last Wednesday, and when she hadn't appeared by 5 past the hour I began to think she wasn't coming. This is not a reflection on my own impatience (although I am generally impatient), but rather her extreme punctuality. I received a panicked phone call a couple of minutes later. You see, the Kick Inside has no signage out the front, so she couldn't find it, and like most people, she had assumed Erskineville petered out around the former South Sydney Town Hall. The Kick Inside, however, is located up the Newtown end of Erskineville Road, near the petrol station.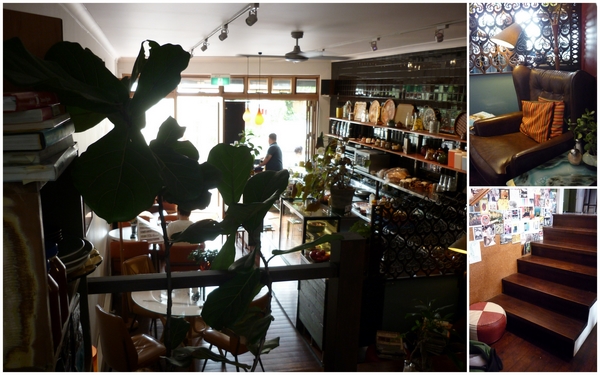 Out of breath and apologetic, my coffee companion joined me at my aqua-coloured side table surrounded by blue vinyl stools. The place describes itself as 'an old skool lounge room' and that's not far off the mark. The Kick Inside is a colour-coordinated mismatch of retro chairs, lamps and tables are thoughtfully placed throughout the hardwood-floored interior, the coffee machine and food prep area stretches along one wall, a decor-matching mural in aqua and orange on the wall opposite. There's a small courtyard and toilets out the back and a blackboard menu of reasonably priced cakes, breakfasts and Panini.
But coffee is what we came for and coffee is what we had. The Kick Inside uses Golden Cobra coffee, stocked by a limited number of cafés. I'm in a macchiato phase right now and my friend ordered a weak skim latte, but she wanted the same ratio of coffee to milk as you would get in a normal sized latte, so she ordered it with extra froth. This rarely works, as I know from my own unsuccessful attempts at ordering an extra frothy cappuccino only to receive a normal one. I gave up on caps years ago as latte-art obsessed baristas don't seem to understand the concept of froth. Cappuccinos are one third espresso, one third milk and one third froth. Thus, a frothy cappuccino will have more than one third froth, and thus be quite strong. In Australia, a cappuccino includes a dusting of chocolate powder, making latte art irrelevant as all it does is dissolve the chocolate the cap drinker has been hanging out for.
So how was the latte? Perfect. It was extra, extra frothy but there was no compromise on the texture of the milk. And the mach? No shortcuts here, my macchiato was full cream deliciousness, nice and short, strong and rich. This place definitely deserves another visit.
The Kick Inside
(02) 9517 2255
43 Erskineville Road
Erskineville, 2043
Tues-Fri: 7:00am – 3:00pm
Weekends: 8:00am – 4:00pm
Do you have an often-walked-by place you're just dying to try?
About me

Sharing easy recipes, hunting down the

best coffee

. Honest accounts, nothing too serious.

Read more...

Popular posts this month…

This work is licensed under a

Creative Commons Attribution-NonCommercial 2.5 Australia License

.

Disclaimer:

All opinions in this blog are mine, an everyday, real-life person. I do not accept payment for reviews and nor do I write sponsored posts. I do not endorse the content of the comments herein.