Black Coffee Revolution – Cold Drip
Over the next month, I look at black coffee – the contraptions, the methods, the how to's and the why's. David Ruslie, Campos' resident black coffee obsessive, walks us through aeropress, cold drip and pourover and explains why he's so passionate about this back-to-basics approach.
"Australian coffee culture is actually milk coffee culture, and I'm trying to change it," David tells me. Single-handedly trying to convert us from flat-whites-with-one to siphon/cold drip/aeropress? Not so much, Dave says, but he's excited to share the precision and hands-on nature of black coffee brewing with me. He kindly offered to walk me through these 'third wave' or 'fourth wave' (whatever it is we're up to now) methods. We're going to start with the chemistry lab setup that is cold drip.
David explains that there are two basic methods of coffee making- immersion and percolation, and cold drip is full percolation. This method involves steeping fresh, coarse coffee grounds at room temperature over time, usually around 12 hours. This results in an extremely caffeinated, low acidity, sweet-tasting cold coffee, and a brew that non-espresso drinkers often warm to. 'It doesn't actually taste like coffee.' says David, which is a good way of explaining the flavour- bright, mild and tea-like.
For the cold drip, David used 1500mls of water for 250g of ground coffee, with a resulting yield of 1200ml of cold drip brew. The ideal brewing time is 12-15 hours, as there is no heat to aid extraction. David favours 8-9 drips per 10 seconds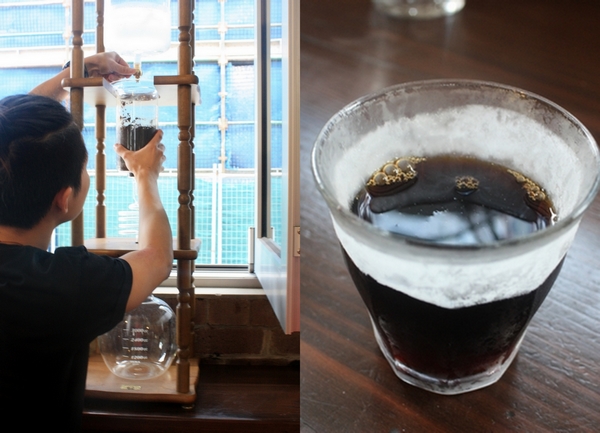 As complex as this chemistry lab setup may look, you don't necessarily need it to cold brew your own coffee at home. Similar results can be achieved by steeping coffee in a jar or overnight, and then pouring the resulting liquid through a coffee filter and chilling for future use. You can also do this in a French press, as you would for hot coffee but again, overnight.
embedded by Embedded Video

YouTube
The video above demonstrates how cold drip is made. For more info on how to brew you own cold coffee at home, click here.
Are you a cold coffee fan? What's your fave way to enjoy it?
Other Black Coffee Revolution Posts:
Aeropress
About me

Sharing easy recipes, hunting down the

best coffee

. Honest accounts, nothing too serious.

Read more...

Popular posts this month…

This work is licensed under a

Creative Commons Attribution-NonCommercial 2.5 Australia License

.

Disclaimer:

All opinions in this blog are mine, an everyday, real-life person. I do not accept payment for reviews and nor do I write sponsored posts. I do not endorse the content of the comments herein.