When it comes to cafes, word of mouth is a very powerful tool. Good word of mouth, before you've even opened, allows you to embed you café deep in a suburb, rather than jostling with the rest of the gun baristas for custom on the main drag. Hell, you can even start your own hub of hipness in a post-industrial wasteland.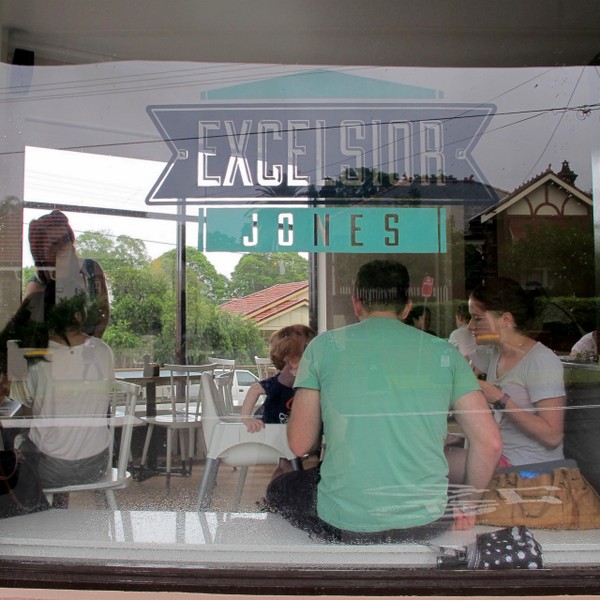 It also ensures a good mix of truly local customers and those who are willing to really look for their next caffeine hit. A counterintuitive business strategy, but one which has been well established – make your product accessible, but not *too* convenient. Put your small bar down an allyway or behind a suit shop. Plant your flagship Aussie donut store in Penrith. Make your customers hunt around a bit. The rest is history.
So to say that Excelsior Jones is off the beaten path/in an unexpected place/not where you'd think would be a tad misleading. It's exactly where you'd think- in a suburb crying out for a good café, and I'm betting there'll be plenty more where this came from.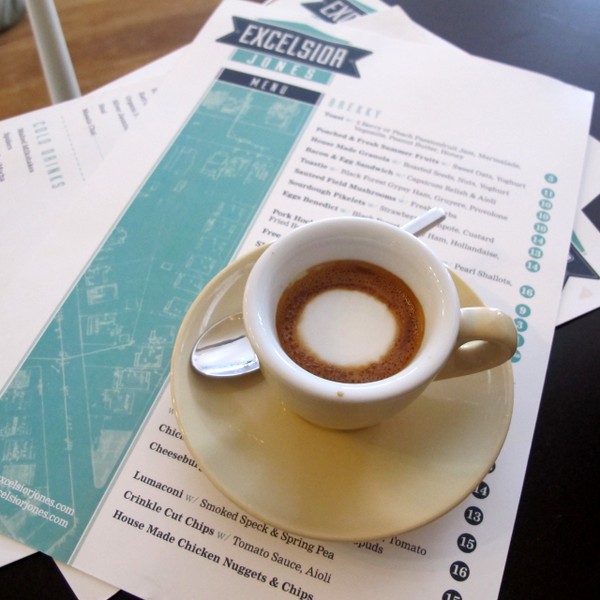 On Excelsior Jones' second day of trade the place is packed with the caffeine-iratti, should such a thing exist, plus food bloggers/writers and curious locals. My companion and I order a pair of macchs and some toast. The cups are prewarmed (always a good sign) and I like the diy butter and veg for the toast – you never know what ratio a customer's gonna want on their sourdough. Jones' houseblend of five senses coffee goes down a treat with just a splash of milk – a bright flavour settling across the roof of the mouth, with a pleasant kick to follow.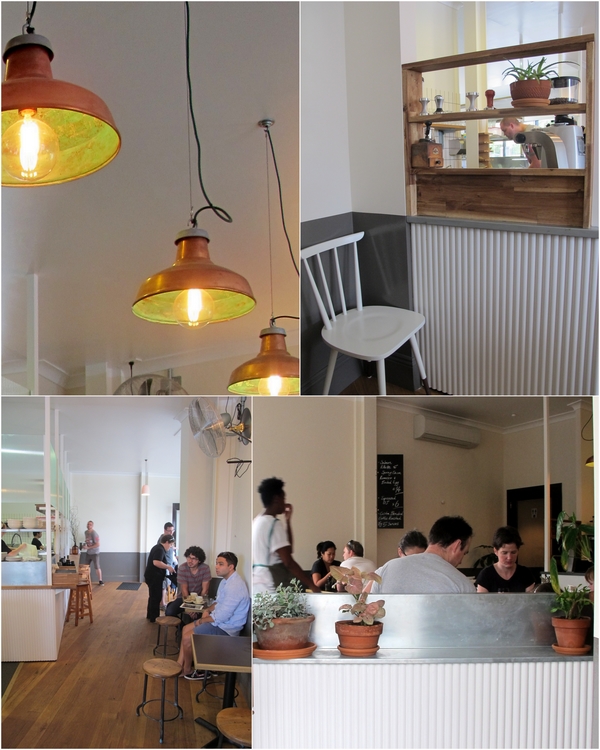 The decor is warm minimalist, the colour scheme painstakingly well thought out. Everything is wood, warm grey, chocolate brown and white; even the cups, salt and pepper shakers and upcycled sugar jars harmonise, without being matchy-matchy. The whole place has a matt patina, loads of light and bare walls. It's as beautiful as it is uplifting.
My second visit is just over a week later with two friends for an early public holiday Monday brekky. As I wait for my mates I sip away at my macch and browse the menu. This seems to be the family shift, mums, dads and under sevens, and a sprinkling of couples. The place is really loud, kind of a given with high ceilings, wooden floors, huge windows and small children. Once we're a table of three we can barely hear each other speak. It's something to keep in mind when timing your visit.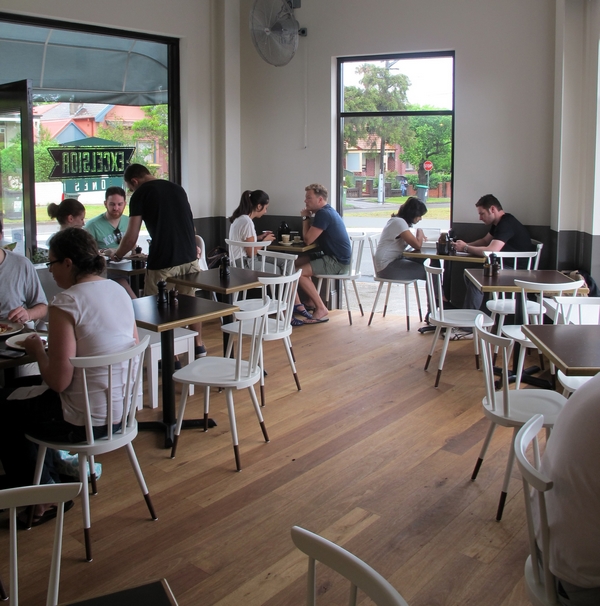 Menu-wise, there's nothing over $16, but it is worth noting that servings aren't huge. Between us we order the delectable sourdough pikelets (there are three), a fruit salad of poached and fresh summer fruits, a daub of yogurt and a pinch of oats, and eggs benny. Overall they are quality, simple breakfasts, what you'd expect but done with finesse. Sides aren't cheap though, and you may need a few if you have a big breakfast appetite. Lucky for me, my usual gripe with brekky is that it leaves me too full, so I'm happy with the portion size.
The menu also includes lunch (which begins at noon) of two sambos, two salads, one cheeseburger and a pasta, as well as fries, and nuggets and chips for the kiddiewinks. The lunches that have been cluttering up my instagram feed appear simple and well presented.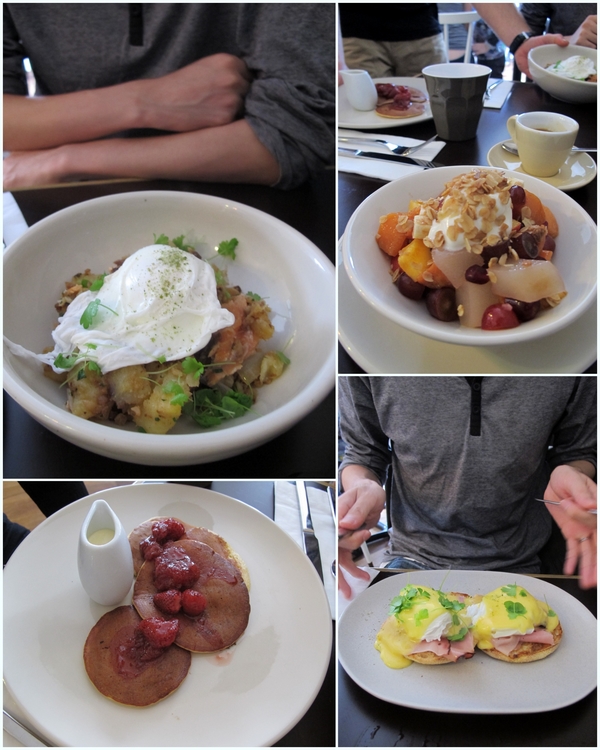 I found the service to be relaxed, friendly and switched on. Staff were attentive, personable, and all-round lovely. There is strong attention to detail in everything these guys do, and I hope this continues. It would be an ideal setting for a bit of coffee gadgetry, and maybe a bit of experimentation menu-wise. Well-executed classics aside, I'd love to see these guys really get creative.
Excelsior Jones
139a Queen Street, Ashfield NSW 2131
02 9799 3240
www.excelsiorjones.com
Tuesday – Friday 7:30am – 4:00pm
Weekends 8:00am – 4:00pm
Closed Mondays
About me

Sharing easy recipes, hunting down the

best coffee

. Honest accounts, nothing too serious.

Read more...

Popular posts this month…

This work is licensed under a

Creative Commons Attribution-NonCommercial 2.5 Australia License

.

Disclaimer:

All opinions in this blog are mine, an everyday, real-life person. I do not accept payment for reviews and nor do I write sponsored posts. I do not endorse the content of the comments herein.