So its full steam ahead with The Potluck Club as we've been compiling and proofing recipes, chasing up submissions and sorting through ph
otos. 24 bloggers have submitted a total of about 35 original recipes and as many photos. A huge thank you to everyone who has submitted their work to help raise money for Foodbank, in conjuction with The $35 Challenge.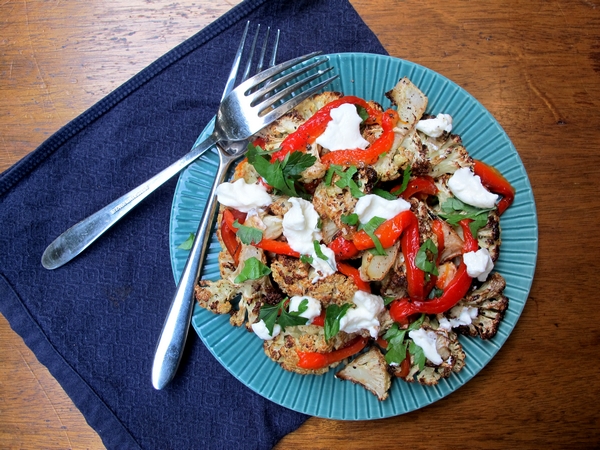 This October, as part of the the City of Sydney Libraries' 'Lunches with bite' series, I will be presenting a couple of talks on The $35 Challenge – one on Tuesday October 9th at the King's Cross Library and one on Friday 12th of October at Custom's House Library. The talks are on the week before the challenge, to get you ready-slash-psyched. Both talks are free but places are limited, so if you're interested, follow the links to register.
I'll also be hosting a recipe swap at the Glebe Library in November. We're encouraging everyone to bring their favourite home recipes, cookbooks and food blog links – we're calling it an 'old-fashioned-meets-social-media recipe swap'. I'm both excited and phenomenally terrified, so come on down. If nothing else, it'll be good for a laugh.
Since its been all about the e-cookbook lately, I thought it a good idea to post an actual recipe. I've been eating roasted cauliflower all winter as a side dish, but it also makes a fab 'share plate', as the kids say. Serve it with crusty bread and mediterranean dips, or maybe as a side to roast chicken or a comforting casserole.
Roasted Cauliflower Shareplate with Red Capsicum and Goat's Cheese
1 large red capsicum (you will only need half of what you roast)
1 small head of cauliflower (about 900g), sliced into pieces of about 2cm thickness
2 cloves garlic, finely sliced
the juice of half a lemon
a very generous slosh of extra virgin olive oil, to coat the cauliflower
1 tsp baharat or, failing that, ground cumin
freshly cracked salt and black pepper, to taste
50g goat's cheese
chopped continental parsley, to garnish
Preheat the oven to 200 degrees c. Roast the capsicum in a large baking dish, turning every 10 minutes or so, until soft and slightly blackened. Put to one side in a bowl and when no longer hot but still warm, cover with cling wrap to sweat.
Toss the remaining ingredients together (except cheese and parsley) in a large bowl to coat the cauliflower. Pour onto the tray used to bake the capsicum. Turn the oven down to 175 degrees c and bake for 30 minutes. Then turn over the cauliflower and bake a further 15-30 minutes until soft and slightly brown.
Meanwhile, skin the almost-cool capsicum, discarding the stem and seeds. Slice finely.
Arrange the cauliflower on a plate, draping the capsicum and dolloping the goat's cheese as desired. Share with friends.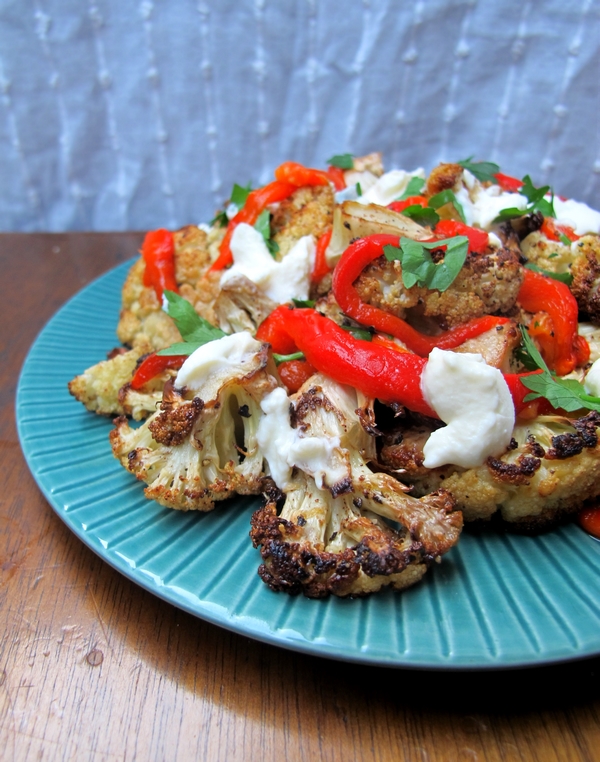 About me

Sharing easy recipes, hunting down the

best coffee

. Honest accounts, nothing too serious.

Read more...

Popular posts this month…

This work is licensed under a

Creative Commons Attribution-NonCommercial 2.5 Australia License

.

Disclaimer:

All opinions in this blog are mine, an everyday, real-life person. I do not accept payment for reviews and nor do I write sponsored posts. I do not endorse the content of the comments herein.