If I'm asked to choose my favourite food from a particular country, it's likely to be a condiment. In the case of Argentina, I can't go past the pulpy, herby, vinegary mess that is chimichurri. Made of parsley, oregano, oil, vinegar, garlic and ají molido (fine, mild chilli flakes), this sauce is slathered on meats after cooking for an extra bit of zest, flavour and texture.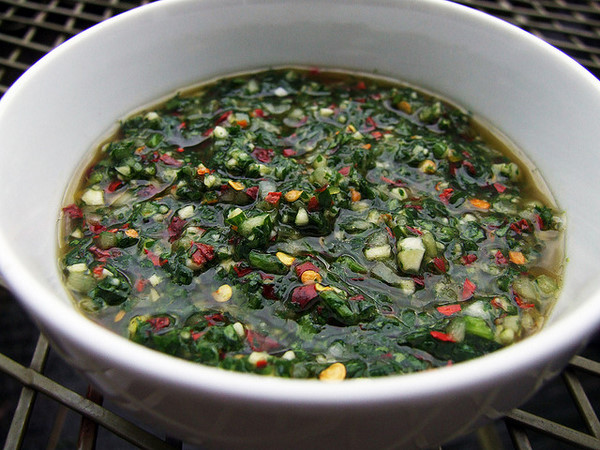 Image courtesy of Food Stories
Contrary to popular belief, this salsa isn't always a lurid green, nor is it mandatory at Argentine asados. It also doesn't have to be served fresh – it can last for months in the fridge. Allowing it to sit for a few hours or even a few days will allow the flavour to mellow and the dried herbs to soften, and many people prefer it this way. If you're interested, you can read more about chimichurri in this excellent post from Asado Argentina.
A word of caution – dried chilli flakes in Argentina are a lot milder than those we get in Australasia. Our chilli flakes are larger and usually include chilli seeds, thus if you are using these kind of chilli flakes, use them sparingly. Chimichurri is not traditionally a hot condiment, sometimes the chilli is omitted altogether but usually it's added to taste.
Chimichurri
1 cup very finely chopped fresh parsley (use a food processor if you like)
½ a head of garlic, very finely chopped
1 bay leaf, finely chopped
3 Tablespoons of dried oregano
1 teaspoon sweet paprika
½ teaspoon fine salt
Ají molido or dried chilli flakes, to taste
½ cup of oil – olive or grape seed for example, something mild yet suitable for salad
1 cup wine vinegar or apple cider vinegar
½ cup water
Mix all herbs and spices together. Add oil and vinegar, if the chimichurri is too thick; add enough water to thin it out. Add chilli flakes to taste and leave to sit for at least 2 hours.
About me

Sharing easy recipes, hunting down the

best coffee

. Honest accounts, nothing too serious.

Read more...

Popular posts this month…

This work is licensed under a

Creative Commons Attribution-NonCommercial 2.5 Australia License

.

Disclaimer:

All opinions in this blog are mine, an everyday, real-life person. I do not accept payment for reviews and nor do I write sponsored posts. I do not endorse the content of the comments herein.