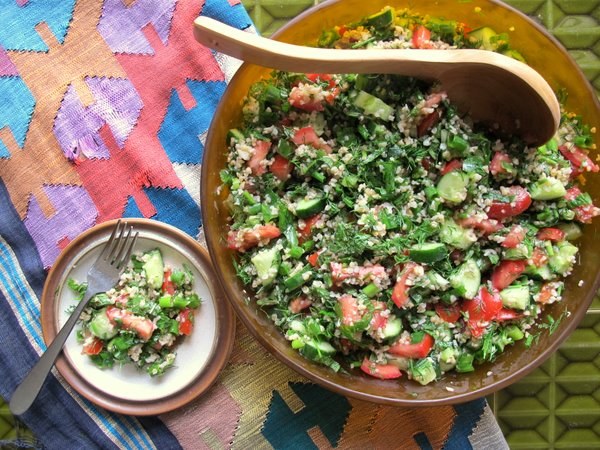 Sometimes a missing ingredient can lead to a tasty surprise. This is one such example, where I planned to make tabouleh for a bbq I was attending, but found that, strangely enough, Vietnamese greengrocers don't always stock parsley. As the mint and spring onions smelled amazing and I'd already ducked into Woolies and found cracked wheat , the closest I could get to burghul (which is finely cracked wheat), I decided to forge ahead- almost-tabouleh it would have to be. Luckily there was plenty of dill around, so I improvised.
The recipe turned out well, very fresh-tasting and with a nice zing. The lemons I had were ancient (explains the $1/kilo price tag) so I had to add a teaspoon or so of castor sugar, but if your lemons are reasonably fresh you should be ok. This recipe makes a massive salad, a great addition to any summer feast.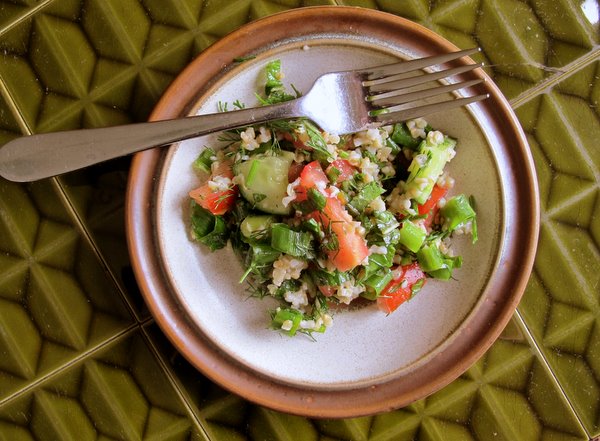 Almost Tabouleh
1 cup cracked wheat or burghul
1-2 cups boiling water
1 clove garlic
6 spring onions
1 small bunch mint
1 bunch dill
3 large, ripe tomatoes
2 lebanese cucumbers
2 large juicy lemons
1-2 Tablespoons canola oil
1 -2 teaspoons baharat spice mix (if you have it)
Freshly cracked pepper and salt, to taste
Sugar (perhaps)
If you're using cracked wheat, boil in 2 cups of water for 10-15 minutes and leave to cool. If you're using burghul, soak in 1 cup boiling water, covered for 10 minutes. You may need to drain it a bit, I had to rinse the cracked wheat in cold water as it went quite starchy.
They key to this salad is fresh herbs, finely chopped. Very finely chop the garlic and mix through the burghul/wheat. Finely chop the spring onions. Pick the mint leaves, discarding the stalks and very finely slicing the leaves. Finely chop the dill until you reach the point where there's more stalk than leaf. Stir the herbs through the wheat.
Roughly chop the tomatoes, then quarter and slice the cucumbers. Douse in lemon juice and a slosh of oil, adding everything else to taste. Stir well and refrigerate. Best made a few hours ahead, can make the day before.
Have you ever had a missing ingredient lead to an unexpected dish?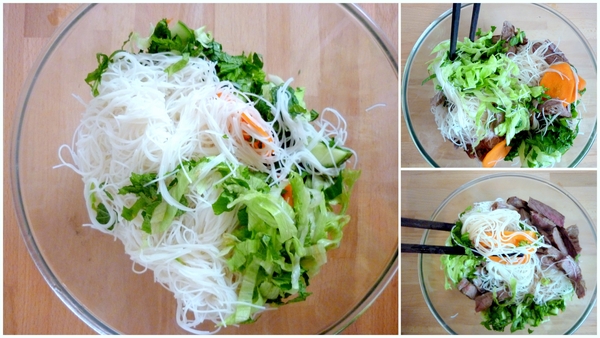 These days, you can't turn on the TV without the giant head of a celebrity chef glaring back at you. Food is one of the most popular topics on television, with Masterchef, My Kitchen Rules and a raft of ABC and SBS food programming available. It is also one of the top topics for blogs, after technology, fashion, celebrity gossip and…how to make money from blogging. In fact, in 2010, a total of 88 new food blogs were started in Sydney alone (*cough* Corridor Kitchen *cough*). Appearances by Jamie Oliver elicit Beatles-fan-like reactions of screaming and fainting. Nigella Lawson's recent visit to Australia  had pilgrims flocking to Melbourne from a Master class. Visiting a café is considered an activity in and of itself. There is an entire pay TV channel, Lifestyle food, devoted to food. We are a nation of foodies obsessed.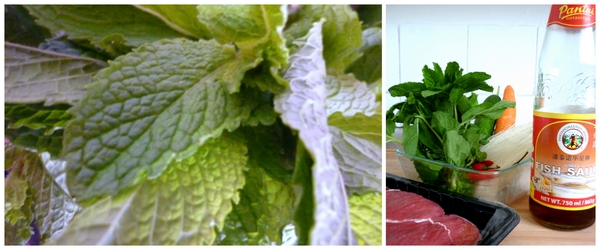 As a food blogger, I feel a complicated mixture of fascination with and a desperate yearning to avoid this trend, even though I am clearly a participant. But I do have my favourite food-related productions, blogs and books, as does most anyone who enjoys food. I devoured Michael Pollan's 'In Defence of Food' in an afternoon. When I discovered Lisa Fain's blog Homesick Texan I read every single entry over the course of a month. And I watched every episode of Meave O'Meara's Food Safari on SBS, my boyfriend later purchasing all three series' on DVD. When they arrived, I scoured the special features for new recipes.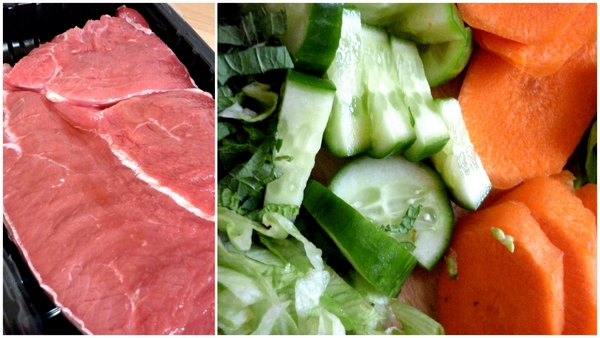 What works so well about the show is the way it reveals how people really cook in their own homes. Food Safari covers 35 of the cuisines you will find in Australia. Each episode covers basic ingredients, dishes and cooking methods as chefs and home cooks alike present recipes their own kitchens. Often these recipes are thought of as nothing special by those who make them, but through sharing them, they realise how special they really are. It's also heartening to see how family businesses often start through necessity- e.g. through not being able to find kimchi or tofu or mozzerella in Australia, kimchi and tofu and mozzerella factories spring up!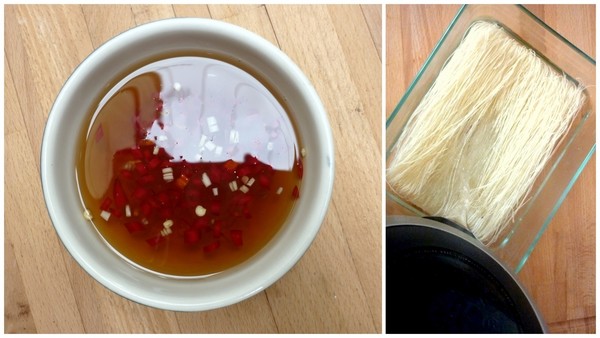 One of the Food Safari recipes I often cook is Bun bo xao, a rice noodle salad with stir fried beef. The recipe is presented by Chef Luke Nguyen, chef at Surry Hills' Red Lantern and host of Luke Nguyen's Vietnam on SBS. Because I am a lazy cook at heart, and perhaps because I was a vegetarian for 10 years I cut the meat after I cook it. This makes my version a little more like your standard Sydney Thai beef salad than a Bun. I can't make any claims about how food in Thailand or Vietnam is prepared- unfortunately, I've never visited either country.
A quick tip: The nuoc cham will keep for ages in the fridge so don't worry that you've made too much. The Food Safari recipe makes about enough for 4 people.
Bun bo (adapted from Luke Nguyen's recipe as featured on Food Safari)
Serves 2
200g – 300g sirloin or rump steak or any lean, boneless steak at least 2cm thick
3 Tablespoons fish sauce
1 tsp finely chopped lemongrass
Canola spray
200g thin rice vermicelli
Boiling water
2 large iceburg lettuce leaves
1/2  small bunch mint
6 perilla leaves (optional)
1 carrot
1 spring onion
1 lebanese cucumber
Nuoc cham
Pour the fish sauce and lemongrass over the steak. Cover and 5-10 minutes in the fridge.
Make the nuoc cham as per recipe.
Soak the noodles in boiling water for 2 minutes, chop up with scissors, drain and rinse with cold water.
Finely shred lettuce, perilla and mint, finely slice carrot and spring onion and slice cucumber lengthways and chop. Place in a colander with rice noodles and rinse. Be sure everything is properly drained so the salad won't get soggy.
Heat a frying pan to very hot. Place whole steak in and sear. Cook for around 2 minutes and turn to cook other side. It really depends how you like it as to how long you cook it. The important thing is that it is cooked on a very high heat.
Separate the vegetables and noodles between 2 large bowls. Immediately slice the steak into thin strips, across the grain and divide between the bowls. Spoon over some nuoc cham and serve. The idea is for each person to stir up their salad themselves, adding more nuoc cham to taste.
What's you fave product of foodie-ism?
About me

Sharing easy recipes, hunting down the

best coffee

. Honest accounts, nothing too serious.

Read more...

Popular posts this month…

This work is licensed under a

Creative Commons Attribution-NonCommercial 2.5 Australia License

.

Disclaimer:

All opinions in this blog are mine, an everyday, real-life person. I do not accept payment for reviews and nor do I write sponsored posts. I do not endorse the content of the comments herein.