Pantry Pasta and what people really eat
I've always had an interest in what people really eat and cook. Not what they say they eat, not what they blog but what they actually eat. The food media that gives me the most satisfaction is that which starts with this very obvious question- what do people eat? It's why I adore shows like Food Safari and blogs like Smitten Kitchen and The Stone Soup, and also why one of my favourite people to follow on twitter is Pantry sniffer, who tweets entire recipes in 140 characters.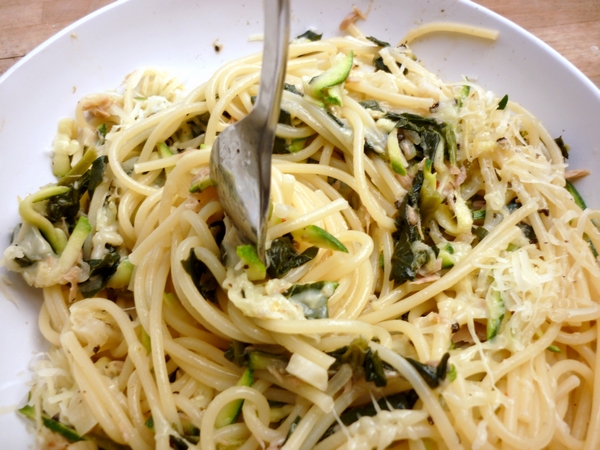 When I started Corridor Kitchen, I stressed that my photos wouldn't be up to scratch, as my camera is a pretty basic point-and-shoot that doesn't tend to focus properly. As a result I took hundreds of pictures of each dish. This, along with needing to photograph food in daylight hours meant I had to cook specifically to blog. In other words, I wasn't blogging my actual daily eats, or even my once-a-week eats.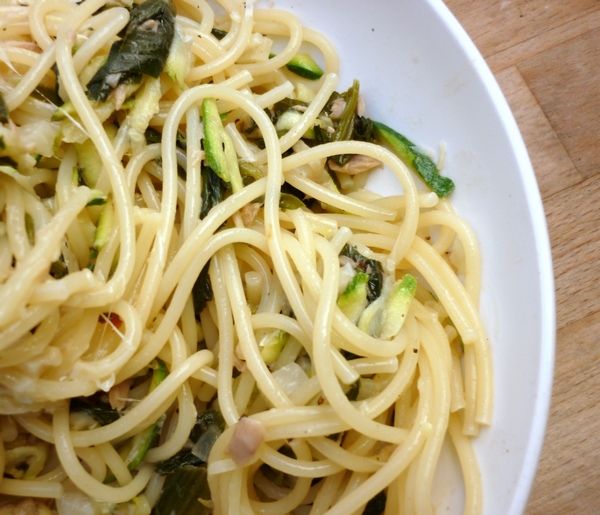 I've recently realised that this runs contrary to the whole ethos of Corridor Kitchen of common sense, cheap and practical food. Since I started blogging, my everyday cooking has become decidedly less creative, and I find our house filled with more baked goods than I'd care not to eat. I want to believe that the creative side of cooking, that intuitive what's-in-the-fridge/pantry-and-what-can-I-make-from-it approach my mother taught me is blogworthy.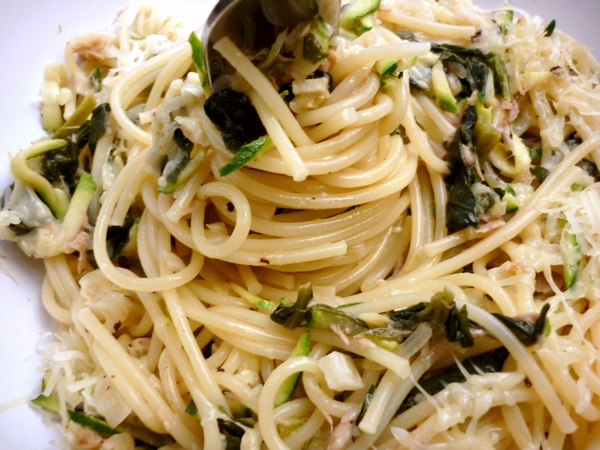 This dish is one I've made a lot lately, and something I've only ever cooked for myself. It's made with things I always have on hand and is very flexible . I take my new-old favourite, spaghetti and coat it in a garlicky, lemony sauce with chunks of tuna, zucchini and spinach, sprinkling it with romano and freshly cracked black pepper. The building blocks are pasta, tuna or chicken, garlic, wine dregs, butter and oil, and a hard cheese with any green veggie you like.I always have frozen spinach on hand so I used that, and I had a zucchini this time around but I've used green beans, cabbage and even buk choy in the past.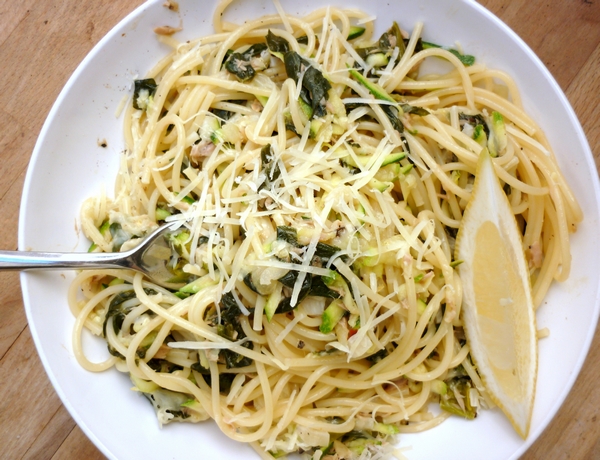 Lau's Pantry Pasta
(serves 2)
Enough spaghetti for 2 people
A generous dollop of butter
A good slosh of olive oil
1 very small onion, diced
Pinch salt
6 cloves garlic (so about twice as much garlic as onion), finely chopped
Pinch chilli flakes
The zest of half a lemon
1 individual 95g tin of tuna – I used a lemon pepper flavoured one but you can use any kind.
1/2 cup white wine dregs
1 zucchini, grated
80g frozen spinach, defrosted (microwave 1 minute on high)
The juice of half a lemon
Romano and freshly ground pepper, to taste
Put the pasta on to boil as per the packet instructions. I turn the stove up full blast, boil a jug, pour the water into the pan and once it boils, and add salt. When it comes to the boil again, I snap the spaghetti in half and cook for 8 minutes.
Meanwhile, heat the butter and oil in a medium frypan. Add the onion and stir. Once translucent, add the garlic, chilli flakes, salt and lemon zest.
Once this is cooked, add the tuna, a ladleful of the boiling pasta water, the wine and the spinach. Cook a few minutes. Add the zucchini and cook a couple of minutes until soft.
Once cooked, add the drained pasta and some pepper and salt. Stir through while still on the heat. Serve with plenty of romano and freshly cracked black pepper.
What's your favourite home alone dish?
About me

Sharing easy recipes, hunting down the

best coffee

. Honest accounts, nothing too serious.

Read more...

Popular posts this month…

This work is licensed under a

Creative Commons Attribution-NonCommercial 2.5 Australia License

.

Disclaimer:

All opinions in this blog are mine, an everyday, real-life person. I do not accept payment for reviews and nor do I write sponsored posts. I do not endorse the content of the comments herein.