Five café trends that keep the industry growing
Whether you're looking to wile away the hours lingering over an aeropress on a sunny stoop or stop to quickly slurp down a ristretto, there's no denying that we Sydneysiders are pretty bloody spoiled when it comes to café choice. This year, I had a the chance to pen a few reviews for The Sydney Morning Herald Good Café Guide 2013, which I more than jumped at. Here are 5 trends that'll keep the Sydney café scene growing for the next 12 months.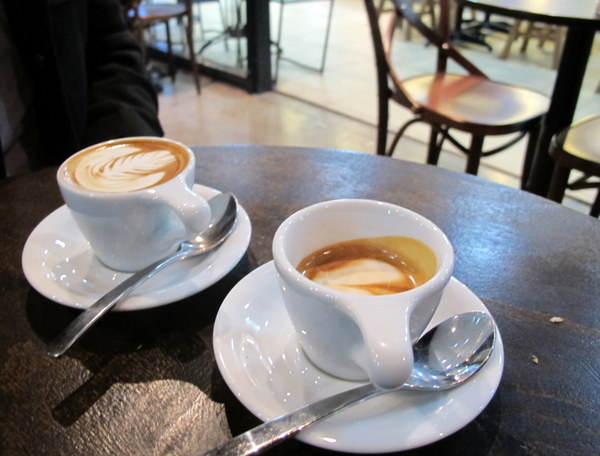 Migration south-westwards - despite what some of us may believe, coffee doesn't begin and end with Surry Hills. Unsurprisingly, Marrickville did fantastically well at this years' Good Café Guide Awards; although Surry Hills Cafés took out 3 of the 10 awards on offer, Marrickville's Coffee Alchemy won 'Best Coffee', and 3 of the 13 coffees awarded 3 cups (a score of 18-20 out of 20) are located in Marrickville, a result unrivalled by any other Sydney suburb. 'Best Café' went to Circa in Parramatta, 'Best New Café' to inner-westie Excelsior Jones and a bunch of new cafés were added to the guide in other south west suburbs.
Green bean obsession - whether is be microlots, single origin, home roasting or becoming bffs with the dude that harvests your beans, our coffee houses are fast filling up with coffee bean obsessives. What's more, cafés without a knowledge of the raw materials look like they lack knowledge full stop, and knowing what's what bean-wise is only going to become more important as time goes by.
'Your local' - this phrase still applies to our local watering hole, it's just the beverages we're consuming these days are of the stimulating variety. The barista is fast replacing the barkeep as the one we tell our troubles to, and multiple trips to grab that picollo each day mean we may spend more time at the espresso machine than having post-work beers with our work-mates.
Alterna-brews just keep growing – From aeropress to syphon, cold drip to pourover, non-espresso black coffee methods with freshly ground beans gives new meaning to the phrase 'hand-crafted coffee'. To cultivate any kind of rep for coffee geekery, step away from the espresso machine and get back to basics.
Pop-ups, co-labs and add-ons – Last night at the SMH Good Café Guide Awards, Editor Jill Dupleix mentioned the rise and rise of what she called 'the café plus'; the café-and-bakery, the café-and-bar, the café-and-barber, the café-and-kitchen-garden. I'd like to add to this the growing trend of pop-ups within cafés, collaborations between different food and non-food businesses, and things like beer tastings or late-night dinners after hours, not to mention coffee carts, vans and food trucks. Café patrons are more than happy to think, eat and drink outside the box, quite literally.
What makes a good café is relatively subjective, but it's always fun I think to grab the guide and pore over it (perhaps over a café brekky?) and argue over why your fave coffee joint was hard done by, whereas that snooty place down the road doesn't know its arse from its elbow. With 347 cafés reviewed, almost one for each day of the year, it's really just the beginning as far as getting yourself caffeinated and brunched-up is concerned.
The Guide is available today in bookshops and online for $9.99. It will also be sold for $5 this Saturday with The Sydney Morning Herald.
What do you think are the big café trends right now?

About me

Sharing easy recipes, hunting down the

best coffee

. Honest accounts, nothing too serious.

Read more...

Popular posts this month…

This work is licensed under a

Creative Commons Attribution-NonCommercial 2.5 Australia License

.

Disclaimer:

All opinions in this blog are mine, an everyday, real-life person. I do not accept payment for reviews and nor do I write sponsored posts. I do not endorse the content of the comments herein.