I fear that Canberra, much like Sydney, is in serious danger of burning through its allocation of milk crates. Not because of the popularity of milk, but rather because they serve as seating for the crop of on-trend cafés popping up in old (but not in a retro way) shopfronts all over town. I love/hate this trend for numerous reasons. Milk crates are fine to sit on (with cushioning); they serve as a signal to customers, 'take this coffee joint seriously'. But while they look incidental, in an 'oh we were just SO BUSY making GROUNDBREAKING espresso we forgot to buy chairs!' kind of a way, they are entirely deliberate. This is why there's a countrywide shortage. I assume.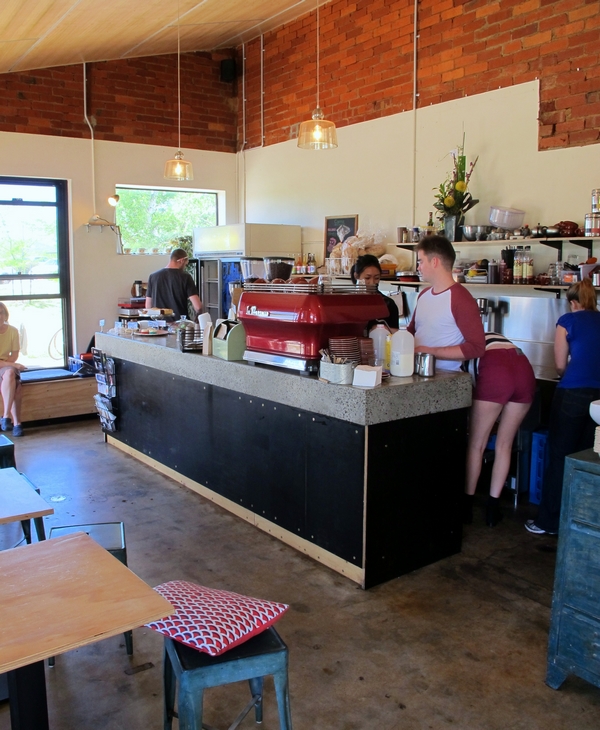 Red Brick espresso is no exception. Milk crates are scattered plentifully out the front of this Curtin café, and they've taken it to another level with the accompanying tables, made of bread crates. I hope there's not a delivery guy out Fyshwick way somewhere going broke for lack of crates.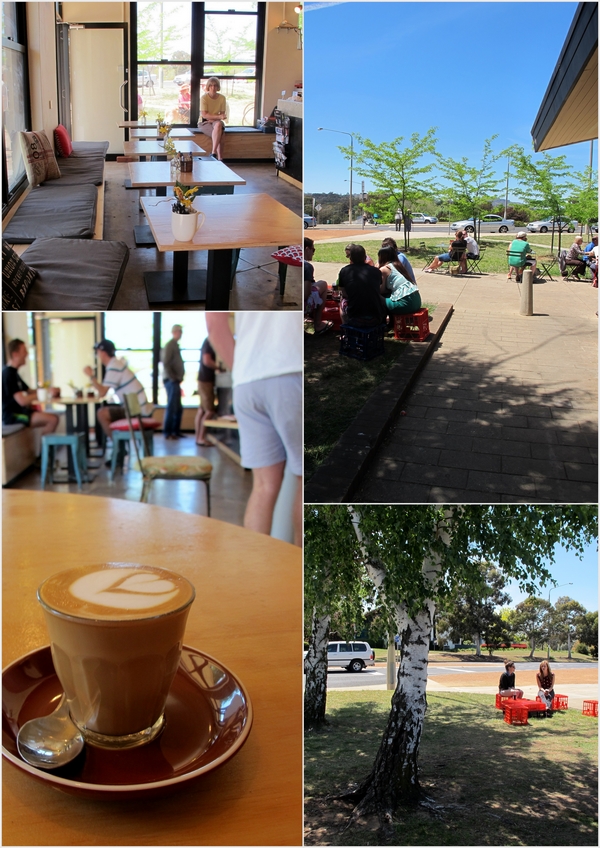 We stand at the counter for a while waiting to order, staff seem a little harried so we wait as they hand out the takeaways. We order coffee and seat ourselves in the unmistakeably Canberran, light-filled and cleverly renovated space, which, as we're in the southside of Canberra, could've been anything in a past life- a house, a pharmacy, or a sex shop – all roads lead to rectangular brick structures. The guys behind the espresso machine look like they know what's what – they roast their own coffee here, and are well and truly the third wave.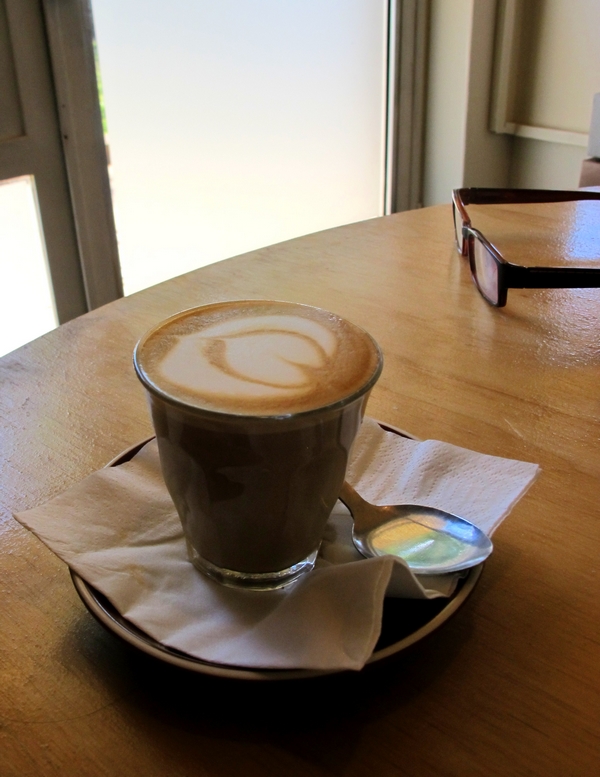 The coffee arrives. One of our piccolos is spilled a bit and the young waitress runs and grabs us a serviette. How about a fresh saucer? The spillage is hardly her fault though, the piccolos are almost flat white flat. My macch is cool, as are all the coffees, and nothing about the flavour grabs me. It's fine, I can't fault the method on my macch (other than the temperature, and I'm not a hot coffee drinker), so maybe this blend just isn't for me.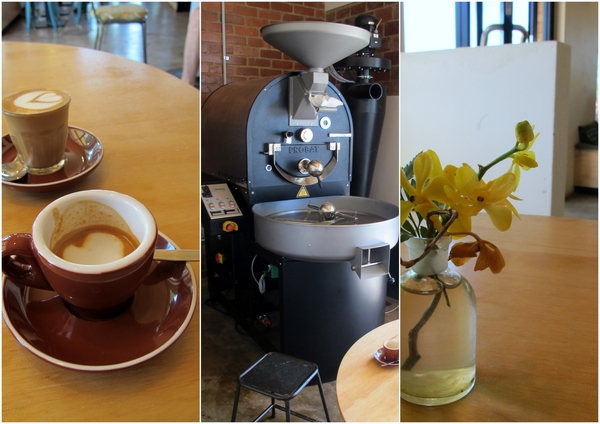 The Red Brick Espresso Hombres were recently quoted in Cafe Culture as saying "We looked at what's happening elsewhere and said, 'why can't we do it here?' Red Brick ticks all the boxes and, if I lived in this neck of the woods, I'd be here daily. But no matter how many milk crates you give someone to sit on or whether you roast your own beans, it all goes to crap when a teenage girl spills your latte. And for the record, I've been back since, the coffee was still lukewarm, and I've heard the same from others. But I guess if I was from New York and came to visit my mates in Surry Hills, I'd feel like the café culture here is just a watered down version of what's going on back home. For all I know the Williamsberg peeps are sitting on upturned shopping trolleys these days. I pray that trend doesn't make it here.
Red Brick Espresso
4/35 Curtin Place, Curtin ACT 2605
02 6285 1668
http://www.redbrickespresso.com.au/
Monday-Friday 7:30am – 4:30pm
Saturday 7:30am – 4:00pm
Sundays 7:00am – 2:00pm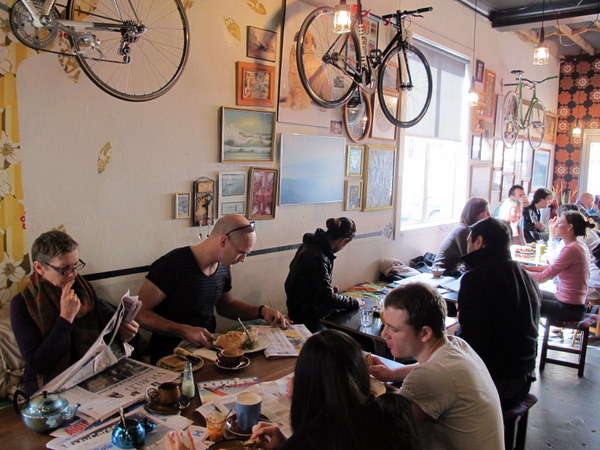 Bikes and coffee and hipsters – seemingly unrelated things come in threes. Why? Who knows, who cares. As puzzling to me as Shirt Bar was the other week and no less delightful, Lonsdale Street Roasters (or LSR as it is known) meshes this triad of seemingly random objects (yes, hipsters are indeed objects) except to me, coffee roaster+bikes+hipsters=café, where shirts+whisky+coffee=scratching my head a bit.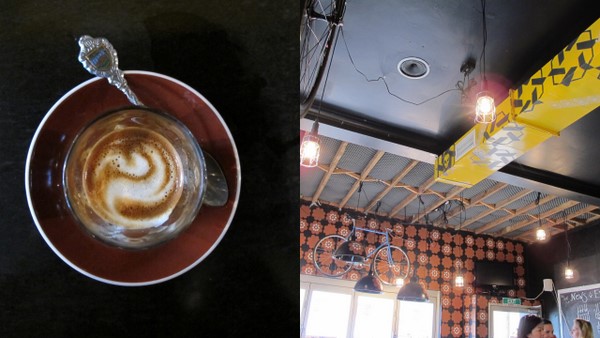 I think it's safe to say LSR in the only so-cool-it-hurts espresso bar in the 'berra, a city renowned for it's roundabouts, public servants and, oh hang on a sec, bicycle paths. Bicycles hang from the ceiling, yellow and white magnetic letters spell out the menus, all the staff are under 25, artfully arranged bric-a-brac adorns the walls. It ticks all the boxes, the only thing missing is the Astroturf.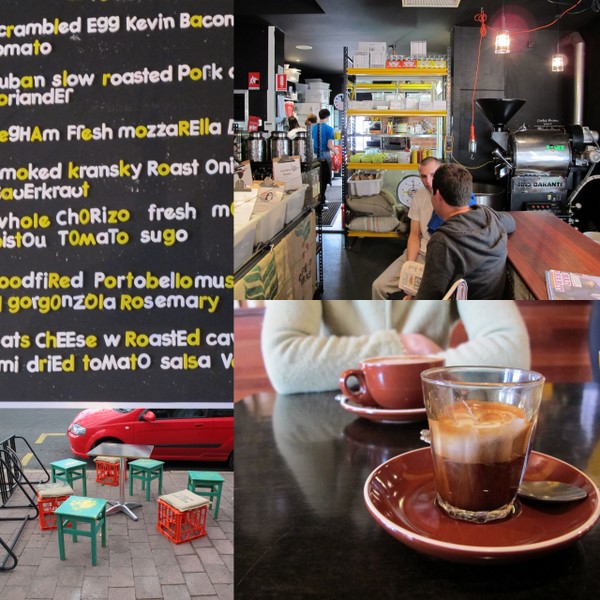 LSR pretty much serve coffee, as they are predominantly a coffee roaster. But they do have a smattering of breakfast, cakes and sandwiches with fashionable fillings (slow roasted pork with chipotle, anyone?). It's order-and-pay-at-the-counter. If there's no room inside (and I pray if you go anytime other than Autumn, there is), perch yourself on a milk crate outside.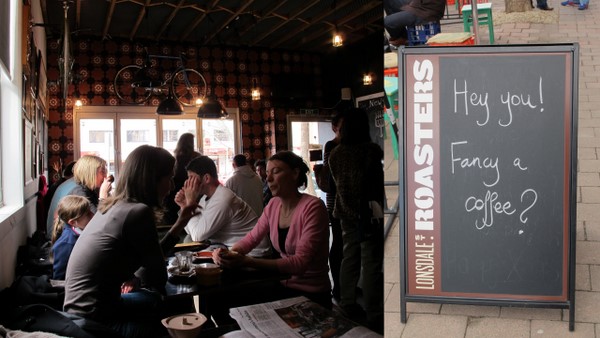 I order a macch and Mum orders a cap, before realising yet again that that's not what she really wanted, but as always not caring enough to change it. As expected, they do that thing that shits me where instead of 1/3 espresso 1/3 milk 1/3 froth dusted with chocolate (let's call it an Australian cappuccino), they latte art the hell out of it so it's basically a flat white with chocolate. Which is fine in this case as it's not really what was wanted anyway but surely the point of a cappuccino is the foam, micro or otherwise (please not this is a generalised rant and not aimed at LSR specifically).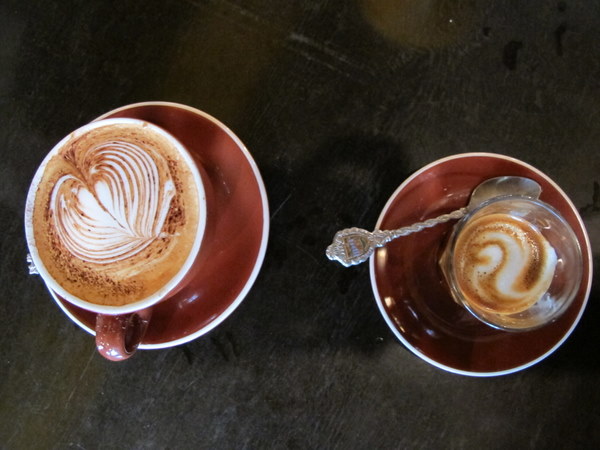 Of course, swings and roundabouts, anywhere you get a flat 'cappuccino' like this, I get a super short and concentrated macch, just the way I like it. So really, I can't complain. Well, I will, but only on principle, and only in the safe confines of the blogosphere, never to anyone's face.
Lonsdale Street Roasters
3/7 Lonsdale Street
Braddon ACT 2612
I have a shameful secret to reveal. I don't grind my own coffee.
Being a barista (well, not right now), this has sometimes led to a questioning of my coffee expertise, something along the lines of 'Well, if you can't taste the difference, I guess it's no big deal.' Oh, clever, I see what you did there. A little passive-aggressive jibe not at only my expertise, but at my actual sense of taste! Nice one. Then there's the more overt 'how can anyone who doesn't grind their own beans know anything about coffee?'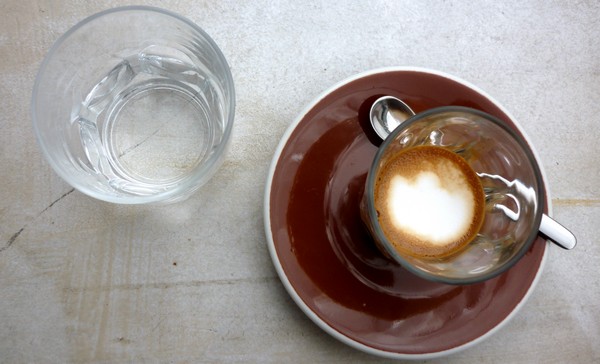 Actually, I know great deal about coffee, definitely more than nothing. And it is this knowledge, along with my own personal circumstances, that has led me to drink it the way I do. First world problems, eh? Here are the 4 steps of reasoning that lead me to believe a grinder is not for me.
1. The 'scale of flavour' is a myth
Firstly, I call into question that there is one perfect coffee bean out there that, when perfectly ground and extracted, will yield perfect results for everyone. It has been proven that the majority of people like a light, caramel roast and there's also a chunk that prefers a dark roast, so that in itself blows that idea out of the water. But let's take a look at this imaginary scale anyway:
The perfectionist's scale: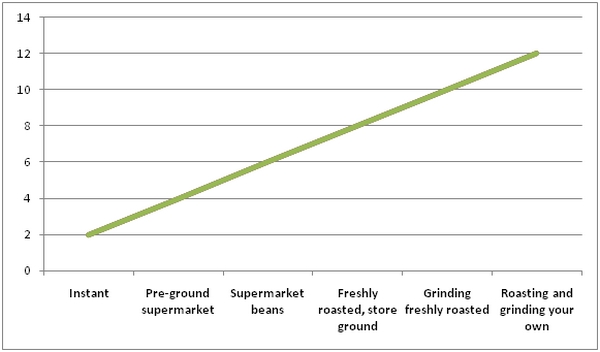 Now I have a billion issues with this graph. First, if this were the scale, how would the coffee machine factor in? What if you used French press, a $100 espresso machine, a $1000 espresso machine, stovetop, hot water, cold water extraction, syphon… the list goes on. What about skill? What about mistakes? What about how much coffee you have to throw out whenever you grind it wrong? There are too many variables, so let's just look at two – flavour and mess/hassle.
2. Flavour vs. Effort. That's my scale.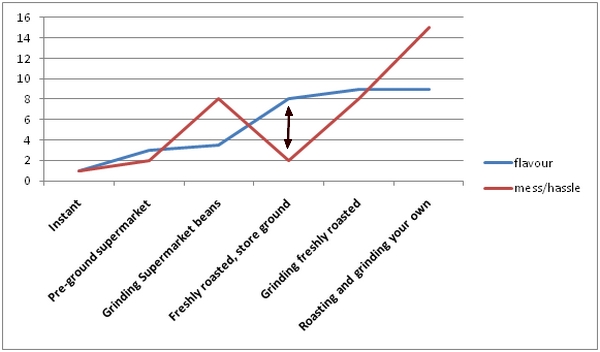 In this diagram, the blue line represents flavour and the red line represents mess/hassle.
Notice I've given pre-ground supermarket coffee a 2 for flavour, store-ground boutique coffee an 8 for flavour, and boutique beans a 9. So you'd think the beans are the natural choice. But not so, because grinding beans has a mess/hassle score of 8 which is quite high, where getting a store to grind it with a commercial grinder is a 2. What I'm looking for is a large gap between mess/hassle and flavour, with flavour at the top. Thus, store ground boutique coffee has a score of 4 (8/2) and boutique beans get 1.125 (9/8). That's my reasoning.
3. I have skills, I don't need gadgets.
The truth is I don't need a graph, but I drew it to make a point- there is not an absolute value for flavour. There are standards. There are better methods and worse methods. But there is also what works for you. At the end of the day, I don't own a grinder because it just isn't that important to me, and I'm drinking much nicer coffee than a lot of people who do. It's my theory that just as a poor tradesman blames her tools, a poorly skilled one buys fancy tools to make up for that lack of skill. And it doesn't work.
4. Other factors
Of course there are other factors. The fact that I live in inner-city Sydney, surrounded by coffee roasters and great cafés is one of them. The fact that I am a trained barista is another. A kitchen the size of a built-in wardrobe is another – there's no space for a grinder. And there's a whole other issue as well, which is that the more complex the method, the more crap you are talked into buying, and buying stuff is not one of my favourite activities.  But either way, my graph still stands. Because science.
What about you? Have you come up against any first-world-type judgements lately? Maybe you didn't deglaze a pan properly? Maybe you don't eat organic, or don't breast-feed your child? Tell me about an occasion your common-sense reasoning was undermined by hipsters. Sock it to me, chums.
About me

Sharing easy recipes, hunting down the

best coffee

. Honest accounts, nothing too serious.

Read more...

Popular posts this month…

This work is licensed under a

Creative Commons Attribution-NonCommercial 2.5 Australia License

.

Disclaimer:

All opinions in this blog are mine, an everyday, real-life person. I do not accept payment for reviews and nor do I write sponsored posts. I do not endorse the content of the comments herein.