I have a shameful secret to reveal. I don't grind my own coffee.
Being a barista (well, not right now), this has sometimes led to a questioning of my coffee expertise, something along the lines of 'Well, if you can't taste the difference, I guess it's no big deal.' Oh, clever, I see what you did there. A little passive-aggressive jibe not at only my expertise, but at my actual sense of taste! Nice one. Then there's the more overt 'how can anyone who doesn't grind their own beans know anything about coffee?'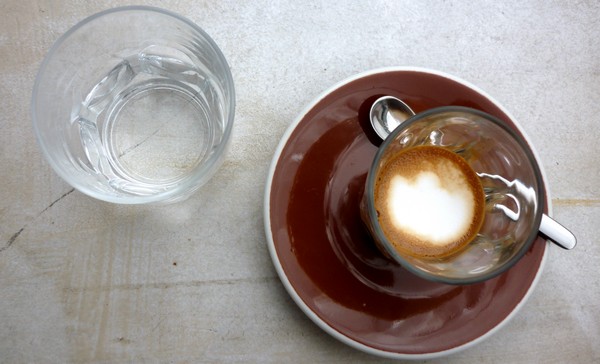 Actually, I know great deal about coffee, definitely more than nothing. And it is this knowledge, along with my own personal circumstances, that has led me to drink it the way I do. First world problems, eh? Here are the 4 steps of reasoning that lead me to believe a grinder is not for me.
1. The 'scale of flavour' is a myth
Firstly, I call into question that there is one perfect coffee bean out there that, when perfectly ground and extracted, will yield perfect results for everyone. It has been proven that the majority of people like a light, caramel roast and there's also a chunk that prefers a dark roast, so that in itself blows that idea out of the water. But let's take a look at this imaginary scale anyway:
The perfectionist's scale: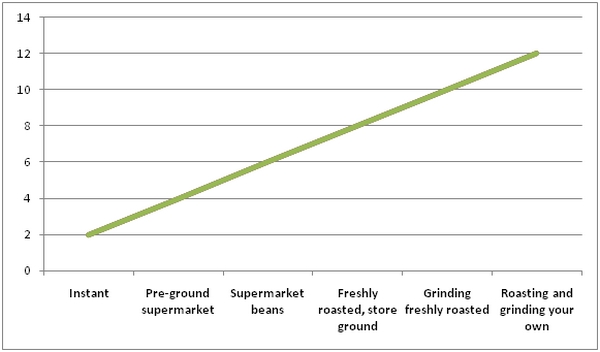 Now I have a billion issues with this graph. First, if this were the scale, how would the coffee machine factor in? What if you used French press, a $100 espresso machine, a $1000 espresso machine, stovetop, hot water, cold water extraction, syphon… the list goes on. What about skill? What about mistakes? What about how much coffee you have to throw out whenever you grind it wrong? There are too many variables, so let's just look at two – flavour and mess/hassle.
2. Flavour vs. Effort. That's my scale.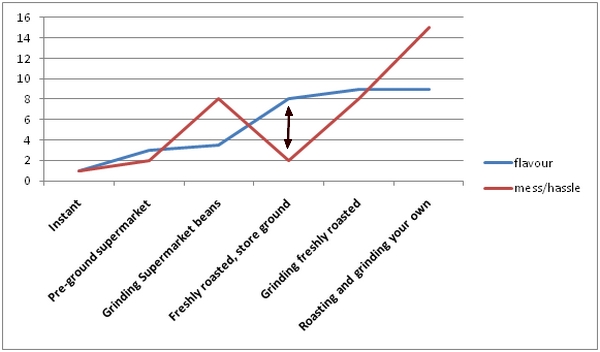 In this diagram, the blue line represents flavour and the red line represents mess/hassle.
Notice I've given pre-ground supermarket coffee a 2 for flavour, store-ground boutique coffee an 8 for flavour, and boutique beans a 9. So you'd think the beans are the natural choice. But not so, because grinding beans has a mess/hassle score of 8 which is quite high, where getting a store to grind it with a commercial grinder is a 2. What I'm looking for is a large gap between mess/hassle and flavour, with flavour at the top. Thus, store ground boutique coffee has a score of 4 (8/2) and boutique beans get 1.125 (9/8). That's my reasoning.
3. I have skills, I don't need gadgets.
The truth is I don't need a graph, but I drew it to make a point- there is not an absolute value for flavour. There are standards. There are better methods and worse methods. But there is also what works for you. At the end of the day, I don't own a grinder because it just isn't that important to me, and I'm drinking much nicer coffee than a lot of people who do. It's my theory that just as a poor tradesman blames her tools, a poorly skilled one buys fancy tools to make up for that lack of skill. And it doesn't work.
4. Other factors
Of course there are other factors. The fact that I live in inner-city Sydney, surrounded by coffee roasters and great cafés is one of them. The fact that I am a trained barista is another. A kitchen the size of a built-in wardrobe is another – there's no space for a grinder. And there's a whole other issue as well, which is that the more complex the method, the more crap you are talked into buying, and buying stuff is not one of my favourite activities.  But either way, my graph still stands. Because science.
What about you? Have you come up against any first-world-type judgements lately? Maybe you didn't deglaze a pan properly? Maybe you don't eat organic, or don't breast-feed your child? Tell me about an occasion your common-sense reasoning was undermined by hipsters. Sock it to me, chums.
About me

Sharing easy recipes, hunting down the

best coffee

. Honest accounts, nothing too serious.

Read more...

Popular posts this month…

This work is licensed under a

Creative Commons Attribution-NonCommercial 2.5 Australia License

.

Disclaimer:

All opinions in this blog are mine, an everyday, real-life person. I do not accept payment for reviews and nor do I write sponsored posts. I do not endorse the content of the comments herein.