Some things just go together naturally. Cheese and wine. A cup and saucer. Summer and thongs. Whisky and…tailored shirts?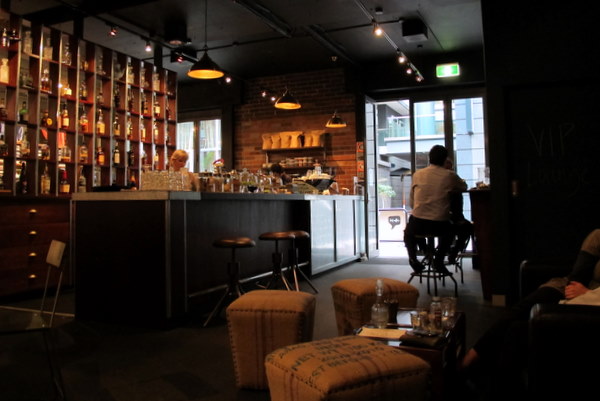 Ok, so maybe those two things don't naturally go together, but that's the concept behind Shirt Bar, a new-ish whisky bar/coffee shop/shirt shop on Sussex Lane in the Sydney CBD. Right by Balcony Bar and Small bar, it feels a lot larger than your usual Sydney small bar.
The décor is all exposed brick, concrete floors, leather, warm wood and coffee sack covered stools. The staff are smartly kitted out in – you guessed it – tailored shirts. Instead of regular bottles, they serve drinking water from crystal decanters. It was a weekday so the crowd was mostly business-types having meetings or taking a coffee break. I didn't see anyone having a whisky break, but who knows.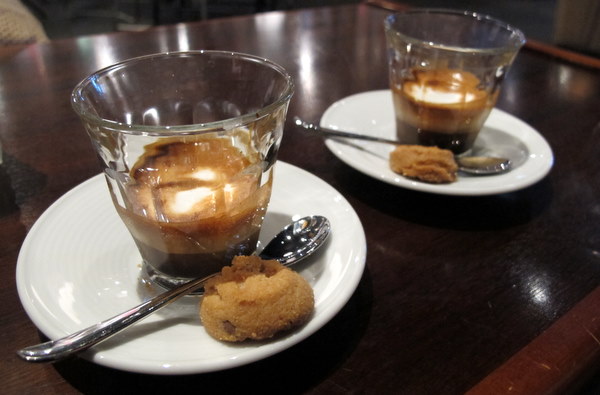 Of course I'm there for coffee. Shirt Bar have their very own blend, FAT Coffee (For All Things Coffee) roasted by Shirt Bar co-owner Adam Hofbauer, who says, and I have to quote this sentence it's just so damn quoteable, that his 'introduction to the raunchiness of the naked porta filter' cemented his obsession with coffee.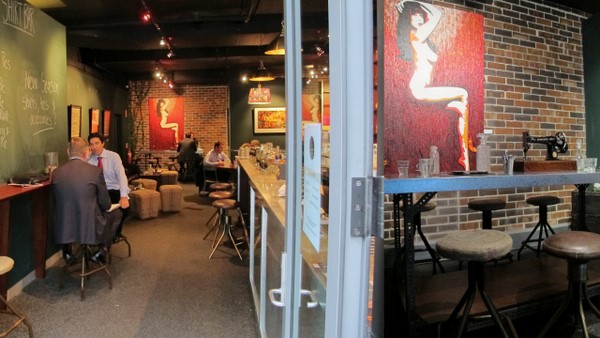 My macch was good, well balanced, but unfortunately forgotten until my friend and I did some eyeballing and they realised we were still waiting. Nothing was said, they brought us our coffees and they were good so all was forgiven. And they came with a tiny cookie each, which I appreciated 'cause I got to eat both.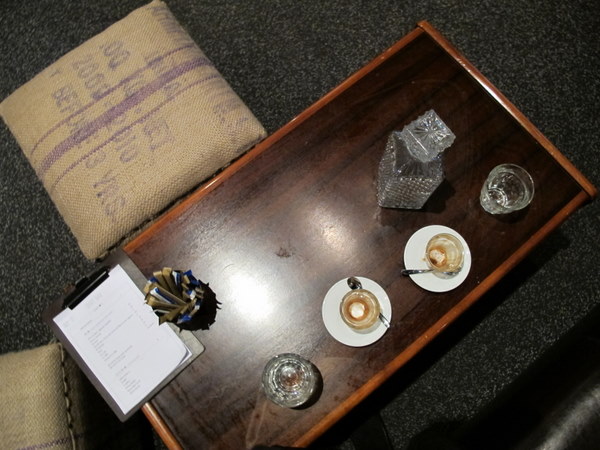 I don't know what percentage of Shirt Bar's business is made up of selling shirts, perhaps their purely decorative, maybe it's a novelty thing, but if café/bookstores and café/bike stores are all the rage, why not a shirts/coffee/whisky combo? I don't know why it works, but it does.
Be warned – like many a small bar there isn't a beer tap in sight and they'll only do certain cocktails. They do serve food but they're not a restaurant. They are three things at once though, and they seem to do them all well. And I say that knowing nothing of either tailored shirts or whisky.
Shirt Bar
(02) 8068 8222
7 Sussex Lane (behind Erskine Street, nearest cross street is Kent)
Sydney 2000
www.shirtbar.com.au
About me

Sharing easy recipes, hunting down the

best coffee

. Honest accounts, nothing too serious.

Read more...

Popular posts this month…

This work is licensed under a

Creative Commons Attribution-NonCommercial 2.5 Australia License

.

Disclaimer:

All opinions in this blog are mine, an everyday, real-life person. I do not accept payment for reviews and nor do I write sponsored posts. I do not endorse the content of the comments herein.