Five café trends that keep the industry growing
Whether you're looking to wile away the hours lingering over an aeropress on a sunny stoop or stop to quickly slurp down a ristretto, there's no denying that we Sydneysiders are pretty bloody spoiled when it comes to café choice. This year, I had a the chance to pen a few reviews for The Sydney Morning Herald Good Café Guide 2013, which I more than jumped at. Here are 5 trends that'll keep the Sydney café scene growing for the next 12 months.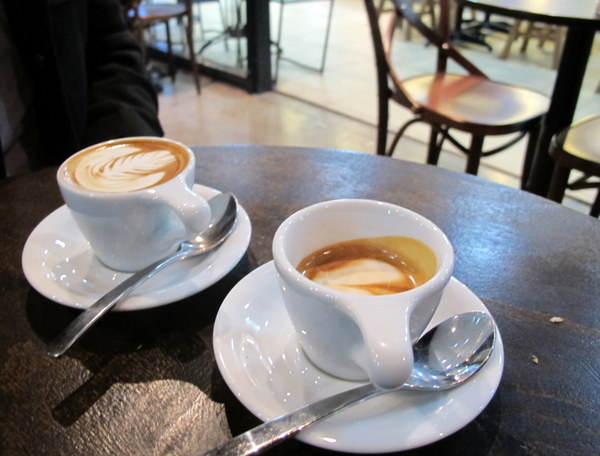 Migration south-westwards - despite what some of us may believe, coffee doesn't begin and end with Surry Hills. Unsurprisingly, Marrickville did fantastically well at this years' Good Café Guide Awards; although Surry Hills Cafés took out 3 of the 10 awards on offer, Marrickville's Coffee Alchemy won 'Best Coffee', and 3 of the 13 coffees awarded 3 cups (a score of 18-20 out of 20) are located in Marrickville, a result unrivalled by any other Sydney suburb. 'Best Café' went to Circa in Parramatta, 'Best New Café' to inner-westie Excelsior Jones and a bunch of new cafés were added to the guide in other south west suburbs.
Green bean obsession - whether is be microlots, single origin, home roasting or becoming bffs with the dude that harvests your beans, our coffee houses are fast filling up with coffee bean obsessives. What's more, cafés without a knowledge of the raw materials look like they lack knowledge full stop, and knowing what's what bean-wise is only going to become more important as time goes by.
'Your local' - this phrase still applies to our local watering hole, it's just the beverages we're consuming these days are of the stimulating variety. The barista is fast replacing the barkeep as the one we tell our troubles to, and multiple trips to grab that picollo each day mean we may spend more time at the espresso machine than having post-work beers with our work-mates.
Alterna-brews just keep growing – From aeropress to syphon, cold drip to pourover, non-espresso black coffee methods with freshly ground beans gives new meaning to the phrase 'hand-crafted coffee'. To cultivate any kind of rep for coffee geekery, step away from the espresso machine and get back to basics.
Pop-ups, co-labs and add-ons – Last night at the SMH Good Café Guide Awards, Editor Jill Dupleix mentioned the rise and rise of what she called 'the café plus'; the café-and-bakery, the café-and-bar, the café-and-barber, the café-and-kitchen-garden. I'd like to add to this the growing trend of pop-ups within cafés, collaborations between different food and non-food businesses, and things like beer tastings or late-night dinners after hours, not to mention coffee carts, vans and food trucks. Café patrons are more than happy to think, eat and drink outside the box, quite literally.
What makes a good café is relatively subjective, but it's always fun I think to grab the guide and pore over it (perhaps over a café brekky?) and argue over why your fave coffee joint was hard done by, whereas that snooty place down the road doesn't know its arse from its elbow. With 347 cafés reviewed, almost one for each day of the year, it's really just the beginning as far as getting yourself caffeinated and brunched-up is concerned.
The Guide is available today in bookshops and online for $9.99. It will also be sold for $5 this Saturday with The Sydney Morning Herald.
What do you think are the big café trends right now?

3 food bloggers, 3 cafes, 3 great macchs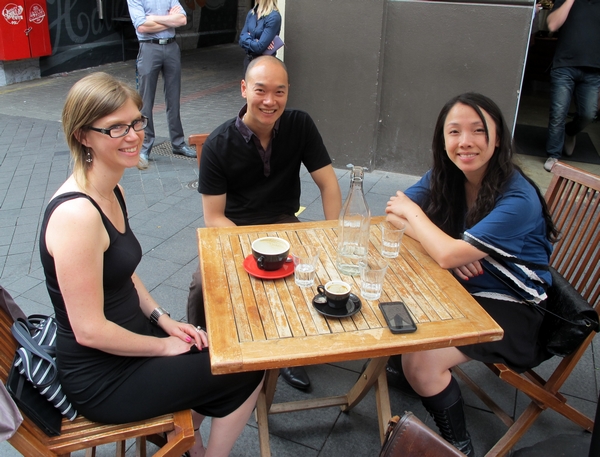 Food blogging is one area of my life where I can honestly say I find myself perpetually delighted, and that's mostly down to the people I meet. Food bloggers want to meet you. They want to eat with you. They want to show you around. So that's how it came to be that on the morning after the eat fest that was Eat Drink Blog 2012, Hayes of Adeladie food blog The Chopping Board (who wasn't even at the conference) and Sarah (who was) went on a coffee crawl with Perth blogger Ai-Ling (who doesn't even drink coffee) and I (who most definitely does). We hit three cafés in less than three hours and thoroughly enjoyed every microgram of caffeine imparted on us by this 'city of churches'.
1. Coffee Branch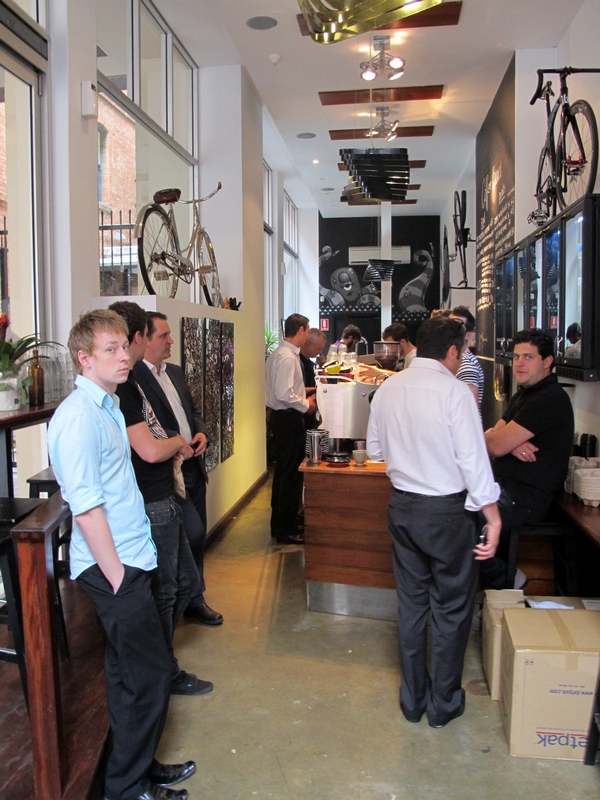 Coffee branch is located in the faux-laneway of Leigh street in the CBD proper and has a rep for being one of the best coffee spots in the area. South Australia digital online marketer Sarah Rhodes who was at Eat. Drink. Blog. with us suggested it and joined us for coffee numero uno. When we arrive just after 9:30am its suit-a-rama. The space is tiny and narrow so after ordering I join the other three outside in the humidity for coffee and conversation. Our coffees are quick to arrive and they incorrectly announce Sarah's as a skim flat white, but it turns out to be the full fat latte we ordered, so no worries.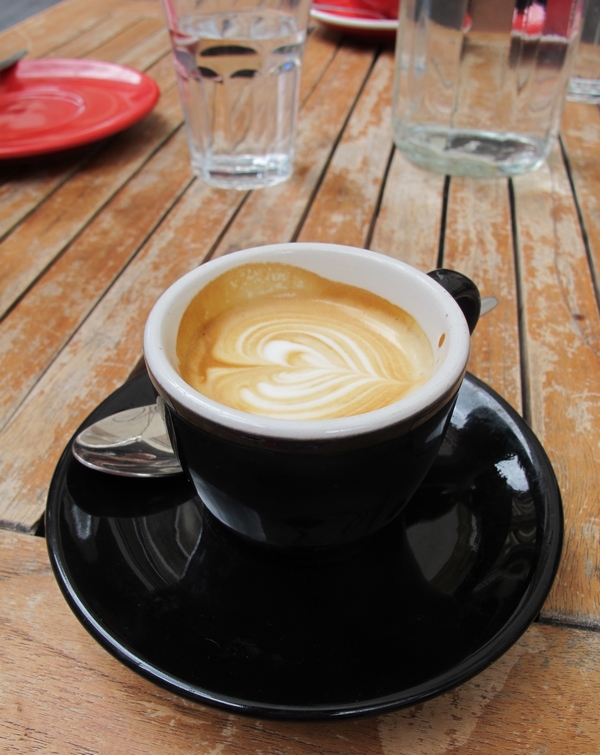 I would describe the flavour of my macch as very gentle. It is actually more of a picchiatto or a macchollo, who knows. I appreciate the latte art heart, don't get me wrong, but the coffee itself is underwhelmingly mild. I'd return though, I know I overuse this word but it's a solid choice in the Adelaide CBD. Friendly staff, coffees came out quickly and I reeeaaallly had to hold myself back from ordering a pastry.
Coffee Branch
32 Leigh Street Adelaide, SA 5000
0451 661 980
Monday – Friday 7:00am – 5:00pm
2. Nano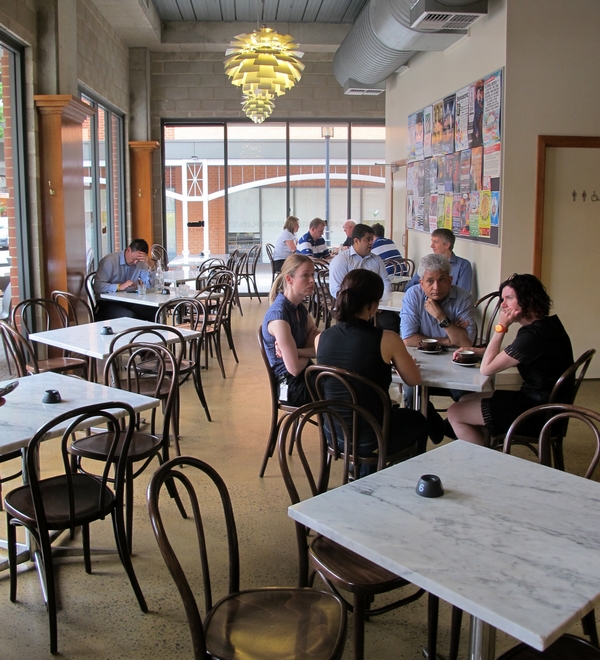 Our next stop is Nano as recommended by my mate and former Adelaide-ian (is that a word?) Erin of The Canberran, and she outta know, she blogged 35 Adelaide cafes in 35 days before relocating to The Nation's Capital. Nano is actually an Italian restaurant and I'd love to come back and try the food. It is also a well-known coffee haunt in what Urbanspoon describes as 'the Rundle Street area' but I think might actually be called the east end, a schmick but still uni-student-friendly enclave of eateries, pubs and stores which a continuation of Adelaide's Rundle Street mall.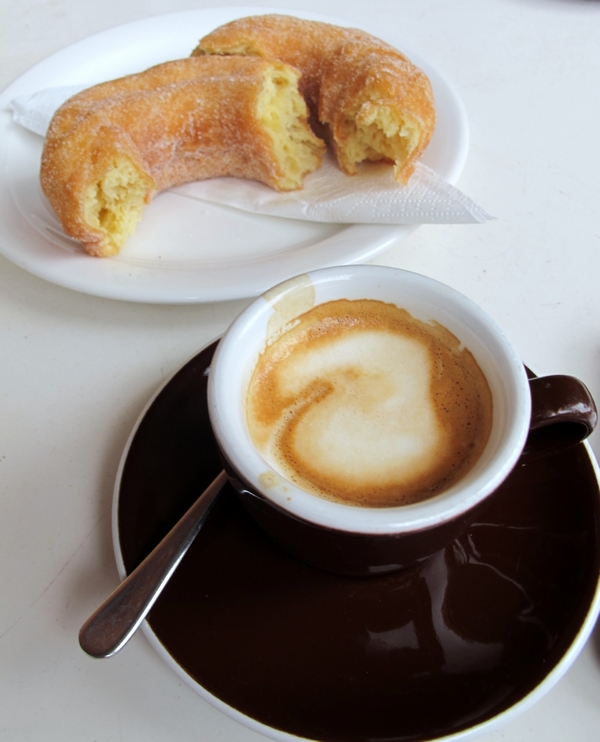 Nano's coffee isn't particularly photogenic but it does impress. Microfoam notwithstanding, it definitely has a kick to it and I can see why the locals cite it as a consistently good choice. Hayes has no complaints about his flat white and Ai-ling, who doesn't actually drink coffee, chows down on an omelette. I can't resist the italian doughnut, a crisp ring dusted with crystals of sugar and a pillowy insides. I happily dunk away in my macchiato, which while not technically perfect froth-wise delivers a strong, balanced and well-rounded flavour. I prefer it to our first coffee.
Nano
23 Ebenezer Place Adelaide, SA 5000
08 8227 0468
Monday – Friday 7:15am – 4:00pm
Saturday – Sunday 8:15am – 4:00pm
3. Hey Jupiter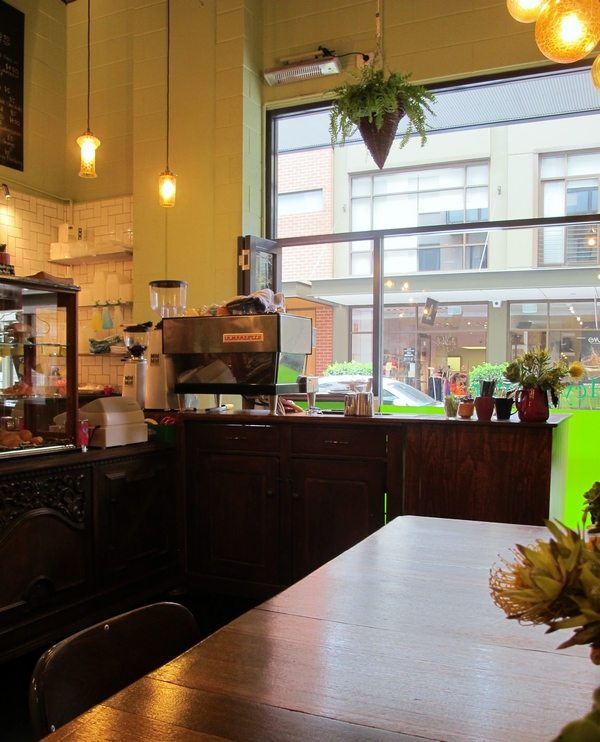 The others leave me to continue my coffee crawl, Hayes is off to work and Ai-Ling to catch a plane home to Perth. I pop in to the teensy Hey Jupiter which is a relatively new addition to the east end and about a ten second walk from Nano. From the outside, with its brightly-coloured cafe chairs and tables and shop-front-style window it looks like nothing special. But inside the walls are lathered a gorgeous green and studded with vintage mirrors, walnut-coloured stools and hutches crouch here and there and spheres of glass hang, pendulum-like from the ceiling, casting a sepia glow. It's like having your coffee break inside a vintage terrarium.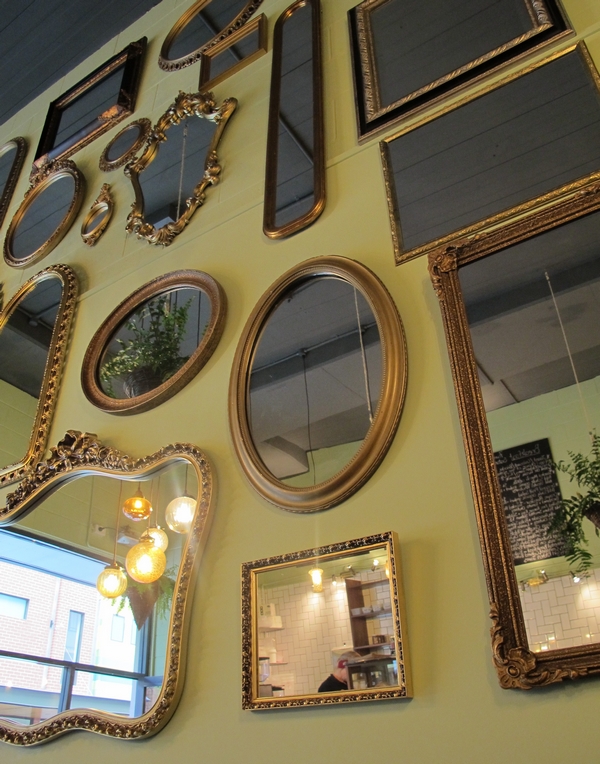 I order my trusty macch and park myself in the corner where I can drink in the decor. It's a rich and concentrated shot with just a smidge of foam and milk and it's a good third coffee. I'm kind of glad I hit this place alone. As I meditate over my macch, complete with paper doily, sure, I feel pretty jittery (that's the caffeine), but I couldn't think of a nicer way to end the weekend.
Hey Jupiter
11 Ebenezer Place Adelaide, SA 5000
0416 050 721
Monday – Friday 7:00am – 3:00pm
Saturday 8:00am – 3:00pm
Closed Sundays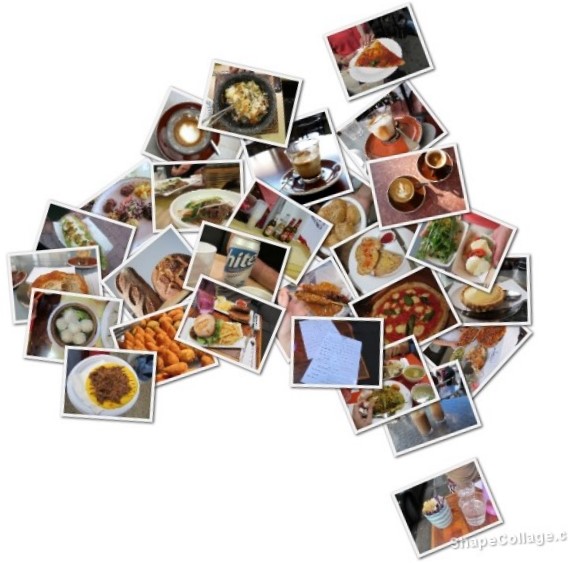 Sydney
For your caffeine hit
Cafe Dov, Potts Point
Bang Bang Espresso, Surry Hills
Becasse Bakery, CBD
Bourke Street Bakery – All stores
Clipper Cafe, Glebe
Coffee Trails, Haymarket
Double Roasters, Marrickville
Gnome Espresso, Surry Hills
Petty Cash Cafe, Marrickville
Raw 101, Castle Hill
Reuben Hills, Surry Hills
Room 10, Potts Point
The Little Marrionette, Annandale
For a bite
Becasse, CBD
Charlie and Co, CBD
El Loco, Surry Hills
Gelato Messina, Darlinghurst
Jackie M, Concord (bookings required, txt 0424 260 494)
Ms G's, Pott's Point
Quarter 21, CBD
The Dip, CBD
Toko, Surry Hills
Rockpool Group Restaurants
For a drink
Coogee Bay Hotel, Coogee
Fredas, Chippendale
Wine Library, Woollahra
The Carrington Hotel, Surry Hills
Melbourne
For your caffeine hit
3 Bags Full Cafe, Abbotsford
Coin Laundry, Aramadale
Market Lane, Prahran Market
Monk Bohdi Dharma, Balaclava
Ora Cafe, Kew
Red Door Corner Store, Northcote
Yellow Bird Cafe, Prahran
For a bite
Ladro, Prahran
Rockpool Group Restaurants
Brisbane
Boardwalk Bar and Bistro, CBD
Grub Street Cafe, Gaythorne
The Fishery, Milton
Know somewhere else to eat/drink that's open today? Comment below and I will add it to the list. Happy Australia Day, chums!
About me

Sharing easy recipes, hunting down the

best coffee

. Honest accounts, nothing too serious.

Read more...

Popular posts this month…

This work is licensed under a

Creative Commons Attribution-NonCommercial 2.5 Australia License

.

Disclaimer:

All opinions in this blog are mine, an everyday, real-life person. I do not accept payment for reviews and nor do I write sponsored posts. I do not endorse the content of the comments herein.