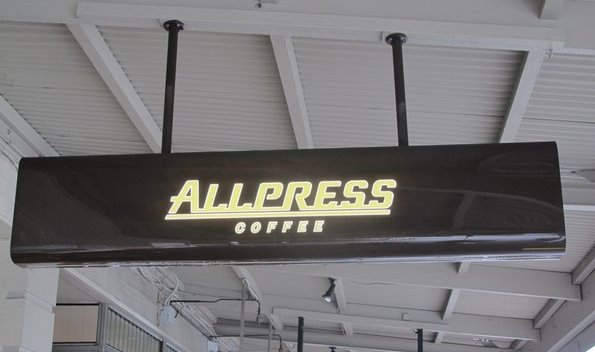 So add this to the list of things for Aussies and Kiwis to fight over – the flat white. Along with lamingtons and pavlova we both lay claim this antipodean beverage, something I always took for granted as the most boring of the espresso-based drinks. I never realised the flat white had such controversial origins, nor the fact that it would one day become the coffee of choice for hipsters from New York to London.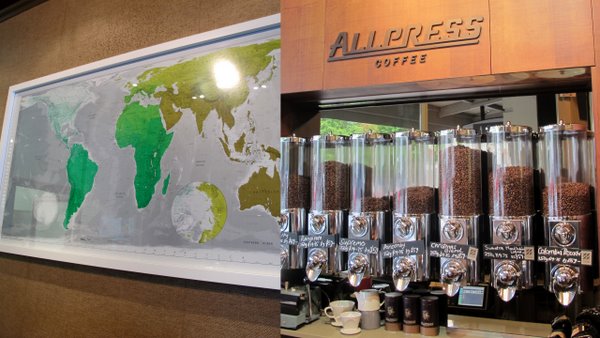 But the flat white is not the reason I decided to visit Allpress's flagship store in trendy Ponsonby, Auckland; frankly, I couldn't care less about flat whites, miniscule coffees are more my scene. I'd been a fan of Allpress ever since I came accross it's Sydney Roasterie in Zetland. When I first bloogged about them, I cited them as the Kiwi export I'd most like to call my own. So I was excited to check out their teensy Ponsonby store and see what's what.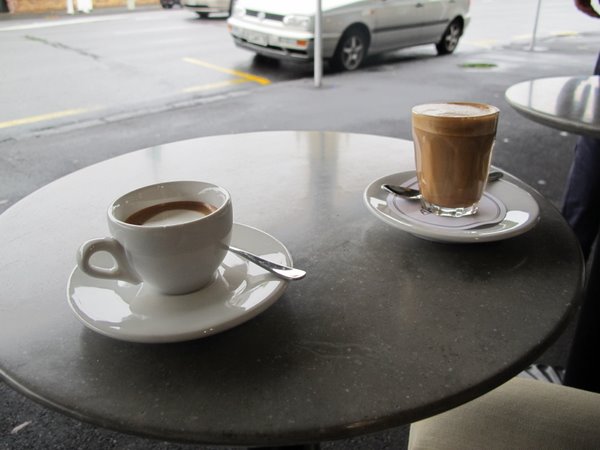 We arrived on a rainy I'm-not-sure-what-day-it-was, as we spent the majority of our trip to NZ drinking and thus time ceased to have much meaning. Ponsonby road is a strip of cafés and restaurants with an up-to-the-minute but kind of upmarket feel – a little bit Balmain with a touch of Paddington. But smaller. And quieter. Allpress is a narrow shop with a few stools inside and outside and a couple of tables. From what I can tell, they only serve coffee and biscuits.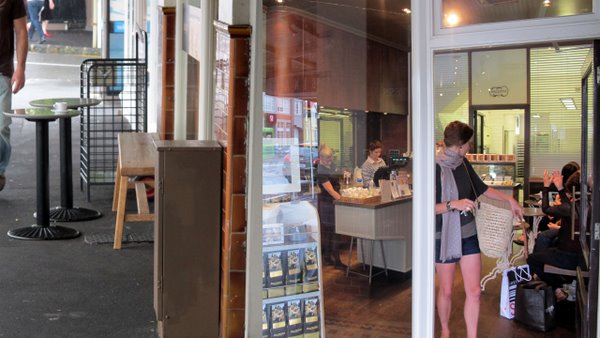 I'm glad I was travelling with our Texan host, who doesn't drink the coffees Senhor R and I do (a macch and a piccollo, full cream, no sugar if you ever want to shout us). It gave me an entirely different take on the place than I would've had if I'd just gone with Senhor R. Ms Texan stepped up to the counter and ordered her standard fare – a large trim (skim) flat white with two equals, in a takeaway cup. Only to be told they don't have large cups. Or equal. Or trim (skim) milk.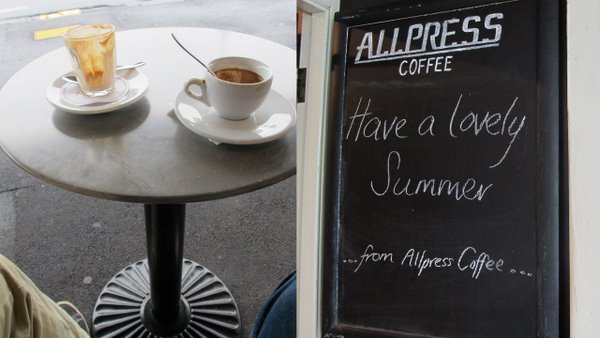 Now, I know there are places with only one size of cups, and places that don't stock equal. Or maybe they don't have syrups, or soy milk. But it seems really fricking WEIRD to me to run a cafe that prepares nothing but coffee and not to offer your customers skim milk. I also think it's weird that the people working there didn't think this was weird, if you know what I mean. This wasn't announced anywhere, a la Bar Italia et. al. This wasn't a voluntary simplicity/freedom from choice philosophy they just…don't…have…skim. Or soy. Or equal. Or large cups.
My coffee was good, Senhor R's was too milky. Ms Texan's? Well, it was too creamy, small and sugary, if you really want to know. I'd go back for sure, but I doubt she will, which is a shame as she live in Auckland.

Allpress Coffee
266 Ponsonby Road, Ponsonby, Auckland
+64 9 376 4726
Monday to Friday 8.30am – 5.00pm
Saturday 8.30am – 4.00pm
Sunday 9.00am – 3.00pm
They let their food go cold. They rock fancy SLRs. They tweet up a storm, posting photos of their on-trend lunches and they always know where to get a good feed. Here are five facts about food bloggers you may not know.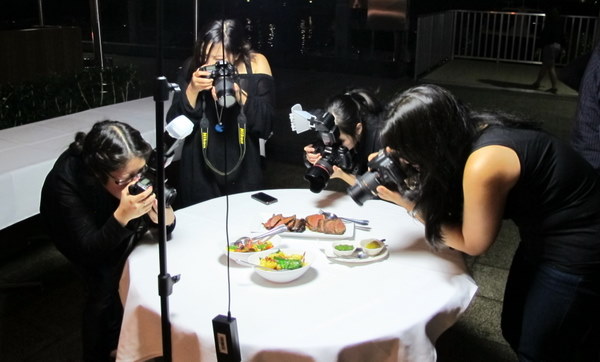 1. They hate food fads just as much as you do
Macarons. Masterchef. Those over-blogged 'it' restaurants. Food bloggers have been there, done that, or at least read it in their mile-long blogroll. At EatDrinkBlog, one food blogger admitted to me, in hushed tones 'I don't think macarons are that great, actually.' I had another prominent food blogger email me to agree that Sydney's recent night noodle markets were both overrated and lacking in noodles. Chances are your fave food blogger is as sick of hearing about Jamie's Italian as you are…or soon will be.
2. They're zeitgeisty, not trendy
Food bloggers will break the next big thing months before the more cautious mainstream media. By taking risks, readers feel they get the inside scoop and other bloggers can follow suit and put in their 2 cents. As a rule, food bloggers don't blog an experience they're not that enamoured with, unless it's macarons, possibly served at the night noodle markets by one of the contestants of masterchef, so the initial buzz bloggers create is often well-deserved.
3. They work extremely hard at what they do
Blogging requires consistent effort, especially for big name bloggers or those who have successfully monetised their blogs. Once readers regularly stop by or start paying for content, it becomes even more important to provide consistent, quality stuff. Food bloggers know they have to bring their readers something fresh and new that they can't find on their own. A full-time blogger may work around 15 hours a day, 6-7 days per week. I myself spend about 8-10 hours a week just to produce 1-2 posts.
4. They're often not as tech-savvy as you might think
Bloggers aren't all tech heads, nor are they all graphic designers. When figuring out how to do something tricky on their blogs, the default method? 'Google it'. I'm really glad I'm not alone in this, as along with visiting forums, it's the method I usually use. Another thing I'll do is to get in contact with bloggers who have a feature on their blog I particularly like, and ask them where they got it. Food bloggers are usually more than happy to share their knowledge and help you out.
5. They're not all trying to get published in mainstream media
It's often assumed by those outside the blogging community that bloggers are trying to get published in a 'real' medium. For some, this may be the case – they may be after freelance writing jobs or book deals. But for many, blogging can be a hobby, or it can be a business, it can be just plain fun. I know for myself the motivation is producing something, publishing something myself.
The kind of coffee shops I frequent have a well-worn aesthetic that will be some combination of the following: twee/vintage/industrial/dada-esque/retro/postmodern/kitch/European. They will also more than likely have some combination of the following design features: polished concrete floors/high ceilings/mid-century furniture/re-purposed coffee sacks/recycled water bottles/vintage teaspoons/clipboard menus/raw sugar/blackboard paint/recycled timber/mismatched chairs/bare lightbulbs.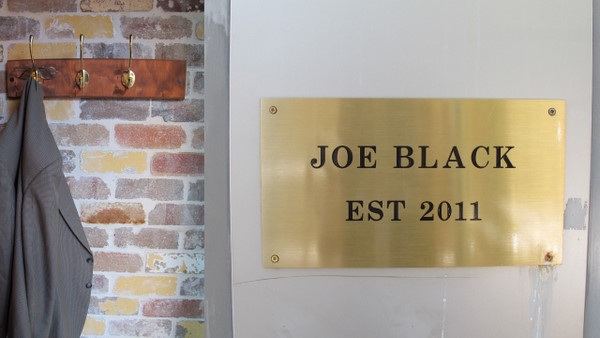 I say I don't like trends or fads, but of course the fact is, I like the ones that suit me. And I recognise that an interior of a café aims to communicate a message. The kind of coffee place I'm drawn to says 'We take our coffee seriously, but we have a sense of humour. Oh and btw, The shot in your macchiato will be really REALLY short.' Since I want a veeeery short mach, I 'read' the vintage/industrial aesthetic as a guarantee of the kind of 'product' I want. This marketing works on me. And I appreciate the aesthetic for its own sake, and of course an interior designer knows that that's exactly what a customer like me will do.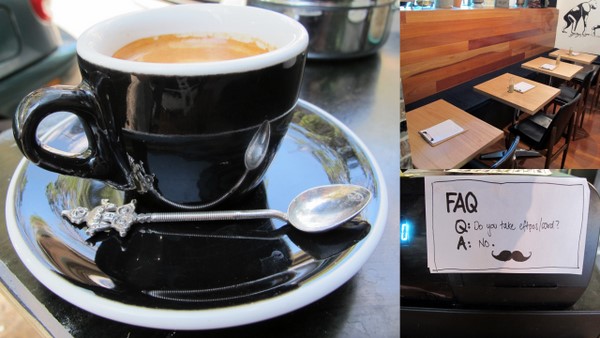 So which came first, my longing for a short mach or my love of hipster interiors? A profound question indeed. I'd like to think my love affair with coffee mirrors that of those running the cafés I love and blog, that they get off on the kitch aesthetic as much as I do. I'd like to think it's not all just a cynical marketing ploy.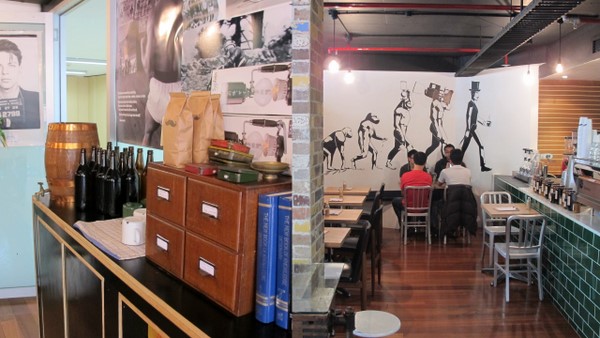 Perhaps you can tell I'm getting café fatigue. A shame, because my outing to Joe Black in Surry Hills the other day ticked all the boxes. Vintage furniture and teaspoons, moustache logo on the paper cups, right by the Sydney CBD, open Monday to Sunday. Wait, back up, OPEN MONDAY TO SUNDAY? A decent CBD café open 7 days? Maybe I should stop being so cynical.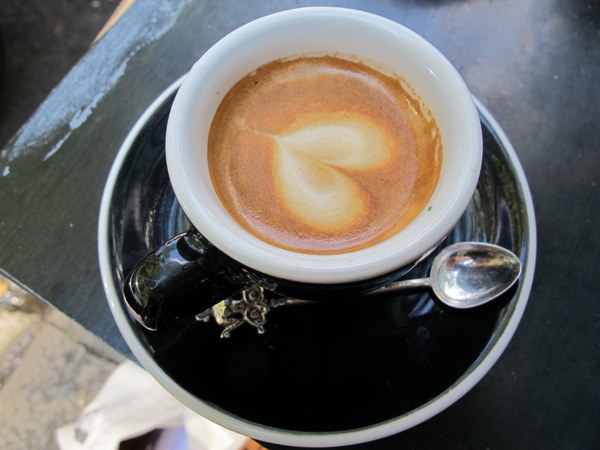 My macch arrives and I'm told it's an Indian Atiki Single Origin. It's short and strong and comes with a teensy vintage teaspoon to boot – I almost consider stealing the spoon. Of course the crockery is black, of course I appreciate the attention to detail as we pour our water from old long necks into enamel cups. Notstalgia is so hot right now, and I'm glad it's so.
The only criticism I have comes from my café mate who later tells me Joe Black doesn't serve juice. Knowing she's a massive fresh-squeezed juice fan, I sympathise but then she says, no, no juice AT ALL, from a bottle or otherwise; only mineral water, coke, diet coke and ginger beer . I'm usually a big fan of shorter menus and less choice but in some cases, it just doesn't work. I think not having OJ on a café menu is just…weird.
What about you, my first world chums? Do you ever get café fatigue?
Joe Black
27 Commonwealth Street
Surry Hills NSW 2010
Monday to Friday 7:00am – 5:00pm,
Saturday 7:00am – 4:00pm
Sunday 7:00am – 2:00pm
Cash only
About me

Sharing easy recipes, hunting down the

best coffee

. Honest accounts, nothing too serious.

Read more...

Popular posts this month…

This work is licensed under a

Creative Commons Attribution-NonCommercial 2.5 Australia License

.

Disclaimer:

All opinions in this blog are mine, an everyday, real-life person. I do not accept payment for reviews and nor do I write sponsored posts. I do not endorse the content of the comments herein.