When someone, anyone, waxes lyrical about cafes in Melbourne, their raving can generally be taken with a grain of salt. But mention Patricia Coffee Brewers and your barista's eyes will take on a dreamy sheen. It's the kind of place that every coffee pro dreams of opening.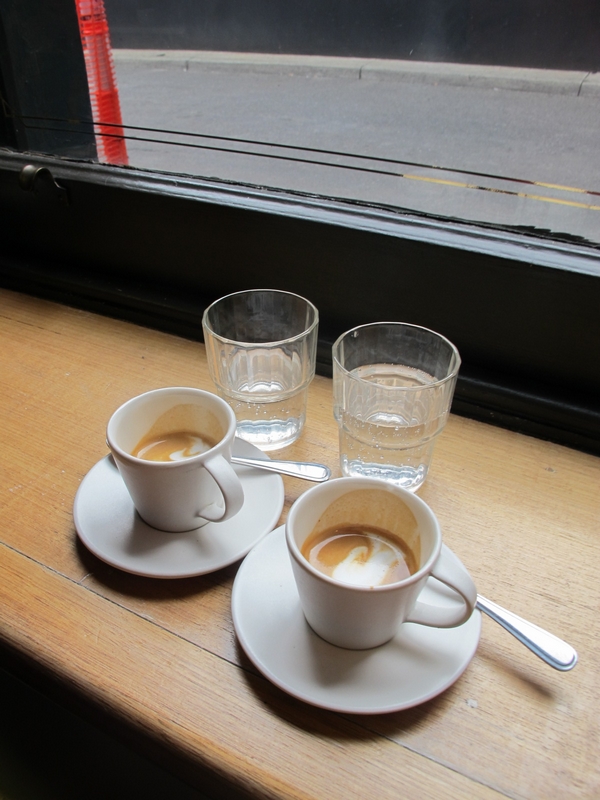 Patricia sits on the eastern side of Melbourne's CBD, a stone's thrown from Flagstaff and Southern Cross stations. You'll find it down Little William Street, on the corner of Little Bourke.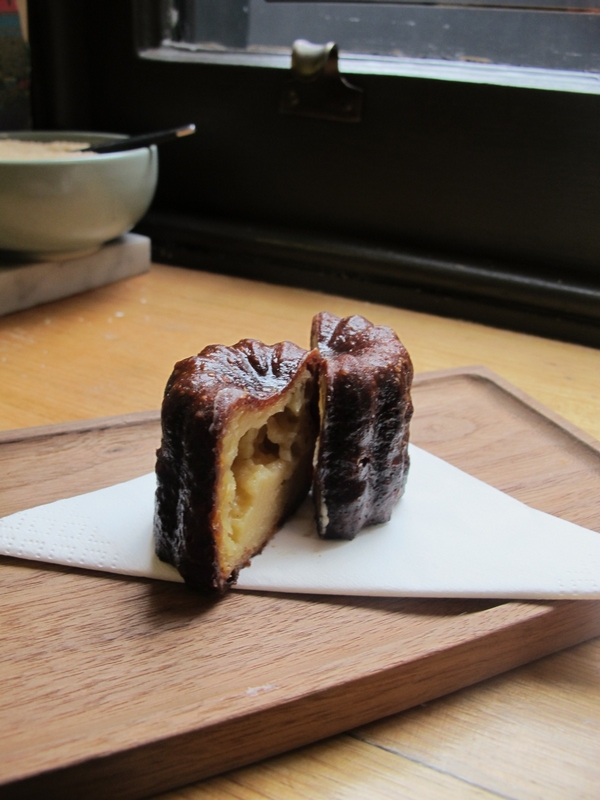 Standing room only, Patricia is all about the coffee. With expertly trained staff and discerning customers – Patricia is a cosy little haven in from Melbourne's mercurial weather that knows exactly what the hell it's on about. It was started by St Ali/Seven Seeds vetaran Bowen Holden, read his story here and try not to fall in love with his passionate, commonsense approach.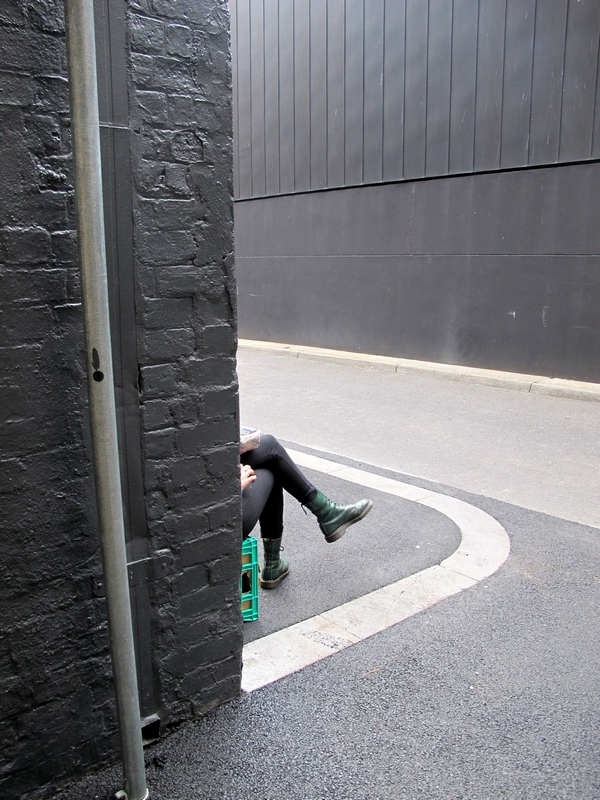 Patricia sources, serves and beautifully repackages (for take home) coffee from Melbourne's cream of the crop; the likes of Small Batch, Proud Mary, Market Lane et. al. are well represented here. Since its standing room only, you may as well order your coffee in a ceramic cup (black or filter $3.50, white $3.80), stand at one of the bars that line the narrow room and sip away.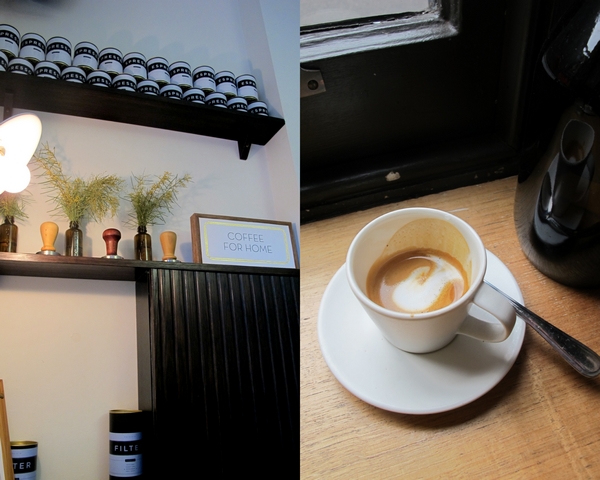 For those who absolutely must sit, there are a few milk crates strewn around the laneway outside. There are a few pastries, cookies and the baked-treat-of-the-moment, caneles, but other than that, it's coffee or bust. For me, it's rare not to included Patricia in a visit to Melbourne.
Patricia Coffee Brewers
Cnr Little Bourke & Little William St.
Melbourne, VIC, 3000
Monday – Friday 7:00am – 4:00pm
www.patriciacoffee.com.au
03 9642 2237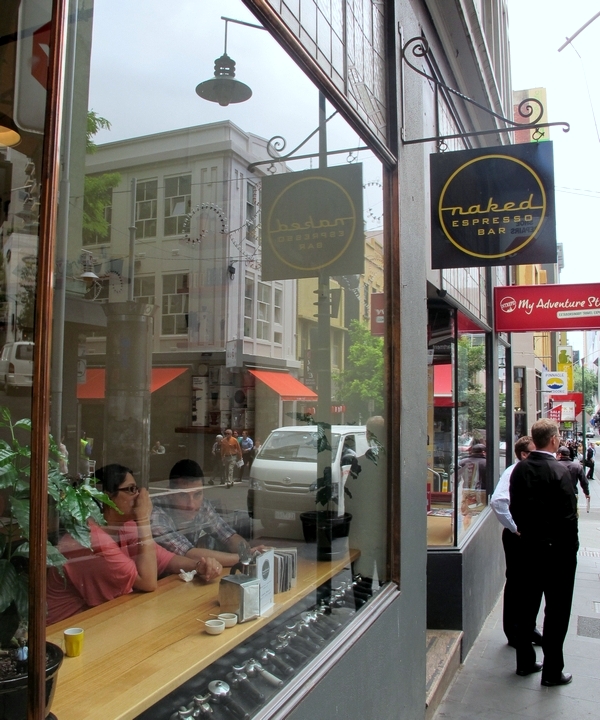 So apparently there's a rumour going around that I'm multiple people, I *think* this might be because if you follow me on instagram I'm all over the place lately. Fear not, chums, I am the one and only Lauren Quinn of Corridor Kitchen, I'm just *ahem* between projects right now, and that gives me ample time to drink coffee all over. In the last two months I've had the pleasure of visiting Newcastle and surrounds, Canberra, Bendigo/Castlemaine/Daylesford, the Great Ocean Road, and even good old Melbourne town. And I bet you wanna know my go-to for espresso magic (and no, I don't mean that bullshit flat white concoction) in Melbourne. 'Cause good coffee in melbs is so hard to find.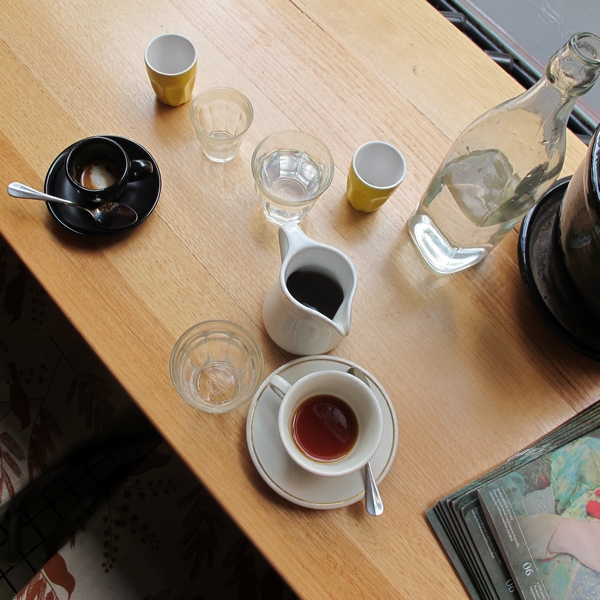 The last couple of times I was in the Melbourne CBD, I made a beeline for Naked Espresso, a cute and well known place on Little Bourke Street. These guys use naked portafilters for their espresso (hence their name) but they also tick the specialty coffee box with their selection of 'new brew' techniques such as aeropress and pourover.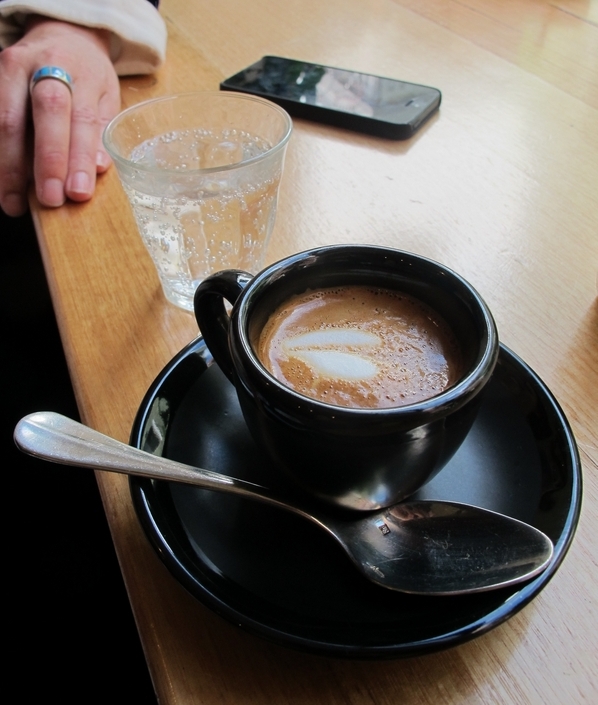 This place is a coffee nerd's paradise; their blackboards list the day's brews complete with tasting notes, and they sell enough different beans, gadgets and paraphernalia to keep the caffeine-obsessed happy for yonks. The coffee menu changes often, with appearances from the likes of Market Lane, Axil Coffee Roasters and even Naked's own house blend. On my most recent visit, there were couple of Market lane single O's on offer for syphon/pourover/aeropress, the house blend for espresso-based coffees and an Axil single origin as their guest coffee.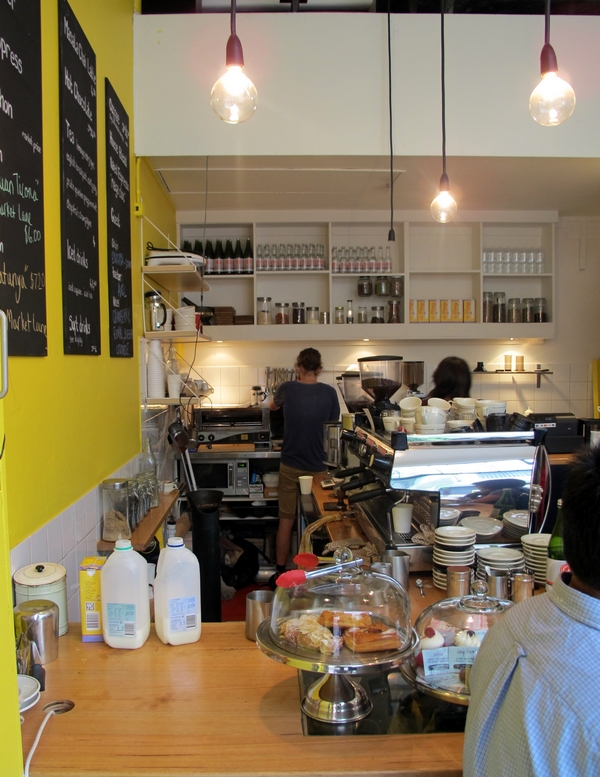 I sample the market lane Juan Ticona brewed as an Aeropress, it has a lovely chocolatey flavour, mild and delicious. My companion and I also go macch-wild on the house blend – vibrant, vivid, deep and bittersweet, it is an absolute pleasure to savour. Even the aftertaste is sublime.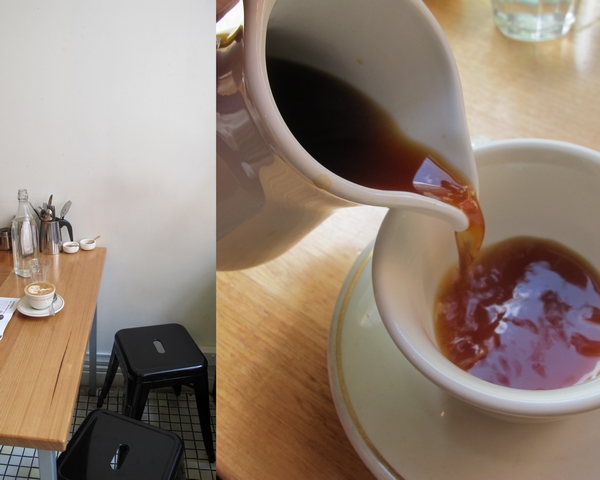 The menu is a simple affair. There are a a few brekky things- toast and its cousins, baked eggs, porridge and an array of jaffles. They charge 50 cents for swapping/changing ingredients, which I think is fair enough. But this place is really about the coffee. Our house of worship, we are devotees at the caffeine alter. Freshly ground beans are our processional incense. I could sit here forever.
Naked Espresso
390 Little Bourke Street, Melbourne VIC 3000
03 9670 3569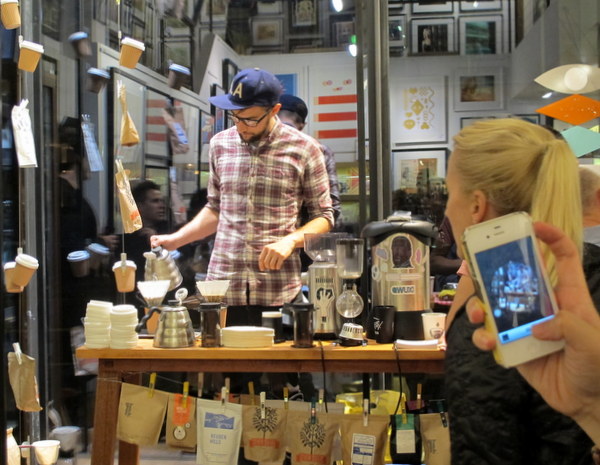 When I say coffee, I mean espresso. So it's easy to forget that there's more than one way to brew a bean. Luckily, the Black Coffee Pop-up is in Sydney this week showing off the ins and outs of non-espresso coffee methods, brewing pour-over, siphon and the aero-press coffees from 19-22 April at Outré Gallery in Surry Hills.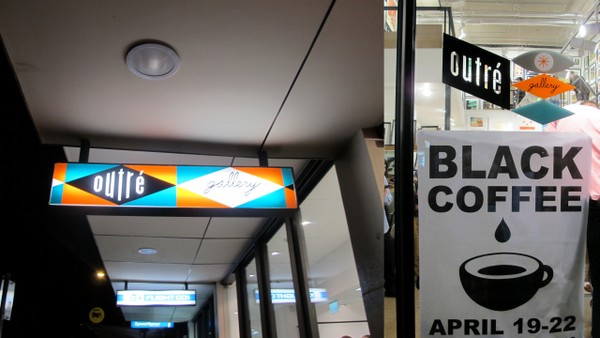 Black Coffee is exactly what it sounds like. The brainchild of Seven Seeds barista Mark W Free (the one in the hat), Black Coffee has appeared at Somewhere Store Gallery in Melbourne and serves nothing but black coffee – no milk, no sugar, no espresso, and, according to their website, 'no bullshit'.
There are a range of Sydney and Melbourne beans to sample – Mecca, Single Origin, Reuben Hills and Coffee Alchemy, Market Lane, Seven Seeds and Small Batch by Auction Rooms.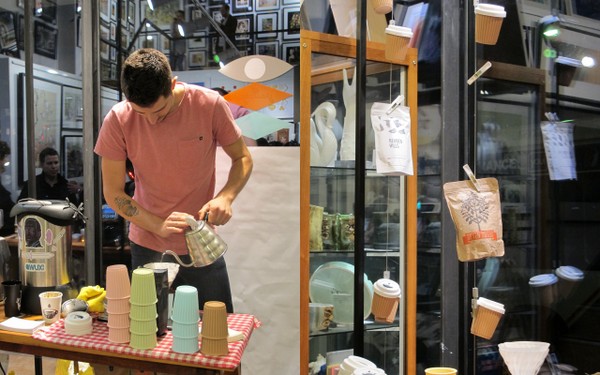 The focus on the coffee part of coffee makes sense to me. And I have to admit it's nice to savour more than a thimblefull and really drink in that aroma. We tried the Market Lane Boa Vista from Brazil (pourover), its heady aroma of roasting chestnuts drawing us in. The taste is far mellower than the smell, far from the concentrated hit I'm used to, but it grows on you.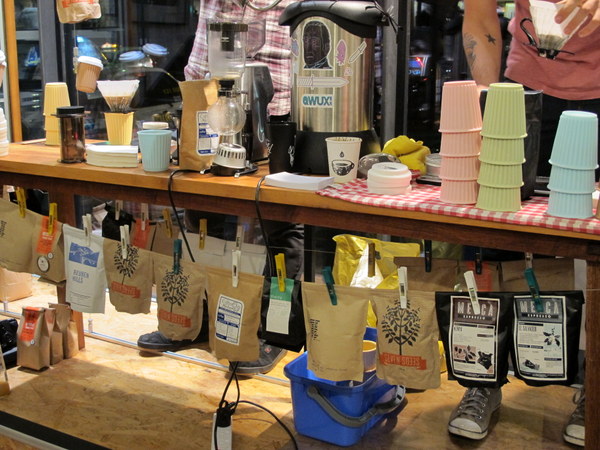 Recently there's been a growing trend towards coffee geekery and gadgetry (in fact, towards geekery and gadgetry in general), but also a renewed interest in no-fuss food and drink. The time is right for something like the 'pay what you you feel' Black Coffee pop up, proving that anyone can make coffee, you don't need a fuck off espresso machine, a commercial grinder or a crash course in barista basics.
It's a good time to be a caffeine addict, however you take your coffee.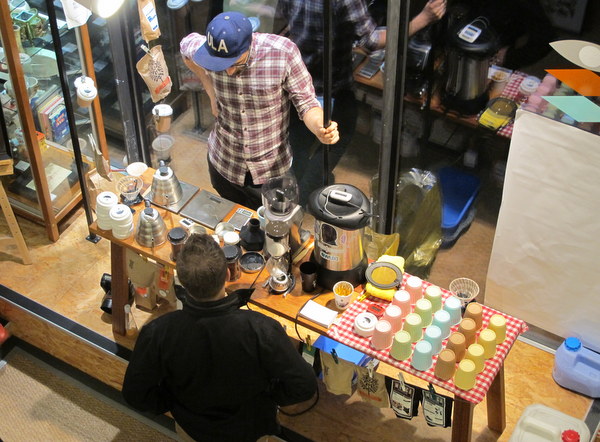 Black Coffee Pop up Sydney
19-22 April 2012
Outré Gallery
7/285A Crown Street
Surry Hills NSW 2010
(02) 9332 2776
http://blackcoffeeshop.tumblr.com/
http://blackcoffeeshop.com.au/
About me

Sharing easy recipes, hunting down the

best coffee

. Honest accounts, nothing too serious.

Read more...

Popular posts this month…

This work is licensed under a

Creative Commons Attribution-NonCommercial 2.5 Australia License

.

Disclaimer:

All opinions in this blog are mine, an everyday, real-life person. I do not accept payment for reviews and nor do I write sponsored posts. I do not endorse the content of the comments herein.