I fear that Canberra, much like Sydney, is in serious danger of burning through its allocation of milk crates. Not because of the popularity of milk, but rather because they serve as seating for the crop of on-trend cafés popping up in old (but not in a retro way) shopfronts all over town. I love/hate this trend for numerous reasons. Milk crates are fine to sit on (with cushioning); they serve as a signal to customers, 'take this coffee joint seriously'. But while they look incidental, in an 'oh we were just SO BUSY making GROUNDBREAKING espresso we forgot to buy chairs!' kind of a way, they are entirely deliberate. This is why there's a countrywide shortage. I assume.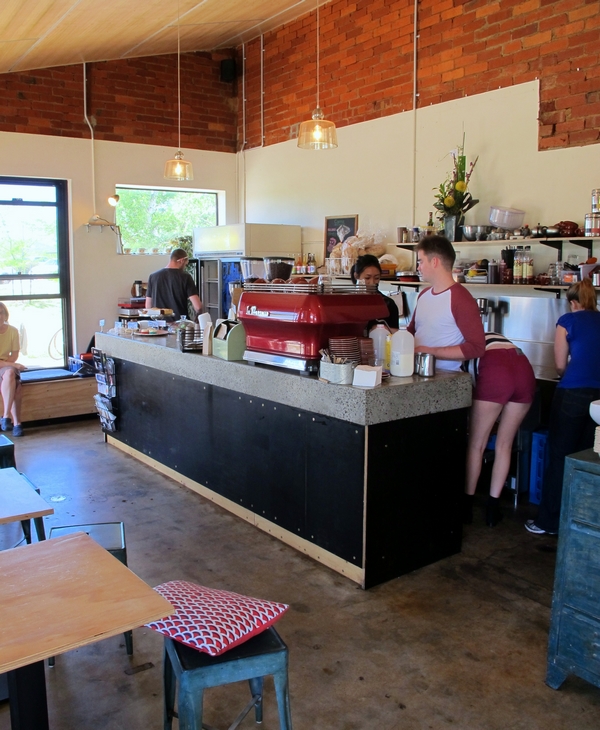 Red Brick espresso is no exception. Milk crates are scattered plentifully out the front of this Curtin café, and they've taken it to another level with the accompanying tables, made of bread crates. I hope there's not a delivery guy out Fyshwick way somewhere going broke for lack of crates.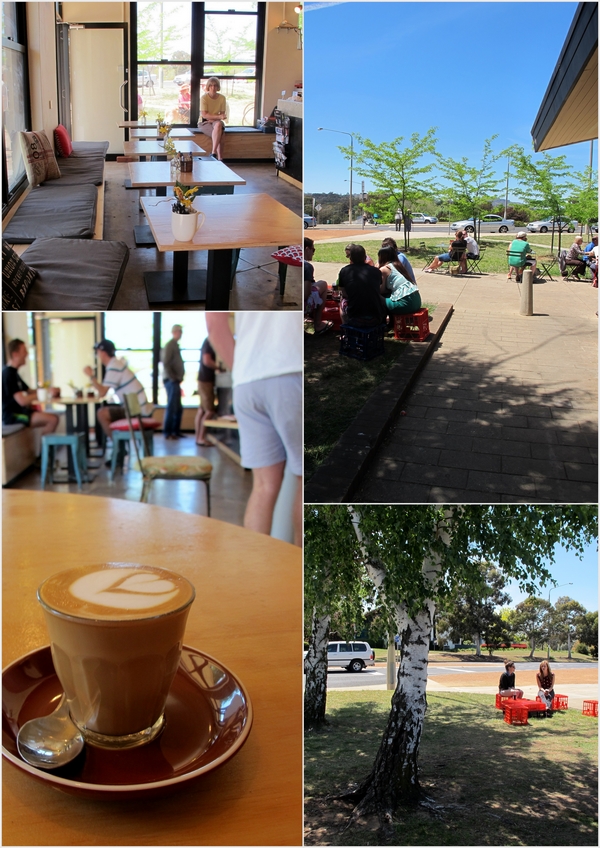 We stand at the counter for a while waiting to order, staff seem a little harried so we wait as they hand out the takeaways. We order coffee and seat ourselves in the unmistakeably Canberran, light-filled and cleverly renovated space, which, as we're in the southside of Canberra, could've been anything in a past life- a house, a pharmacy, or a sex shop – all roads lead to rectangular brick structures. The guys behind the espresso machine look like they know what's what – they roast their own coffee here, and are well and truly the third wave.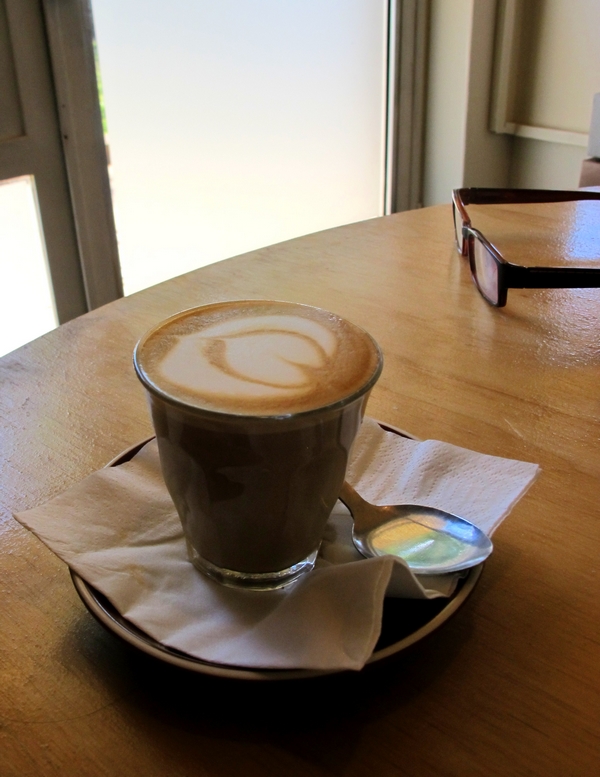 The coffee arrives. One of our piccolos is spilled a bit and the young waitress runs and grabs us a serviette. How about a fresh saucer? The spillage is hardly her fault though, the piccolos are almost flat white flat. My macch is cool, as are all the coffees, and nothing about the flavour grabs me. It's fine, I can't fault the method on my macch (other than the temperature, and I'm not a hot coffee drinker), so maybe this blend just isn't for me.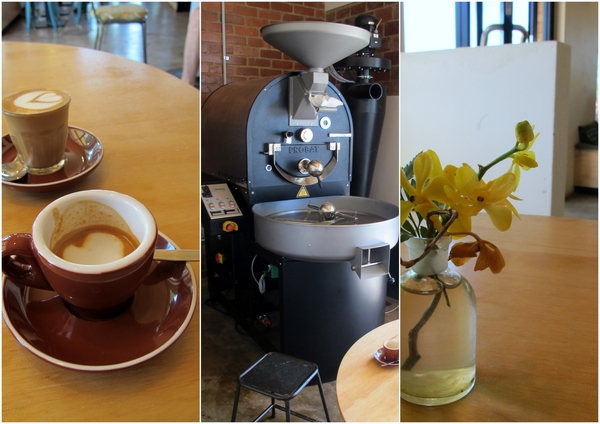 The Red Brick Espresso Hombres were recently quoted in Cafe Culture as saying "We looked at what's happening elsewhere and said, 'why can't we do it here?' Red Brick ticks all the boxes and, if I lived in this neck of the woods, I'd be here daily. But no matter how many milk crates you give someone to sit on or whether you roast your own beans, it all goes to crap when a teenage girl spills your latte. And for the record, I've been back since, the coffee was still lukewarm, and I've heard the same from others. But I guess if I was from New York and came to visit my mates in Surry Hills, I'd feel like the café culture here is just a watered down version of what's going on back home. For all I know the Williamsberg peeps are sitting on upturned shopping trolleys these days. I pray that trend doesn't make it here.
Red Brick Espresso
4/35 Curtin Place, Curtin ACT 2605
02 6285 1668
http://www.redbrickespresso.com.au/
Monday-Friday 7:30am – 4:30pm
Saturday 7:30am – 4:00pm
Sundays 7:00am – 2:00pm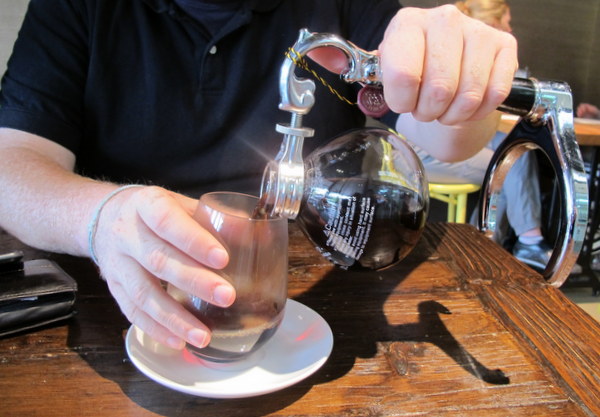 If you follow the cyclists, you'll find a good cafe. Turns out those fixies mounted on the wall in your local trendy coffee house aren't always just for decoration. I challenge you to find somewhere in this wide brown land more cycle friendly than our Nation's Capital. Canberra has almost as many bike paths as there are roads and so it stands to reason there has to be more than one place to find a good macch. And so early one Canberra morning we rose with the cyclists and followed them to Farmer's Daughter.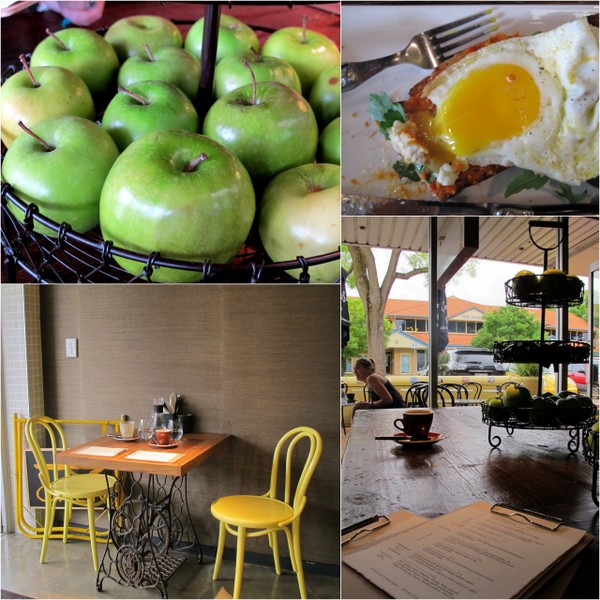 Farmer's Daughter is at the Yarralumla shops, an old and well-off suburb 5 minutes west of Parliament house. Yeah, like that's how Canberrans give directions. Anyway, It's just after 9:00am when we arrive, so we have our pick of tables. By 9:45 the place is pretty much full and the wait is long for those who want a 10:00 or 11:00 am breakky.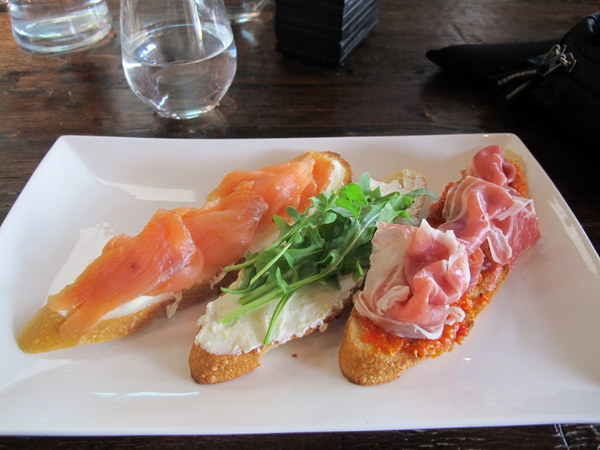 The menus are on cute little clipboards and it's one of those occasions where everything sounds enticing; enough adjectives to intrigue but not so many as to overwhelm. I consider the french toast, described as 'soft toasted brioche slices served with fresh summer berries and lavender cream', but I can never quite go past a savoury brunch and so I choose the fried egg bruschetta with romesco. Breakfast dishes hover around the $16 mark, so you know if it's less than perfect I'll be sending it back.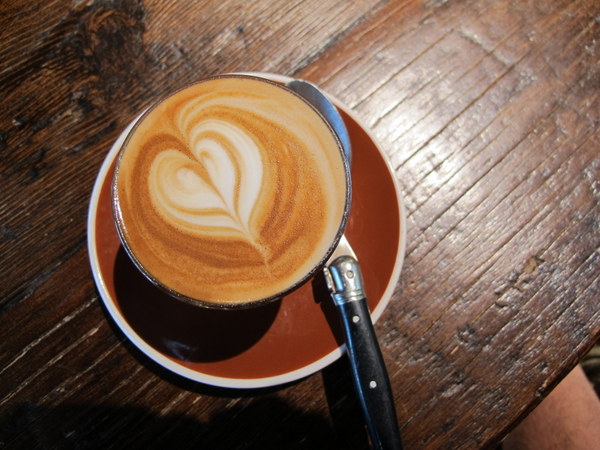 The coffee menu is why we're really here, as farmer's Daughter serve cold drip and syphon as well as espresso. What I like about their specialty coffee menu is that it's all written down as part of the normal menu, not on a blackboard or just as something you have to know to ask for. I like that they've described what each method involves and tastes like on their menu, leaving you to order the drink, ask questions about it, or not. I know most people drink espresso but I'm sure many are curious to have a go at siphon or cold drip or pourover, but aren't quite sure where to begin. All too often specialty, back-to-basics coffee can be quite intimidating for the unnanitiated coffee drinker, but not so at Farmer's Daughter, so assuming that hipster coffee places actually *want* a bigger uptake of these alternacoffees, this is a smart move.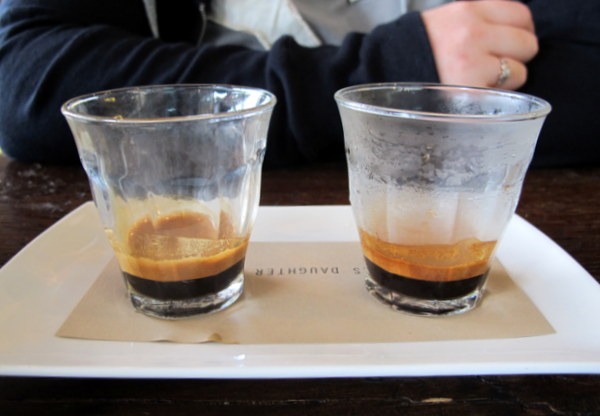 Between the four of us we order a macchiatto (guess who?), a picollo latte, a siphon coffee and a fire and ice espresso shot, which is two shots of a single origin espresso, one in a frozen glass and one in a room temperature glass. This is to show of the differing flavours at different temperatures, as is the Siphon, which you drink cup by cup from hot to lukewarm to appreciate its subtle, tea-like flavour, but also how that flavour changes as the temperature drops. It's actually quite fun try both of these coffee methods, and there's nothing patronising or pretentious about the way they've each been presented.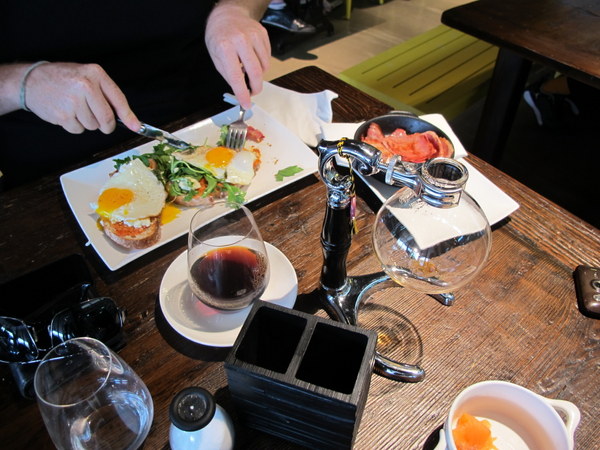 The fried egg bruschetta is great, with runny yolks and firm-enough whites, although the romesco has the quality of those cashew and capsicum deli dips – it tastes store bought, although I can't say for sure. Who cares, it's delish. The other dishes on our table are equally tasty, from the poached eggs with 'finishing touches' to the the 'no ordinary soldiers', three toasts with a different topping for each: smoked salmon and crème fraîche on one, parmesan and rocket on another and the third with prosciutto and romesco.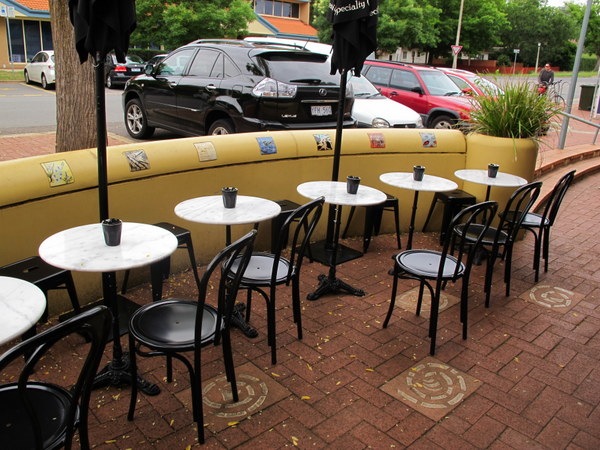 Overall I'd say I enjoyed breakfast at Farmer's Daughter, I even went back for a second macch (naughty), this time a single origin, the Rwanda Maraba III Sovu Cup of Excellence which is indeed both velvety and fusgy as the Campos website decrees. I will return, bright and early, to sip a syphon and investigate their menu further.
Farmer's Daughter
27B Bentham St, Yarralumla
Yarralumla, ACT 2600
02 6281 2233
Monday- Saturday 7:00am – 3:00pm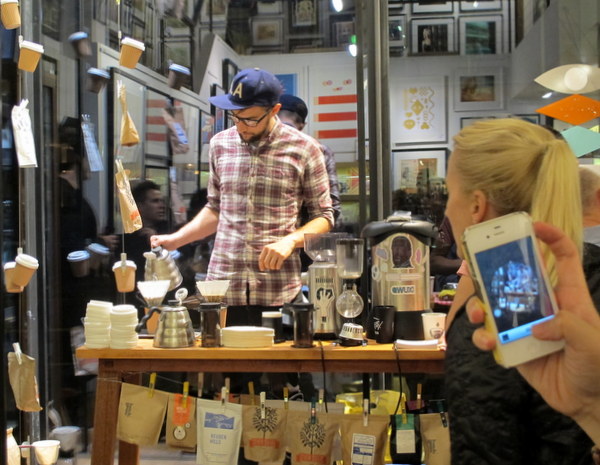 When I say coffee, I mean espresso. So it's easy to forget that there's more than one way to brew a bean. Luckily, the Black Coffee Pop-up is in Sydney this week showing off the ins and outs of non-espresso coffee methods, brewing pour-over, siphon and the aero-press coffees from 19-22 April at Outré Gallery in Surry Hills.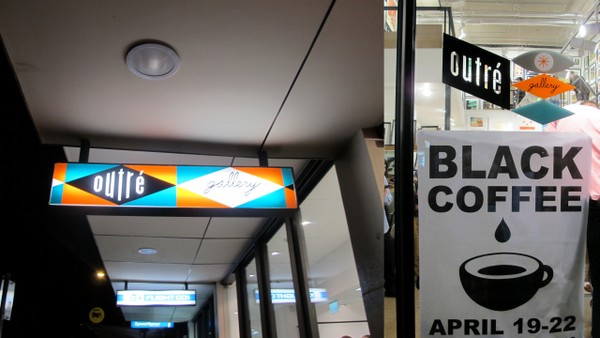 Black Coffee is exactly what it sounds like. The brainchild of Seven Seeds barista Mark W Free (the one in the hat), Black Coffee has appeared at Somewhere Store Gallery in Melbourne and serves nothing but black coffee – no milk, no sugar, no espresso, and, according to their website, 'no bullshit'.
There are a range of Sydney and Melbourne beans to sample – Mecca, Single Origin, Reuben Hills and Coffee Alchemy, Market Lane, Seven Seeds and Small Batch by Auction Rooms.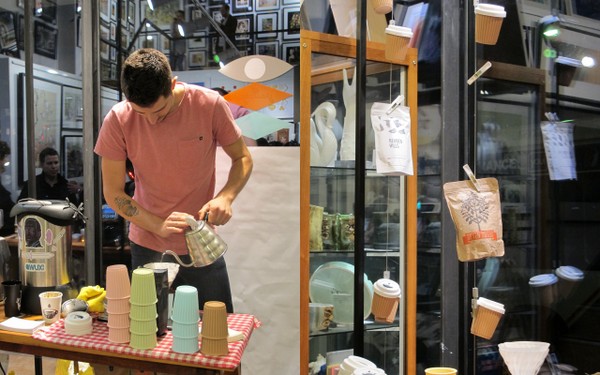 The focus on the coffee part of coffee makes sense to me. And I have to admit it's nice to savour more than a thimblefull and really drink in that aroma. We tried the Market Lane Boa Vista from Brazil (pourover), its heady aroma of roasting chestnuts drawing us in. The taste is far mellower than the smell, far from the concentrated hit I'm used to, but it grows on you.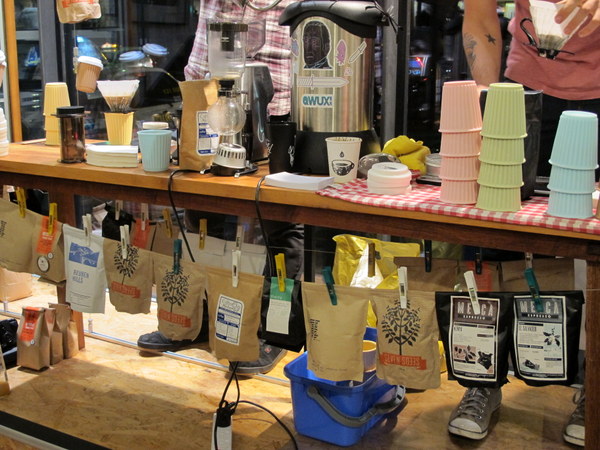 Recently there's been a growing trend towards coffee geekery and gadgetry (in fact, towards geekery and gadgetry in general), but also a renewed interest in no-fuss food and drink. The time is right for something like the 'pay what you you feel' Black Coffee pop up, proving that anyone can make coffee, you don't need a fuck off espresso machine, a commercial grinder or a crash course in barista basics.
It's a good time to be a caffeine addict, however you take your coffee.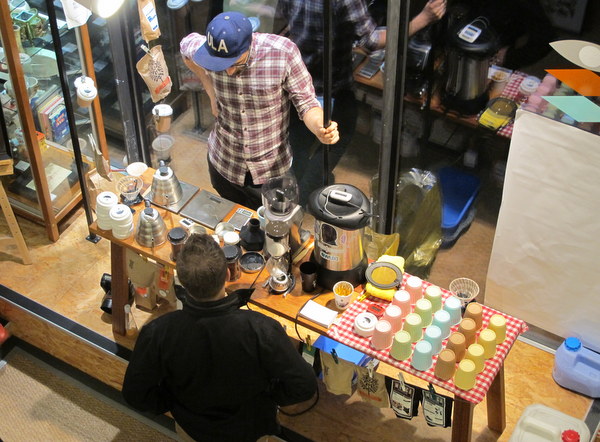 Black Coffee Pop up Sydney
19-22 April 2012
Outré Gallery
7/285A Crown Street
Surry Hills NSW 2010
(02) 9332 2776
http://blackcoffeeshop.tumblr.com/
http://blackcoffeeshop.com.au/
About me

Sharing easy recipes, hunting down the

best coffee

. Honest accounts, nothing too serious.

Read more...

Popular posts this month…

This work is licensed under a

Creative Commons Attribution-NonCommercial 2.5 Australia License

.

Disclaimer:

All opinions in this blog are mine, an everyday, real-life person. I do not accept payment for reviews and nor do I write sponsored posts. I do not endorse the content of the comments herein.