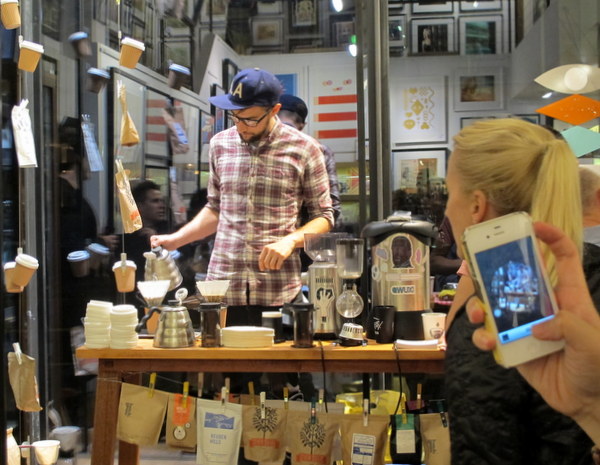 When I say coffee, I mean espresso. So it's easy to forget that there's more than one way to brew a bean. Luckily, the Black Coffee Pop-up is in Sydney this week showing off the ins and outs of non-espresso coffee methods, brewing pour-over, siphon and the aero-press coffees from 19-22 April at Outré Gallery in Surry Hills.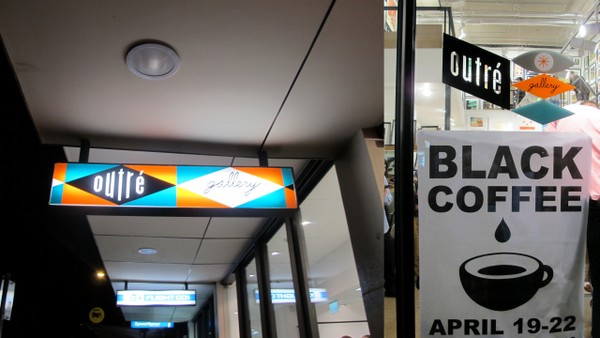 Black Coffee is exactly what it sounds like. The brainchild of Seven Seeds barista Mark W Free (the one in the hat), Black Coffee has appeared at Somewhere Store Gallery in Melbourne and serves nothing but black coffee – no milk, no sugar, no espresso, and, according to their website, 'no bullshit'.
There are a range of Sydney and Melbourne beans to sample – Mecca, Single Origin, Reuben Hills and Coffee Alchemy, Market Lane, Seven Seeds and Small Batch by Auction Rooms.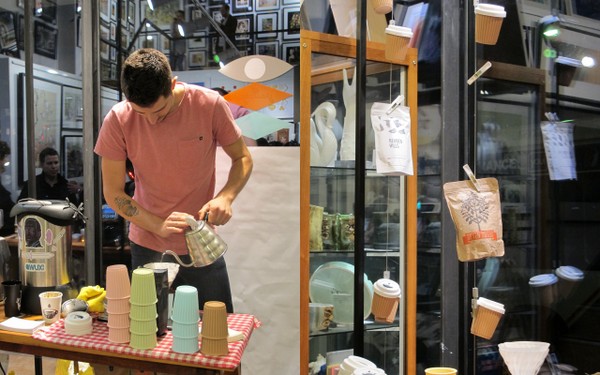 The focus on the coffee part of coffee makes sense to me. And I have to admit it's nice to savour more than a thimblefull and really drink in that aroma. We tried the Market Lane Boa Vista from Brazil (pourover), its heady aroma of roasting chestnuts drawing us in. The taste is far mellower than the smell, far from the concentrated hit I'm used to, but it grows on you.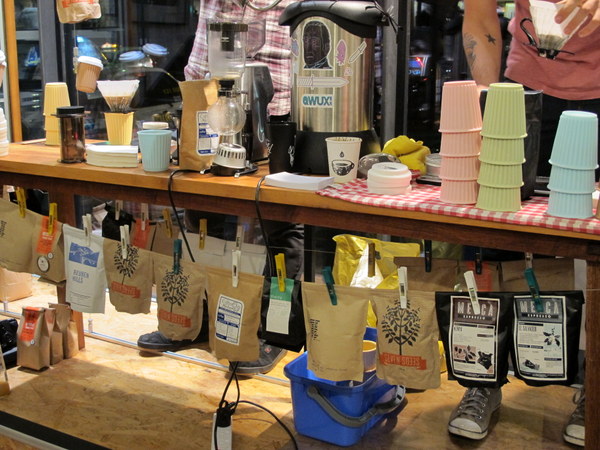 Recently there's been a growing trend towards coffee geekery and gadgetry (in fact, towards geekery and gadgetry in general), but also a renewed interest in no-fuss food and drink. The time is right for something like the 'pay what you you feel' Black Coffee pop up, proving that anyone can make coffee, you don't need a fuck off espresso machine, a commercial grinder or a crash course in barista basics.
It's a good time to be a caffeine addict, however you take your coffee.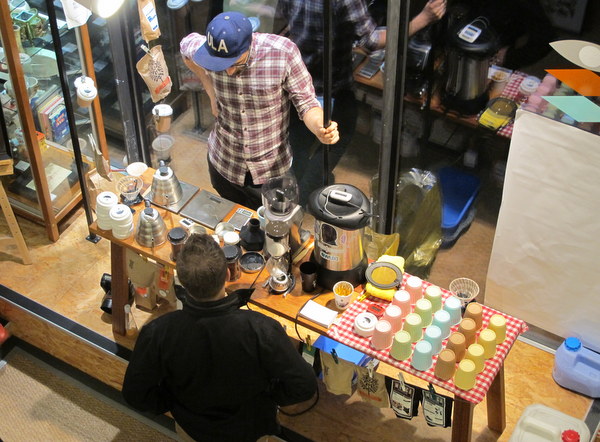 Black Coffee Pop up Sydney
19-22 April 2012
Outré Gallery
7/285A Crown Street
Surry Hills NSW 2010
(02) 9332 2776
http://blackcoffeeshop.tumblr.com/
http://blackcoffeeshop.com.au/
About me

Sharing easy recipes, hunting down the

best coffee

. Honest accounts, nothing too serious.

Read more...

Popular posts this month…

This work is licensed under a

Creative Commons Attribution-NonCommercial 2.5 Australia License

.

Disclaimer:

All opinions in this blog are mine, an everyday, real-life person. I do not accept payment for reviews and nor do I write sponsored posts. I do not endorse the content of the comments herein.