I love the fact that I couldn't explain to an outsider what exactly the building blocks of 'your typical Aussie Christmas dinner' are. It is, by and large, flexible. In fact, it may not even be a dinner, it may be lunch. It could be on boxing day rather than Christmas, and there may not even be a table at all; it could be on a beach, or in a park, or at a pub.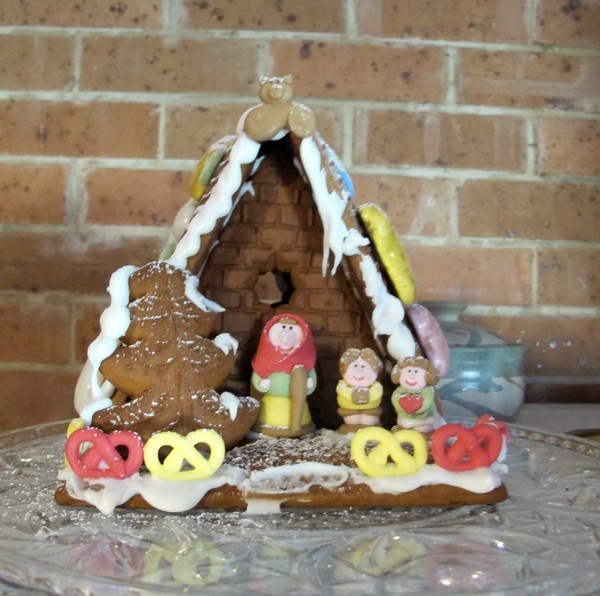 Every year in my family, we fling together something a little different from the year before. And every person I talk to has their different family traditions, dishes and recipes; some that stay the same year in year out, some that evolve, and some that they'd rather forget. I like to think that, as a group (cue massive generalisation), we Aussies are a laid-back, casual lot, and the variety of meals we share over the silly season reflects this flexible, adventurous way of looking at food, and recognises our diversity as a nation.
In a couple of weeks, I'll be hosting a pre-Christmas recipe swap at the Glebe Library with the City of Sydney. We want people to bring in their Christmas recipes; the ones they love, the ones they hate, the ones they just made up yesterday. You can even bring samples to share, and we'll eat and talk cooking and eating and Christmas. Huzzah!
If you can make it, here are the details
The Christmas Recipe Swap
Friday, 6 December 2013 from 1:00pm to 3:00pm
Glebe Library, 186 Glebe Point Rd, Glebe NSW 2037
What do I need to do?
RSVP here
If you have a recipe you'd like to share and need us to print, email it to lau@corridorkitchen.com by Thursday, 5 December 2013.
Hope to see you there, chums!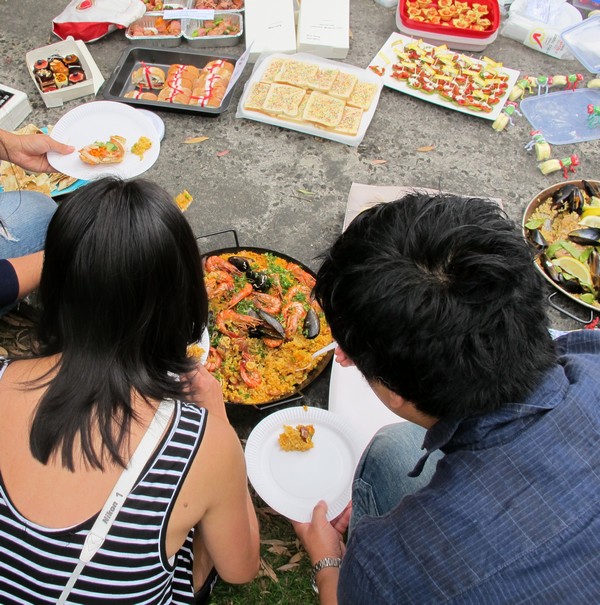 The Sydney Food Bloggers Picnic 2012, hosted by Suze and Helen.
The Potluck Club
The Potluck Club is a new ecookbook of simple, affordable recipes that anyone can cook. A fundraising initiative for The $35 Food Challenge, the ebook will be sold to raise money for Foodbank Australia.  A collaboration between food bloggers and budding home chefs, we are now seeking submissions for our first issue.
Submit 1-2 original recipes of 200-300 words and a brief 50 word bio by Tuesday September 4th 2012 to elise@stuffthatibought.com or lau@corridorkitchen.com
Submit 1 high resolution photo (minimum height 1000px) per recipe and one avatar (300px square – optional).
Please note: Recipe photos will be cropped to fit our layout and cropped images will be roughly square in shape. With this in mind, please send photos with plenty of space around the food, suitable to be cropped – pre photo-shop photos are fine.
Deadline: Submissions close Tuesday September 4th.
What are we looking for?
We welcome a wide variety of recipe submissions to The Potluck Club, however the emphasis is on affordable food, so steer clear of hard to find or expensive ingredients- no truffle oil, expensive cuts of meat, isreali couscous, purslane,  etc.
We would love anything that is culturally specific or that people might not know how to make (shakshouka, summmer rolls) or really on trend (peanut butter bacon maple hotcakes, easy pulled pork)…while still being relatively inexpensive.
The book will be in 3 sections:
Share Plates and Sides
Something Substantial
Sweets
The fine print:
You are welcome to submit previously published recipes and images, on the understanding that they are your original work and you retain the rights to them.
You can submit as many recipes as you like, but we will only publish a maximum of 2 recipes from each contributor. All contributions must be received via email by Saturday September 4th.
We encourage you to promote The Potluck Club on your own blog and will provide a visual 'badge' to link to our online store so that your readers may purchase it.
As The Potluck Club is a fundraising e-book, with all profits going to Foodbank Australia, submissions will not be paid for, however all recipes will be attributed to you and include your blog url. Your bio and picture will also be included in the ecookbook (submitting a photo of yourself is optional).
If your photographs do not fit with the ecookbook aesthetic, we reserve the right to re-photograph your dish. We also reserve the right to reformat your recipe/s to fit with our layout.
The Potluck Club
Elise Phillips and Lauren Quinn
About me

Sharing easy recipes, hunting down the

best coffee

. Honest accounts, nothing too serious.

Read more...

Popular posts this month…

This work is licensed under a

Creative Commons Attribution-NonCommercial 2.5 Australia License

.

Disclaimer:

All opinions in this blog are mine, an everyday, real-life person. I do not accept payment for reviews and nor do I write sponsored posts. I do not endorse the content of the comments herein.