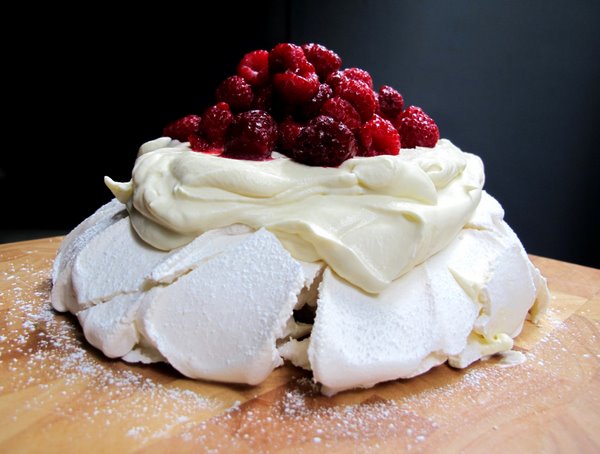 I have to admit that I'm a little bit surprised by my own cooking these days. There are times when it is just so damn…traditional. I find myself saying things like 'the classics are classics for a reason.' The cookbooks I'm collecting are published by the Australian Women's Weekly. I find myself craving things like a sausage. On white bread. With tomato sauce. Could this be my palate's backlash against the multicultural Australian table? Will I be reduced to eating meat and three boiled veg the rest of my days?!
Somehow I don't think so. Although I enjoy the pleasures of a simple meal as much as the next minimalist cooking guru, I don't think my love of fresh baked bread with butter is going to kill off my longing for a good Vietnamese feed, adapted from the real deal or not. Another thing to remember is that while some food may seem exotic to me, they're just business as usual for those that grew up with them.
All this is really just a roundabout way of saying that when I signed up for today's pavlova blog hop, I knew I wouldn't be getting fancy. I knew I'd be sticking with 'old faithful', The Australian Women's weekly 4 egg pav. I'm lazy, so I knew I'd be topping it with whipped cream and frozen raspberries and nothing more, even thought there's nothing I like better than what I consider the classic pav fruit combo: passionfruit, mango, banana, kiwi fruit and strawberries.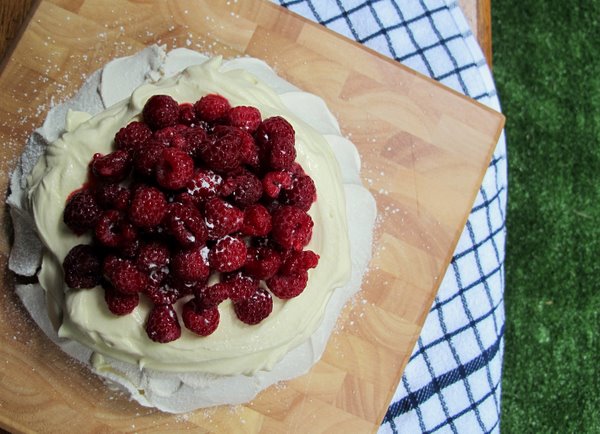 Raspberry Pav (From The Australian Women's Weekly)
4 eggs whites (tip: separate them in a separate bowl, pouring them into the bowl you will beat them in one by one. Nothing worse than having to chuck out 4 yolked whites rather than two)
1 cup sugar
300ml cream, thickened or pure
3 teaspoons icing sugar mixture
½ teaspoon vanilla extract
Frozen raspberries, to top – I used close to two cups
Preheat your oven to 120°c (110°c fan forced). Line a flat tray with baking paper, draw a 15-20cm circle on it if you like.
Make sure everything (bowl, beaters) is completely dry. Beat the eggs for about 10 minutes on high speed, until firm-ish peaks form. I use an electric hand beater, this may take less time with a standing mixer, I have no idea.
Add the sugar bit by bit, still beating. Wait until the sugar is completely dissolved before adding more. I did this in about 5 lots, it took about 3 minutes.
Shape your pavlova on the tray, levelling it so that it has a flat top. Bake for 1 to 1½ hours, turn off the oven, open the door and allow the pav to cool completely in the oven.
Meanwhile, whip together the cream, icing sugar and vanilla until soft peaks form.
When the pav is completely cooled, carefully peel off the baking paper, place on a plate and decorate. It's great served immediately or over the next few days.
What about you? What's your fave 'traditional' recipe?
I know I can't be tho only one whos' kitchen experiments sometimes turn out…questionable. Or is it questionably? Whichever is grammatically correct. Anyway, we've all had moments where we're sure the lightning bolt of genius has his us. 'Mustard éclairs!' we shout 'Twice-baked rum-soaked polenta!' 'Chocolate steak!'. But, by and large, it is disaster, not genius that has struck.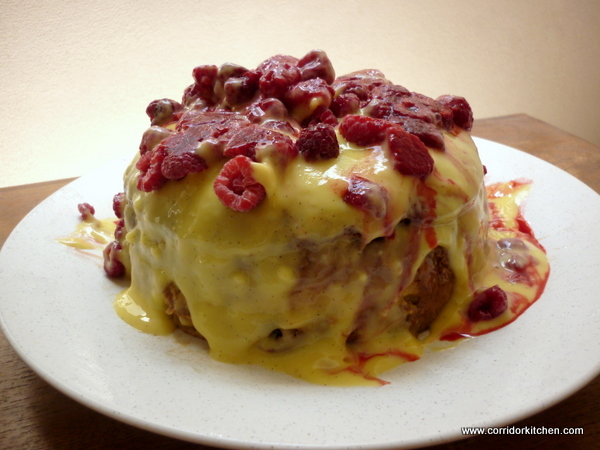 Personally, my mistakes aren't usually to do with creativity. I'm not much for crazy fusion projects (Italian sushi, anyone?). Rather, my disasters are the fruit of my impatience. I will drop or undercook or burn myself on things in my haste to prepare food quickly. I'm never going to make a mustard éclair, but I cook the same way I eat…fast. And as a result, sometimes my creations can resemble a kind of indigestion.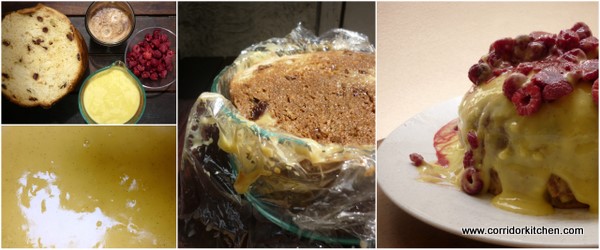 I have been putting off posting this recipe because for this very reason; I'm just not sure about it. Something about it just isn't quite right. It isn't terrible. It does work, in theory. It tastes ok. It's good on paper. Nobody died. But I'm not convinced by it.
Maybe it's because I love panettone, buttered and dunked in coffee so much that it seems a bit redundant, like bread and butter pudding made with croissants – as if there's any such thing as a leftover or stale croissant. Maybe it's just not as good as the sum of its parts – all the components are delicious, so you'd expect the finished product to be even more so, but it isn't. Maybe you can tell my what's missing, or maybe you can fix it. Either way, here it is: Panettone Trifle.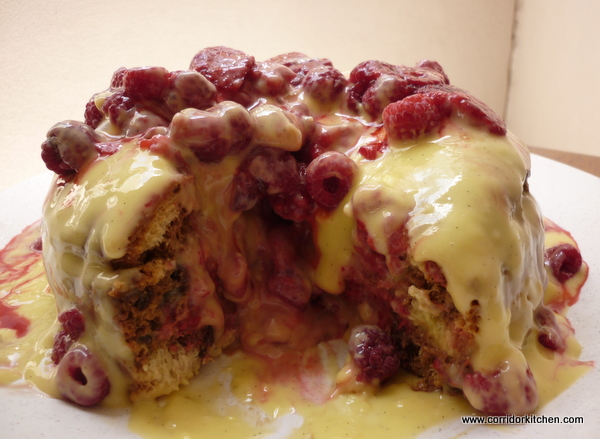 Raspberry Upside-down Panettone Trifle
1 Panettone, sliced into thick rounds (as you would a layer cake, I'd imagine)
About 400g frozen raspberries
1 portion Portuguese custard or any other custard you like
About 300ml fresh coffee, cooled and in a flat dish
Find a container roughly the same size as or a bit smaller than the panettone. Line it with cling wrap.
Dunk a round of panettone in the coffee, press into the container. Scatter a few raspberries and slather on some custard, repeat with all layers – you should have art least 1/3 of the custard left. Cover and refrigerate.
To serve, turn the trifle out onto a plate, cover in custard and sprinkle with raspberries. It will be a mess but maybe you will like it.
So, do you have any questionable kitchen experiments you'd like to share?
As the weather cools down, the rain pounds on the roof and my kitchen floods at regular intervals, it feels like the time to indulge in a slice of something sweet with a cup of something hot, the eternal combination of comfort seekers everywhere.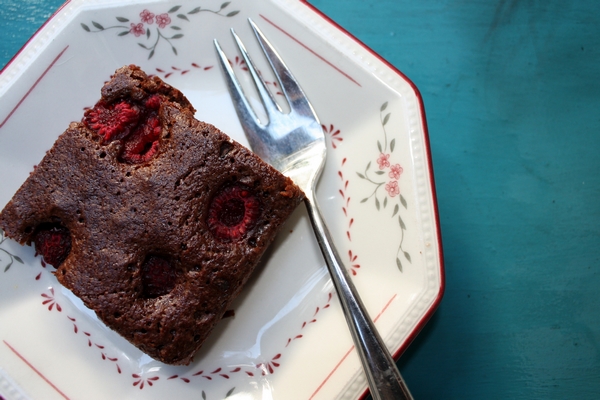 These brownies are ideal for weathering the storm – quick, easy and you don't even have to have chocolate on hand to make them. They'd be perfect with a cup of tea if tea interested me in the least, but I prefer them with a coffee or a big glass of cold milk. That way I can either be an incredibly grown up or a 6 year old child, whichever seems easiest at the time.
Cocoa Raspberry Brownies (Adapted from The Stone Soup)
150g butter
1¼ cups 255g caster sugar
¾ cup (80g) cocoa powder
1 teaspoon vanilla extract
2 eggs
½ cup (75g) plain flour
1 cup frozen raspberries or morello cherries
Preheat oven to 150°C. Line a slice tin with two sheets of baking paper so that it overlaps the sides.
Melt butter in a medium saucepan. When just melted, remove from the heat and stir in the sugar and cocoa powder, ensuring there are no lumps.
Add the vanilla extract and eggs and mix well. Gently stir in the flour until just combined, being careful not to over mix. Pour the mixture into the lines pan. Dot the brownies with frozen raspberries.
Bake for 45 minutes or until the top feels just set. Cool in the tin, cut and then serve.
What's your favourite wet weather recipe?
About me

Sharing easy recipes, hunting down the

best coffee

. Honest accounts, nothing too serious.

Read more...

Popular posts this month…

This work is licensed under a

Creative Commons Attribution-NonCommercial 2.5 Australia License

.

Disclaimer:

All opinions in this blog are mine, an everyday, real-life person. I do not accept payment for reviews and nor do I write sponsored posts. I do not endorse the content of the comments herein.