The point of the lamington is to use up old sponge cake. Who in the hell has a heap of old cake lying around? No one. That's why I neither like nor understand the lamington; the basic concept baffles me. In fact, I'd never even made a batch before this post.
The point is, whether it makes sense or not, that is what a lamington is. I will defend to my death the authentic/traditional 'Strayun lamington recipe as made perhaps not on its first occasion but ever after.
Here's how it goes- sponge cake, chocolate icing and dessicated coconut. I cannot stress this enough. It is integral to both the flavour and texture of the lamington. But recently, in trendy cafes and even, shock, horror, on food blogs (even 'Strayun ones), I have come across furry, rather than fuzzy lamingtons – they have been using shredded coconut, not dessicated. For shame.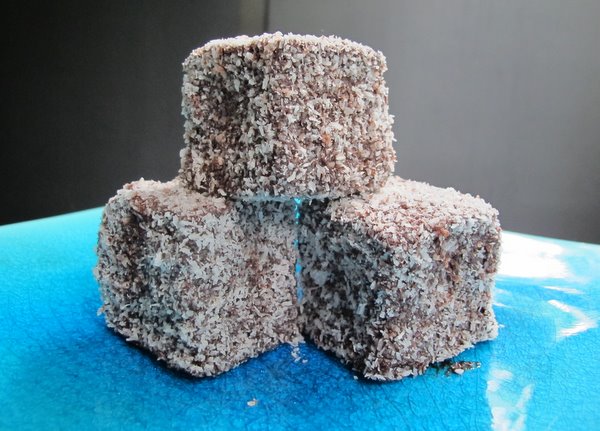 In actual fact, my recipe is not even a recipe for lamingtons, it's pretty much a recipe for icing. Because if the point of the lamington is to use up stale cake, you might as well just buy a sponge cake from the shops and be done with it. I did. Even so, this recipe is truer to form than the spiky, echidna-like lamingtons I've had the displeasure to witness in recent times.
You may add whipped cream or some raspberry or strawberry jam in the centre of the lamington, no worries mate, but for God's sake, stick to the tried and true recipe. Don't mess with a good thing! After all, it is Australia Day.
Lamingtons (icing recipe from the Australian Women's Weekly)
1 x 450g sponge cake (mine was a pack of two rectangular sponges)
4 cups icing sugar mixture
1/2 cup cocoa powder
1 cup milk
15g butter
2 cups dessicated coconut
Sift the icing sugar and cocoa in a large heat proof bowl. Stir in the milk and add the butter.
Over a simmering saucepan (double boiler) stir the mixture until the butter melts and you have a smooth icing. Set aside.
Cut the sponge into even pieces with a sharp knife, I got 24 pieces in total.
Coat the sponge with icing, letting the excess drip off, coat in coconut and leave to rest. See below for more details.
embedded by Embedded Video

YouTube
Happy Australia Day!
I know I can't be tho only one whos' kitchen experiments sometimes turn out…questionable. Or is it questionably? Whichever is grammatically correct. Anyway, we've all had moments where we're sure the lightning bolt of genius has his us. 'Mustard éclairs!' we shout 'Twice-baked rum-soaked polenta!' 'Chocolate steak!'. But, by and large, it is disaster, not genius that has struck.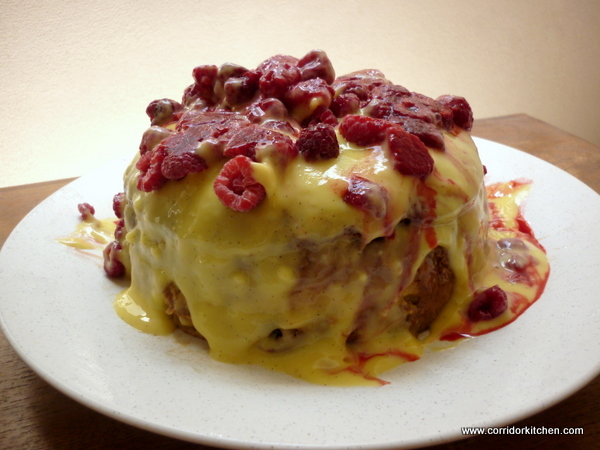 Personally, my mistakes aren't usually to do with creativity. I'm not much for crazy fusion projects (Italian sushi, anyone?). Rather, my disasters are the fruit of my impatience. I will drop or undercook or burn myself on things in my haste to prepare food quickly. I'm never going to make a mustard éclair, but I cook the same way I eat…fast. And as a result, sometimes my creations can resemble a kind of indigestion.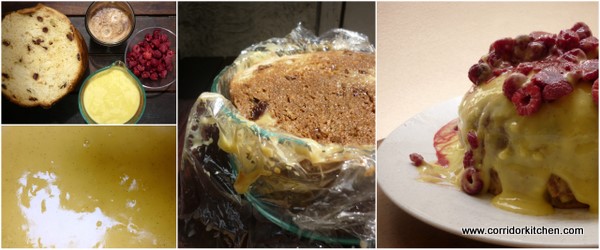 I have been putting off posting this recipe because for this very reason; I'm just not sure about it. Something about it just isn't quite right. It isn't terrible. It does work, in theory. It tastes ok. It's good on paper. Nobody died. But I'm not convinced by it.
Maybe it's because I love panettone, buttered and dunked in coffee so much that it seems a bit redundant, like bread and butter pudding made with croissants – as if there's any such thing as a leftover or stale croissant. Maybe it's just not as good as the sum of its parts – all the components are delicious, so you'd expect the finished product to be even more so, but it isn't. Maybe you can tell my what's missing, or maybe you can fix it. Either way, here it is: Panettone Trifle.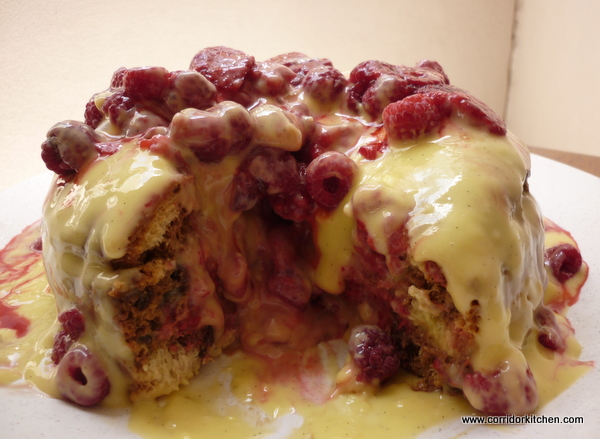 Raspberry Upside-down Panettone Trifle
1 Panettone, sliced into thick rounds (as you would a layer cake, I'd imagine)
About 400g frozen raspberries
1 portion Portuguese custard or any other custard you like
About 300ml fresh coffee, cooled and in a flat dish
Find a container roughly the same size as or a bit smaller than the panettone. Line it with cling wrap.
Dunk a round of panettone in the coffee, press into the container. Scatter a few raspberries and slather on some custard, repeat with all layers – you should have art least 1/3 of the custard left. Cover and refrigerate.
To serve, turn the trifle out onto a plate, cover in custard and sprinkle with raspberries. It will be a mess but maybe you will like it.
So, do you have any questionable kitchen experiments you'd like to share?
About me

Sharing easy recipes, hunting down the

best coffee

. Honest accounts, nothing too serious.

Read more...

Popular posts this month…

This work is licensed under a

Creative Commons Attribution-NonCommercial 2.5 Australia License

.

Disclaimer:

All opinions in this blog are mine, an everyday, real-life person. I do not accept payment for reviews and nor do I write sponsored posts. I do not endorse the content of the comments herein.