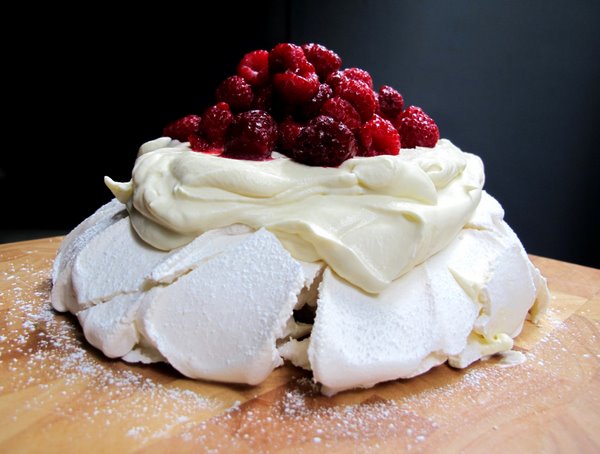 I have to admit that I'm a little bit surprised by my own cooking these days. There are times when it is just so damn…traditional. I find myself saying things like 'the classics are classics for a reason.' The cookbooks I'm collecting are published by the Australian Women's Weekly. I find myself craving things like a sausage. On white bread. With tomato sauce. Could this be my palate's backlash against the multicultural Australian table? Will I be reduced to eating meat and three boiled veg the rest of my days?!
Somehow I don't think so. Although I enjoy the pleasures of a simple meal as much as the next minimalist cooking guru, I don't think my love of fresh baked bread with butter is going to kill off my longing for a good Vietnamese feed, adapted from the real deal or not. Another thing to remember is that while some food may seem exotic to me, they're just business as usual for those that grew up with them.
All this is really just a roundabout way of saying that when I signed up for today's pavlova blog hop, I knew I wouldn't be getting fancy. I knew I'd be sticking with 'old faithful', The Australian Women's weekly 4 egg pav. I'm lazy, so I knew I'd be topping it with whipped cream and frozen raspberries and nothing more, even thought there's nothing I like better than what I consider the classic pav fruit combo: passionfruit, mango, banana, kiwi fruit and strawberries.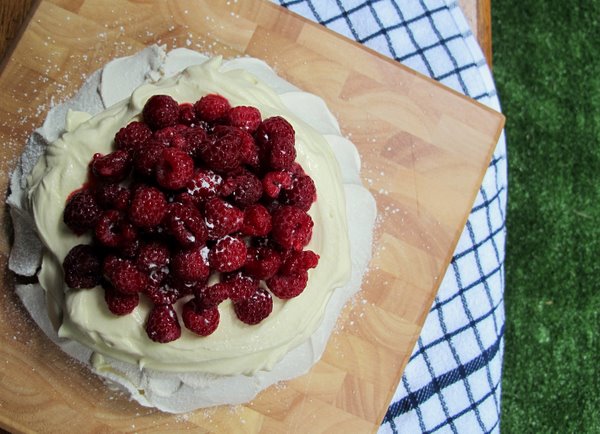 Raspberry Pav (From The Australian Women's Weekly)
4 eggs whites (tip: separate them in a separate bowl, pouring them into the bowl you will beat them in one by one. Nothing worse than having to chuck out 4 yolked whites rather than two)
1 cup sugar
300ml cream, thickened or pure
3 teaspoons icing sugar mixture
½ teaspoon vanilla extract
Frozen raspberries, to top – I used close to two cups
Preheat your oven to 120°c (110°c fan forced). Line a flat tray with baking paper, draw a 15-20cm circle on it if you like.
Make sure everything (bowl, beaters) is completely dry. Beat the eggs for about 10 minutes on high speed, until firm-ish peaks form. I use an electric hand beater, this may take less time with a standing mixer, I have no idea.
Add the sugar bit by bit, still beating. Wait until the sugar is completely dissolved before adding more. I did this in about 5 lots, it took about 3 minutes.
Shape your pavlova on the tray, levelling it so that it has a flat top. Bake for 1 to 1½ hours, turn off the oven, open the door and allow the pav to cool completely in the oven.
Meanwhile, whip together the cream, icing sugar and vanilla until soft peaks form.
When the pav is completely cooled, carefully peel off the baking paper, place on a plate and decorate. It's great served immediately or over the next few days.
What about you? What's your fave 'traditional' recipe?
I have many memories of my mother's cooking from my childhood, and I still make many of the recipes she cooked for me; Grandma's spaghetti, Risotto Milanese, self-saucing chocolate pudding and one of my all-time favourite comfort foods, 'Italian Stew', a recipe someone gave her that came off the back of a tomato puree can involving beef strips, onions, capsicum, tomato puree, egg fettuccini and about half a packet of tasty cheese. Heaven.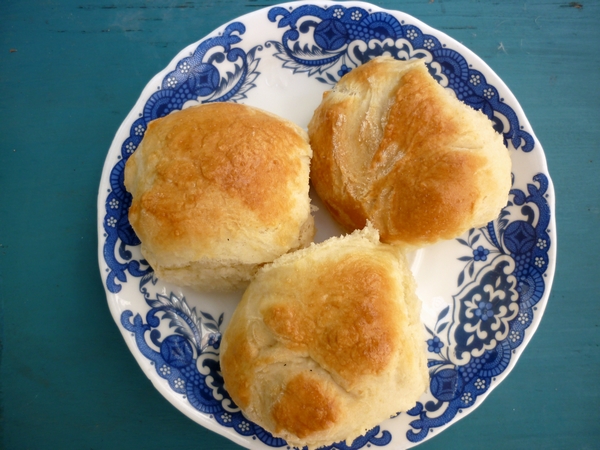 However, memories of my father cooking when I was a child are few and far between. I remember him standing over his home-made barbie in front of the veggie patch, searing sausages and steaks while my mum prepped the classics- potato salad with mayo and hard-boiled eggs, 'normal' salad of lettuce, tomato, carrot and tasty cheese, and my least favourite, cold curried rice, with those dreaded sultanas.
The only other thing I remember my Dad making was scones. Or should I say, his version of scones, which is pretty much damper. The ingredients are self-raising flour, water, or sometimes milk if he's feeling particularly decadent, and sultanas, which he mixes into a dough, shapes into a mound, bakes, slices and serves piping hot with margarine and honey.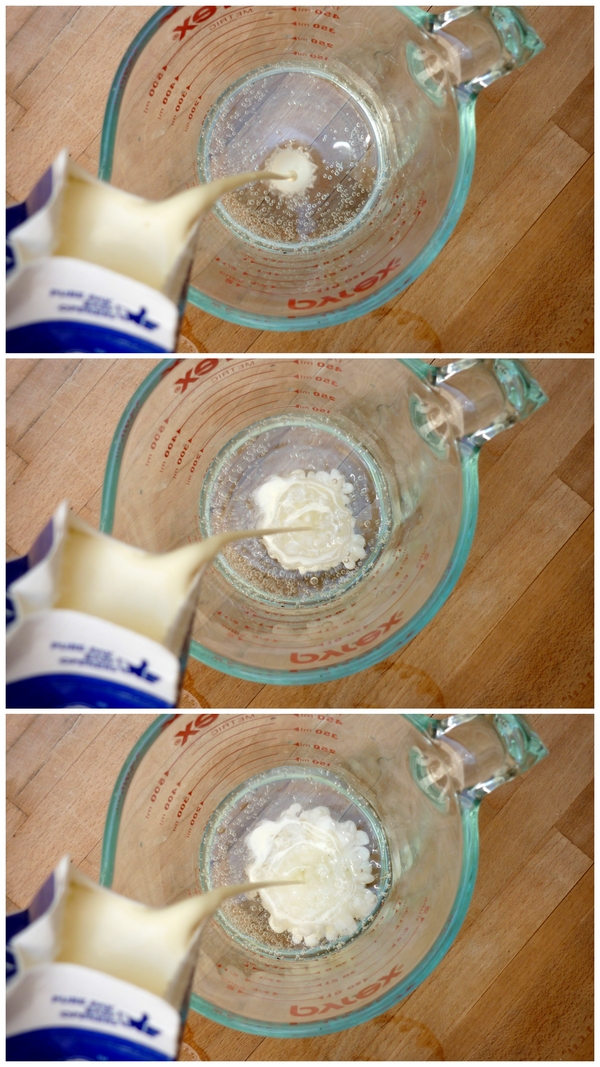 My Dad's not fussy when it comes to food and is most certainly the source of my practical streak, but even I can't bring myself to simplify the recipe this much. Sure, his method cuts out most of the work and most of the ingredients that make up the scone but I'm sorry to say, it also cuts out most of the flavour. Might be ok for a jolly swagman but it ain't gonna cut it for me.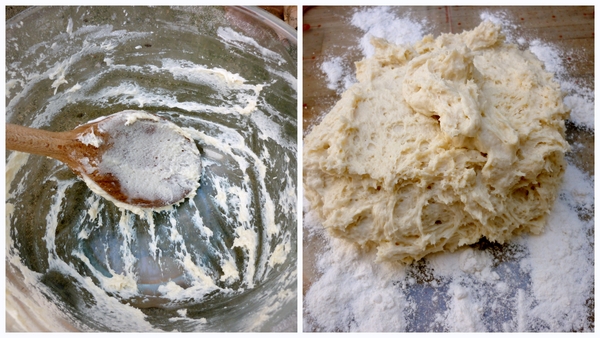 Scones are somewhat fiddly, with the rubbing of butter into flour and the stickiness of dough. That kind of stuff is best avoided in my opinion, so I think my Dad's on the right track. Grandpa's scones are a delicious compromise. I only tasted them once, when I was 12 or 13, but I remember them fresh and hot from the oven, firm on the outside, rich and fluffy on the inside. It was a delightful surprise as I never knew Grandpa could cook. We slathered the scones with butter and jam. 'They're lemonade scones,' he said. 'Really easy.'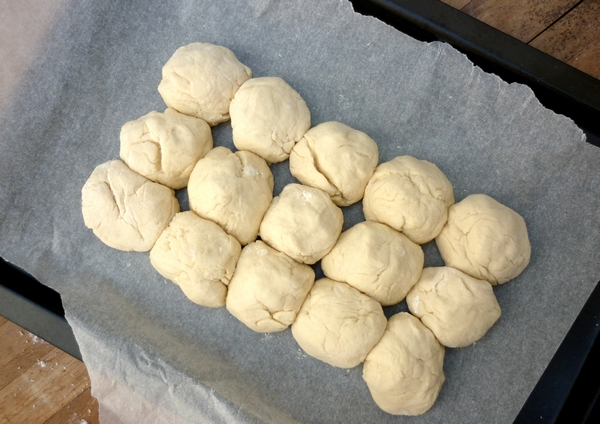 A few years ago I came across a lemonade scones recipe on Exclusively Food which is a great resource for basic Aussie recipes. This soon became my go-to scone recipe. It consists of only three ingredients (not counting the optional egg wash): self-raising flour, lemonade and cream. The cream fulfils the role usually played by butter and milk, the lemonade tops up the liquid, acts as a sweetener and the bubbles also help the scones rise.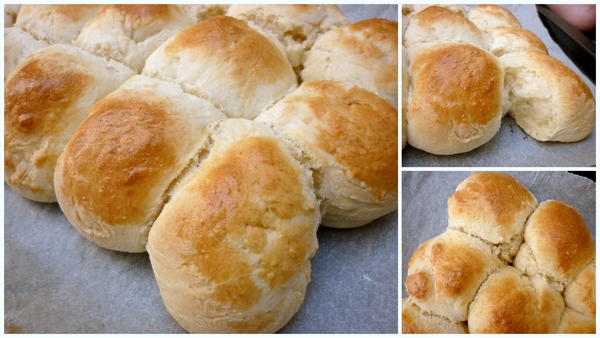 I always judge recipes in terms of the ratio of effort over results, and the results here are truly worth it. The scones come out of the oven beautifully flakey inside, they rise beautifully and have a lovely golden crust. I would love to experiment with other soft drinks- ginger beer and date scones would be pretty tasty. But I can't go past this recipe so I've never gotten around to it.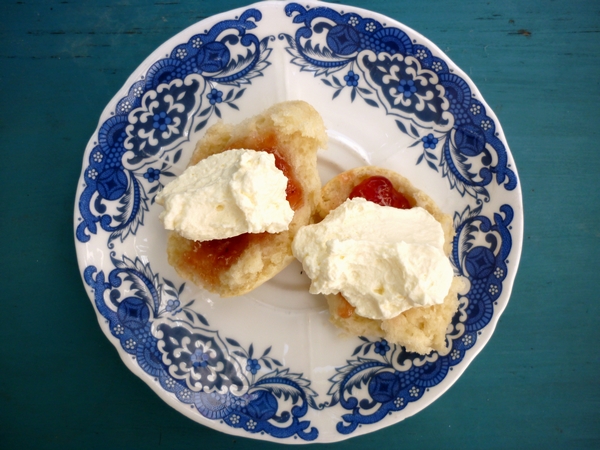 Lemonade Scones (from Exclusively Food)
325g (2 cups + 2 tablespoons) of self-raising flour
2/3 cup cold lemonade (I've also used lemon squash. It really makes no difference)
2/3 cup full fat cream, cold. I used pure cream as it was on special but you could also use thickened cream.
A beaten egg or milk to glaze, if desired.
Preheat oven to 225°C and line a baking tray with baking paper. The oven must be very hot as scones have a very short cooking time.
In a large bowl, whisk the flour to remove any lumps. Combine lemonade and cream in a medium bowl or jug.
Pour lemonade and cream mixture in to flour and gently stir ingredients together. Be careful not to over mix as the scones need to be light. The dough will be quite sticky and elastic.
Place dough on a lightly floured bench and split in half. Continue halving the dough until you have 16 even portions (I got 15, one was a bit of a runt so I broke it up and added it to the other smaller ones). You may need to heavily flour your hands to do this. Quickly form the portions into balls.
Place the scones in the centre of the tray, so they are just touching. Glaze if desired. Bake for about 12-15 minutes, or until golden and cooked through. Serve immediately, don't wait!
What's your favourite family recipe?
About me

Sharing easy recipes, hunting down the

best coffee

. Honest accounts, nothing too serious.

Read more...

Popular posts this month…

This work is licensed under a

Creative Commons Attribution-NonCommercial 2.5 Australia License

.

Disclaimer:

All opinions in this blog are mine, an everyday, real-life person. I do not accept payment for reviews and nor do I write sponsored posts. I do not endorse the content of the comments herein.