It's funny how in Australia we usually think of pies as savoury, while in the US sweet pies are the norm. As a result when I think of pies, I think of anything beef. When I think of sweet pies, I immediately think of my favourite, lemon meringue.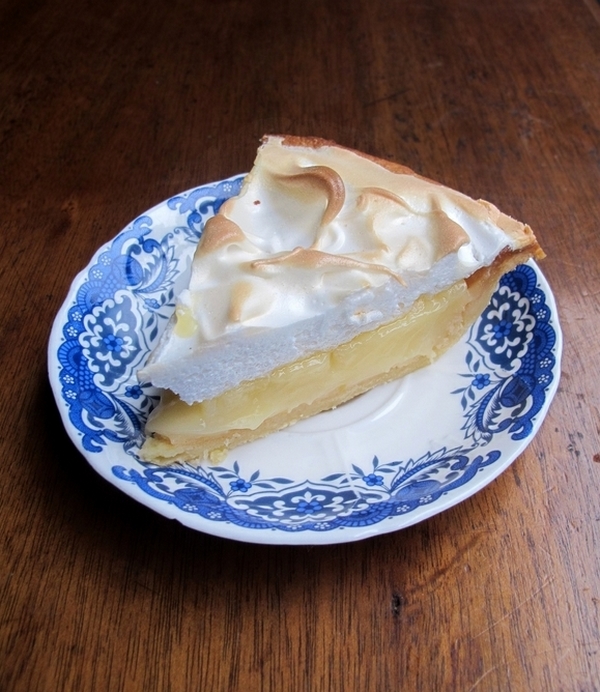 I haven't made this pie since I was a teenager, but I was always a big fan of the combo of tart, sweet lemon butter and fluffy sugarry merignue. I remember dragging out my mother's 1970's Australian Women's Weekly Cookbook from which you could cook anything from scones to Beef Bourginon, falling apart at the spine and gaffer taped together, and making this time consuming but satisfying pie. I assume the recipe I've used here is the same one.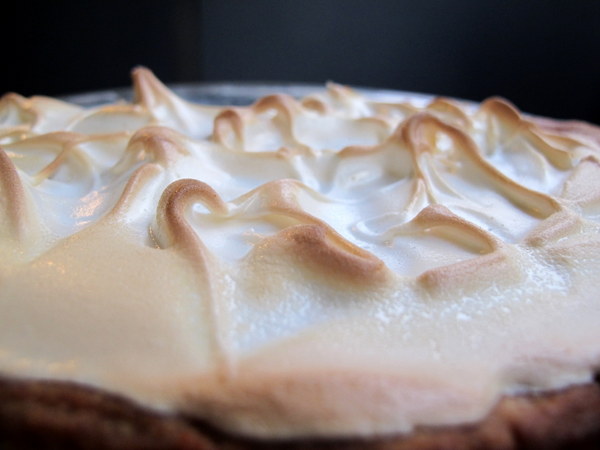 This pie is supposed to be served cold. I think if it were warmed, it would be too sweet even for me. To counter any sickly sweetness, I recommend serving with a side of whipped cream.
Lemon Meringue Pie (from AWW Bake)
For pastry:
1½ cups plain flour
1 Tbsp icing sugar mixture
140g cold butter, chopped coarsely
1 egg yolk
1-2 tablespoons iced water, as necessary
For lemon butter and meringue:
½ cup (75g) cornflour
1 cup caster sugar
½ cup lemon juice
1¼ cups water
2 tsp lemon zest
60g butter, chopped into 1 cm cubes
3 eggs, separated
½ cup caster sugar, extra
The pastry:
In a food processor, process flour, icing sugar mixture and butter until they resemble breadcrumbs. Add yolk and 1 tablespoon of the water; process again until pastry begins to come together into a ball. If necessary, gradually add more water, a teaspoon at a time, until pastry does form a ball. To see the correct consistency for the pastry, view the crappy video below…
Tip onto a lightly floured work surface and knead briefly until smooth, wrap in plastic wrap and refrigerate 30 minutes.
Roll out pastry between 2 sheets baking paper. Press pastry into 24cm round pie tin.
Trim edges and prick base with a fork. Refrigerate a further 30 minutes.
Line the pie crust with baking paper and fill with dried beans, lentils or baking beads. Bake in preheated oven 15 minutes or until lightly browned. Remove paper and beans; return to oven. Bake a further 5 minutes. Set aside to cool.
The lemon filling:
Combine cornflour and sugar in a saucepan. Gradually juice and water; whisking to ensure mixture is lump free. Slowly bring to a simmer, stirring until very thick. Simmer for a further minute, stirring constantly to prevent burning. Take pan off the heat and stir in butter until melted, followed by the lemon zest and 3 egg yolks. Leave to cool slightly.
The meringue:
Preheat oven to 220°C (200°C fan-forced). In a clean, dry bowl, beat the egg white until soft peaks form. Gradually add the extra sugar while beating.
Assembly:
Spoon lemon mixture into pre-baked pastry case, spreading evenly. Roughen the surface with a fork. Pile meringue mixture on top, ensuring lemon mixture is completely covered. Return pie to preheated oven and bake 5-10 minutes or until the top is golden brown and crisp. Stand 5 minutes before serving.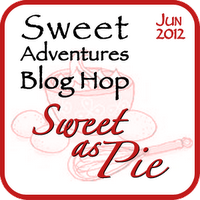 There are some foods that are inextricably linked to national identity, considered representative or symbolic of a nation. As Australia post-1788 doesn't have a long culinary history, we only have a few foods that are really seen as (almost) uniquely Australian; vegemite, the lamington, the pavlova, damper, fairy bread and the Aussie BBQ. But there is one food in particular that expats all over crave, never realising how great their love of it before they leave home- the meat pie.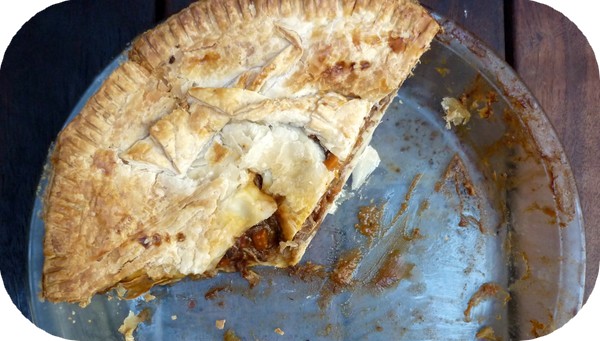 Of course it's by no means clear-cut. Food icons are not divided by national boundaries anymore than any other cultural phenomena. For example, almost all the foods that I mentioned above as '(almost) uniquely Australian' are claimed by New Zealand as well. And of course food nostalgia can hit you for any tasty treat or even for foods you don't like. They don't even have to be linked to your history or your country. But there is definitely a strong link between national identity and food.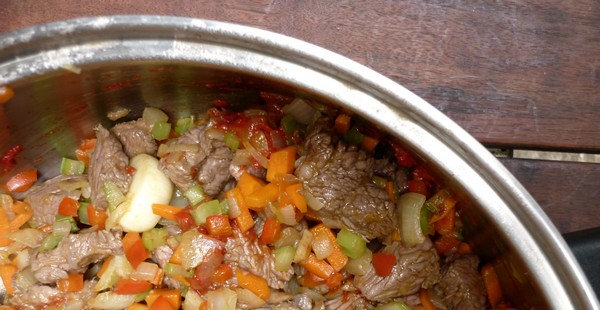 Although making pie from meat is by no means unique to Australia, other than New Zealand there is no other country I've come across where virtually everywhere you go, you can grab a pie. This isn't to say we eat them often; I might have two pies in a whole year, but when you go overseas and you can't just grab a pie it's a culture shock. And that to me is the measure of an iconic food. That feeling, a kind of a mix of longing, disbelief and of course hunger when you can't find that food you're so used to being able to grab wherever you go. In fact, that may be why I'll only get around to eating two meat pies in a year: I know they'll always be there and thus take them for granted.

The pies you get at every local bakery, servo and supermarket in Australia are, like any mass-produced food, incredibly different from the kind you'd make at home. In fact, a home-made pie makes no attempt to imitate a mass-produced one, and vice versa. But they are delicious in their own way; flaky, hot and with tender beef chunks, slathered in or (god forbid) without tomato sauce. There is no wrong way to eat it and no wrong time – the Aussie beef pie suits all occasions. You could even serve one up this Australia day…
Aussie Beef Pie
500g chuck steak, diced
2 Tablespoons olive oil
2 cloves garlic, finely chopped
1 large onion, finely chopped
1 carrot, finely chopped
2 sticks celery, finely chopped
1 red capsicum, finely chopped
1 Tablespoon ground paprika
1 Tablespoon tomato paste
1 glass of wine (any kind)
1 glass of water
375ml liquid beef stock
2 bay leaves
Freshly cracked black pepper, to taste
1 cup cold water mixed with 1 Tablespoon cornflour
2 sheets frozen butter puff pastry
1 egg, lightly beaten
Tomato sauce, to serve, if desired.
In a heavy-based saucepan, heat the oil and cook the steak until sealed and browned. Transfer to a bowl.
Add the vegetables and fry until translucent, about 5 minutes. Return the beef to the pan and add the paprika and tomato paste. Stir through.
Add all the remaining ingredients except for the cornflour mixture, pastry and beaten egg. Simmer mix for 45 minutes. Stir through cornflour mixture and simmer until thick.  Allow to cool and refrigerate overnight.
The next day, preheat the oven to 220 ◦c. Lightly grease a round pie dish and line with a sheet of puff pastry. Fill with the beef filling and top with a second pastry sheet. Crimp the two sheets together with a fork and cut away the excess pastry. Finally, prick some holes in the top of the pie to allow air to escape and brush the top with beaten egg.
Bake for 45 minutes or until top and bottom of pie are golden (it helps to use a Pyrex dish so you can see this happening). If the pie browns too quickly on top, cover with foil.
Allow the pie to cool  for 10 minutes or so before cutting and serving with tomato sauce and any veg you prefer. For me, it steamed green beans and mashed potato. Enjoy!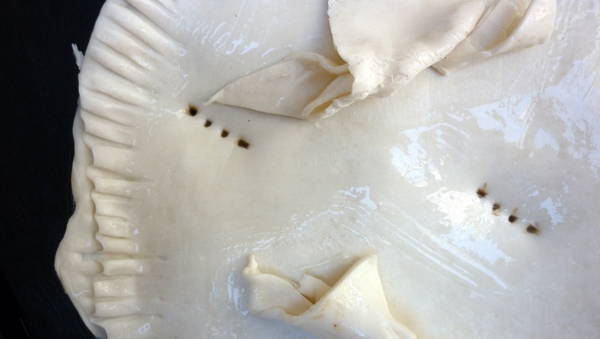 What foods represent your national identity?
In Argentina I met an English girl who said that Australia was the first place she ever tried Greek Yogurt. What's more, she hadn't had it since. She said she couldn't wait to get back here to eat Greek yogurt every day! Frankly, I don't blame her. It's rich, creamy and tart with the thick lusciousness of sour cream- there's nothing like it.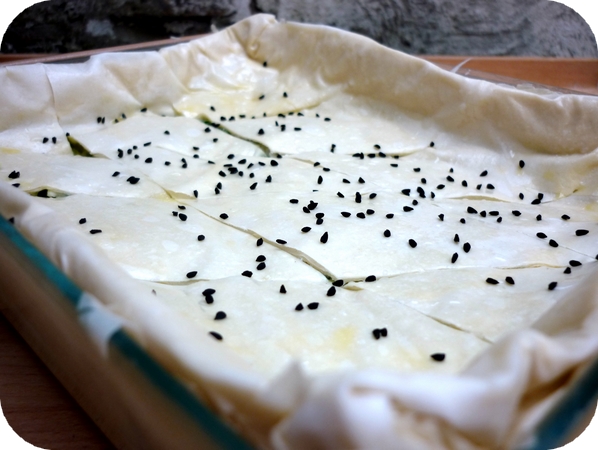 The availability of Greek food in Australia is not at all surprising when you consider the number of immigrants and their descendants living in here – Melbourne, for example, is the city with the second largest Greek population in the world. There is a large Greek population in Sydney as well, and a myriad of restaurants and ingredients available very easily if you're interested in cooking Greek food. This is one of the major benefits of living in this country- diversity of food. You're hard pressed to find a town where you can't find a veggie burger or a machiatto or, in my friend's case, Greek yogurt. This is something that we now take for granted and in many cases, never give a second thought.

It is also one of the major ways people understand multiculturalism. Food is a valuable way for different communities to promote their cultures, as everybody eats and it is considered a starting point for greater familiarity with a culture to experience their food. Of course, it is also only the tip of the iceburg- 20 kinds of cuisine in one place does not a multicultural society make. That's what we call a food court. I love this recipe for it's simplicity and the burst of flavour provided by the dill. It is best eaten fresh from the oven, crispy and golden but also makes a brilliant cold lunch if you have any leftovers.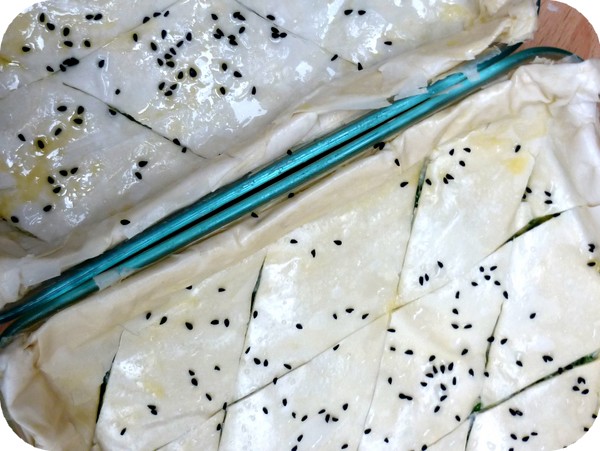 Never fail Spanikopita by Dimitra Alfred, via the SBS Food Safari website
2 bunches English spinach (300g or so)
4 sprigs fresh dill, chopped
4 spring onions, chopped
300g feta cheese
100g ricotta cheese
50g (½ cup) finely grated hard cheese like kefalograviera (I used Pecorino)
5 eggs
2 tbsp dry breadcrumbs (I used matzo meal as I had no bread crumbs on hand)
¼ tsp ground nutmeg
½ tsp freshly ground black pepper
60ml olive oil (4 Tablespoons)
375g packet fresh fillo pastry
Around ¾ cup melted butter
Sesame or nigella seeds, for sprinkling over the top.
Chop the spinach, dill and spring onions very finely. Rinse in a large colander and leave to drain.
Place the feta in a large bowl and mash coarsely (I use a fork). Add the ricotta, hard cheese, eggs, breadcrumbs, nutmeg, pepper and oil. Mix with the fork to combine. Add the spinach.
Preheat oven to 180C. Lightly grease a 20cm x 30cm x 5cm deep baking dish or, as I did, two pyrex 6-cup rectangular dishes. Lay the fillo out on a bench. Cover with a damp tea towel to keep it from drying out.
Line dish with a sheet of filo and butter the filo with a pastry brush. Continue layering until about half the sheets of fillo are used (6 to 8). I cut the filo in half with scissors as I was using two dishes.
Using your hands, gently mix the spinach filling into the cheeses until thoroughly combined. Pour into the prepared pastry base and spread evenly.
Top with remaining filo, buttering each sheet, ensuring the final sheet is well buttered. Trim any overhanging pastry and tuck in.
Use a sharp knife to mark pastry top into diamonds, allowing the knife to pierce the pastry once or twice to allow air to escape during baking. Sprinkle lightly with water, sesame seeds and a few nigella seeds and bake in preheated oven for 45 minutes to 1 hour or until well browned and set.
Gently shake the pan and the spanakopita will slide easily when cooked. Cool on rack for 15 minutes before cutting to serve.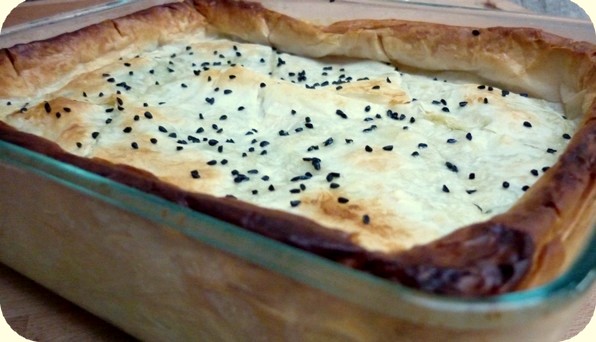 Are there any delicious treats you miss from your overseas adventures?
About me

Sharing easy recipes, hunting down the

best coffee

. Honest accounts, nothing too serious.

Read more...

Popular posts this month…

This work is licensed under a

Creative Commons Attribution-NonCommercial 2.5 Australia License

.

Disclaimer:

All opinions in this blog are mine, an everyday, real-life person. I do not accept payment for reviews and nor do I write sponsored posts. I do not endorse the content of the comments herein.