In Argentina I met an English girl who said that Australia was the first place she ever tried Greek Yogurt. What's more, she hadn't had it since. She said she couldn't wait to get back here to eat Greek yogurt every day! Frankly, I don't blame her. It's rich, creamy and tart with the thick lusciousness of sour cream- there's nothing like it.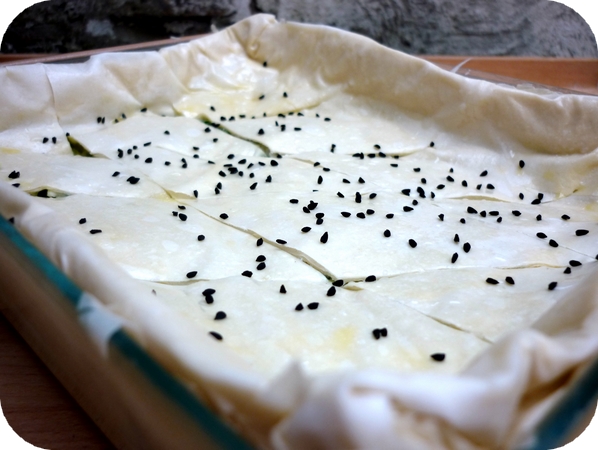 The availability of Greek food in Australia is not at all surprising when you consider the number of immigrants and their descendants living in here – Melbourne, for example, is the city with the second largest Greek population in the world. There is a large Greek population in Sydney as well, and a myriad of restaurants and ingredients available very easily if you're interested in cooking Greek food. This is one of the major benefits of living in this country- diversity of food. You're hard pressed to find a town where you can't find a veggie burger or a machiatto or, in my friend's case, Greek yogurt. This is something that we now take for granted and in many cases, never give a second thought.

It is also one of the major ways people understand multiculturalism. Food is a valuable way for different communities to promote their cultures, as everybody eats and it is considered a starting point for greater familiarity with a culture to experience their food. Of course, it is also only the tip of the iceburg- 20 kinds of cuisine in one place does not a multicultural society make. That's what we call a food court. I love this recipe for it's simplicity and the burst of flavour provided by the dill. It is best eaten fresh from the oven, crispy and golden but also makes a brilliant cold lunch if you have any leftovers.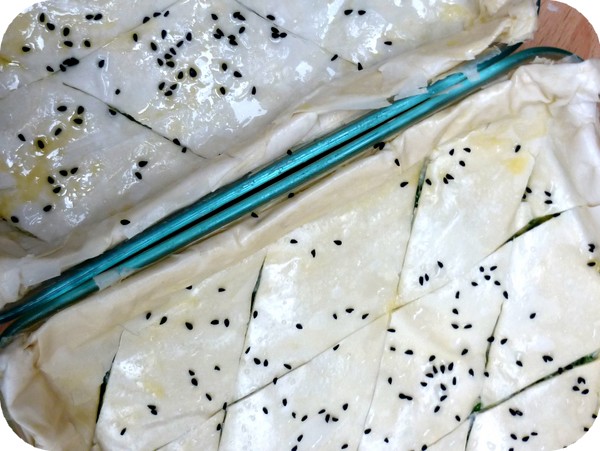 Never fail Spanikopita by Dimitra Alfred, via the SBS Food Safari website
2 bunches English spinach (300g or so)
4 sprigs fresh dill, chopped
4 spring onions, chopped
300g feta cheese
100g ricotta cheese
50g (½ cup) finely grated hard cheese like kefalograviera (I used Pecorino)
5 eggs
2 tbsp dry breadcrumbs (I used matzo meal as I had no bread crumbs on hand)
¼ tsp ground nutmeg
½ tsp freshly ground black pepper
60ml olive oil (4 Tablespoons)
375g packet fresh fillo pastry
Around ¾ cup melted butter
Sesame or nigella seeds, for sprinkling over the top.
Chop the spinach, dill and spring onions very finely. Rinse in a large colander and leave to drain.
Place the feta in a large bowl and mash coarsely (I use a fork). Add the ricotta, hard cheese, eggs, breadcrumbs, nutmeg, pepper and oil. Mix with the fork to combine. Add the spinach.
Preheat oven to 180C. Lightly grease a 20cm x 30cm x 5cm deep baking dish or, as I did, two pyrex 6-cup rectangular dishes. Lay the fillo out on a bench. Cover with a damp tea towel to keep it from drying out.
Line dish with a sheet of filo and butter the filo with a pastry brush. Continue layering until about half the sheets of fillo are used (6 to 8). I cut the filo in half with scissors as I was using two dishes.
Using your hands, gently mix the spinach filling into the cheeses until thoroughly combined. Pour into the prepared pastry base and spread evenly.
Top with remaining filo, buttering each sheet, ensuring the final sheet is well buttered. Trim any overhanging pastry and tuck in.
Use a sharp knife to mark pastry top into diamonds, allowing the knife to pierce the pastry once or twice to allow air to escape during baking. Sprinkle lightly with water, sesame seeds and a few nigella seeds and bake in preheated oven for 45 minutes to 1 hour or until well browned and set.
Gently shake the pan and the spanakopita will slide easily when cooked. Cool on rack for 15 minutes before cutting to serve.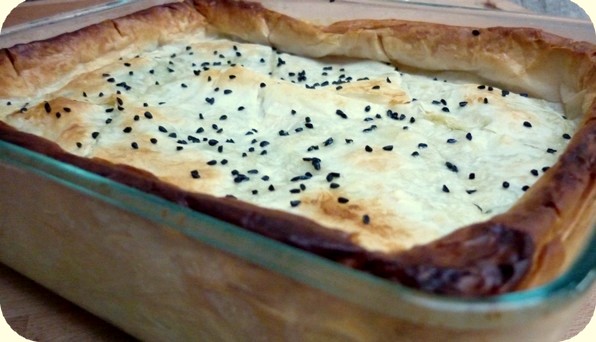 Are there any delicious treats you miss from your overseas adventures?
There are these very rare moments where you stumble across something you never expected, a hidden gem. Even better are those times when someone lets you in on their little secret…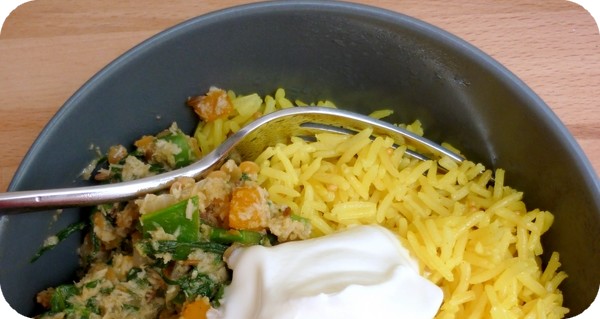 On a recent visit to Canberra, my Mum took me to the Aru Padai Murugan Temple, a Hindu temple in Torrens. To raise money for the construction of the temple they open a canteen every Saturday selling Sri Lankan food, much like the Sri Venkateswara Temple in Helensburgh does.
The food was crazy delicious, not to mention crazy cheap. The dish that really stood out for me was spinach with coconut. This is a tad strange because I'm not normally much of a coconut person, for example, I don't really like lamingtons all that much. But this vivid green, plain salty dish won my heart and made me realise I actually love coconut in it savoury incarnations. So I did what all of us do in this situation and googled the hell out of Sri Lankan spinach recipes until I found on that fit the bill.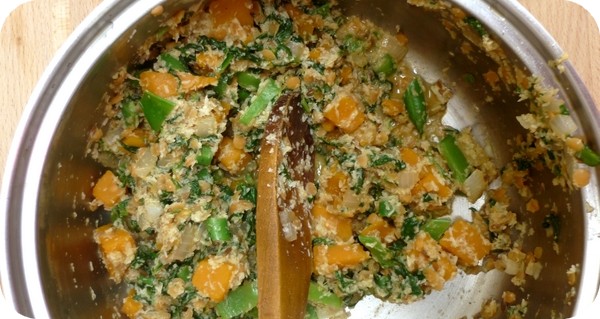 The great thing about this recipe, besides it being quick, easy, vegetarian and high in iron is that (if you have spinach in the freezer) you may have all the ingredients on hand, which makes it great for when you don't feel like shopping. I served it with basmati rice cooked by the absorption method (directions below) and a big dollop of greek yogurt.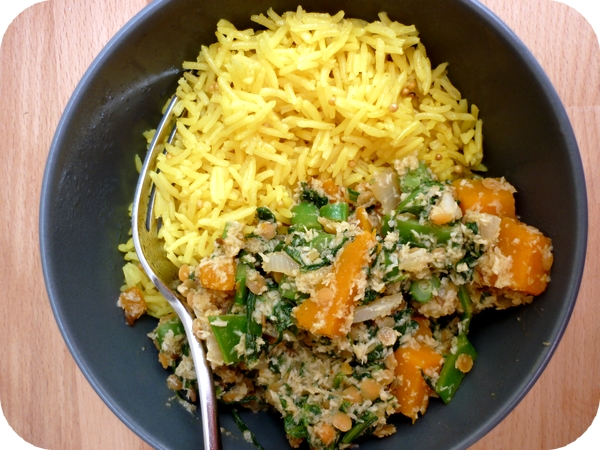 Spinach with Coconut
(makes 2 generous servings)
Canola oil
½ an onion, finely chopped
80g potato or pumpkin, cubed (optional)
½ teaspoon cumin seeds
¼ teaspoon ground cumin
¼ teaspoon ground coriander
¼ teaspoon ground paprika
1 Tablespoon of red lentils
150g spinach, fresh or frozen, finely chopped
A handful of beans or snowpeas, finely chopped (optional)
Salt
Up to 1 cup stock or water
½ cup dessicated coconut
A smidgen of ground cayenne pepper
Parboil the potatos/pumpkin and lentils for 5 minutes, drain and set aside.
Heat oil and cook onion, cumin seeds, lentils and potato or pumpkin (if using) for 5 minutes with a pinch of salt to prevent browning.
Add some liquid and cook for another 5 minutes or until everything is soft.
Add all remaining ingredients and cook until spinach is soft. Serve with yellow rice.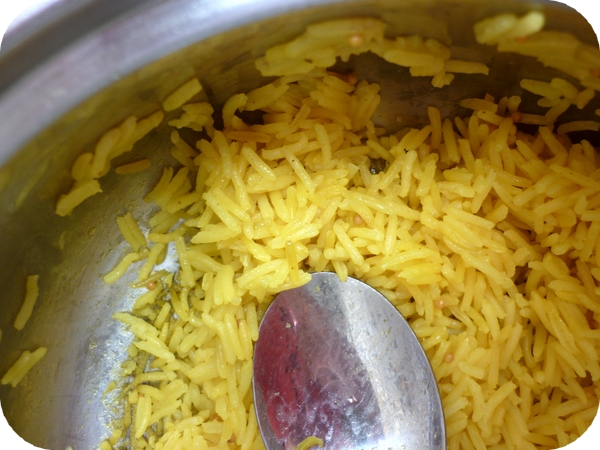 'Yellow Rice'
½ cup basmati rice
¼ teaspoon mustard seeds (optional)
Canola oil
Salt
Turmeric, for colour
1½ cups water
Heat oil in the pan on high heat and add rice and mustard seeds. Toast until seeds start to 'pop'.
Add all other ingredients and immediately turn heat down as low as possible. Once rice is simmering just a tiny bit, put lid on and cook for 15 minutes. Leave pan on the stove with the heat turned off for another 5 minutes.
Do you have any food discoveries to share?
About me

Sharing easy recipes, hunting down the

best coffee

. Honest accounts, nothing too serious.

Read more...

Popular posts this month…

This work is licensed under a

Creative Commons Attribution-NonCommercial 2.5 Australia License

.

Disclaimer:

All opinions in this blog are mine, an everyday, real-life person. I do not accept payment for reviews and nor do I write sponsored posts. I do not endorse the content of the comments herein.