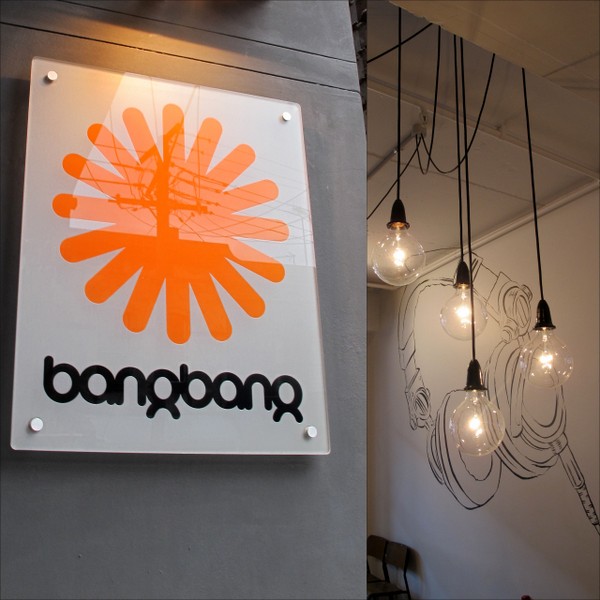 I got an email about a month ago with the subject heading 'Blast from the Buenos Aires past'. It was from a friend I'd made in Argentina nearly four years ago. We'd spent a week together trawling through markets and drinking 1 litre beers. Weirdly, she was from Adelaide, but now she was writing to tell me she'd moved to Sydney. We arranged to meet for (what else) coffee with her delightful beau and Canberra Caffeine-o-phile Barrister Barista (aka @canberrachino).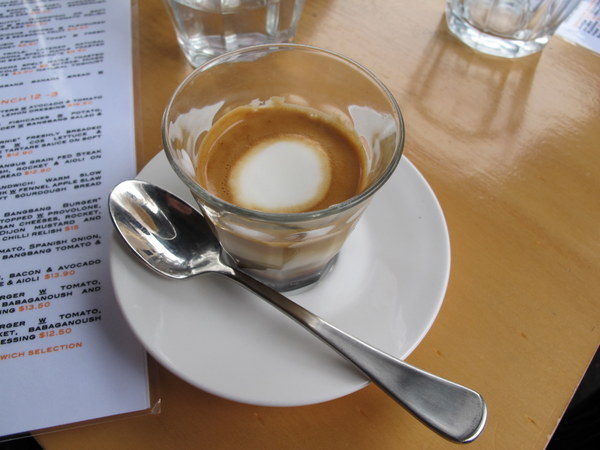 The four of us met at Surry Hills' Bang Bang Espresso, which had been on my to-blog list for at least a year. Funnily enough, former DJ Alan Thompson started Bang Bang in 2009, exactly when my pal and I had been traipsing all over BA without a decent coffee in sight. An email from Alan inviting me round to the cafe for a free meal which I, dripping with reluctant integrity, turned down, served as a reminder not to leave Bang Bang on the list for much longer.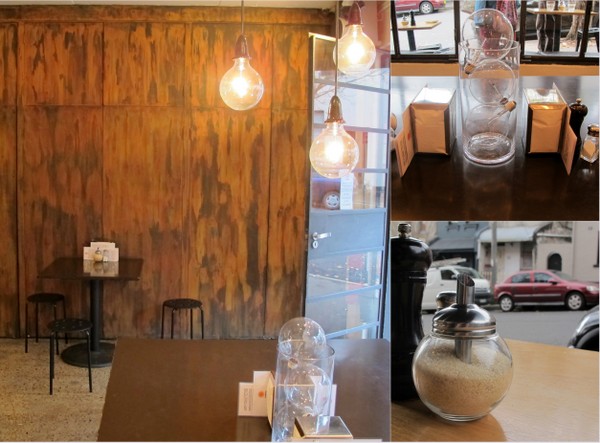 I sat outside as inside was full up but I didn't mind as I prefer quiet and am not much for communal tables. I ordered a macch, which promptly arrived as did water, glasses and napkins. I didn't identify myself as a blogger, so this was not special treatment.
As I wait for my chums I peruse the menu, which is massive, and about ¾ of it is breakfast. There's a definite UK spin on things with welsh rarebit, english breakfast, scottish breakfast and a 'posh fish finger sandwich' on offer. I'm tempted by the corn fritters (1 kind for breakky, another for lunch) but in the end I settle on a pulled pork sandwich.The other three order a couple of nutso triple cheese burgers (the real name of the burger is is more ridic than that) on wholemeal (WTF?) and a lamb burger, also on wholemeal. Theirs come with crisps and mine comes with nothing, which is excellent because it's *huge*. I didn't photograph the food as we were too busy gossiping and stuffing out faces.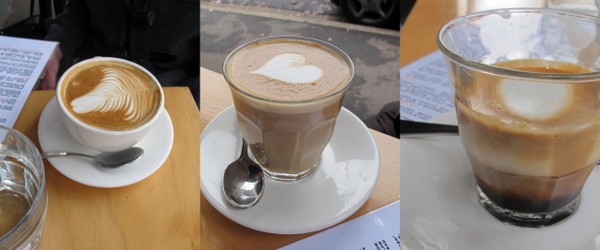 We were all happy with the coffee, lattes were a tad flat but that doesn't phase me as I didn't order them. The gorgeous flat white, as described by Barrister Barrista was:

Ok, so we went to a breakky joint and ordered sambos. Idiots. They were pretty good, but we all agreed thet were a little heavy handed with the condiments. I think I expected my pulled pork a tad spicy, but I did like the green apple slaw and the sonoma bread was good and fresh. Everything was reasonably priced and generously portioned. I will return to scoff down some breakky, no doubt. Good service, great coffee, solid food, I can see why this place has lasted so long (in Surry Hills fringe years). And Alan was very patient with me photographing the hell out of his cafe after it was technically closed.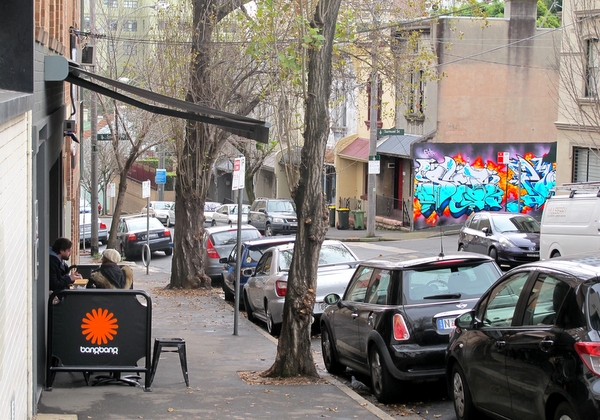 Bangbang Espresso Bar and Cafe
113 Reservoir Street
Surry Hills NSW 2012
02 9281 0018
Monday- Sunday
Now it's May, I think I'm safe to tell you what you already know – what's hot in food from where I sit – smack bang in the middle of inner-city Sydney. There are zero surprises and as many predictions. Read on to find out what's hot right now.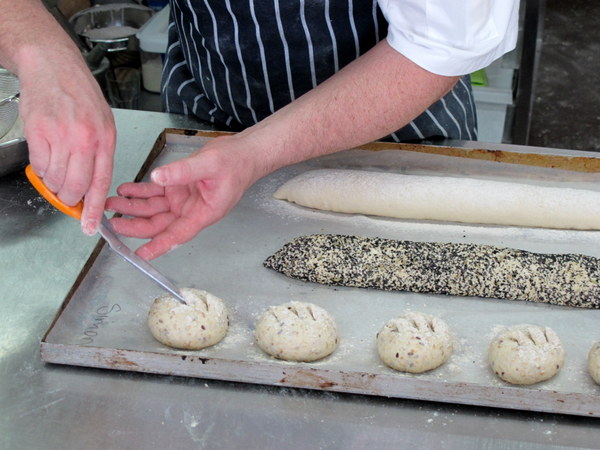 1. diy/dit
From brewing your own beer and cider to from-scratch sourdough to a beehive on the roof, to pickling, canning and preserving, diy (do it yourself) and dit (do it together) food sprung up post-GFC as part of a wider trend including knitting, gardening and squeezing all your soap remnants into one big ball (ok, maybe not so much).
It's now cool to act like a Granny and no one will laugh at you for growing your own kale. It's kinda like how we used to take the piss out of people who ate squid, or garlic, or other 'weird' foods in the 70s and 80s, and now you can't walk into a pub without someone shoving a plate of calamari and aioli in your face. We're all guerilla gardeners and apprentice artisan bakers these days, but even so, this trend has spawned a whole market of people who would quite like to pickle their own cumquats, but simply haven't the time. This is why 'homestyle cooking' is everywhere in cafes right now. Call me crazy, but if I want 'homestyle food', I'll go to…my house?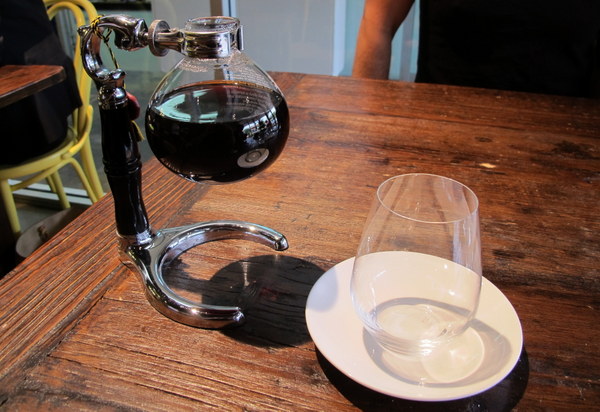 2. Every kind of non-espresso coffee (except instant)
Cold drip, siphon/syphon, filter/pourover, french press, stovetop – we're still loving our fresh ground beans, but espresso just doesn't have the novelty these other methods do. Add to this the fact that an espresso machine is a pretty pricey (and huge) piece of gear, and low-tech gadgetry becomes a lot more attractive.
People are tasting coffees the way they once tasted wines, and the less milk and sugar the better. It's fashionable to want to taste the coffee all by its lonesome (well, with water) and all else is considered additive – sugar, milk, cut that shit out right now. We're all about purity, simplicity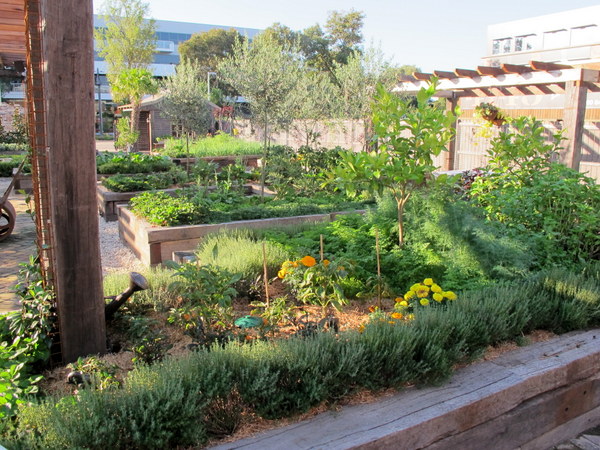 3. locavore-ism
Right now it is suddenly *so important* where your food comes from. Locavore is the organic of 5 years ago, with people growing truss tomatoes on their teensy apartment balconies. We hate Colesworths 'cause of the pressure they put on food prices, farmers and the waste that results when less-than-picturesque produce is rejected (and yet Aldi is apparently fine?) so we're jumping on the Farmer's Market bandwagon like there's no tomorrow. Which is fair enough, as food security is one of the single biggest issues we face; there may *be* no tomorrow if we don't sort this shit the fuck *out*. Oh, and heirloom tomatoes. We like those.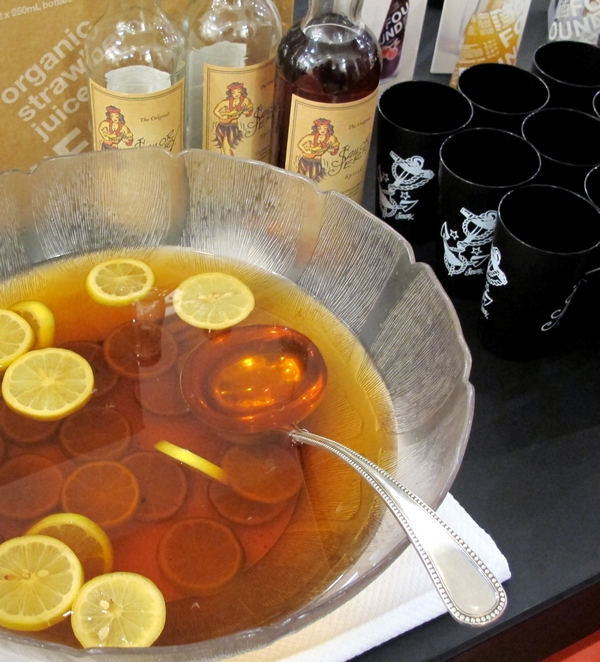 4. cocktails and other concoctions
From the old fashioned to the walrus slime parfait (yes, I made that up), cocktails are hot, and the bars that serve them even more so. Signature drinks, mixologists, 'freestyle' bars with no menus- it's all happening. Ok, so a Caipirinha will set you back 16 rather than 6 dollars, but it's worth it to pretend you're in Brasil, or Cuba, or an episode of Mad Men, or a Marylin Monroe film or… a really expensive bar. Wake up and smell the spiced rum.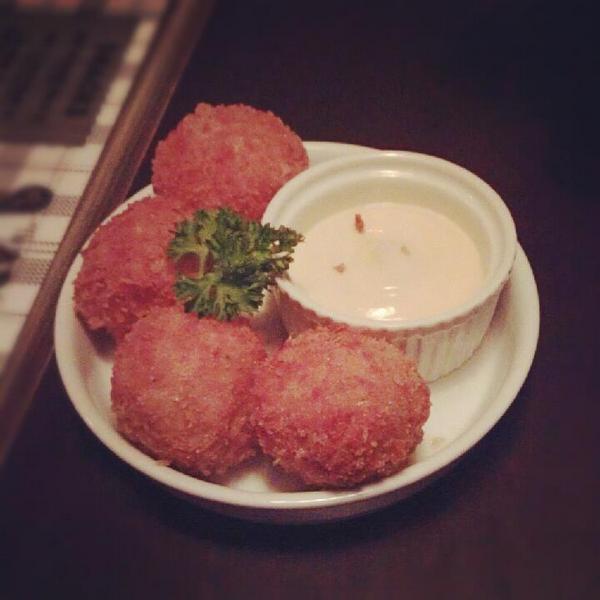 5. 'Americana' is still going strong
Anywhere that does a half decent take on South American, Central American, Mexican, southern US or just plain junk food is the place to be seen instagramming on your iphone right now. Hotdogs and Ice cream sandwiches are everywhere, tacos are the word du jour, Brasilian, Peruvian and Argentinean food is more and more common. You can get Chicken and waffles at the Jazz City Diner and burger joints are still going strong. Food bloggers are baking up American candy-flavoured-treats like there's no tomorrow. Dive bar food and deep fried everything is well and truly on the menu – from The Dip's Deep fried birthday cake to The Norfolk's deep fried pickles to the Abercrombie's deep fried pizza, pubs and bars are dishing up what everyone in the rest of the world thinks Americans eat.
Anyway…you tell me. What's hot right now in your books? And where can we get it?
As far as I'm concerned, there are only two really worthwhile hangover cures: a sickly sweet Sydney Pad Thai or a huge fuck-off burger. A juicy beef patty, fresh, soft bun and a side of perfect fries just cannot be beaten. In fact, I don't even need the hangover as an excuse to chow down.
So when Peter and Marian from Beautiful Burgers contacted me and asked if I'd like to come and check out their cafe, I just couldn't say no.* The reason is that I've 'checked out' Beautiful Burgers on many a Saturday arvo, to soak up last night's alcohol or just because there's nothing in the fridge.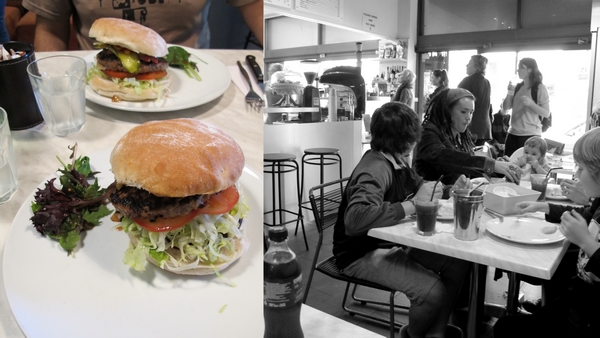 It seems like lately, Sydney has been all about the gourmet burgers (along with Latin American street food, go figure). Wagyu beef, chorizo, sourdough, duck, arugula, aioli, truffle fries, various kinds of relish…the whole thing makes my head spin. Too much choice, too much wank. And don't get me (well, Rui) started on why on earth you'd want to shove wagyu beef through a mincer. Maybe some people just have more money than sense.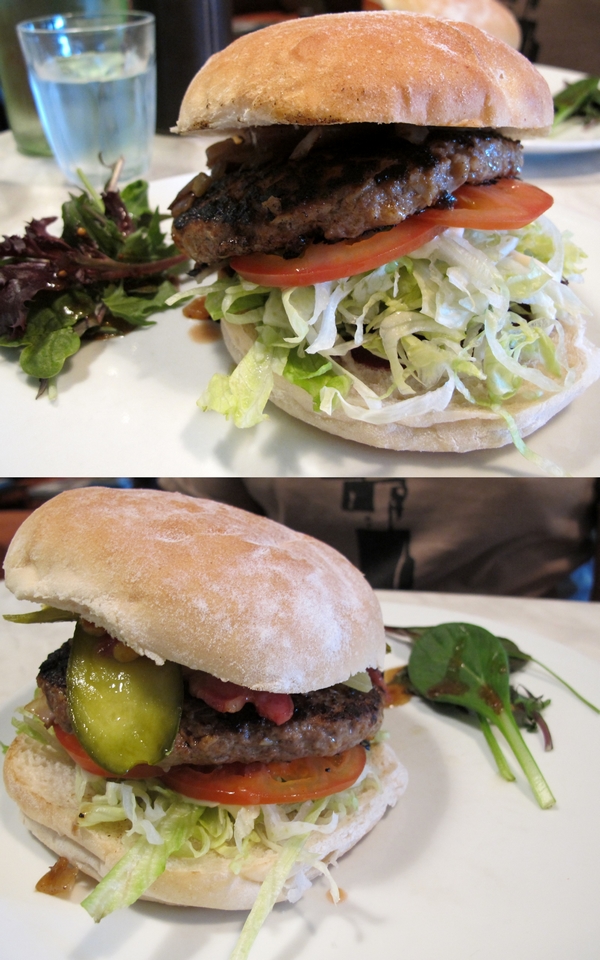 Ok, the rant ends here. Beautiful Burgers is getting more and more popular so when Rui and I arrive it's so crowded that we consider going somewhere else. The fact that all we want is burgers is what sways us. He orders the Yankee burger with iceberg lettuce, mayo, tomato, bacon, cheese, dill pickle, ketchup and American mustard. You get a choice of a beef or chicken patty and he elects beef. I go for the beef burger which I admit is slathered with a fancy onion and tomato basil relish but other than that it's just iceberg lettuce, mayo, tomato and caramelised onion. I add beetroot as always. 'Cause I'm Aussie like that.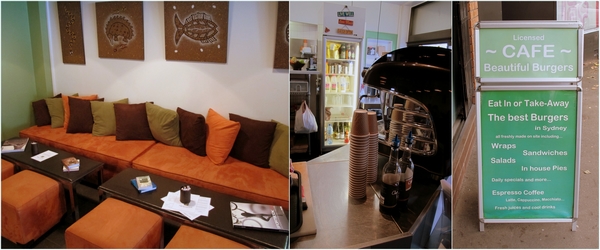 What I like about the menu is there's something for everyone. You can get your Moroccan-inspired Lamb, your Thai chicken, a couple of veggie burgers (one is tofu, the other eggplant) and enough condiments to open a deli. But you can also go for a basic burger and not be left wanting. There's the option of adding pretty much whatever you like at minimal charge and there's a feature burger each week. And although the burgers are definitely the focus, there are other options available such as wraps, sandwiches and pies. The burgers are huge but the fries are delicious too- fresh, crispy on the outside and soft on the inside, so we always face a dilemma when we come here. Should we order fries as well? This time we manage to forgo them.
This place just keeps getting better and better. The bread is always fresh, the patties are deliciously juicy, and the staff are incredibly friendly and always ready to suggest something if you're at a loss. The prices are good – more expensive than your dodgy local takeaway, cheaper than a burger at a café or pub (but fries cost extra). You order and pay at the counter, you can come in the back via Queen Street or the front via regent Street and they even serve beer. And did I mention their burgers are delicious?
What's your ultimate hangover cure?
Beautiful Burgers
5/87-97 Regent Street
Chippendale NSW 2008
(02) 9319 3132
http://www.beautifulburgers.com.au
7.00am-3.00pm Monday to Friday
8.00am-3.00pm Saturday
Closed Sundays
*All food and drink were paid for by us. Oh, ok fine, by Rui. You got me.
About me

Sharing easy recipes, hunting down the

best coffee

. Honest accounts, nothing too serious.

Read more...

Popular posts this month…

This work is licensed under a

Creative Commons Attribution-NonCommercial 2.5 Australia License

.

Disclaimer:

All opinions in this blog are mine, an everyday, real-life person. I do not accept payment for reviews and nor do I write sponsored posts. I do not endorse the content of the comments herein.