As far as I'm concerned, there are only two really worthwhile hangover cures: a sickly sweet Sydney Pad Thai or a huge fuck-off burger. A juicy beef patty, fresh, soft bun and a side of perfect fries just cannot be beaten. In fact, I don't even need the hangover as an excuse to chow down.
So when Peter and Marian from Beautiful Burgers contacted me and asked if I'd like to come and check out their cafe, I just couldn't say no.* The reason is that I've 'checked out' Beautiful Burgers on many a Saturday arvo, to soak up last night's alcohol or just because there's nothing in the fridge.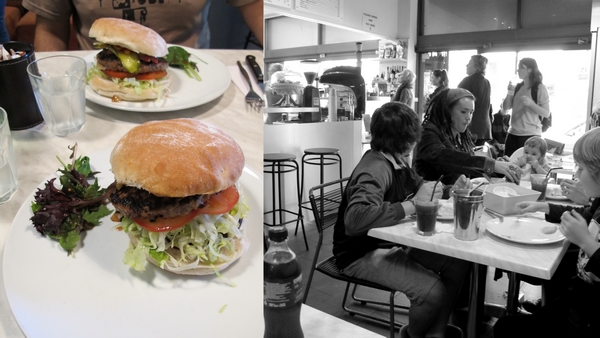 It seems like lately, Sydney has been all about the gourmet burgers (along with Latin American street food, go figure). Wagyu beef, chorizo, sourdough, duck, arugula, aioli, truffle fries, various kinds of relish…the whole thing makes my head spin. Too much choice, too much wank. And don't get me (well, Rui) started on why on earth you'd want to shove wagyu beef through a mincer. Maybe some people just have more money than sense.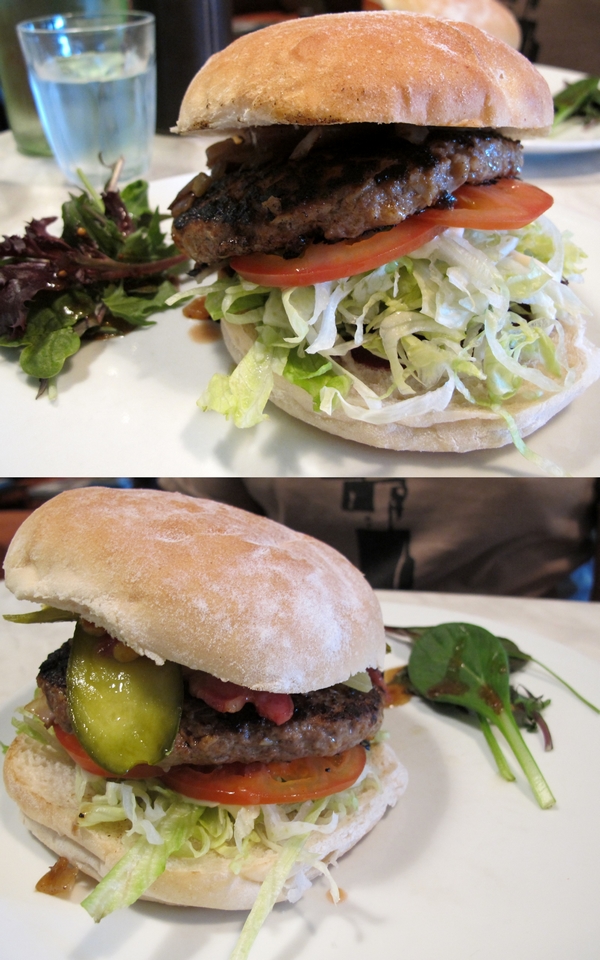 Ok, the rant ends here. Beautiful Burgers is getting more and more popular so when Rui and I arrive it's so crowded that we consider going somewhere else. The fact that all we want is burgers is what sways us. He orders the Yankee burger with iceberg lettuce, mayo, tomato, bacon, cheese, dill pickle, ketchup and American mustard. You get a choice of a beef or chicken patty and he elects beef. I go for the beef burger which I admit is slathered with a fancy onion and tomato basil relish but other than that it's just iceberg lettuce, mayo, tomato and caramelised onion. I add beetroot as always. 'Cause I'm Aussie like that.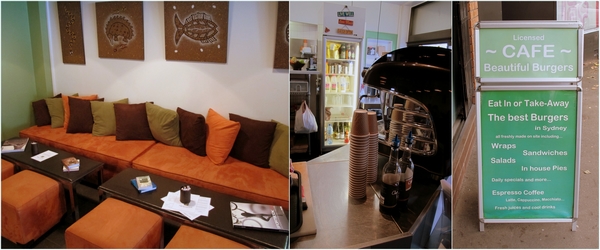 What I like about the menu is there's something for everyone. You can get your Moroccan-inspired Lamb, your Thai chicken, a couple of veggie burgers (one is tofu, the other eggplant) and enough condiments to open a deli. But you can also go for a basic burger and not be left wanting. There's the option of adding pretty much whatever you like at minimal charge and there's a feature burger each week. And although the burgers are definitely the focus, there are other options available such as wraps, sandwiches and pies. The burgers are huge but the fries are delicious too- fresh, crispy on the outside and soft on the inside, so we always face a dilemma when we come here. Should we order fries as well? This time we manage to forgo them.
This place just keeps getting better and better. The bread is always fresh, the patties are deliciously juicy, and the staff are incredibly friendly and always ready to suggest something if you're at a loss. The prices are good – more expensive than your dodgy local takeaway, cheaper than a burger at a café or pub (but fries cost extra). You order and pay at the counter, you can come in the back via Queen Street or the front via regent Street and they even serve beer. And did I mention their burgers are delicious?
What's your ultimate hangover cure?
Beautiful Burgers
5/87-97 Regent Street
Chippendale NSW 2008
(02) 9319 3132
http://www.beautifulburgers.com.au
7.00am-3.00pm Monday to Friday
8.00am-3.00pm Saturday
Closed Sundays
*All food and drink were paid for by us. Oh, ok fine, by Rui. You got me.
About me

Sharing easy recipes, hunting down the

best coffee

. Honest accounts, nothing too serious.

Read more...

Popular posts this month…

This work is licensed under a

Creative Commons Attribution-NonCommercial 2.5 Australia License

.

Disclaimer:

All opinions in this blog are mine, an everyday, real-life person. I do not accept payment for reviews and nor do I write sponsored posts. I do not endorse the content of the comments herein.