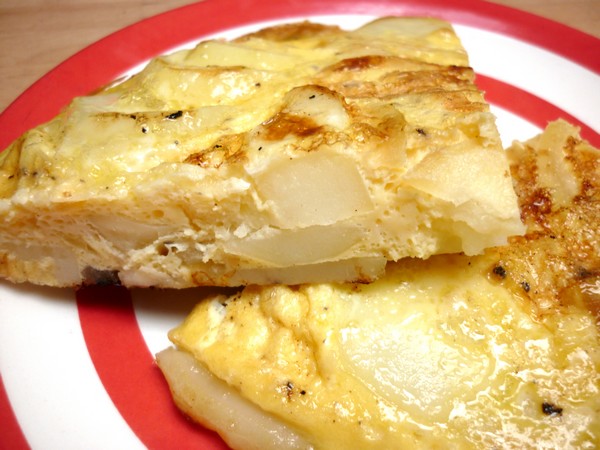 It has always amazed me how eager the Sydney food scene is to absorb reinterpret the so-called 'traditional' and 'peasant' foods of other nations into overpriced, 'exotic' wank. Besides the prohibitive prices of foods like tapas, Brazilian bbq and Cuban food, these reincarnations of cuisines which claim to be 'inspired' or 'influenced' by various countries almost always miss the point of the cuisine they claim to 'draw inspiration' from.

In Spain, where dinner is generally served at around 10pm, bars will offer tapas; small, simple, tasty, cheap morsels of food that you eat standing up to stave off hunger and stop you getting too drunk. This fulfils the dual purpose of soaking up alcohol and stimulating thirst. The point of tapas is not to fill you up. It is not even really to have a 'meal'. People don't sit down at a table, order a variety of drinks and food and then have them all brought over, eat, drink and pay at the end. In Australia, this style of serving is rare, and tapas becomes just an item on a menu, not a cultural practice.
What baffles me about this mistranslations is that restaurateurs and I presumably have a similar experience when we go to a foreign country. We'll be walking the streets of whatever town in Spain as the bars will start to fill up with people socialising, drinking and snacking. The overall impression is of vibrancy. Life. Hospitality. Community. I look around me and think 'wouldn't it be great if I could bottle this and take it back home?'

Obviously we all view holidays through rose-tinted glasses. But it seems to me that many restaurateurs are viewing theirs with dollar-sign eyeballs. They want to bottle this experience and take it back to Australia, but they also want to pour half of it out, dilute it with water, mark up the price and sell it. They are translating a cuisine completely literally and without any of the nuance that comes from the culture it's a part of. They take the food of Spain and plonk it down on an Australian restaurant table.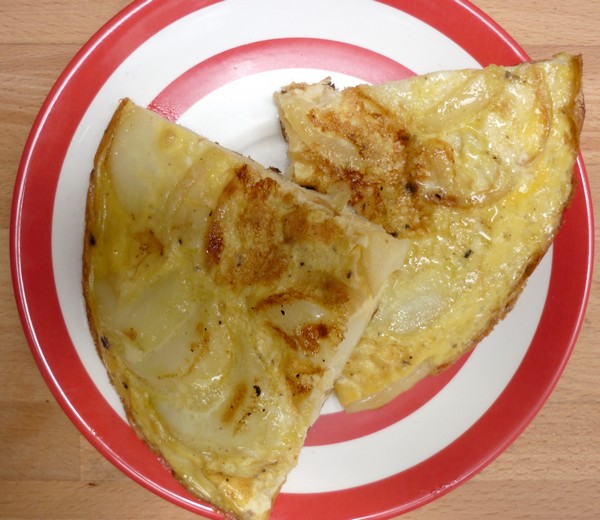 Now, it's a fair point that Australian diners may not want tapas-style dining, just tapas-style food. Clearly a restaurant cannot force people to order this way or they won't have any customers. I have noticed though that more and more pubs are serving tapas, and this seems more in line with tapas' whole ethos.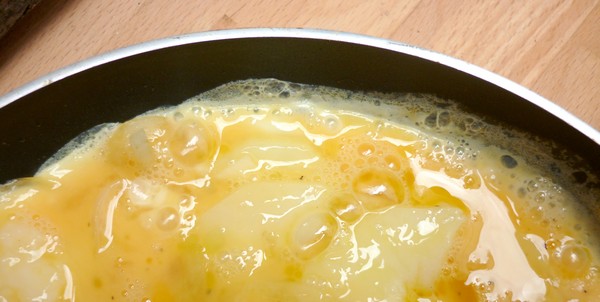 The most basic tapas recipe is tortilla de patatas, sometimes known as tortilla española. In Spain you can buy it in supermarkets and chop it into wedges. It can be eaten hot or cold and consists of eggs, potatos and sometimes onions. I add garlic to mine but that's completely optional. Serve with tomato sauce or aioli. Or plain.
Tortilla de Patatas
(serves 2)
2 medium potatos, peeled
½ a medium onion
2 cloves of garlic, optional
2-3 Tablespoons Extra Virgin Olive oil
3 eggs
Salt, to taste
Microwave or boil the potatoes, whole until cooked but not mushy. Leave to cool slightly. Whisk the eggs with a pinch of salt.
Finely slice the onion and finely chop the garlic, if using. Once the potatoes are cool enough to touch, cut them into thick slices.
In a very small non-stick pan, heat the oil on a medium high heat. Add the onion and sauté until translucent, then the garlic. Once the onion is golden, take the pan off the heat and turn the heat down low.
Add the potatoes to the pan. Mix them gently with the onion and garlic to combine but try not to break them. Pour over the egg mixture, making sure it gets into all the gaps, and place the pan on the heat.
The tortilla should cook very slowly and begin to firm up. Some people like it quite runny in the middle, some like it well cooked. I like mine firm so I leave it until almost completely set, 5-10 minutes.
When your tortilla is solid enough to flip, use a large flat spatula to do so. It won't need much time on the other side as it is just to cook the top.
So, dear reader, what tapas dish do you crave?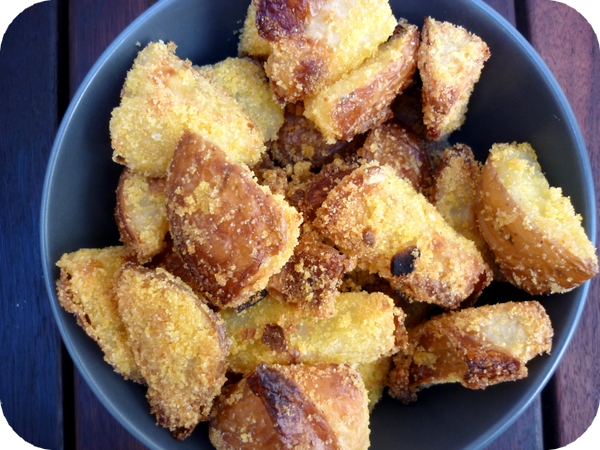 Recently, my friends and I had a discussion about carbohydrates. We tried to decide if we were stranded on a desert island and were only allowed one type of carb, which it would be. And I've gotta say that although it's a toss-up between pasta and potatoes  for me, potatoes won out. Their just so versatile and impossible to duplicate. In fact, I might go so far as to make them my desert island food. They're what I'd eat if I were allowed only one kind of food for the rest of my life.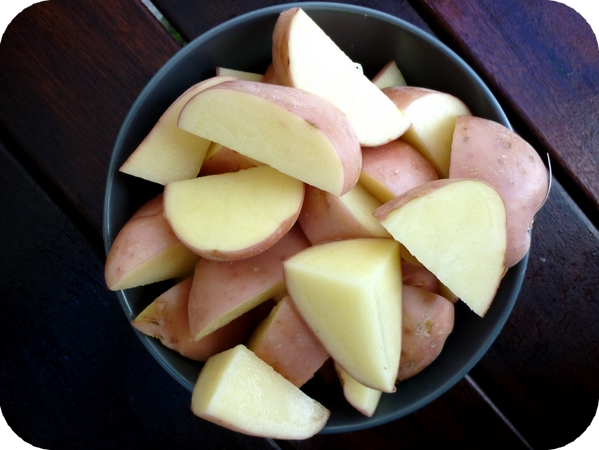 I won and amazing barilla prize pack from Not Quite Nigella recently. It included pastas, sauces a pizza kit and a packet of instant polenta. Awesome. The thing is, I wasn't quite sure what to do with the instant polenta. I've had a bag of the non-instant stuff in my pantry for about 2 years and only recently broke it out to make the polenta with bolognese recipe from 'Poh's Kitchen'.  I'm ashamed to say that's the only time I've ever really had a go at it as I was under the impression I'd have to stir for an hour, but in reality polenta is a stir-every-so-often-type-deal.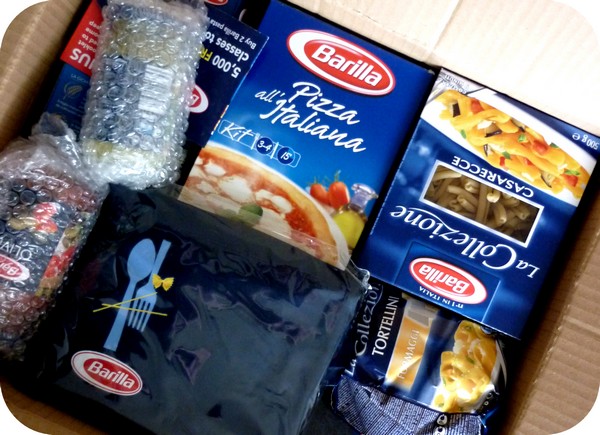 So I was really excited when I stumbled on Malaysian-born Aussie Emily's blog 'fuss-free cooking' and her post on Donna Hay's Polenta-crusted baked potatoes, which called for instant polenta. Bingo. Two carbs in one dish! I couldn't wait to make them, but of course I had to tweak the recipe quite a bit, as a pretty much always do. I halved the recipe as I only had half a kilo of potatoes on hand and I used Pontiacs rather than sebagos. I also left the potatoes unpeeled to make them extra crispy (also because I'm a lazy cook). I also used a pizza stone, because my oven is basically a glorified grill. Finally, couldn't resist adding 3 cloves of garlic in with the polenta. I can't wait to experiment with maybe a bit of romano cheese and cracked black pepper as well…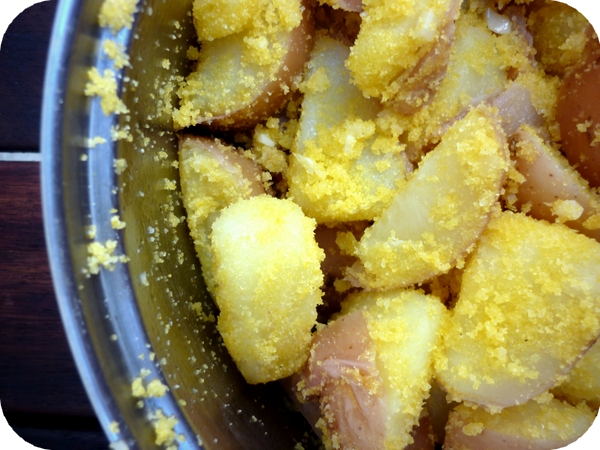 So how are they? Unbelievably crisp on the outside and fluffy in the middle, with a gorgeous salty aftertaste and just a hint of garlic. I love their golden colour and how simple they are to prepare – definitely a case of results far outweighing effort.
Polenta-Crusted Potatoes
Serves 2 as a side dish

500g potatos, unpeeled and quartered (I used Pontiacs)
1/3 cup (85g) instant polenta
2 Tablespoons of Extra Virgin Olive Oil
½ teaspoon freshly ground salt
3 cloves of garlic, peeled and finely chopped.
Preheat oven to 220 degrees Celsius (425 degrees Fahrenheit).
Place the potato in a large saucepan of salted cold water and bring to the boil. Cook for 8 minutes or until just tender.
Drain and return to the pan with the polenta, oil, salt and garlic. Shake the pan to fluff the potato and coat in the polenta. Give them a stir.
Place the potatos on a baking tray and roast for 30 minutes or until crisp and golden.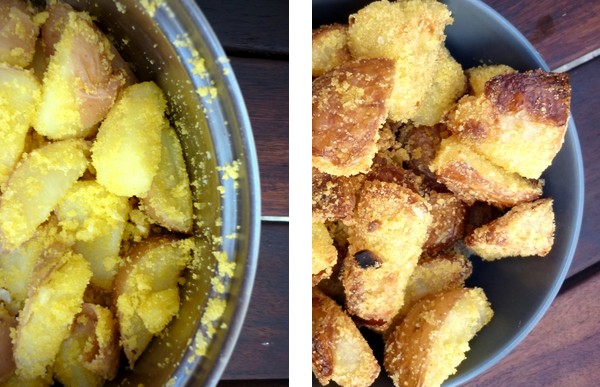 So, dear reader, if you were stranded on a desert island and could only have one carb, what would it be? Pasta? Potatos? Rice? Or something else altogether?
About me

Sharing easy recipes, hunting down the

best coffee

. Honest accounts, nothing too serious.

Read more...

Popular posts this month…

This work is licensed under a

Creative Commons Attribution-NonCommercial 2.5 Australia License

.

Disclaimer:

All opinions in this blog are mine, an everyday, real-life person. I do not accept payment for reviews and nor do I write sponsored posts. I do not endorse the content of the comments herein.