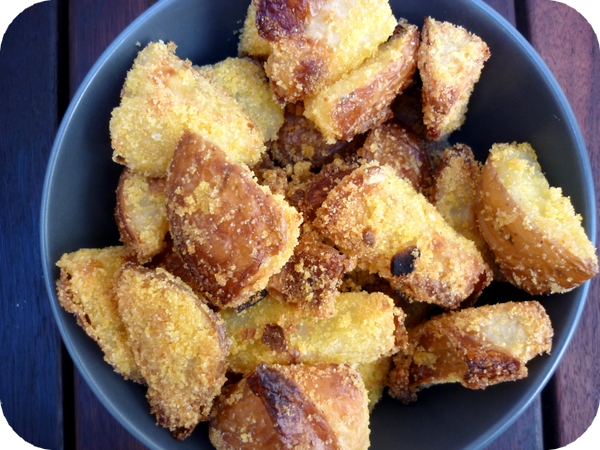 Recently, my friends and I had a discussion about carbohydrates. We tried to decide if we were stranded on a desert island and were only allowed one type of carb, which it would be. And I've gotta say that although it's a toss-up between pasta and potatoes  for me, potatoes won out. Their just so versatile and impossible to duplicate. In fact, I might go so far as to make them my desert island food. They're what I'd eat if I were allowed only one kind of food for the rest of my life.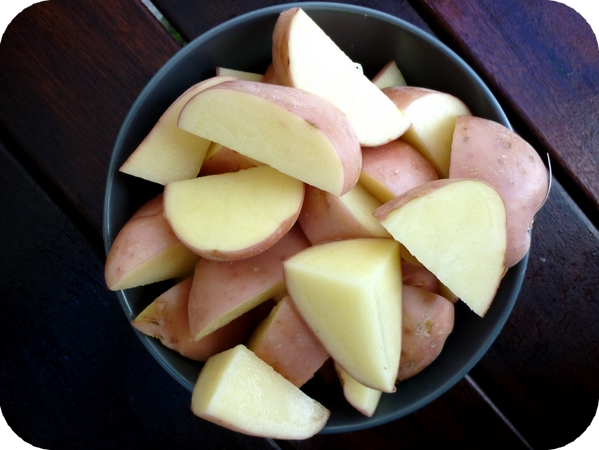 I won and amazing barilla prize pack from Not Quite Nigella recently. It included pastas, sauces a pizza kit and a packet of instant polenta. Awesome. The thing is, I wasn't quite sure what to do with the instant polenta. I've had a bag of the non-instant stuff in my pantry for about 2 years and only recently broke it out to make the polenta with bolognese recipe from 'Poh's Kitchen'.  I'm ashamed to say that's the only time I've ever really had a go at it as I was under the impression I'd have to stir for an hour, but in reality polenta is a stir-every-so-often-type-deal.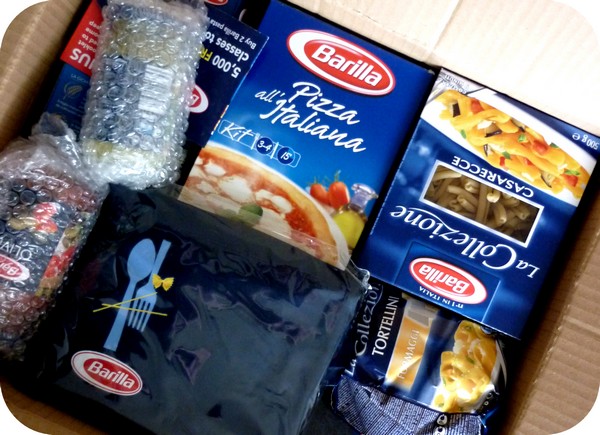 So I was really excited when I stumbled on Malaysian-born Aussie Emily's blog 'fuss-free cooking' and her post on Donna Hay's Polenta-crusted baked potatoes, which called for instant polenta. Bingo. Two carbs in one dish! I couldn't wait to make them, but of course I had to tweak the recipe quite a bit, as a pretty much always do. I halved the recipe as I only had half a kilo of potatoes on hand and I used Pontiacs rather than sebagos. I also left the potatoes unpeeled to make them extra crispy (also because I'm a lazy cook). I also used a pizza stone, because my oven is basically a glorified grill. Finally, couldn't resist adding 3 cloves of garlic in with the polenta. I can't wait to experiment with maybe a bit of romano cheese and cracked black pepper as well…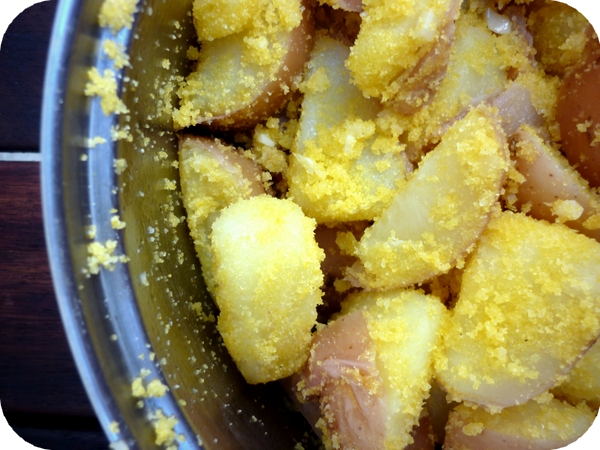 So how are they? Unbelievably crisp on the outside and fluffy in the middle, with a gorgeous salty aftertaste and just a hint of garlic. I love their golden colour and how simple they are to prepare – definitely a case of results far outweighing effort.
Polenta-Crusted Potatoes
Serves 2 as a side dish

500g potatos, unpeeled and quartered (I used Pontiacs)
1/3 cup (85g) instant polenta
2 Tablespoons of Extra Virgin Olive Oil
½ teaspoon freshly ground salt
3 cloves of garlic, peeled and finely chopped.
Preheat oven to 220 degrees Celsius (425 degrees Fahrenheit).
Place the potato in a large saucepan of salted cold water and bring to the boil. Cook for 8 minutes or until just tender.
Drain and return to the pan with the polenta, oil, salt and garlic. Shake the pan to fluff the potato and coat in the polenta. Give them a stir.
Place the potatos on a baking tray and roast for 30 minutes or until crisp and golden.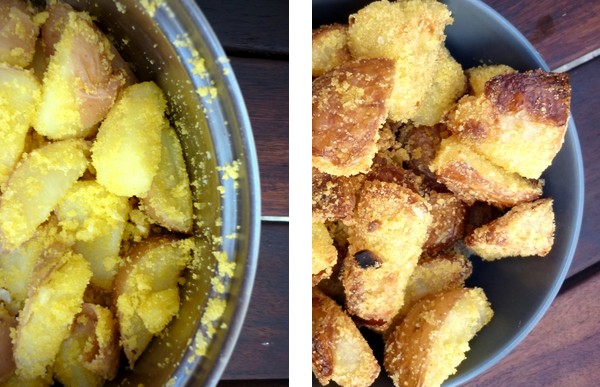 So, dear reader, if you were stranded on a desert island and could only have one carb, what would it be? Pasta? Potatos? Rice? Or something else altogether?
About me

Sharing easy recipes, hunting down the

best coffee

. Honest accounts, nothing too serious.

Read more...

Popular posts this month…

This work is licensed under a

Creative Commons Attribution-NonCommercial 2.5 Australia License

.

Disclaimer:

All opinions in this blog are mine, an everyday, real-life person. I do not accept payment for reviews and nor do I write sponsored posts. I do not endorse the content of the comments herein.