The $35 Challenge has only just begun and I'm already feeling the pinch – isn't that pathetic?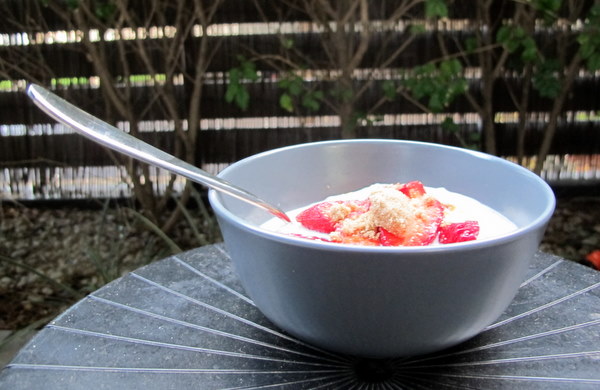 The weekends are usually times we spend doing what we like and eating what we like, telling ourselves it's a reward for a hard week's work. Usually Senhor R and I will eat out a few times, grab a few coffees and spend an evening or afternoon in the pub. Harmelss weekend fun.
But it's becoming all too clear to me that food and eating are my main pastimes. There isn't anything wrong with food as a hobby, but eating? I'm not so sure. I can't help but think back to times when I was less well off – I ate healthier than I do now, which flies in the face of almost every statistic on poverty and nutrition. And having just spent a week in bed with a head cold and resulting middle ear infection, I can't help but think Senhor R is right when he points out that my current lifestyle isn't really the path to a strong immune system.
I have been productive though. I've scoured the freezer, fridge and pantry and put together a veg-heavy menu for this week. It's really made me appreciate the stuff we keep on hand. It's the starting point for any meal. These are my 5 pantry must-haves, a pretty dull, but essential list.
1. Pasta
If I'm at a loss for what to make, pasta takes 10 minutes to cook and goes with pretty much everything. I usually buy Barilla spaghetti no 5, but this week on the $35 challenge I'm testing out a 59 cent pack of spaghetti from woolies to see if my brand loyalty is warranted.
2. Tinned tomatoes
If you have tinned tomatoes, you have an amazing tomato sauce. Just fry some onions and garlic, add the tomatoes and a slosh of wine and simmer for up to an hour. Add a pinch of sugar at the end and it's perfect for pasta, pizza or even on toast.
3. Extra virgin olive oil
I wait until it's on special and then buy one of those massive 4 litre tins for about 20 bucks. If I could only have one kind of oil, this would be it. As it stands I currently have canola and sesame as well but they're really just extras.
4. Basmati rice
It's the rice with the lowest GI and also the easiest to cook. 1 cup of rice with 1½ cups water simmered for 20 minutes with the lid sealed tight and then left to sit for 5 – perfect every time. Just stir fry some veg and meat while the rice cooks.
5. Oats
This is my breakky staple whenever I'm skint. It's also the key to ANZAC bikkies.
Find my porridge recipe below.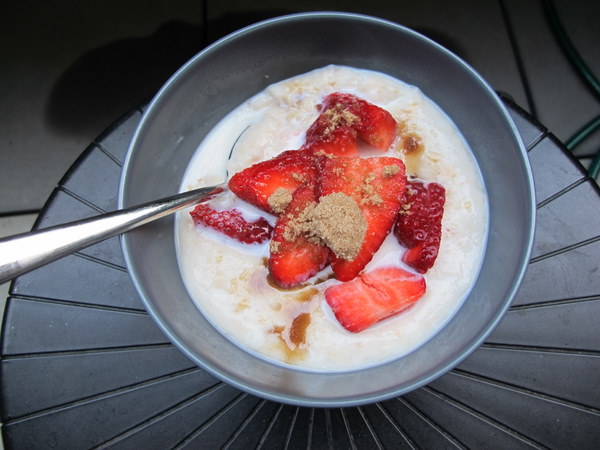 Lau's Porridge (serves 1)
1/3 cup oats
About 1 cup water
A slosh of milk (whatever type)
Sweetener – honey, brown sugar, golden syrup
Optional:
Dried fruit/nuts/fresh chopped fruit
On the back of a packet of oats they'll tell you porridge consists of chucking equal amounts of oats and water into a pan and simmering until done. For me, porridge is more akin to risotto. I put the oats in a pan and then add a good slosh of water. Give it a stir while it simmers and once the water is soaked in, add some more and if you're adding dried fruit, nuts or fresh banana, do so now. Keep adding water and stirring in until you've got the consistency you're after. At that point, stir through some milk and turn off the heat.
Serve immediately with a slosh of cold milk, a sprinkling of brown sugar and whatever fresh fruit you have on hand – in my case, I used strawberries but you can use blueberries, pear, banana (although I like to add bananas early on so they get mushy) or whatever you fancy.
It's not too late to support the $35 Challenge. During Anti-Poverty Week, from October 16-22, participantshave $5 a day to spend on food. By experiencing poverty for just 7 days, we come to a better understanding of the realities and stresses of those living in poverty. By blogging or tweeting this experience, we can raise awareness of an issue so often swept under the rug. And by donating the remainder of the money we would usually spend on food to OzHarvest, we can make a real difference.
What are your pantry must-haves?
Ever had an impromptu gathering? Inviting people to stay for dinner seems like a grand idea after a few glasses of wine. As you traipse merrily into what passes for a kitchen at you price point and browse through what could be considered a pantry in the broad sense of the word, it still seems like an ok idea. It isn't until you open the fridge and you eyes settle on its only contents: a shrivelled bunch of buk choy and half a tub of greek yogurt that you realise there isn't anything in your house that a normal person would consider dinner. And that's when you panic. Or have another glass of wine.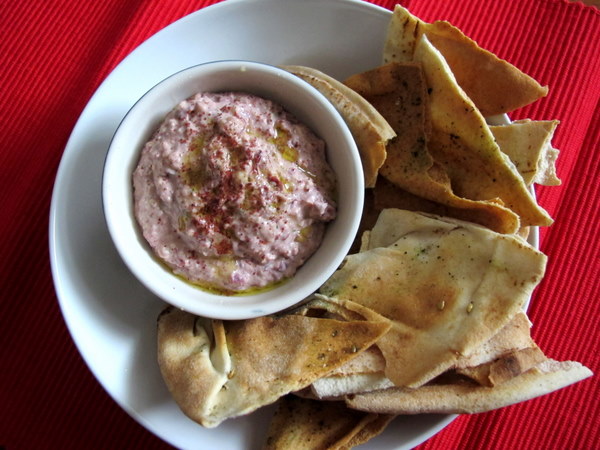 It's in these situations that a well-stocked pantry, although seemingly bereft of food can save the day. Tins of chick peas, oils, spices and some ancient pita bread from the freezer can come together so that you have something resembling those wanky chucky dips and pita chips that cost about $5 a pop in the supermarket.
But the truth is, at impromptu gatherings no one cares what they eat. When people weren't expecting a meal, anything you give them is a bonus. This recipe has saved me many a time in such situations. It's a great snack to crunch on while you peruse the takeaway pizza menu and open that next bottle of vino…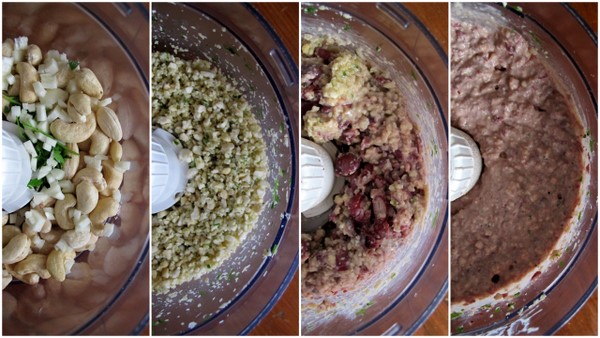 Pita Shards
2-3 pita bread
Olive oil
Salt
Za'atar (use dried oregano if you can't find za'atar)
Turn on the oven to a reasonable temperature. Spray or brush one side of each pita with oil, sprinkle liberally with salt and za'atar and place, topping side up in the oven. Bake about 5 minutes. When dried but not too brown, turn over, spray/brush and sprinkle again and cook the other side.
Repeat with all pitas. When they are cool, smash them into shards. Store in an airtight container, not that you'll have any leftovers.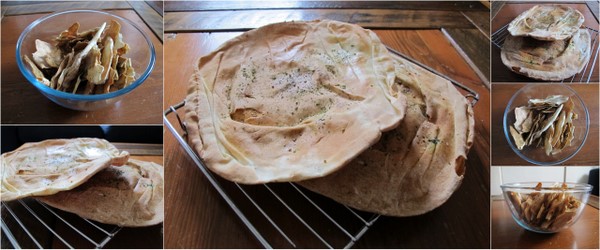 Chunky Three Bean Dip
In a food processor, place:
About ½-1 cup salted cashews (or add some salt if they're raw). Most nuts will work.
2 cloves of garlic, roughly chopped
A small handful of parsley (optional)
Blend until cashews are fine but still have texture.
Add:
1 can 3 bean mix (drained) – you can really use any can of beans you like
The juice of half a lemon
About a teaspoon of ground sumac
A slosh of extra virgin olive oil
Blend until thick and creamy.
At this point, taste the mixture. It's probably too garlicky. I would add, while the processor is running:
2 spoonfulls of greek yogurt or sour cream if you don't have any.
Cracked pepper
More olive oil
A dash of balsamic vinegar
A pinch of sugar or a teaspoon
Blend for a bit. Just make sure the mix stays thick, almost stiff and all will be dandy.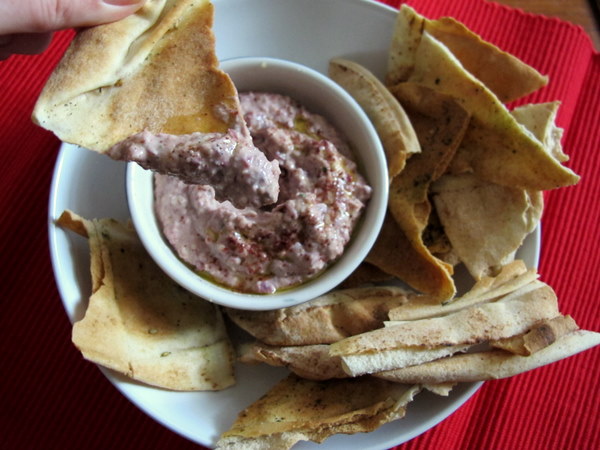 I've always had an interest in what people really eat and cook. Not what they say they eat, not what they blog but what they actually eat. The food media that gives me the most satisfaction is that which starts with this very obvious question- what do people eat? It's why I adore shows like Food Safari and blogs like Smitten Kitchen and The Stone Soup, and also why one of my favourite people to follow on twitter is Pantry sniffer, who tweets entire recipes in 140 characters.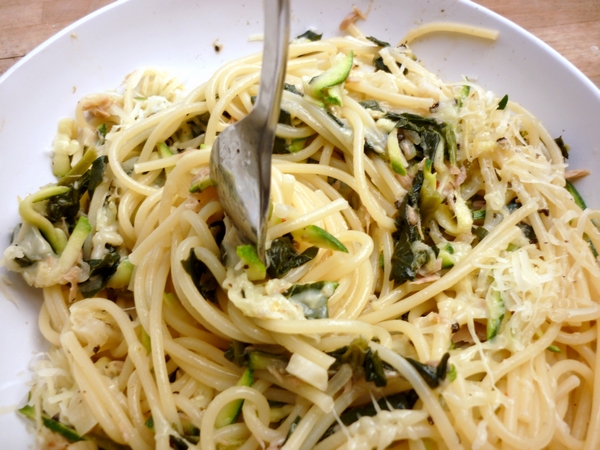 When I started Corridor Kitchen, I stressed that my photos wouldn't be up to scratch, as my camera is a pretty basic point-and-shoot that doesn't tend to focus properly. As a result I took hundreds of pictures of each dish. This, along with needing to photograph food in daylight hours meant I had to cook specifically to blog. In other words, I wasn't blogging my actual daily eats, or even my once-a-week eats.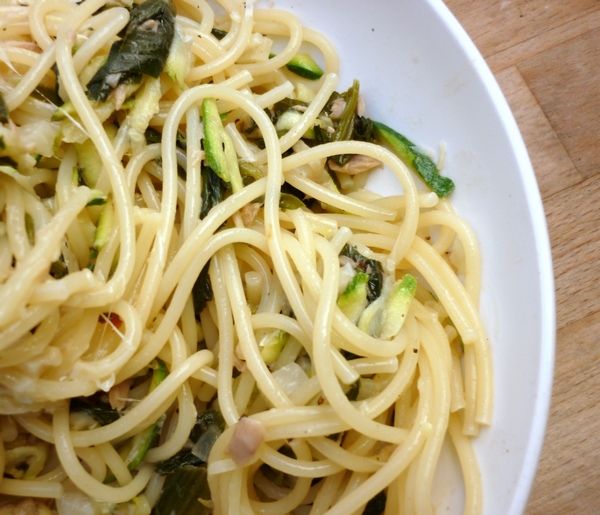 I've recently realised that this runs contrary to the whole ethos of Corridor Kitchen of common sense, cheap and practical food. Since I started blogging, my everyday cooking has become decidedly less creative, and I find our house filled with more baked goods than I'd care not to eat. I want to believe that the creative side of cooking, that intuitive what's-in-the-fridge/pantry-and-what-can-I-make-from-it approach my mother taught me is blogworthy.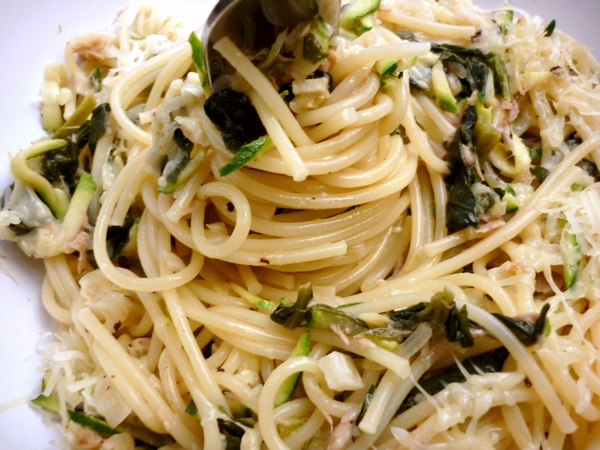 This dish is one I've made a lot lately, and something I've only ever cooked for myself. It's made with things I always have on hand and is very flexible . I take my new-old favourite, spaghetti and coat it in a garlicky, lemony sauce with chunks of tuna, zucchini and spinach, sprinkling it with romano and freshly cracked black pepper. The building blocks are pasta, tuna or chicken, garlic, wine dregs, butter and oil, and a hard cheese with any green veggie you like.I always have frozen spinach on hand so I used that, and I had a zucchini this time around but I've used green beans, cabbage and even buk choy in the past.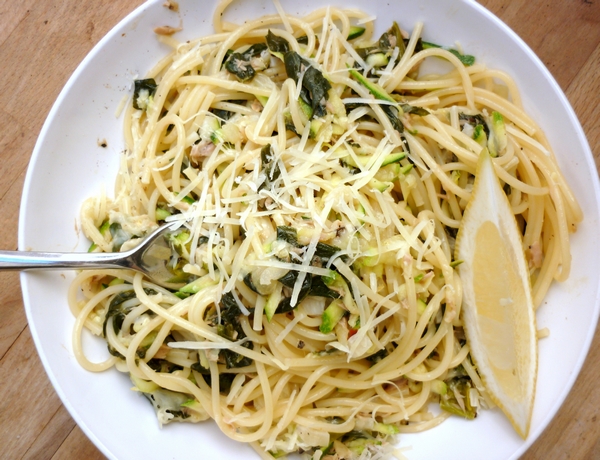 Lau's Pantry Pasta
(serves 2)
Enough spaghetti for 2 people
A generous dollop of butter
A good slosh of olive oil
1 very small onion, diced
Pinch salt
6 cloves garlic (so about twice as much garlic as onion), finely chopped
Pinch chilli flakes
The zest of half a lemon
1 individual 95g tin of tuna – I used a lemon pepper flavoured one but you can use any kind.
1/2 cup white wine dregs
1 zucchini, grated
80g frozen spinach, defrosted (microwave 1 minute on high)
The juice of half a lemon
Romano and freshly ground pepper, to taste
Put the pasta on to boil as per the packet instructions. I turn the stove up full blast, boil a jug, pour the water into the pan and once it boils, and add salt. When it comes to the boil again, I snap the spaghetti in half and cook for 8 minutes.
Meanwhile, heat the butter and oil in a medium frypan. Add the onion and stir. Once translucent, add the garlic, chilli flakes, salt and lemon zest.
Once this is cooked, add the tuna, a ladleful of the boiling pasta water, the wine and the spinach. Cook a few minutes. Add the zucchini and cook a couple of minutes until soft.
Once cooked, add the drained pasta and some pepper and salt. Stir through while still on the heat. Serve with plenty of romano and freshly cracked black pepper.
What's your favourite home alone dish?
About me

Sharing easy recipes, hunting down the

best coffee

. Honest accounts, nothing too serious.

Read more...

Popular posts this month…

This work is licensed under a

Creative Commons Attribution-NonCommercial 2.5 Australia License

.

Disclaimer:

All opinions in this blog are mine, an everyday, real-life person. I do not accept payment for reviews and nor do I write sponsored posts. I do not endorse the content of the comments herein.