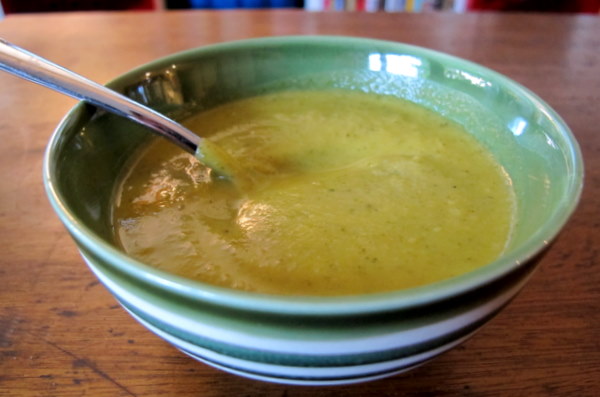 We're four days into The $35 Challenge and still going strong. The support in the blogosphere/twitterverse has been fantastic, and while we may not raise a ton of money this year, we're definitely raising awareness of poverty.
I am planning to run the $35 Challenge every year during Anti-poverty week so hopefully it'll just get bigger and better. If you can't do it this week, why not next week, or the week after that? It's never too late, drop me an email and I'll add you to our tally. Or, if you donate to OzHarvest for the $35 Challenge, let me know.
Yesterday Emma over at Love Thy Kitchen posted an update on what she's been eating so far. By the second day she'd spent only $8 and doesn't feel like she's going without, and I have to say, neither do I.
If anything my household is eating healthier than usual this week. Everything is packed with veggies, and I'm squeezing the last ounce of flavour out of every meal. My cooking is also a hell of a lot more creative. I made this salad which came out of nowhere and blew my mind. I keep forgetting just how much limitation breeds creativity.
Every day I'm eating last night's leftovers for lunch, and it's fine. It's not amazing, but fine. And I'm loving how when lunch rolls around I don't have to think about what I'm going to have and how much it's going to cost.
Here's what we've been chowing down on in the Corridor Kitchen household this week:
Day 1 – Breakky – Scrambled eggs on toast
Lunch – Everything summer salad
Dinner – Crepes with spinach, cottage cheese and dill, salad
Day 2 - Breakky – Porridge with brown sugar and strawberries
Lunch – Leftover veggie curry (made last week)
Dinner – Ginger brown fried rice w/ tofu and 7 veggies
Snacks – Grapes, an orange, raw almonds
Day 3 - Breakky – Burgen toast with cottage cheese and tomato
Lunch – Ginger brown fried rice w/ tofu and 7 veggies
Dinner – Pantry Pasta + salad
Snacks – Blue cheese, 4 crackers and 4 pear slices (work leftovers)
Suddenly I can't bear to waste anything – last night, old broccoli became broccoli and ginger soup. This was while I was making dinner. Now there's soup sitting in my fridge, rather than old floppy broccoli I could justify chucking out in a couple of days.
Broccoli and Ginger Soup
Olive oil
1 onion, chopped
1 thumb of ginger, finely chopped
1-2 carrots, roughly chopped
1 small potato, roughly chopped
1 ripe tomato, roughly chopped
2 heads of broccoli, in florets
½ a stock cube
Freshly ground black pepper
water
Heat the oil in a medium saucepan. Fry onion and ginger with a pinch of salt. Once they start to colour, add the carrots and potato and cook for a couple of minutes.
Add all remaining ingredients, almost covering the veg with water. Put the lid on the pan and simmer until all veggies are well cooked.
Take the pan off the heat and blend the soup with an immersion blender until smooth. Heat to thicken and serve.
You can read about Emma from Love Thy Kitchen's take on the $35 Challenge here. She's costing it down to the cent, I really applaud her commitment. You can also read more about the nuts and bolts of the challenge here.
What are you eating this week?
The $35 Challenge has only just begun and I'm already feeling the pinch – isn't that pathetic?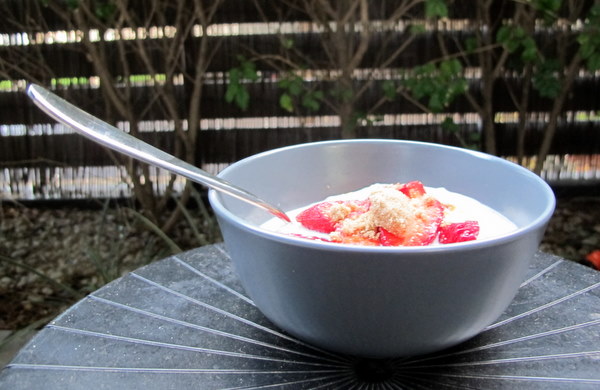 The weekends are usually times we spend doing what we like and eating what we like, telling ourselves it's a reward for a hard week's work. Usually Senhor R and I will eat out a few times, grab a few coffees and spend an evening or afternoon in the pub. Harmelss weekend fun.
But it's becoming all too clear to me that food and eating are my main pastimes. There isn't anything wrong with food as a hobby, but eating? I'm not so sure. I can't help but think back to times when I was less well off – I ate healthier than I do now, which flies in the face of almost every statistic on poverty and nutrition. And having just spent a week in bed with a head cold and resulting middle ear infection, I can't help but think Senhor R is right when he points out that my current lifestyle isn't really the path to a strong immune system.
I have been productive though. I've scoured the freezer, fridge and pantry and put together a veg-heavy menu for this week. It's really made me appreciate the stuff we keep on hand. It's the starting point for any meal. These are my 5 pantry must-haves, a pretty dull, but essential list.
1. Pasta
If I'm at a loss for what to make, pasta takes 10 minutes to cook and goes with pretty much everything. I usually buy Barilla spaghetti no 5, but this week on the $35 challenge I'm testing out a 59 cent pack of spaghetti from woolies to see if my brand loyalty is warranted.
2. Tinned tomatoes
If you have tinned tomatoes, you have an amazing tomato sauce. Just fry some onions and garlic, add the tomatoes and a slosh of wine and simmer for up to an hour. Add a pinch of sugar at the end and it's perfect for pasta, pizza or even on toast.
3. Extra virgin olive oil
I wait until it's on special and then buy one of those massive 4 litre tins for about 20 bucks. If I could only have one kind of oil, this would be it. As it stands I currently have canola and sesame as well but they're really just extras.
4. Basmati rice
It's the rice with the lowest GI and also the easiest to cook. 1 cup of rice with 1½ cups water simmered for 20 minutes with the lid sealed tight and then left to sit for 5 – perfect every time. Just stir fry some veg and meat while the rice cooks.
5. Oats
This is my breakky staple whenever I'm skint. It's also the key to ANZAC bikkies.
Find my porridge recipe below.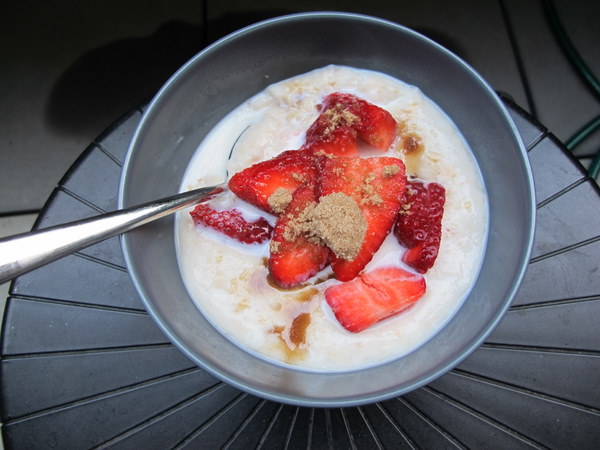 Lau's Porridge (serves 1)
1/3 cup oats
About 1 cup water
A slosh of milk (whatever type)
Sweetener – honey, brown sugar, golden syrup
Optional:
Dried fruit/nuts/fresh chopped fruit
On the back of a packet of oats they'll tell you porridge consists of chucking equal amounts of oats and water into a pan and simmering until done. For me, porridge is more akin to risotto. I put the oats in a pan and then add a good slosh of water. Give it a stir while it simmers and once the water is soaked in, add some more and if you're adding dried fruit, nuts or fresh banana, do so now. Keep adding water and stirring in until you've got the consistency you're after. At that point, stir through some milk and turn off the heat.
Serve immediately with a slosh of cold milk, a sprinkling of brown sugar and whatever fresh fruit you have on hand – in my case, I used strawberries but you can use blueberries, pear, banana (although I like to add bananas early on so they get mushy) or whatever you fancy.
It's not too late to support the $35 Challenge. During Anti-Poverty Week, from October 16-22, participantshave $5 a day to spend on food. By experiencing poverty for just 7 days, we come to a better understanding of the realities and stresses of those living in poverty. By blogging or tweeting this experience, we can raise awareness of an issue so often swept under the rug. And by donating the remainder of the money we would usually spend on food to OzHarvest, we can make a real difference.
What are your pantry must-haves?
About me

Sharing easy recipes, hunting down the

best coffee

. Honest accounts, nothing too serious.

Read more...

Popular posts this month…

This work is licensed under a

Creative Commons Attribution-NonCommercial 2.5 Australia License

.

Disclaimer:

All opinions in this blog are mine, an everyday, real-life person. I do not accept payment for reviews and nor do I write sponsored posts. I do not endorse the content of the comments herein.