Day 2 – The Big Shop and Everything Summer Salad
I chose this image as I doubt I'll ever see so much fruit in our apartment ever again.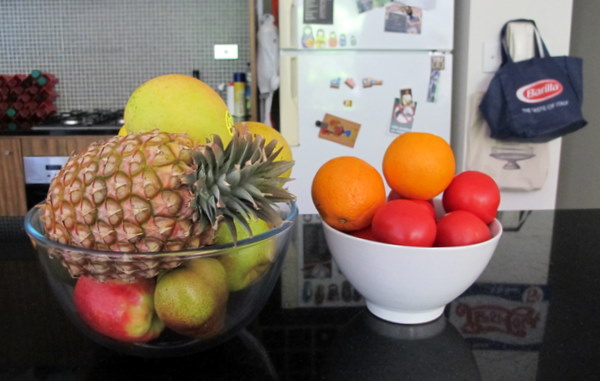 Yesterday, we grabbed the few grocery store items we needed at woolies. This was relatively stress-free as the number of things we needed was dictated by our budget – $35 x 2. At woolies we spent about $18 and this got us cottage cheese, 2 litres of milk, tinned tomatoes, 59 cent spaghetti, frozen spinach and not much else. It took all of 10 minutes and at this made me wonder if maybe extreme cost cutting is the way to go.
However, this morning at Paddy's Market (Haymarket) was more of a trial. We only had one shopping bag with us and I had decided we needed to buy heaps of fruit because we never eat fruit so now is obviously the time to start. We spent about half our budget there and walked out with more fruit and veg than we could carry. I wondered how we'd feed ourselves on such a budget if we didn't have a really cheap market nearby.
I knew this would be a hard day, mostly because both Senhor R and I are exhausted. Also because I hate going to Paddy's Market's to buy fruit and veg almost as much as I hate exercise.
When we got home, we realized there was just over $16 left in our budget and we were out of coffee. The coffee we buy that costs $13. And we still hadn't bought any meat. At this point we were at each other's throats but we finally bought steak for $5 and downgraded to the $12 coffee. Yep, that's right the challenge is already technically broken – I have spent $35.50.
After Senhor R had his coffee and things calmed down, I decided it was time for a massive serve of some of the fruit and veg we'd just bought in the form of a salad. This is a great summer salad, everything is really finely chopped and you get all these different textures – from mushy mango to crunchy macadamia and everything in between. I served it with a massive black sesame rice cracker we had in the pantry, but it's fine just as it is. You don't have to stick to what I used – you can sub in or add ingredients like red onion, cucumber, pineapple, lime juice, red basil, spring onions, grilled chicken, nectarines, tuna, cannellini beans, cashews, peanuts…the list is endless.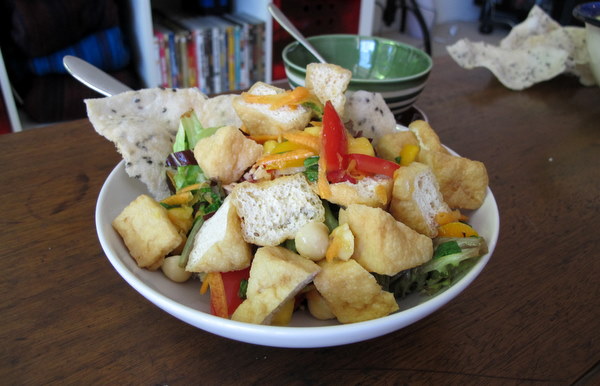 Everything Summer Salad
Serves 2 very hungry people
1 ripe tomato, chopped
½ bunch mint, finely shredded
½ cup chopped macadamias
1 mango, chopped
½ a large carrot, grated
A handful of lettuce, chopped
¼ of a red or yellow capsicum, finely sliced
½ packet tofu puffs, cut in half
For the dressing
1 long thai chilli, deseeded and finely chopped
¼ cup fish sauce
The juice of 1 lemon
2 tsp brown sugar
2 Tblsp water
Put all the salad ingredients into a large bowl. Stir the dressing ingredients together. Pour over about half the dressing and stir the salad well. Serve immediately.
It's not too late to support The $35 Challenge. During Anti-Poverty Week, from October 16-22, participantshave $5 a day to spend on food. By experiencing poverty for just 7 days, we come to a better understanding of the realities and stresses of those living in poverty. By blogging or tweeting this experience, we can raise awareness of an issue so often swept under the rug. And by donating the remainder of the money we would usually spend on food to OzHarvest, we can make a real difference.
What grocery item can you just not live without?
About me

Sharing easy recipes, hunting down the

best coffee

. Honest accounts, nothing too serious.

Read more...

Popular posts this month…

This work is licensed under a

Creative Commons Attribution-NonCommercial 2.5 Australia License

.

Disclaimer:

All opinions in this blog are mine, an everyday, real-life person. I do not accept payment for reviews and nor do I write sponsored posts. I do not endorse the content of the comments herein.