Brasserie Bread Grains and Seeds Workshop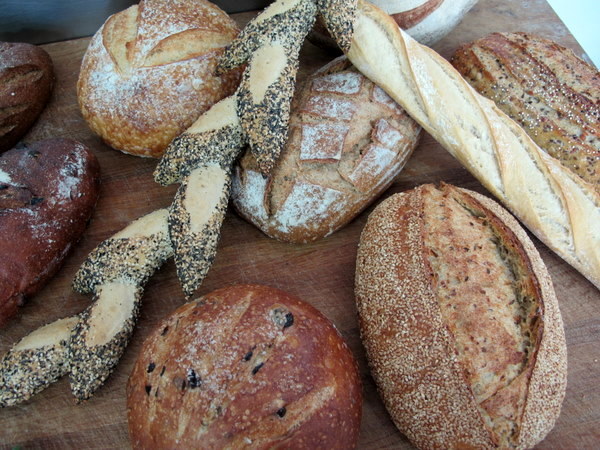 A couple of weeks ago, I was lucky enough to be invited to a bread making workshop as Brasserie Bread in Banksmeadow. Silly me, I got Banksmeadow mixed up with Beaconsfield and so I found myself on a bus down Botany road at 10:35am, starting to panic. It's a long way to Banksmeadow and I've learnt my lesson for next time.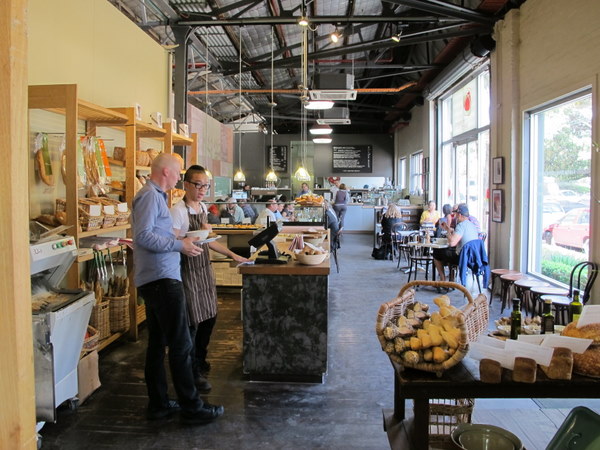 Of course I needn't have worried, as I entered the post-industrial café and through to the baking classroom I was greeted by a bunch of young ladies wielding state-of-the-art SLR's – food bloggers. Brasserie Bread Training Manager Matthew Brock welcomes me offered me a drink and a disposable apron (damn, I knew I forgot something!). I chose a macchiato and then realised I was the only coffee drinker. Good mach though.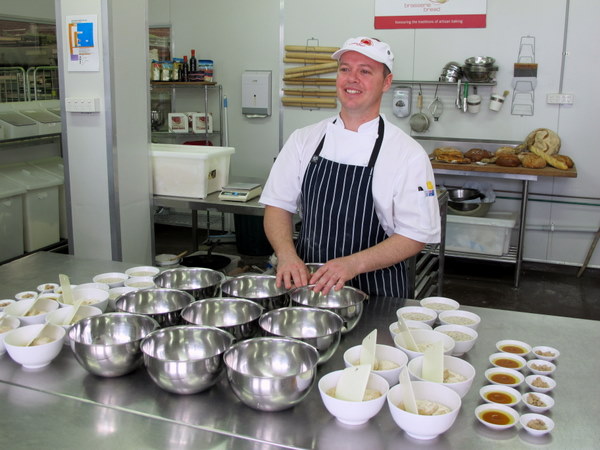 Matthew introduced the class by talking a bit about artisan baking and what it means. He explained that there is an emphasis on good quality ingredients, but the process is just as important as the materials. Artisan baking is all about doing things by hand rather than by machine. Matthew points out that the senses are crucial to the artisan baker, as he or she will rely on sight, smell, taste, touch and sound to determine whether the bread is ready to move on to the next stage.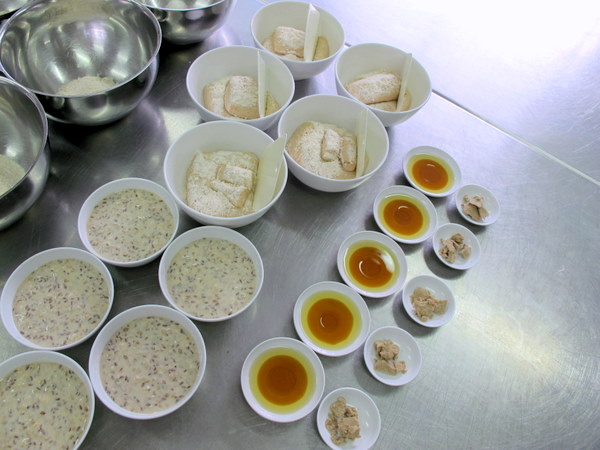 He tells us he's going to start by stimulating our sense of taste and pulls a tray of warm pastries out of the oven, which he cuts into generous chucks for us all to enjoy. At first we nibble, bird-like but then our senses get the better of us (we are food bloggers after all) and we chow down. They are heavenly. Although I have a sneaking suspicion that description would apply to many foods reheated in a bread oven…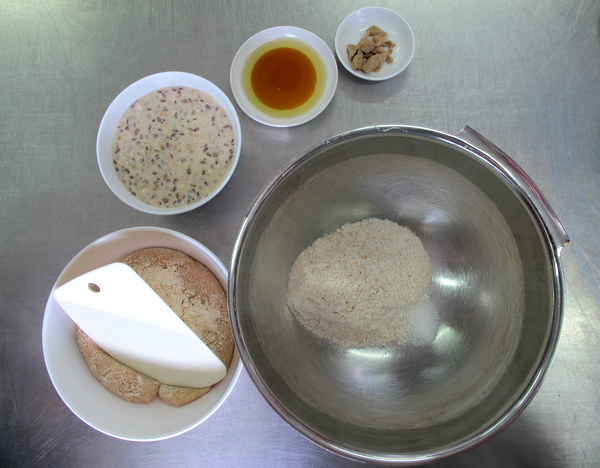 After some munching and some more explanation, we move on to our first recipe, a multi grain 'Struan', a word which means 'the convergence of streams'. It's bread with a bunch of components coming together to make one tasty, low GI bread. We are given 5 bowls – a 'bega' (a starter), a 'soaker' (a mix of soaked seeds, flour, water and salt), fresh yeast (7g), a mix of flours and an olive oil/ agave nectar combo 'for something a little bit different'. All these ingredients come together to form the Struan, and you can find the recipe here and here, but what's more important is HOW they come together.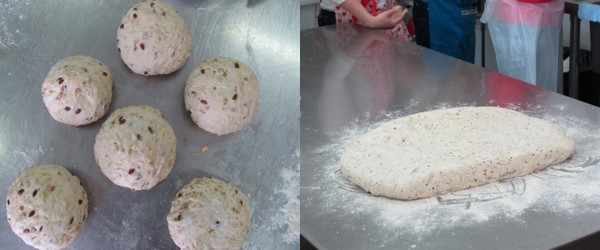 Matthew explains that the seeds have to be soaked overnight because otherwise they'll leech the moisture from the bread and you'll end up with a very dry loaf. I don't have much experience making bread, it always seemed like a huge pain in the arse to me, but what surprises me more than anything as we knead and fold it is just how wet and sticky the dough is. I always thought bread dough had to be dry enough to just fall off your fingers and kneaded to within an inch of its life, but this dough reminds me of pão de queijo in terms of texture. We use very little flour, kneading it for about five minutes and then folding it up, placing a bowl over it and leaving it to sit for a minute. We knead it again for a couple of minutes, fold it up, place a bowl over it and leave it to rise for around an hour.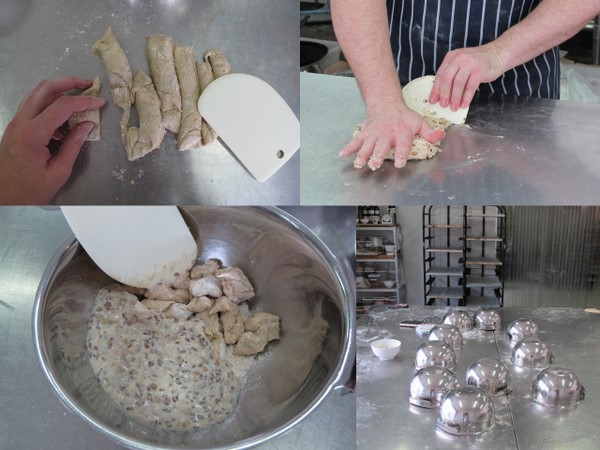 After this, we slap and roll the bread around a bit (literally, pick it up, slap it against the bench and roll it over). I'm more bread than blogger as I try and scrape every skerrick from my hands. 'Every loaf of bread that you bake at home is a lesson,' says Matthew, and I think, fair enough, but in my miniscule kitchen it'd be a pretty messy lesson.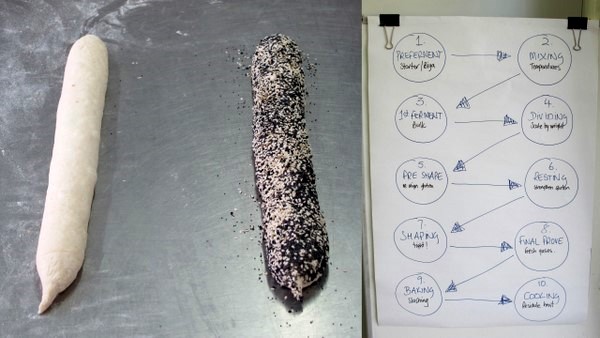 We move on to shaping and this is the fun bit because it's now that we really come to understand what he meant about the senses. We tuck all the sides of the dough up and under and then turn the dough over, so that the top is rounded. We then push down with cupped hands on this dough ball, rolling in a circular motion so that it becomes tighter and tighter. It's hard to explain, but we can feel when it's done. Then it's dusted in rolled oats and left to prove, upside-down in a hairnet-lined bowl for about an hour.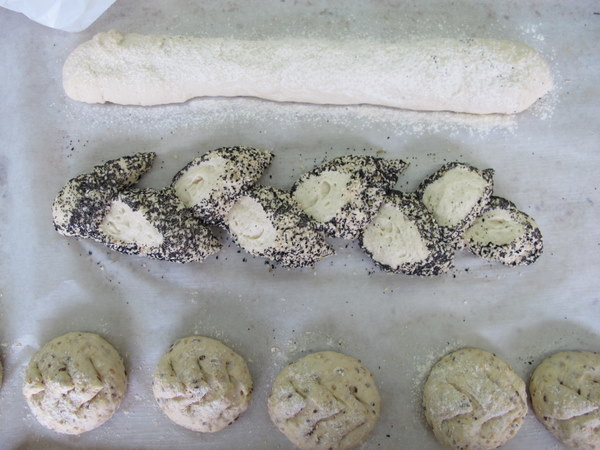 We spent a bit of time in between rising and proving the Struan shaping some other loaves from some ready-to-prove dough they had prepared for us. We shaped multigrain dinner rolls (a similar process to shaping the Struan), a white baguette and a seed-encrusted pain d'epi or wheat-stalk bread. The pain d'epi was by far the coolest looking thing we shaped, and deceptively simple. Once we'd rolled a baguette, it was dampened in a tray with some wet paper towels and rolled in a tray of seeds. Then, with scissors held low and almost flat, we cut almost all the way through the dough, peeled a 'petal' to one side, made another cut and immediately peeled one to the other side. Matthew told us to act fast, as the 'peeling' must be done as soon as the dough is cut or it will spring back into shape. You can see detailed instructions on how to shape pai d'epi here.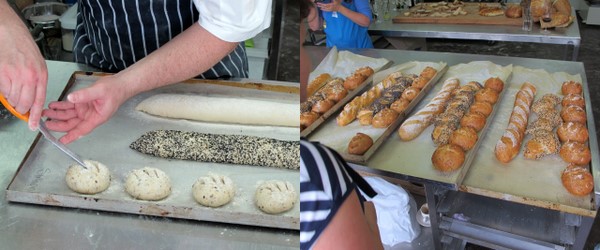 By the end of the day we had so much bread to take home and then of course it was time to try pretty much every kind of bread Brasserie Bread makes, dipped in a whole raft of scrummy things – goat's cheese, artisanal butter, soft cheese baked in the oven with wine and garlic…you know, your usual Tuesday lunch. My favourite by far was the olive and rosemary bread, salty deliciousness but I also loved the garlic bread and the sour cherry.
Anywhere there's a ton of food bloggers, you never feel self-conscious about taking photos. I sure hope poor Matthew wasn't camera shy. We all had a lot of fun. The class went for three hours and it would have been well worth the money if I'd had to pay for it but disclaimer, I didn't and that could only add to my enjoyment.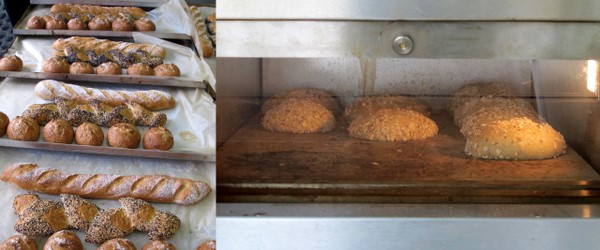 Brasserie Bread have a range of courses, including kid's classes (which are booked out until 2012!). They also do gift certificates, just pop into their café to purchase one. Courses cost about $150 and include everything you'll need. Oh, and you get to take home all the bread you make and then some…
Brasserie Bread
1300 966 845
1737 Botany Road
Banksmeadow NSW 2019
http://www.brasseriebread.com.au/
About me

Sharing easy recipes, hunting down the

best coffee

. Honest accounts, nothing too serious.

Read more...

Popular posts this month…

This work is licensed under a

Creative Commons Attribution-NonCommercial 2.5 Australia License

.

Disclaimer:

All opinions in this blog are mine, an everyday, real-life person. I do not accept payment for reviews and nor do I write sponsored posts. I do not endorse the content of the comments herein.