3 food bloggers, 3 cafes, 3 great macchs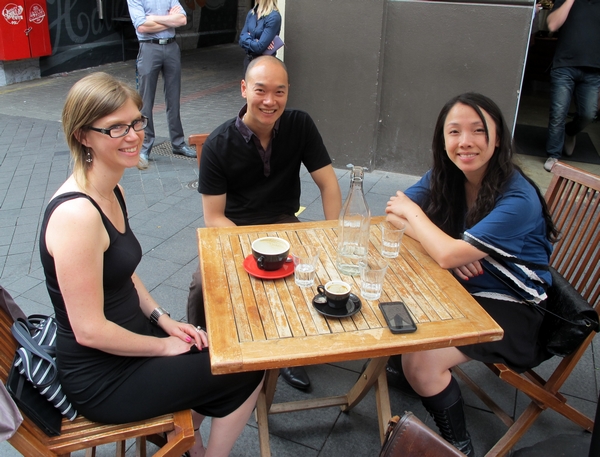 Food blogging is one area of my life where I can honestly say I find myself perpetually delighted, and that's mostly down to the people I meet. Food bloggers want to meet you. They want to eat with you. They want to show you around. So that's how it came to be that on the morning after the eat fest that was Eat Drink Blog 2012, Hayes of Adeladie food blog The Chopping Board (who wasn't even at the conference) and Sarah (who was) went on a coffee crawl with Perth blogger Ai-Ling (who doesn't even drink coffee) and I (who most definitely does). We hit three cafés in less than three hours and thoroughly enjoyed every microgram of caffeine imparted on us by this 'city of churches'.
1. Coffee Branch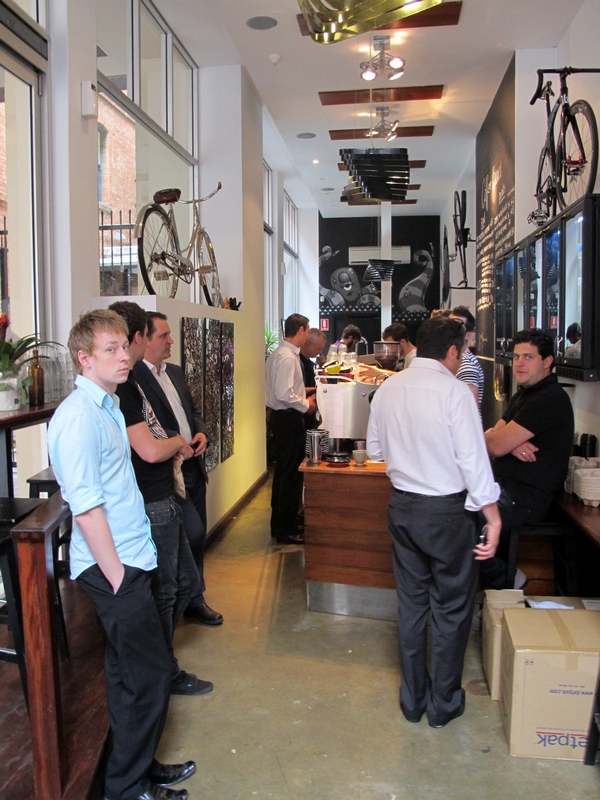 Coffee branch is located in the faux-laneway of Leigh street in the CBD proper and has a rep for being one of the best coffee spots in the area. South Australia digital online marketer Sarah Rhodes who was at Eat. Drink. Blog. with us suggested it and joined us for coffee numero uno. When we arrive just after 9:30am its suit-a-rama. The space is tiny and narrow so after ordering I join the other three outside in the humidity for coffee and conversation. Our coffees are quick to arrive and they incorrectly announce Sarah's as a skim flat white, but it turns out to be the full fat latte we ordered, so no worries.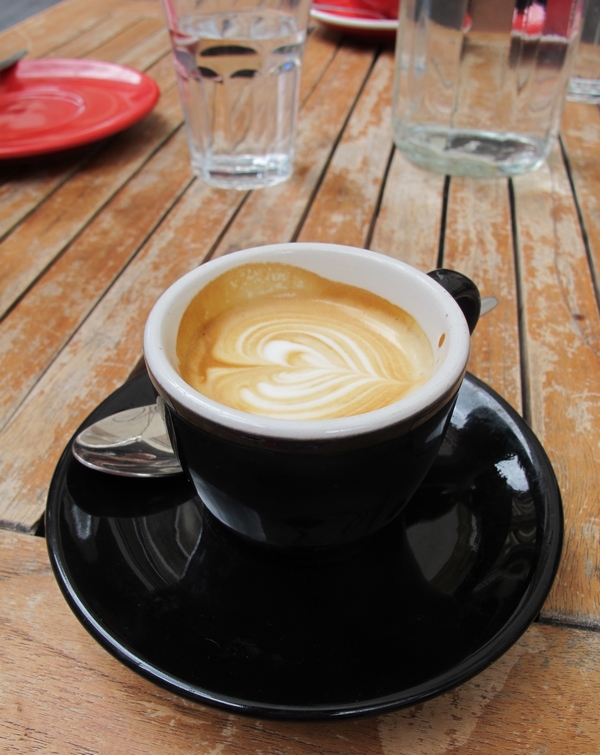 I would describe the flavour of my macch as very gentle. It is actually more of a picchiatto or a macchollo, who knows. I appreciate the latte art heart, don't get me wrong, but the coffee itself is underwhelmingly mild. I'd return though, I know I overuse this word but it's a solid choice in the Adelaide CBD. Friendly staff, coffees came out quickly and I reeeaaallly had to hold myself back from ordering a pastry.
Coffee Branch
32 Leigh Street Adelaide, SA 5000
0451 661 980
Monday – Friday 7:00am – 5:00pm
2. Nano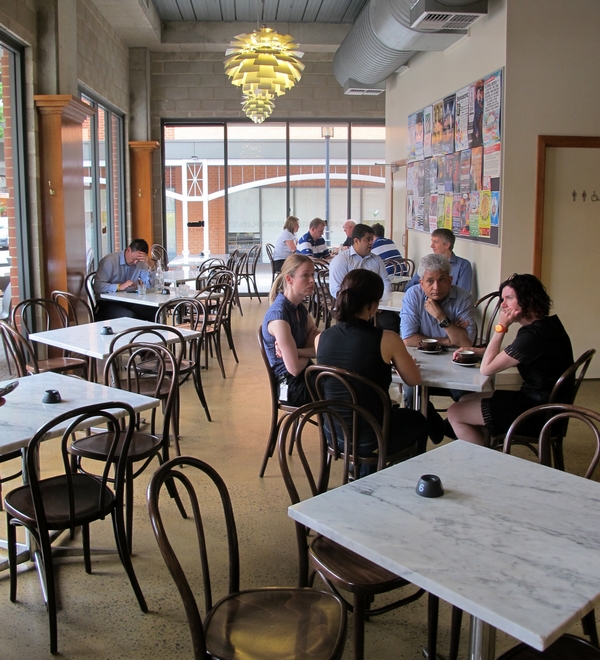 Our next stop is Nano as recommended by my mate and former Adelaide-ian (is that a word?) Erin of The Canberran, and she outta know, she blogged 35 Adelaide cafes in 35 days before relocating to The Nation's Capital. Nano is actually an Italian restaurant and I'd love to come back and try the food. It is also a well-known coffee haunt in what Urbanspoon describes as 'the Rundle Street area' but I think might actually be called the east end, a schmick but still uni-student-friendly enclave of eateries, pubs and stores which a continuation of Adelaide's Rundle Street mall.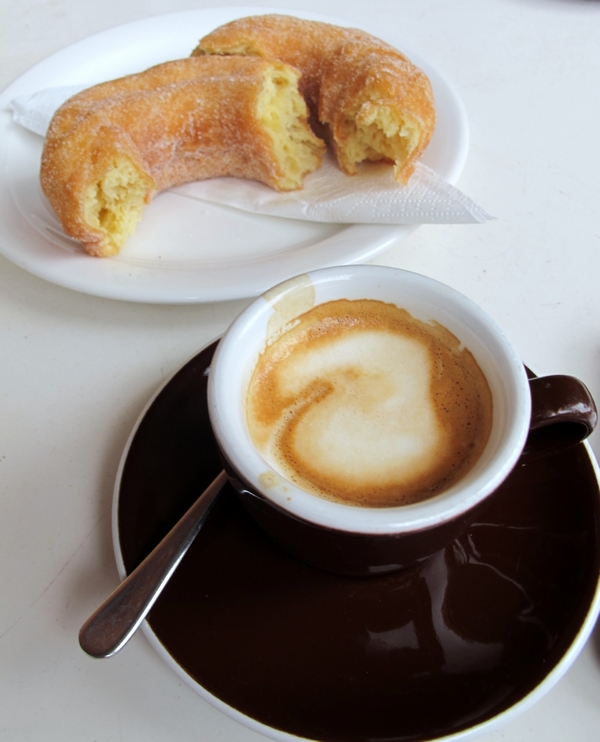 Nano's coffee isn't particularly photogenic but it does impress. Microfoam notwithstanding, it definitely has a kick to it and I can see why the locals cite it as a consistently good choice. Hayes has no complaints about his flat white and Ai-ling, who doesn't actually drink coffee, chows down on an omelette. I can't resist the italian doughnut, a crisp ring dusted with crystals of sugar and a pillowy insides. I happily dunk away in my macchiato, which while not technically perfect froth-wise delivers a strong, balanced and well-rounded flavour. I prefer it to our first coffee.
Nano
23 Ebenezer Place Adelaide, SA 5000
08 8227 0468
Monday – Friday 7:15am – 4:00pm
Saturday – Sunday 8:15am – 4:00pm
3. Hey Jupiter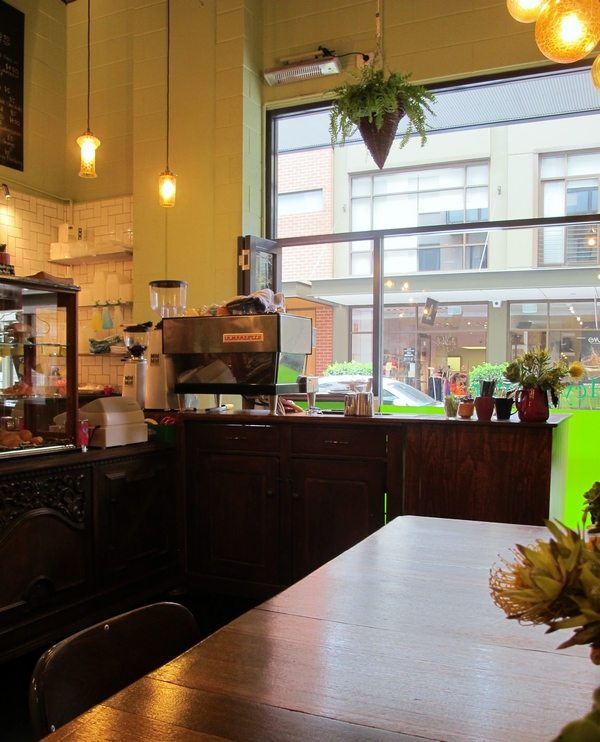 The others leave me to continue my coffee crawl, Hayes is off to work and Ai-Ling to catch a plane home to Perth. I pop in to the teensy Hey Jupiter which is a relatively new addition to the east end and about a ten second walk from Nano. From the outside, with its brightly-coloured cafe chairs and tables and shop-front-style window it looks like nothing special. But inside the walls are lathered a gorgeous green and studded with vintage mirrors, walnut-coloured stools and hutches crouch here and there and spheres of glass hang, pendulum-like from the ceiling, casting a sepia glow. It's like having your coffee break inside a vintage terrarium.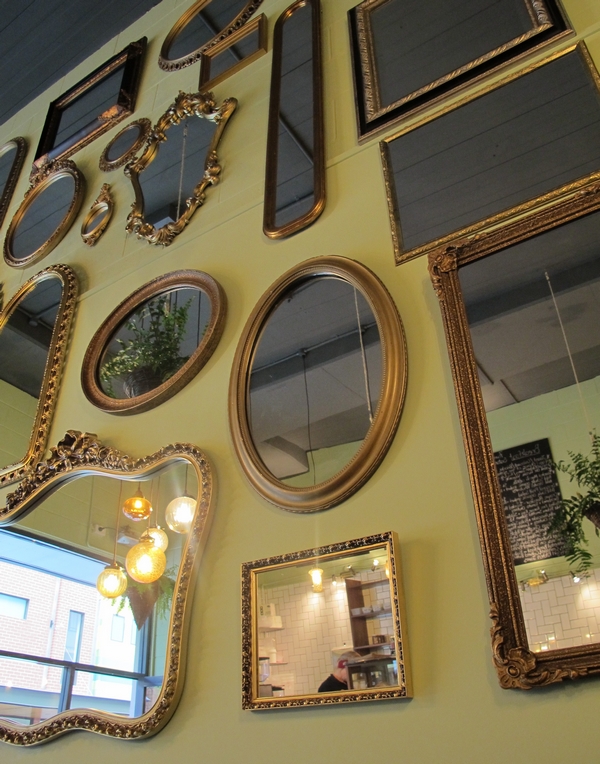 I order my trusty macch and park myself in the corner where I can drink in the decor. It's a rich and concentrated shot with just a smidge of foam and milk and it's a good third coffee. I'm kind of glad I hit this place alone. As I meditate over my macch, complete with paper doily, sure, I feel pretty jittery (that's the caffeine), but I couldn't think of a nicer way to end the weekend.
Hey Jupiter
11 Ebenezer Place Adelaide, SA 5000
0416 050 721
Monday – Friday 7:00am – 3:00pm
Saturday 8:00am – 3:00pm
Closed Sundays
in which I respectfully disagree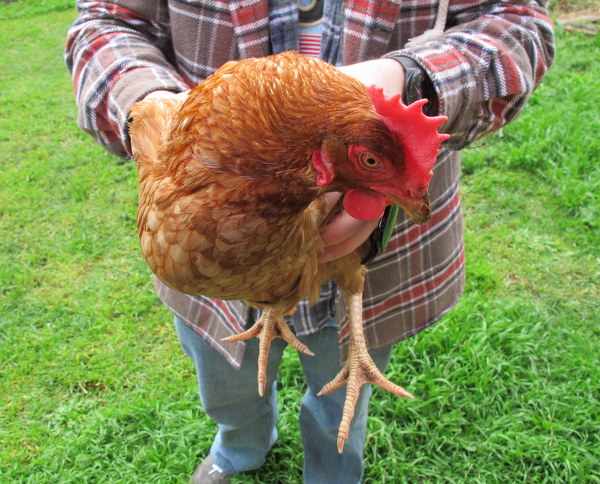 At the third annual Eat Drink Blog conference this year, blogger Tammi Jonas and chef Simon Bryant ran a panel discussion on local and seasonal food which quickly became a discussion of food ethics. Controversially, both agreed that they would not refuse a meal served to them by their host, even if it clashed with their principles.
I want to briefly examine the line of argument that says if someone serves you up a platter of something you can't stomach or have an objection to, it is more disrespectful not to eat it than to eat it. Please note I mean no disrespect to either Tammi Jonas or Simon Bryant. The decisions they choose to make regarding food are up to them.
"Refusing hospitality is rude/ungrateful/inconvenient/impolite/makes people uncomfortable."
This argument holds that basically, you should eat what you are given. It was the way I was brought up myself – the idea that it is rude to be picky, it is impolite to make people feel uncomfortable and ungracious to refuse their hospitality. I don't agree. I see no reason why a vegetarian refusing a slaved-over meat dish at a dinner party is any more offensive than someone telling a vego or vegan that their much agonised-over food ethics are 'inconvenient' or 'ungrateful'.
There seems to be an assumption here that somehow, your host's comfort outweighs your comfort as their guest. The whole thing is totally backwards. The idea of hospitality is that as a host, you do not want your guest uncomfortable, unhappy, or traumatised by the food you serve them. If a vego or a vegan or a ceoliac or a picky bastard shows up unannounced, you do your best to do what you can so that they don't starve. (Mind you, if guests have zany last minute dietary requirements, they may have to go hungry, as it is completely rude to storm in and demand to be catered for).
And there are times when politeness is actually inappropriate. When someone makes disgusting remarks, or racist jokes for example, or when someone threatens you or someone you love, politeness goes out the window, and it is time to say 'Fuck you, mate,' or words to that effect.
This is not to say your friends' bbq presents you, the vego, with a chance to lecture them for supporting factory farming. But the mere fact that your vegetarianism may be an inconvenience doesn't in any way mean that you're wrong for not chowing down on that homebrand sausage in its blanket of cheap white bread, marge and super-sweet tomato sauce, any more than you would be wrong for not laughing at someone's racist joke. Politeness doesn't trump all.
Cultural Relativism – "When in Rome…"
I once met a vego who stopped being one after travelling through South America. To a tourist, the Argentinean streets seem lined with steak and vegetables are often hard to come by. In some parts of the world, vegetarianism is something they just won't get. Don't want to offend a whole Colombian village? I get it. Suspending your ethics temporarily because all you've had to eat for the past month is mashed potato? Understood.
However, I disagree with the idea that it is intrinsically wrong to upset a group of people because they all believe the same thing. Yes, you should always be respectful of other cultures. You shouldn't mock or ridicule people for not behaving the same way as you, if only for your own safety. But you do not have to agree with every cultural practice of every cultural group, simply because you are not from that culture. Furthermore, you should not have to participate in activities that completely undermine your own values.
What if one of their cultural practices is slowly and agonisingly killing a goat and drinking its blood? Or greeting people by punching them in the face? If you're not allowed to disagree with those practices, or if you cannot choose non-participation, then neither can anyone within that culture, and thus the culture cannot change and evolve. If someone believes very strongly that eating meat is the wrong thing to do, I see little point in guilting them for not eating that guinea pig their host offered them in Peru.
"It's already dead, so why waste it?"
This is by far the most ridiculous argument of all. For someone to choke down the scraps of meat left on the table simply because they are there makes no sense. No one should eat something they don't want or need. That is a different kind of wasteful. That is gluttony.
And to argue that throwing away meat is disrespectful to the animal that 'gave its life for you'? Ok, maybe it is disrespectful in some sense. Maybe it is wasteful. But let me tell you that animal did not 'give its life for you'. It did not die for your sins. Someone killed that chicken/pig/goat/sheep, whether cruelly or kindly, and you are about to eat it. The animal is dead. It doesn't give a flying fuck whether you gobble up its carcass or throw it in the bin. Sorry to be harsh, but there you go. There is only one sense in which 'honouring' the dead animal is of benefit; that the community attitude towards animal cruelty can be changed for the better. Other than that, it is pure speculation.
Why not just be flexible? It's not black and white.
Of course it is not black and white. You are free, if you like, to never eat pork, except on Tuesdays, be wheat sensitive only 27 days out of the month and only drink milk 'when you feel like it'. I'm sure people do it.
But for many people, being vego or vegan boils down to making a black and white decision to save themselves from making a zillion tiny grey decisions each day. 'No meat' for example or 'No meat and eggs' or 'No animal products.' This is a simple way for them to guide their daily eating.
A vegetarian may acknowledge that there are well treated pigs out there, that some crops could be harder on the planet than some herds of animals and that there are better and worse ways to kill and pluck a chicken. But they make the choice not to eat meat/dairy/whatever and they live by that choice.
So, where to from here?
To my mind, the kindest thing you can do for your host is be clear. Ethical eating is evolving. But to your host, 'Sorry, I don't eat meat' is a hell of a more simple/kind/polite/straightforward/easy to digest message than. 'Sorry, I don't eat factory farmed pork, food from any of the major supermarkets, non-organic vegetables, and milk makes me feel slightly queasy.'
Just by having an ethical stance on food, it is expected that yours will be perfect. But it doesn't have to be. If Simon Bryant is on a road trip in the middle of woop woop and buys a mars bar from the 7 11 , he is no less of an ethical eater. If Tammi Jonas comes to my place and eats the factory farmed pork roast I serve her, she is no less of an ethical eater. They are in environments where they have little control over their food choices and they are doing their best.
By the same token, if Tammi refuses my pork roast, sure, I'm kinda embarrassed, but so what? I'll get over it. If eating that pork roast was going to totally compromise her values and break her heart, I can honestly say I'd rather be mortified than have her eat it.
And when in doubt, you can always just say 'I'm allergic.'
About me

Sharing easy recipes, hunting down the

best coffee

. Honest accounts, nothing too serious.

Read more...

Popular posts this month…

This work is licensed under a

Creative Commons Attribution-NonCommercial 2.5 Australia License

.

Disclaimer:

All opinions in this blog are mine, an everyday, real-life person. I do not accept payment for reviews and nor do I write sponsored posts. I do not endorse the content of the comments herein.