The Eat Drink Blog Adelaide Coffee Crawl
3 food bloggers, 3 cafes, 3 great macchs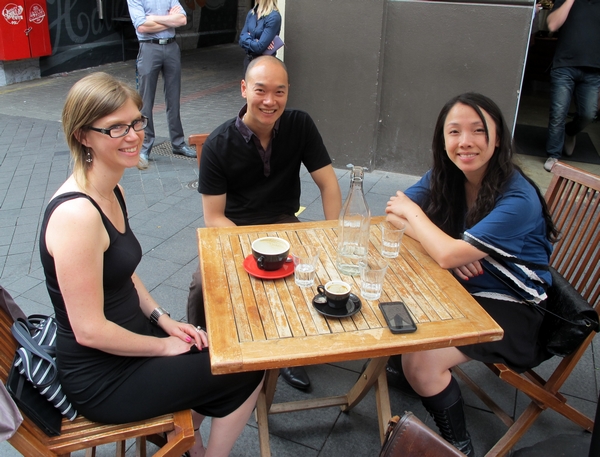 Food blogging is one area of my life where I can honestly say I find myself perpetually delighted, and that's mostly down to the people I meet. Food bloggers want to meet you. They want to eat with you. They want to show you around. So that's how it came to be that on the morning after the eat fest that was Eat Drink Blog 2012, Hayes of Adeladie food blog The Chopping Board (who wasn't even at the conference) and Sarah (who was) went on a coffee crawl with Perth blogger Ai-Ling (who doesn't even drink coffee) and I (who most definitely does). We hit three cafés in less than three hours and thoroughly enjoyed every microgram of caffeine imparted on us by this 'city of churches'.
1. Coffee Branch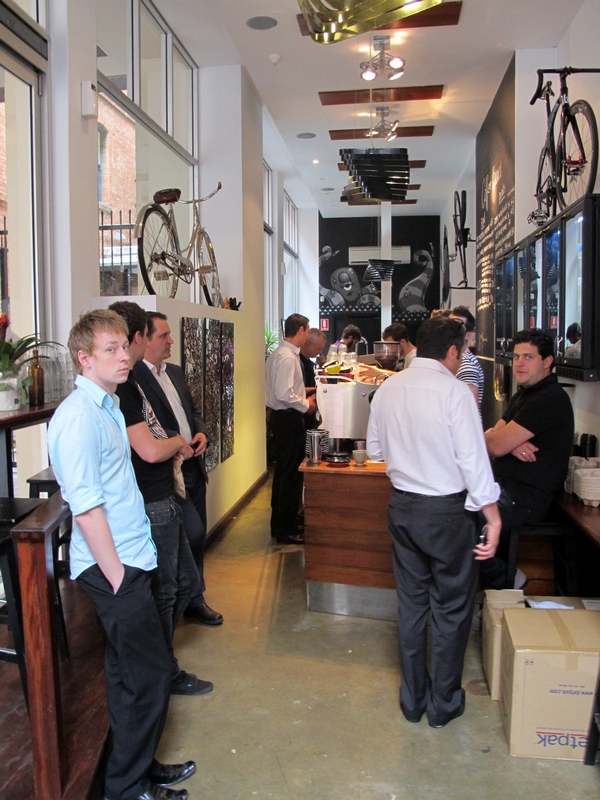 Coffee branch is located in the faux-laneway of Leigh street in the CBD proper and has a rep for being one of the best coffee spots in the area. South Australia digital online marketer Sarah Rhodes who was at Eat. Drink. Blog. with us suggested it and joined us for coffee numero uno. When we arrive just after 9:30am its suit-a-rama. The space is tiny and narrow so after ordering I join the other three outside in the humidity for coffee and conversation. Our coffees are quick to arrive and they incorrectly announce Sarah's as a skim flat white, but it turns out to be the full fat latte we ordered, so no worries.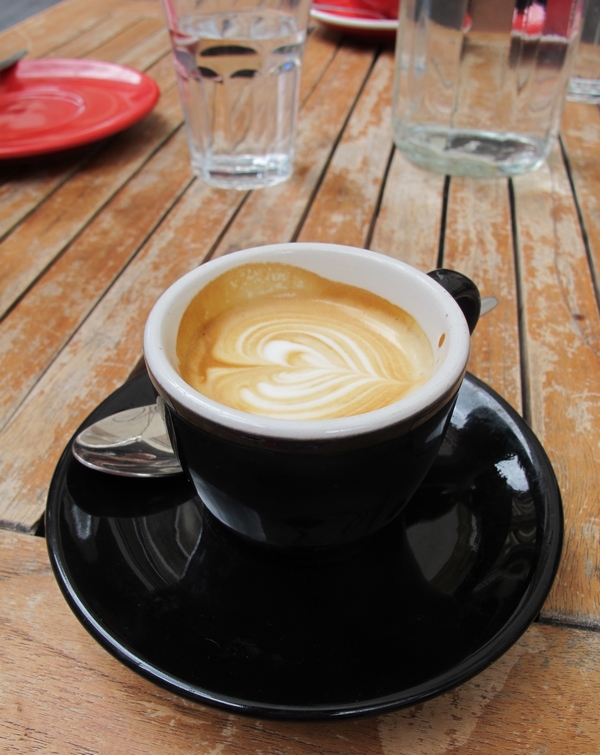 I would describe the flavour of my macch as very gentle. It is actually more of a picchiatto or a macchollo, who knows. I appreciate the latte art heart, don't get me wrong, but the coffee itself is underwhelmingly mild. I'd return though, I know I overuse this word but it's a solid choice in the Adelaide CBD. Friendly staff, coffees came out quickly and I reeeaaallly had to hold myself back from ordering a pastry.
Coffee Branch
32 Leigh Street Adelaide, SA 5000
0451 661 980
Monday – Friday 7:00am – 5:00pm
2. Nano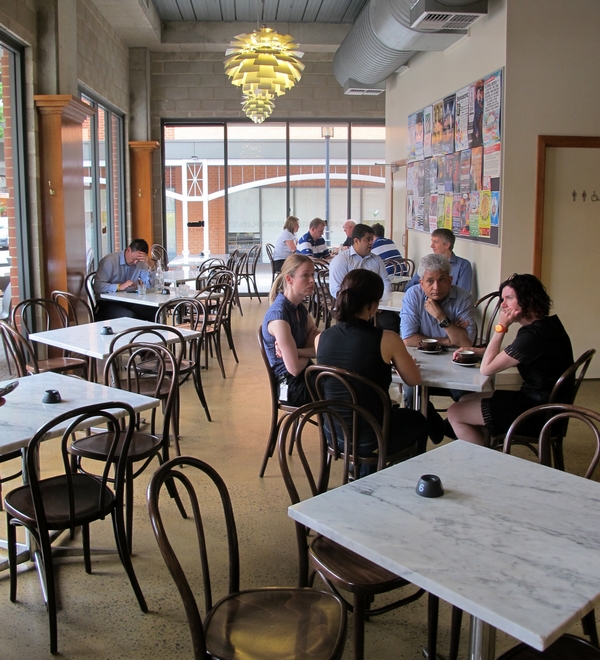 Our next stop is Nano as recommended by my mate and former Adelaide-ian (is that a word?) Erin of The Canberran, and she outta know, she blogged 35 Adelaide cafes in 35 days before relocating to The Nation's Capital. Nano is actually an Italian restaurant and I'd love to come back and try the food. It is also a well-known coffee haunt in what Urbanspoon describes as 'the Rundle Street area' but I think might actually be called the east end, a schmick but still uni-student-friendly enclave of eateries, pubs and stores which a continuation of Adelaide's Rundle Street mall.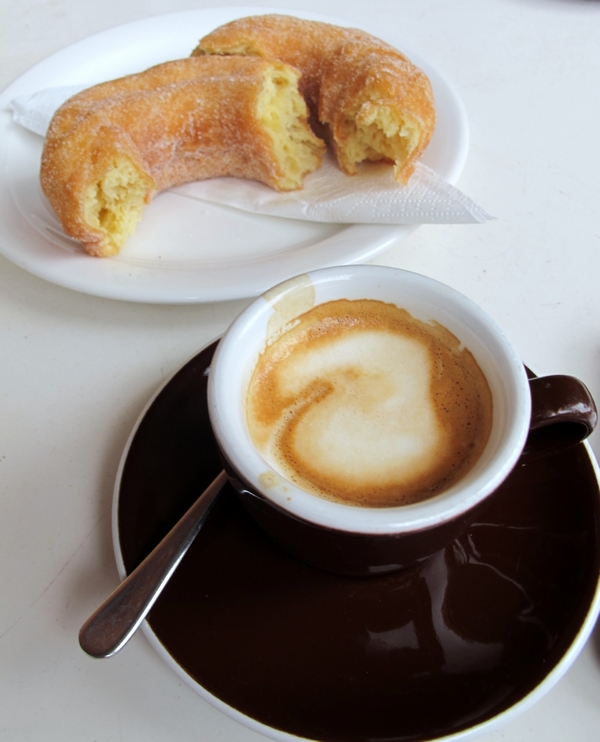 Nano's coffee isn't particularly photogenic but it does impress. Microfoam notwithstanding, it definitely has a kick to it and I can see why the locals cite it as a consistently good choice. Hayes has no complaints about his flat white and Ai-ling, who doesn't actually drink coffee, chows down on an omelette. I can't resist the italian doughnut, a crisp ring dusted with crystals of sugar and a pillowy insides. I happily dunk away in my macchiato, which while not technically perfect froth-wise delivers a strong, balanced and well-rounded flavour. I prefer it to our first coffee.
Nano
23 Ebenezer Place Adelaide, SA 5000
08 8227 0468
Monday – Friday 7:15am – 4:00pm
Saturday – Sunday 8:15am – 4:00pm
3. Hey Jupiter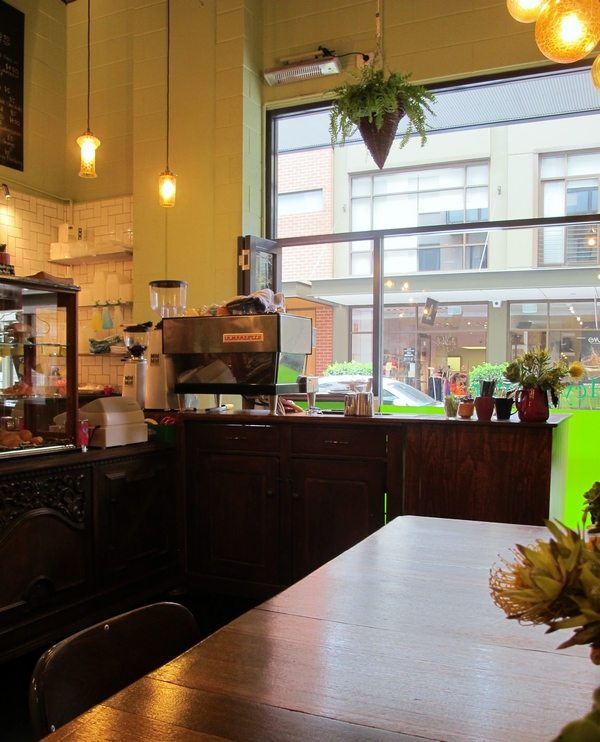 The others leave me to continue my coffee crawl, Hayes is off to work and Ai-Ling to catch a plane home to Perth. I pop in to the teensy Hey Jupiter which is a relatively new addition to the east end and about a ten second walk from Nano. From the outside, with its brightly-coloured cafe chairs and tables and shop-front-style window it looks like nothing special. But inside the walls are lathered a gorgeous green and studded with vintage mirrors, walnut-coloured stools and hutches crouch here and there and spheres of glass hang, pendulum-like from the ceiling, casting a sepia glow. It's like having your coffee break inside a vintage terrarium.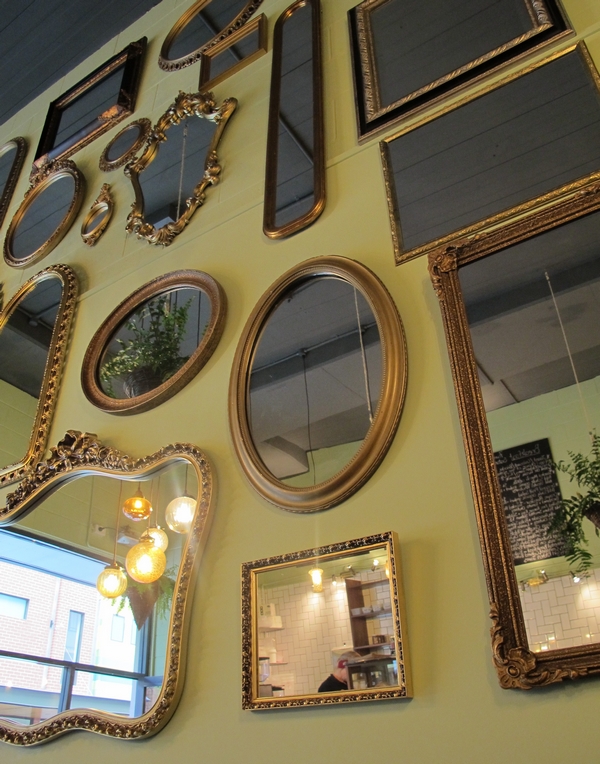 I order my trusty macch and park myself in the corner where I can drink in the decor. It's a rich and concentrated shot with just a smidge of foam and milk and it's a good third coffee. I'm kind of glad I hit this place alone. As I meditate over my macch, complete with paper doily, sure, I feel pretty jittery (that's the caffeine), but I couldn't think of a nicer way to end the weekend.
Hey Jupiter
11 Ebenezer Place Adelaide, SA 5000
0416 050 721
Monday – Friday 7:00am – 3:00pm
Saturday 8:00am – 3:00pm
Closed Sundays
About me

Sharing easy recipes, hunting down the

best coffee

. Honest accounts, nothing too serious.

Read more...

Popular posts this month…

This work is licensed under a

Creative Commons Attribution-NonCommercial 2.5 Australia License

.

Disclaimer:

All opinions in this blog are mine, an everyday, real-life person. I do not accept payment for reviews and nor do I write sponsored posts. I do not endorse the content of the comments herein.