Should you ever find yourself at that weird halfway point between Central and Redfern stations, here's two cute little coffee spots for you to check out. Maybe you've got some time to kill before some post-drinking yum cha? Well then perk yourself up at either (or both) of these.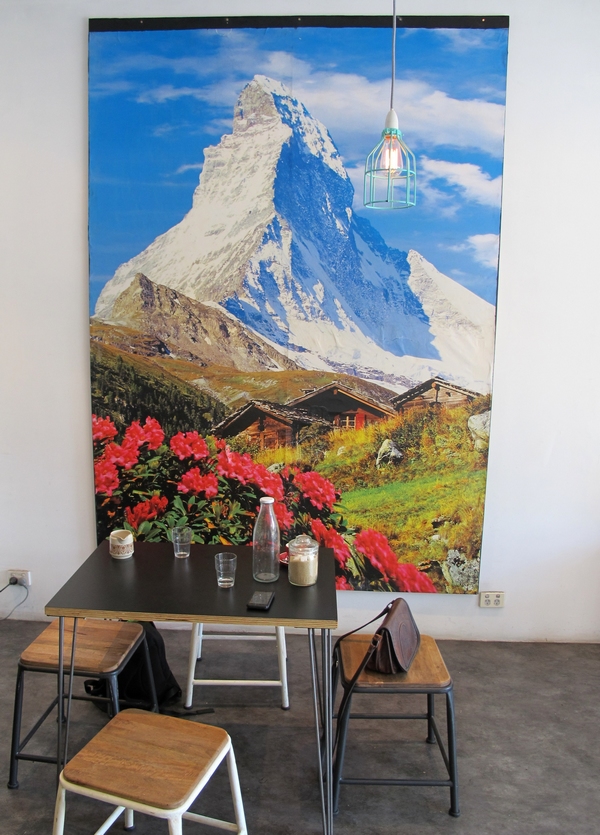 The Angry Fix
The Angry Fix is a relatively new addition to the Chippendale café-scape, having opened in mid-July this year. Located at the start of Regent Street, it is open 7 days a week. The Angry Fix serves numero uno coffee and, for those of you who are espresso nerds, they're going the naked portafilter route.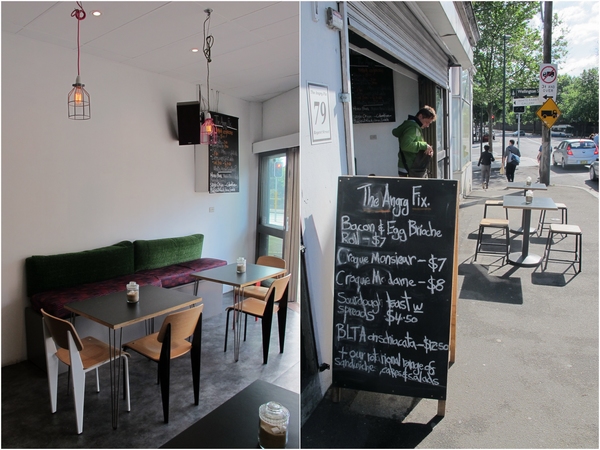 The place is decked out with the kind of chair and table legs furniture fetishests covet, some right-on light fittings and even a dash of astroturf. The cake fridge is tempting (when are they not?) and their toast-focused menu sports good value pricing and quick breakky/brunch/lunch snacks; it is an 'on the way to somewhere else' kind of place after all.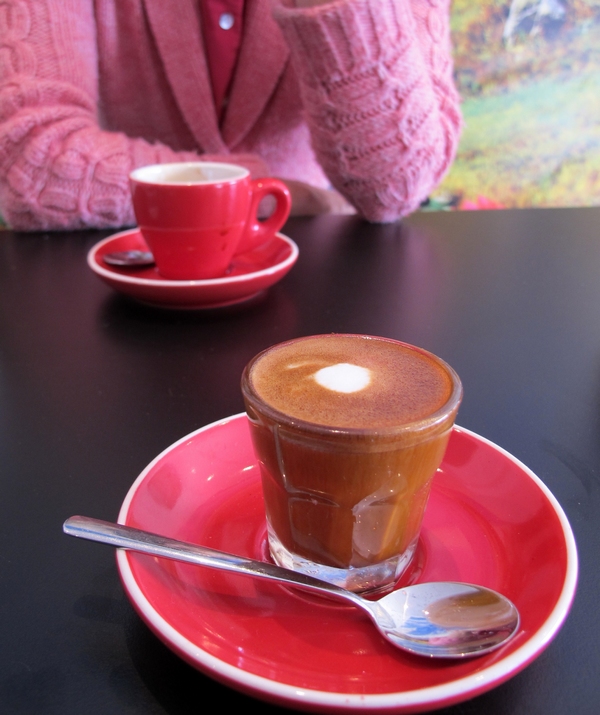 On my second visit, we're sitting mere centimeters from the counter, but my coffee companion informs me we have to order and pay at the counter. I have no problem with this, but it does seem odd in an almost empty cafe where the one staff member I can see is standing there doing…not much of anything. I'm happy with my macch in its teeny glass, even if it is really more of a maccholo. My mate's double espresso is more of a double ristretto, but that seems to be the trend these days we're not surprised.
The Angry Fix
79 Regent Street Chippendale NSW 2008
0416 977 070
Monday – Friday 7:00am – 5:00pm
Saturday 8:00am – 4:00pm
Sunday 8:00am – 3:00pm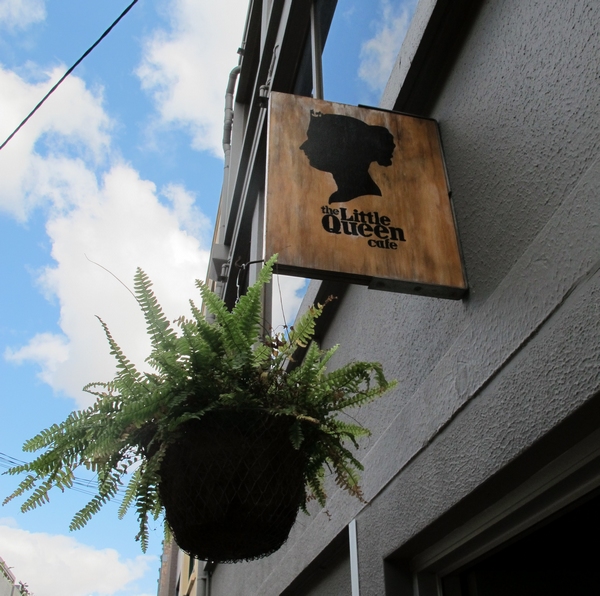 The Little Queen Cafe
Our next stop is a place that's been on my to-drink list for over a year, but I've only ever been walking past it on a weekend, and they don't open then. The Little Queen is an eensy weensy place set a tad below ground on Queen Street, right by Beautiful Burgers. It's a most-things-from-scratch kind of joint, known for posting their blackboard menu on facebook daily as well as their collection of vintage postcards and bric-a-brac.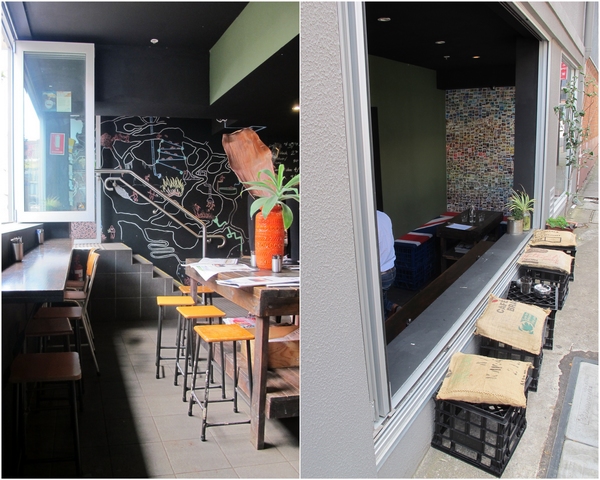 The place is empty (but tiny as it is, still feels full) so we have our pick of tables. We opt for the postcard-adorned booth in the corner. Our coffee arrives in gorgeous gold cups, a bit too delicate to hold the heat well but a sight to behold nonetheless.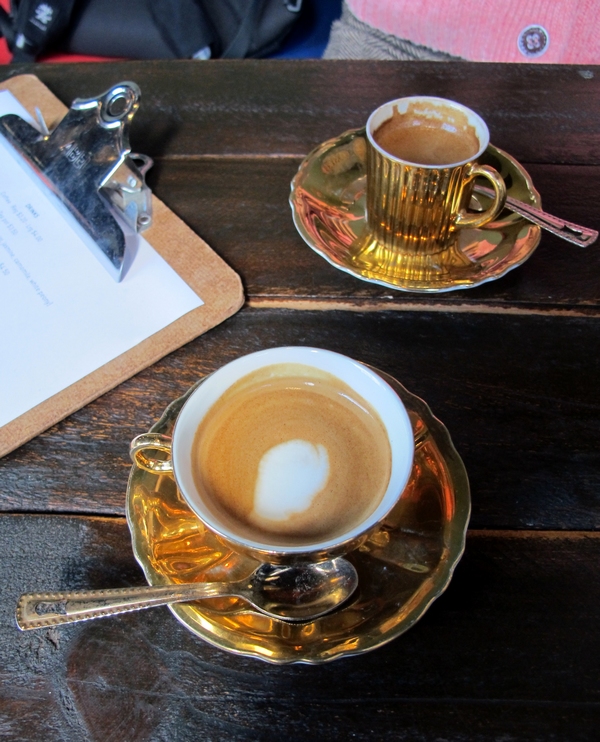 They do a good job with the allpress here and it is easy to see their reputation is well deserved. The staff are friendly, the place is cute and the muffins enticing. I'm only sorry they're not open on weekends.
The Little Queen Cafe
39 Queen Street Chippendale NSW 2008
0420 814 520
Monday – Friday 8:00am – 4:00pm
About me

Sharing easy recipes, hunting down the

best coffee

. Honest accounts, nothing too serious.

Read more...

Popular posts this month…

This work is licensed under a

Creative Commons Attribution-NonCommercial 2.5 Australia License

.

Disclaimer:

All opinions in this blog are mine, an everyday, real-life person. I do not accept payment for reviews and nor do I write sponsored posts. I do not endorse the content of the comments herein.