Sydney food bloggers suffer from the paradox of choice. We are presented with so many food choices, trends and fads that sometimes we become paralysed. We can't decide what to have for dinner. It's a hard life.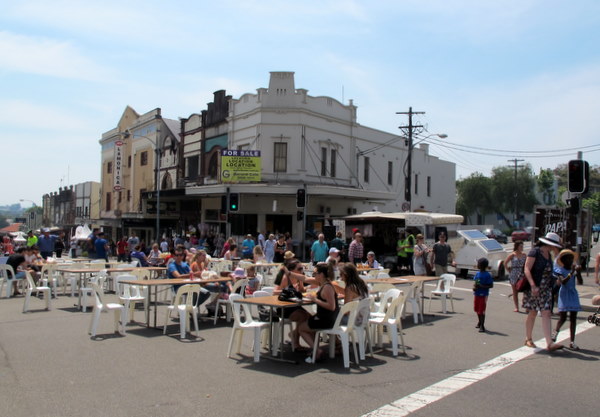 Last weekend, having just finished up The $35 Challenge where there was very little in the way of food choice, I was far from paralysed by this paradox. In fact, I was salivating, and not even necessarily at the variety of food offered up by the harbour city, but at the very concept of choice itself. Now. What to eat first?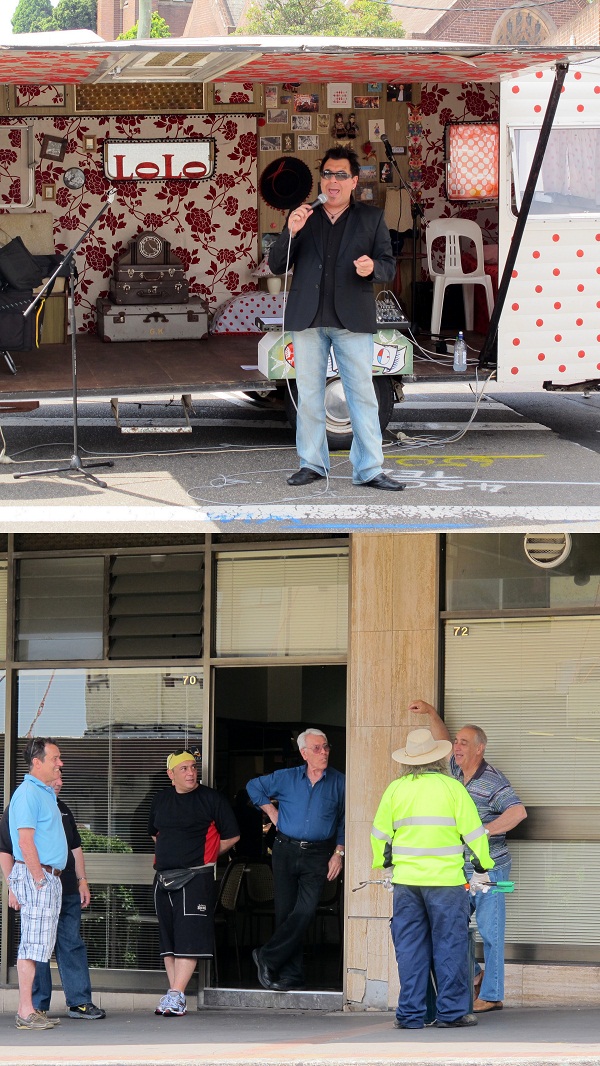 I knew exactly where my first foray back into foodie-ville would take me. A week or so ago, after a tip-off from kindred blogger Inner West Foodie, I got an email from Ashfield council inviting me to its three upcoming festivals: Ashfield's Tastes of Asia (Friday night), Haberfield's Primavera (Saturday) and The Summer Hill Grand Food Bazaar (Sunday), all part of the Crave Sydney Food Festival. Friday I was still on The $35 Challenge and Sunday the inner-west trains weren't running so I knew I'd be at Haberfield come Saturday. It was to be my only Crave Sydney Food Festival event, and one I'm glad I didn't miss. Haberfield isn't a suburb I've spent much time in, so I welcomed the chance for a bit of exploration. And with Ashfield Council promising 100% local stallholders (specifically, no gozlëme) I was hooked.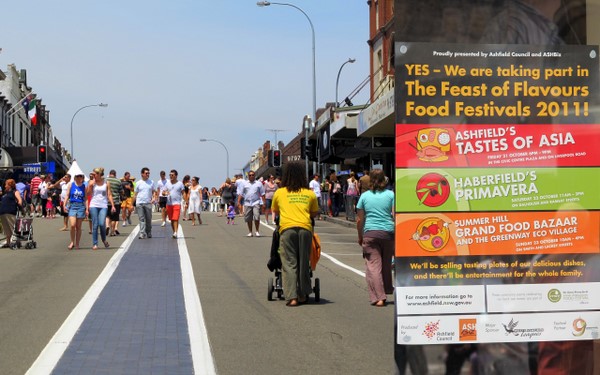 These days, no matter how awesome the food festival, there are always your usual suspects. I've written about it before, but there's your tapas stall, your gozlëme, your poffitjes. You'll find them at the night noodle markets, at the Campsie Food Festival and the Glebe Markets. Ok, there's a reason they're so ubiquitous – they're solid crowd pleasers. But I think that markets and festivals have a brief, a theme, and I think they should stick to that brief. If the theme is noodles, there should be noodles. If the theme is, say, a suburb, the festival should be made up of businesses from that suburb or at least that area. If the theme is a country or region, there should only be stalls serving food from that region.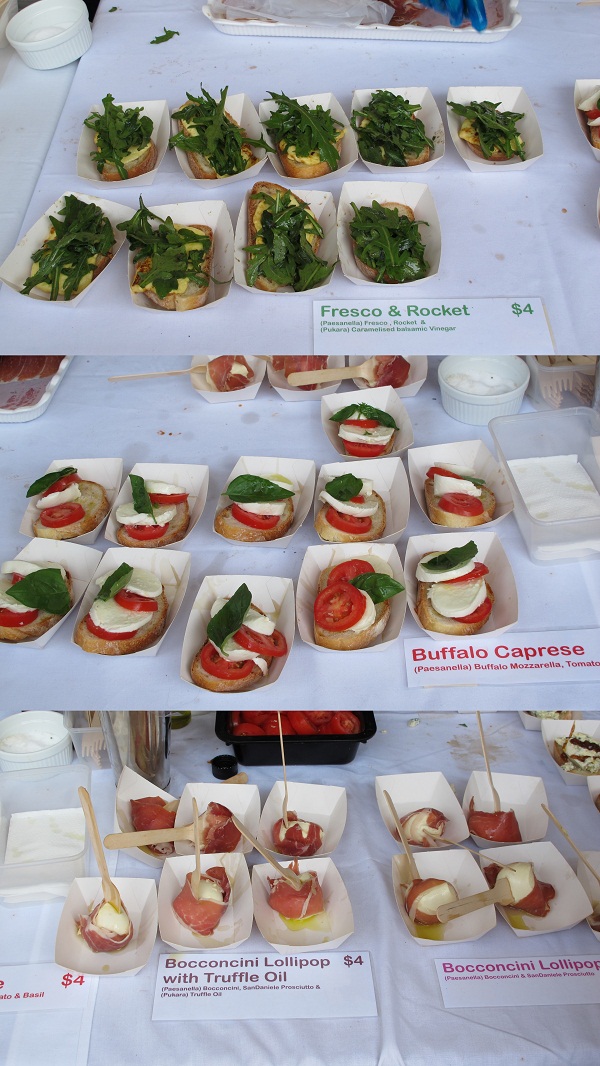 I applaud Ashfield Council for sticking to its own brief. Haberfield's Primavera was made up entirely of businesses from Haberfield – in fact, I think it was made up entirely of businesses from the Ramsay and Dalhousie streets. It is quite a small festival, so maybe that will change as it garners more interest. But I hope not. Aside from The National Multicultural Festival earlier this year, it's one of the only food festivals I've been to that has truly stuck to its own brief.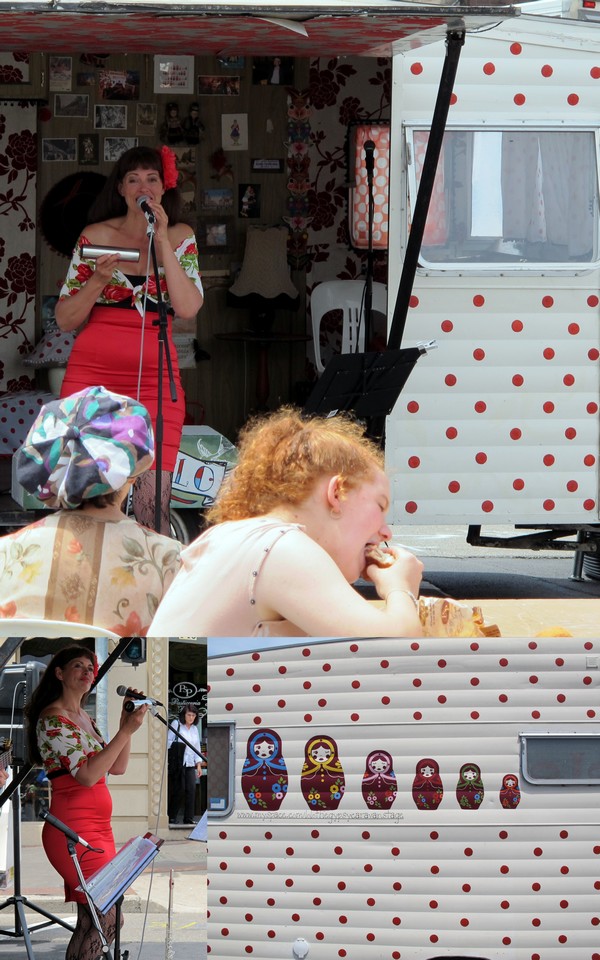 When I arrived, there wasn't much to see. Ramsay and Dalhousie streets were blocked off with a caravan stage in the middle of the crossroads with everything quite spread out. This is because the stalls were located directly in front of businesses, which I thought was a fantastic idea. It meant that the stallholders could cook in their own kitchen if they wanted and punters would easily be able to return for a meal sometime if they liked what they tasted.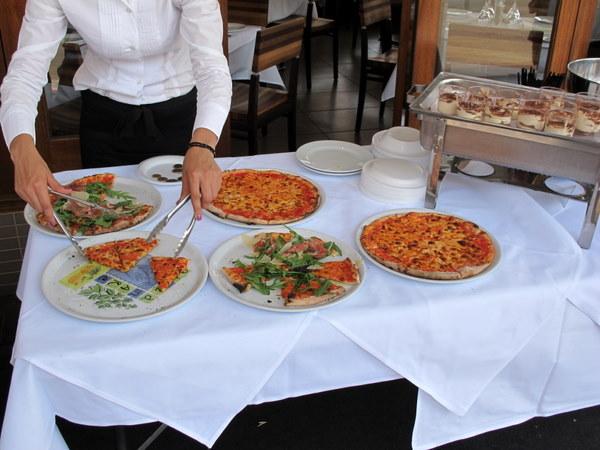 The point of Haberfield's Primavera is to showcase the flavours of the local area. To this end, everything served was in very small portions, with nothing costing more than $5. This made it not only affordable, but (my favourite part) it meant that you could try many different dishes without feeling like a huge, ridiculous whale at the end of it. For the businesses involved, it also ensured the maximum number of customers would get to taste their food. It's impossible to object to eating a small $4 treat sitting in the gutter on a beautiful spring day, let alone several treats. Thus, Haberfield Primavera managed to circumvent the much uttered criticism of 'But I could pay $15 to eat that in a restaurant! Why would I pay that to sit in a park/on the ground/standing in the street?!'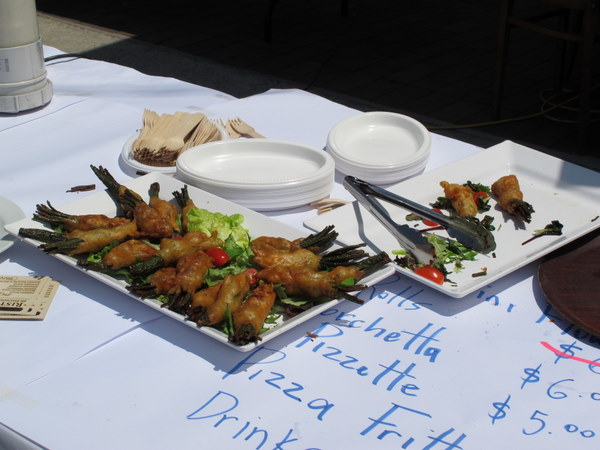 And I ate so many things. I started with fried zucchini flowers stuffed with cheese and anchovy from Haberfield Post. They probably needed to drain and cool a bit, I got way too excited and ate mine fast. I'd brought my (vego) mum along to take photos and she said 'Oh…I think that had and anchovy in it.' Damn, Italy, always with the secret fish. Ah, well.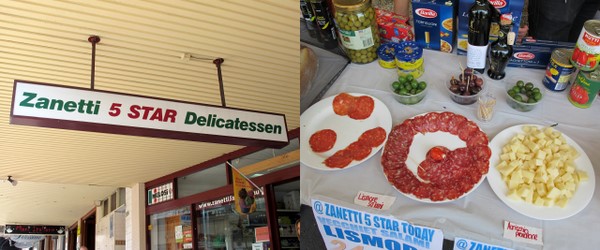 At the Zanetti 5 Star Delicatessen they had free samples of olives, salami and cheese. We tried the Sicilian green olives marinated in lemon and garlic and vowed to go back and buy a tub. Out the front of the iconic Lamonica IGA where an old man played the piano accordian I grabbed a $1.50 espresso which was heavy on the crema but also on the bitterness. Ah, well. You get what you pay for, I guess.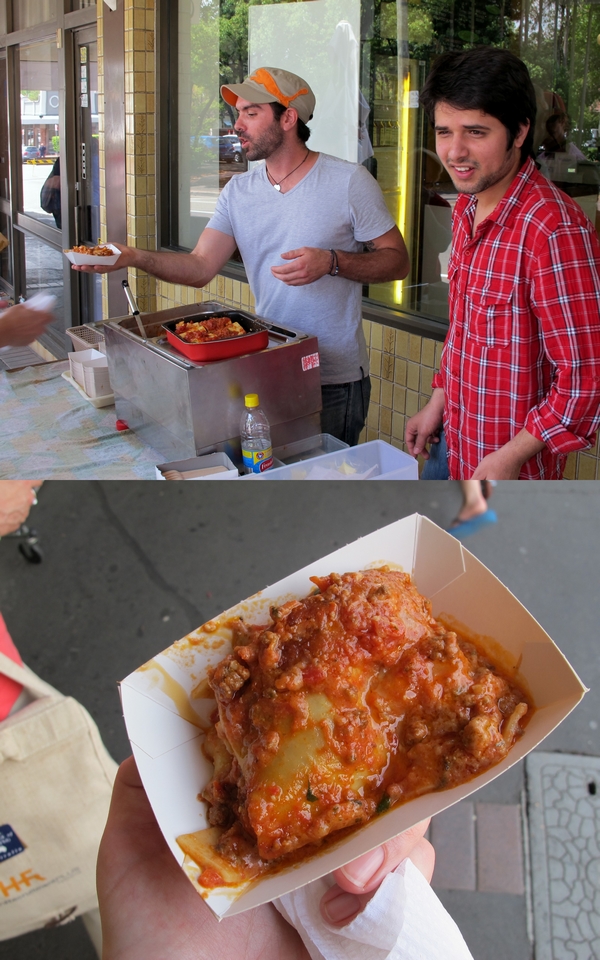 At La Pasteria they were selling two things: meat lasagne and spinach and ricotta cannelloni. I grabbed a lasagne, it was pretty greasy but in a guilty pleasure kind of way, super rich, cheesy and tomato-y. At the same time, the flavours were very simple; just folds of pasta and cheesy Bolognese. Heaven.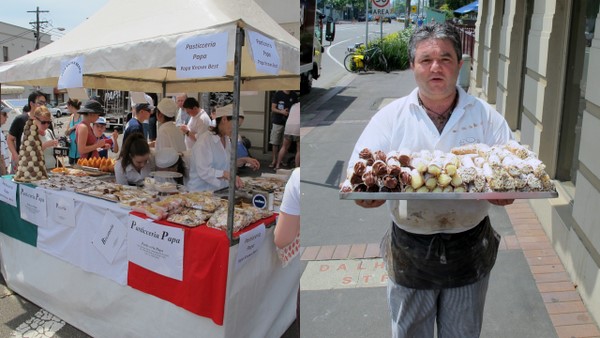 I lost track of how much time we spent staring at and photographing the gorgeous Italian pastries, cakes and savouries at the Pasticceria Papa stall. They had cannoli, their famous ricotta cake (which I vow to try next time), gorgeous looking thin squares of pizza, arancini the size of which I'd never seen before, sandwiches, biscuits and god knows what else. As there were still more salty snacks to try, we decided either to return at the end or, if not, to join the ever-lengthening queue for gelato at an as-yet-unopened gelataria.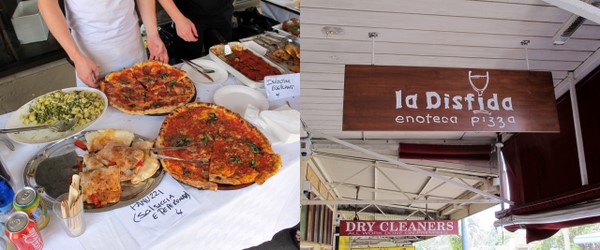 We considered tasting some wine at Haberfield Cellars, but found ourselves drifting straight past to the stall at La Disfida. This stall would definitely win the award for the most varied and interesting looking food, it's was actually really hard to decide what to eat; there was amazing looking orecchiette, eggplant involtini, Panuzzi, arancini with mushroom, rocket and truffle, peperoni pizza, and, something I wish I'd had room for, Italian doughnuts. We opted to share a slice of margherita pizza, cheeseless but to die for. The tomato was rich and balanced, the crust perfectly cooked, with just enough herbs and olive oil to finish it off.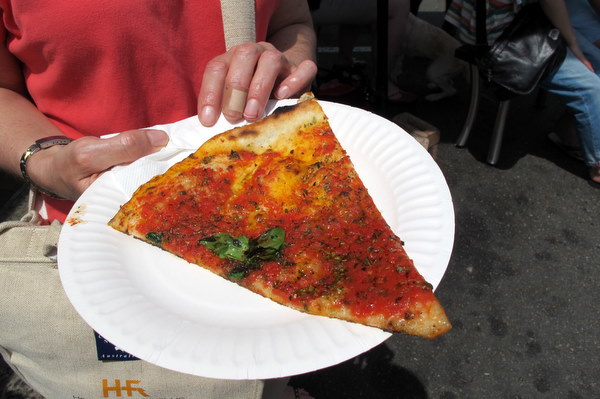 Next up was the Paesanella Cheese Shop which makes its own cheeses. They were selling three kinds of bruscheta; fresco and rocket, buffalo caprese, and a blue cheese and marscapone mix. They were also selling bocconcini 'lollipops' wrapped in prosciutto. The stall was such a simple idea but it was so effective in showing off Paesanella's range of freshly-made cheeses. We grabbed a fresco and a caprese to share, the fresco was pan fried and salty with fresh crusty bread, offset by the peppery rocket and a dash of vinegar, while the buffalo mozzarella had a fresh, clean but still salty flavour. The tomatoes used were perfectly ripe.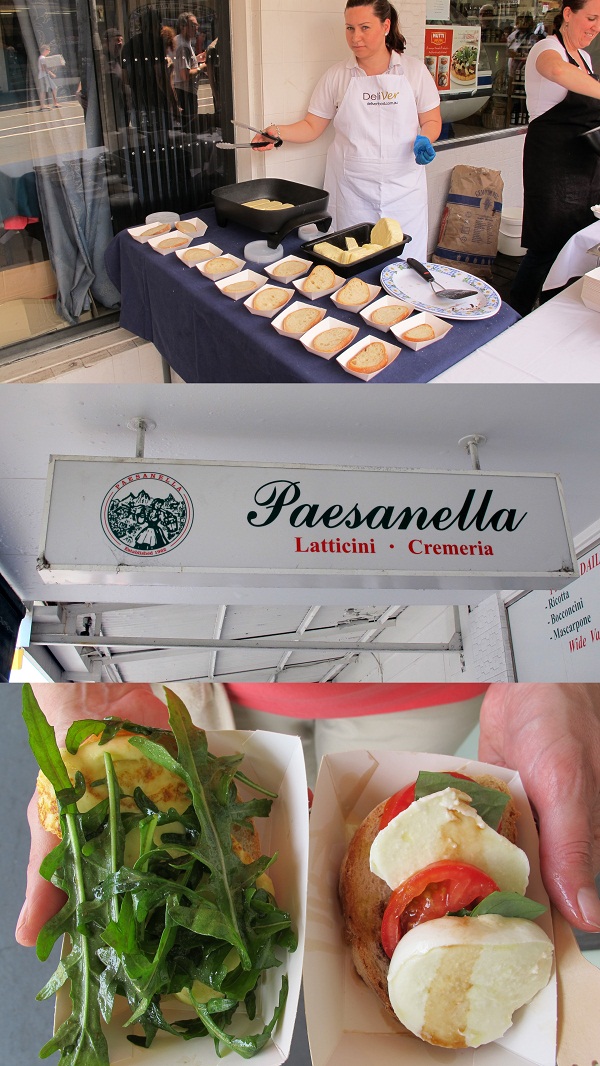 We finished things off with a ricotta canolli from the aforementioned Pasticceria Papa. It had an amazing crunch to it was disappointingly bland in flavour. Sicilian olives in hand we headed for home, satisfyingly filled and pretty impressed at what Haberfield Primavera had to offer. I will definitely return next year.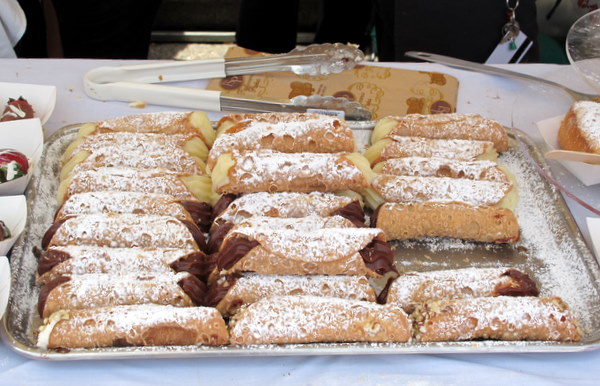 When it comes to food, do you suffer from the paradox of choice?
'We need to go out and have coffee,' Senhor R said sternly one morning. I sighed. 'Fine!' I said 'Let's go!". Oh wait, that's right. I like coffee. But when someone tells me to do something, I straight away want to do the opposite.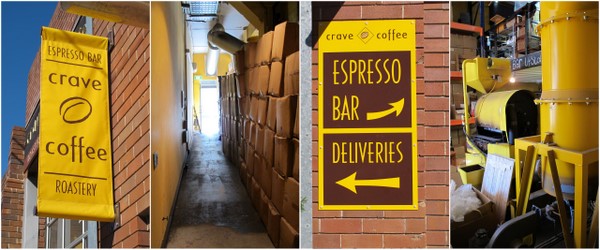 Not to mention that these last couple of weekends have been like mini coffee tours as we try to drink and photograph as many coffees as possible, preferably on a Saturday. This is because I started falling behind. I got a bit busy, I got a bit lazy. I got a job. I graduated. It was my birthday. These are all good things, but let's face it, they don't leave much time for coffee dates. I really need to get my priorities straight.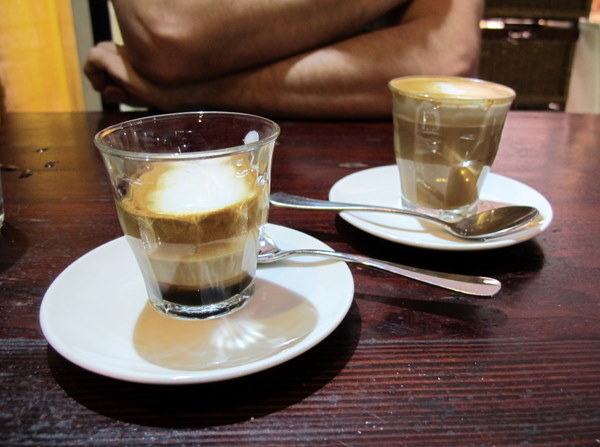 When Senhor R and I sit down in a cafe, every single time without fail, they give me his coffee and they give him mine. This happens whether the same person who took our order brings us the coffees or not, whether I order or Senhor R orders or whether we both order. Apparently a piccolo latte is a ladies' drink, while a macchiato is super-machismo. Ah, well. I don't mind wearing the metaphorical pants for a while.
Crave espresso is a place I'd been meaning to revisit for a while, and Senhor R kept suggesting it. So naturally, like any good girlfriend, I put it at the bottom of my list. After all, it's not far from home and we could go there anytime. And I do wear the pants.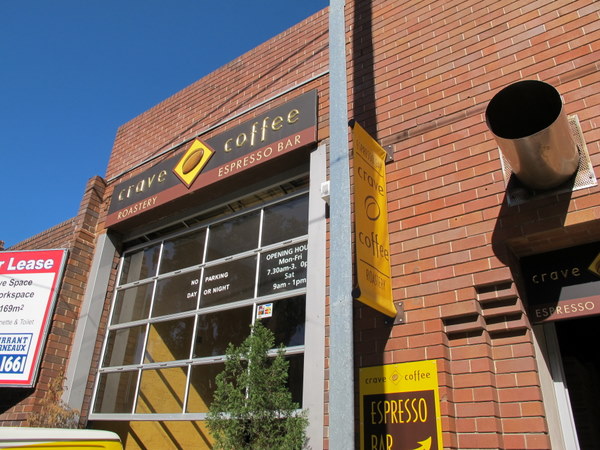 The cafe part of Crave espresso is located above their warehouse in Alexandria. It's one of those you've-gotta-know-where-to-look places but they do pretty good trade from the surrounding apartments. When we arrived on a Saturday morning they were relatively full, but it soon cleared out. We ordered our usuals, swapped coffees and sipped. Impressive flavour, more so than I remembered. In fact, we liked it so much that Senhor R got them to grind us a 250g bag of whatever we were drinking to take away. I know, I know. I should've been taking notes. But frankly I was too caffeinated to care what I was drinking. I was too busy enjoying it.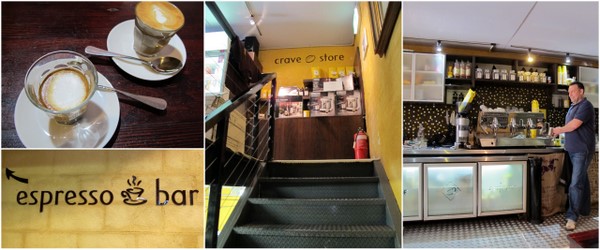 I recommend checking out crave espresso if you get a chance. The owners are friendly, the coffee is solid and you can take some home if you're that way inclined. And don't do what I do when someone tells me to do something. Don't do the opposite.



Crave Espresso Bar
Unit 72, 20-28 Maddox St
Alexandria 2015
(02) 9516 1217
www.cravecoffee.com.au
About me

Sharing easy recipes, hunting down the

best coffee

. Honest accounts, nothing too serious.

Read more...

Popular posts this month…

This work is licensed under a

Creative Commons Attribution-NonCommercial 2.5 Australia License

.

Disclaimer:

All opinions in this blog are mine, an everyday, real-life person. I do not accept payment for reviews and nor do I write sponsored posts. I do not endorse the content of the comments herein.