This classy-looking dessert is anything but. Serve with a glass of sweet sherry for the perfect lazy bogan treat.
White Trash Tiramisu (AKA Scallywag Icebox Cake) – Serves 6-8
What you need:
1 packet chocolate 'scallywag' biscuits or other plain chocolate biscuits (250g)
600 ml pure cream
2-3 Tablespoons cheap rum
¼ cup coke
3 Tbsp icing sugar mixture
3 Tbsp cocoa powder
For decorating – 2 strawberries (optional)
What you do:
Whip ⅔ of the cream to firm peaks. Mix together the rum and coke in a small bowl.
On a rectangular platter, lay out 6 biscuits in three rows of two.
Brush well with rum and coke, spread with a layer of cream. Repeat until all biscuits are used – I had 5 layers of bikkies.
Coat the entire thing with a thin layer of the remaining cream (on all sides) cover loosely with cling wrap and refrigerate at least overnight.
A couple of hours before serving, whip the remaining cream with cocoa and icing sugar to soft peaks. Spread with a knife or metal spatula, dipping in hot water for the final smooth over. If desired, mix some cocoa and hot water and smooth over a couple of stripes, blending into the cream. Top with strawberries, chill and serve.
And don't forget I'm speaking at Kings Cross and Custom's House Libraries on as part of their Lunches with Bite series. Register now!
As the weather cools down, the rain pounds on the roof and my kitchen floods at regular intervals, it feels like the time to indulge in a slice of something sweet with a cup of something hot, the eternal combination of comfort seekers everywhere.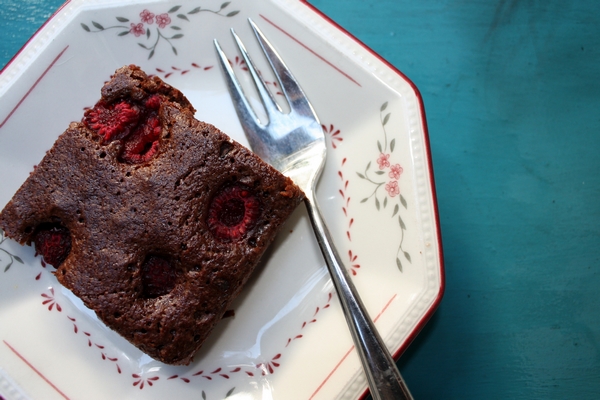 These brownies are ideal for weathering the storm – quick, easy and you don't even have to have chocolate on hand to make them. They'd be perfect with a cup of tea if tea interested me in the least, but I prefer them with a coffee or a big glass of cold milk. That way I can either be an incredibly grown up or a 6 year old child, whichever seems easiest at the time.
Cocoa Raspberry Brownies (Adapted from The Stone Soup)
150g butter
1¼ cups 255g caster sugar
¾ cup (80g) cocoa powder
1 teaspoon vanilla extract
2 eggs
½ cup (75g) plain flour
1 cup frozen raspberries or morello cherries
Preheat oven to 150°C. Line a slice tin with two sheets of baking paper so that it overlaps the sides.
Melt butter in a medium saucepan. When just melted, remove from the heat and stir in the sugar and cocoa powder, ensuring there are no lumps.
Add the vanilla extract and eggs and mix well. Gently stir in the flour until just combined, being careful not to over mix. Pour the mixture into the lines pan. Dot the brownies with frozen raspberries.
Bake for 45 minutes or until the top feels just set. Cool in the tin, cut and then serve.
What's your favourite wet weather recipe?
About me

On the hunt for delicious, cheap and easy meals to whip up in my tiny kitchen. Also searching for the

best coffee

wherever I go. Honest accounts, nothing too serious.

Read more...

Popular posts this month…

This work is licensed under a

Creative Commons Attribution-NonCommercial 2.5 Australia License

.

Disclaimer:

All opinions in this blog are mine, an everyday, real-life person. I do not accept payment for reviews and nor do I write sponsored posts. I do not endorse the content of the comments herein. From time to time I give away products and experiences to my readers, all competitions have completely arbitrary rules, all decisions are final and all prizes awarded as I see fit.