Café Review – York Lane, Sydney CBD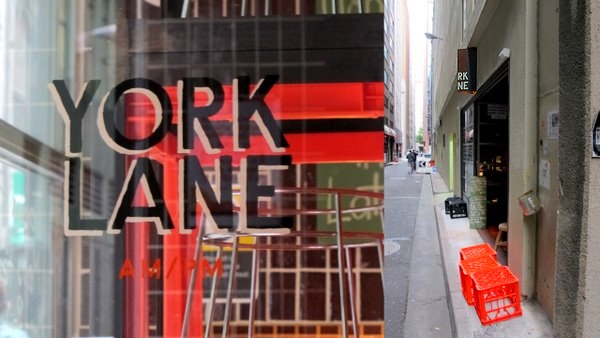 Coffee kindred spirit John over at he needs food sent me this recommendation a while back and it's taken me this long to get to it, but this week I finally made it to York Lane, a new-ish laneway café/bar located, funnily enough, on York Lane. It's right by Wynyard station (convenient) and was one of the recipients of the City of Sydney grants to spruce up our dingy laneways. It's definitely done that.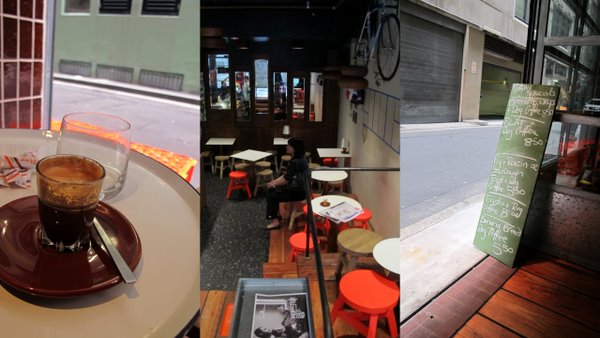 Senhor R and I arrived to find York Lane littered with just the right amount of milk crates. It's a cosy place with recycled floorboards, pops of colour in the form of red stools and milk crate shelving, menus scrawled on walls and windows with whiteboard pen and upcycled everything else. It definitely had the look, but there's more to a good café than thoughtful, trendy aesthetics. And I don't just mean great food or coffee.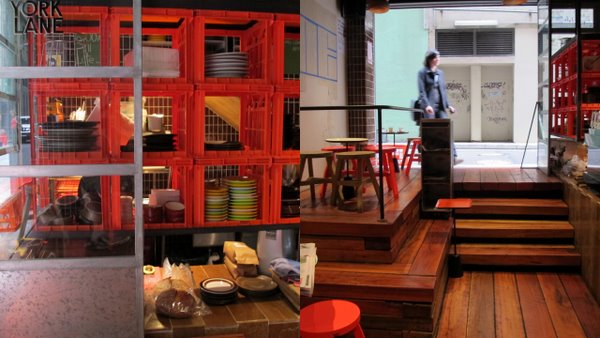 Let me digress. Lately I've been thinking about what we mean by hospitality and, more to the point, what we mean by good hospitality. The hospitality industry is a strange space where you sell goods like food and drinks, but also more intangible things like experiences, ambiance and making people feel welcome. This is tricky territory to navigate; you're selling something that's difficult to quantify and usually comes for free, thus making transactions highly emotionally charged. I think this is why when we have negative experiences in bars or cafés, we take it so personally. On the other hand, getting it right can win you glowing praise and loyal customers for years to come.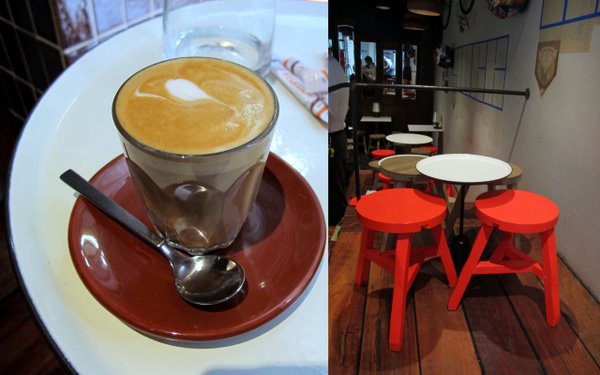 It seems like York Lane gets it right, being on trend, yet friendly. The two guys running the place were chatty but genuine. They got a fair bit of custom, mostly takeaways, and most of them seemed to be regular customers, which is a good sign. We felt comfortable and welcome, not distracted or intimidated by the decor, music or excessive sprinkling of micro herbs. No one used the phrase 'it's a Melbourne thing'. Not once did someone sneer at me or feel the need to wax their moustache. The guys behind the counter even exchanged a bit of banter with us, and I for one am not much for banter with strangers.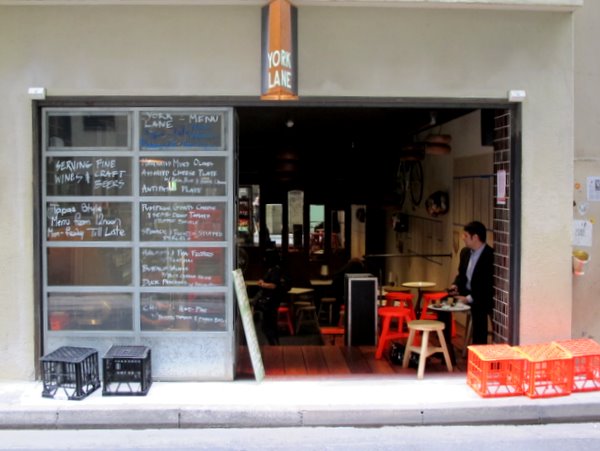 $3.50 for a teensy coffee is a tad steep in my books, but I'm a cheapskate through and through. The coffee was good- mild, dark and fullbodied without a lingering aftertaste…a one dimensional but rich flavour. I would've like a tad less milk in my macch. Is this a trend now? picchiatos? Then again I didn't say so and we ordered a second round. I will be back for sure to try their 'tapas style' offerings and have a few drinks.
York Lane
Sydney, NSW 2000
02 9299 1676
http://www.yorklane.com/
Monday to Wednesday 6:00am – 10:00pm
Thursday to Friday 6:00am – midnight
Saturday 6:00pm – midnight
Closed Sundays
About me

Sharing easy recipes, hunting down the

best coffee

. Honest accounts, nothing too serious.

Read more...

Popular posts this month…

This work is licensed under a

Creative Commons Attribution-NonCommercial 2.5 Australia License

.

Disclaimer:

All opinions in this blog are mine, an everyday, real-life person. I do not accept payment for reviews and nor do I write sponsored posts. I do not endorse the content of the comments herein.