Although there's a lot to be said for ratios and technique, especially when it comes to baking, sometimes, you look at a recipe, and you just can't help yourself- you want to adapt it before you've even made it once.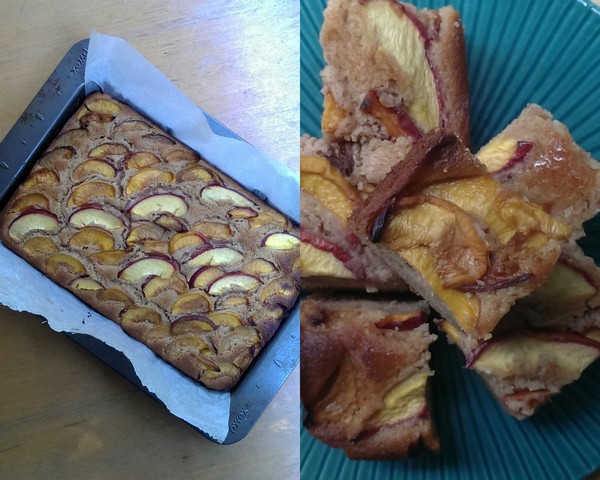 That was the case with this cake; I found a recipe for Peach & Yogurt slice and I thought, fuck it, I know I'm right about this. I just knew I wanted more cinnamon. I didn't feel like creaming butter and sugar. Greek yogurt comes in 200g or 500g or 1 kilo tubs, so I was gonna make it with 200g yogurt, not 250g. I wanted more vanilla, and I thought it would still be too plain, so I sloshed in some botrytis. I don't like to cook with baking powder if I have SR flour on hand, so I used that instead.
It's always a good idea to cook with what you have on hand, and what I've had on hand lately is peaches. We shop at Aldi a lot of the time and for some things, you have to buy a kilo or more; stone fruit is one of these things. For some reason, fruit in our kitchen is invisible to my partner, so I've been eating a lot of peaches lately, thus this cake was born.
If you don't have peaches, nectarines or plums, you could easily use pears or apples (maybe cook the apples a little first) or berries. Frozen fruit could also work well here, or tinned fruit at a pinch, although you would get a much gooyer fruit top. Whatever you top is with, this cake is moist and light from the butter/yogurt/SR flour combo, and has just enough cinnamon and sweetness to make it anything but dull eating. Serve with a cup of tea if that's what floats your boat.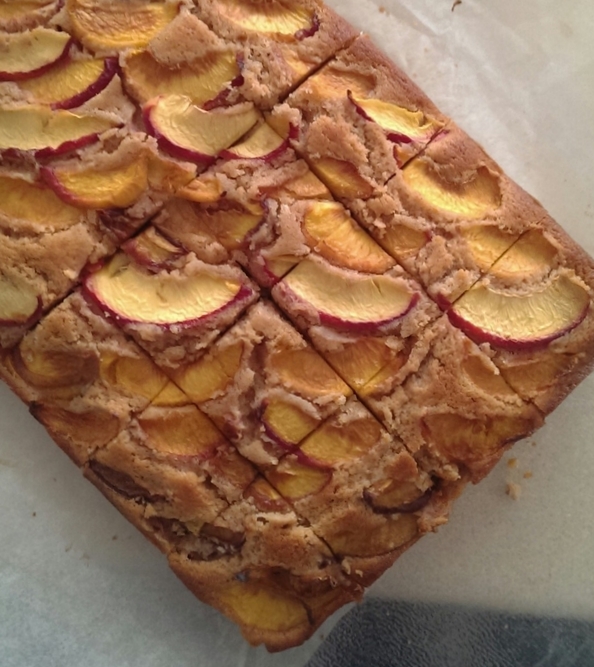 Peach and Cinnamon Cake
Adapted from this recipe
3 eggs, at room temperature
1 cup caster sugar
2 Tbsp vanilla extract
2 Tbsp botrytis or other sweet white wine
200g 'normal' (salted) butter, melted and then left to cool slightly
1 ½ cups self-raising flour
1 Tbsp ground cinnamon
200ml full fat greek yoghurt
3 (about 250g) peaches or other stone fruit, halved, stones removed, thinly sliced
Grease a 20 x 30cm slice pan and line the base and 2 long sides with baking paper, allowing the sides to overhang a little. Preheat oven to 180°C.
Whisk the eggs until pale and quite frothy. Continue to whisk, slowly adding the sugar bit by bit. Whisk until all sugar is properly incorporated; more or less dissolved. Add in extract and wine, mix through. Do with the melted butter as with the sugar; continue to whisk the egg mixture, slowly pouring in the cooled butter in a thin stream.
Sift in the flour and cinnamon and fold through with a spatula. Next fold through the yogurt, mixing until completely incorporated.
Spread the mix into the lined tin, tapping on the bench toremove any air bubbles. Press the sliced fruit into the top of the mixture. Bake for 45-50 minutes, or until golden and almost firm. Set aside the cool for a few minutes, then pull it out of the tin (using the overhanging baking paper) and let cool on a wire rack. Slice into squares and serve.
About me

Sharing easy recipes, hunting down the

best coffee

. Honest accounts, nothing too serious.

Read more...

Popular posts this month…

This work is licensed under a

Creative Commons Attribution-NonCommercial 2.5 Australia License

.

Disclaimer:

All opinions in this blog are mine, an everyday, real-life person. I do not accept payment for reviews and nor do I write sponsored posts. I do not endorse the content of the comments herein.