Yesterday Lorraine over at Not Quite Nigella described the special treat of being given 20 cents to buy something at the school fete and tossing up between honey joys, pikelets, toffees and other assorted goodies, eventually choosing whichever was the biggest. This reminded me of another nostalgic gastronomic occasion – kids' parties, where the unfettered appetites of small children are allowed to run wild.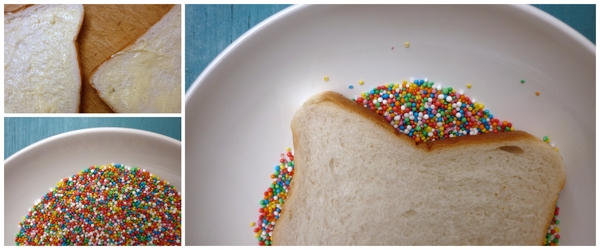 When I was a child, my parents would let me and my brothers have a party with our friends every second year, and we'd always get to choose a cake out of the Australian Women's Weekly Kids' Birthday Cake Cookbook, which, incidentally is one of The Age's most influential Australian Cookbooks. The cake, be it a train, a Disney character, a doll or a swimming pool filled with green jelly (this was way back in the olden days before blue jelly was invented) would take centre stage amongst the mini frankfurts, party pies, sausage rolls, butterfly cakes and fairy bread on the table. This was one of my favourites, I think I had it for my 5th birthday.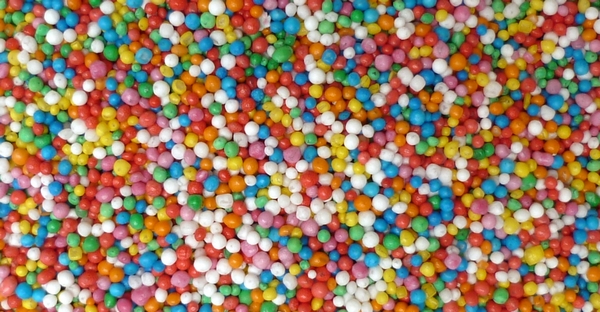 Kids' parties were never the place to worry about nutrition. Many a picture of me graces the family albums wearing a crooked party hat and an insane sugar-fuelled grin, my mouth smeared with tomato sauce and a trail of hundreds and thousands down the front of my party dress. And I wouldn't have it any other way.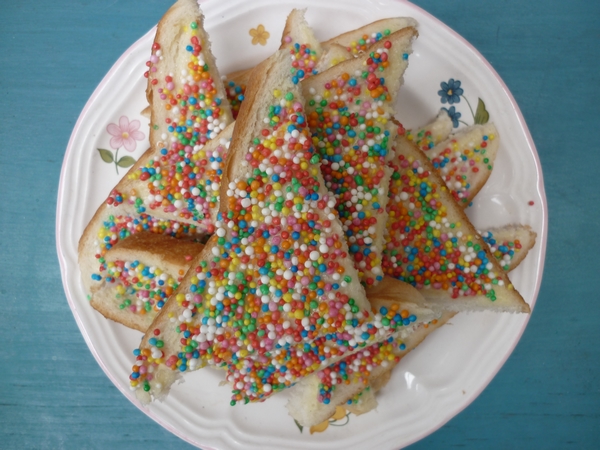 Fairy bread is another of the few Australian/New Zealand recipes, along with Pavlova and Lamingtons that are entirely unique to their region. It's something you just take for granted and never give a second thought until someone presents a plate of it to you, and then it takes you back to that place of sugar-fuelled madness not exclusively reserved for children. I have wanted to post a recipe for fairy bread for a while but it's so easy to make it hardly seemed worth recording. Then I realised that there are probably thousands of recipes that have been forever lost because people thought they were 'too obvious' or 'just common sense.' To be fair, fairy bread has appeared all over the web, even on U.S. superblog The Kitchn, an arm of Apartment therapy so it's in no danger of being lost any time soon. But I still want to post it myself, because I love it.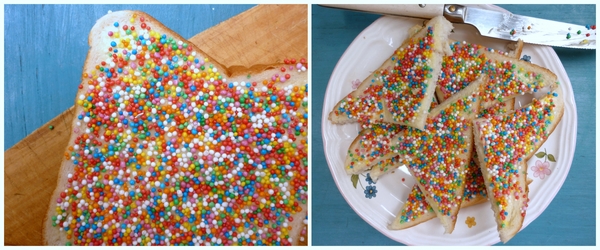 The key to fairy bread is soft, mass produced bread- no other kind will do. Also, make sure you use hundreds and thousands, the round, crunchy rainbow sprinkles rather than the flat ones. Always be sure to spread the butter all the way to the crust. And finally, rather than sprinkling the hundreds and thousands over the thinly-buttered bread, pour them onto a plate and dip the bread in, allowing the sprinkles to stick.
Fairy bread
1 loaf of fresh, soft, white bread
Softened butter (or margarine if you must)
1 large packet of hundreds and thousands
Pour the hundreds and thousands into a plate or flat bowl. Spread as many slices of bread as you like with a layer of butter.
Dunk the bread into the hundreds and thousands, butter side down. Shake off any excess. Cut the bread into four triangles.
Serve to whoever is closest. It'll be demolished in 5 minutes flat.
What's your favourite childhood party food?
About me

Sharing easy recipes, hunting down the

best coffee

. Honest accounts, nothing too serious.

Read more...

Popular posts this month…

This work is licensed under a

Creative Commons Attribution-NonCommercial 2.5 Australia License

.

Disclaimer:

All opinions in this blog are mine, an everyday, real-life person. I do not accept payment for reviews and nor do I write sponsored posts. I do not endorse the content of the comments herein.