Like many of you who are in the midst of summer right now, I haven't been cooking much of late. However, I have been getting back into smoothies come breakky time, so I thought I'd share some tips on how to take a glass of blended fruit and milk to something close to perfection.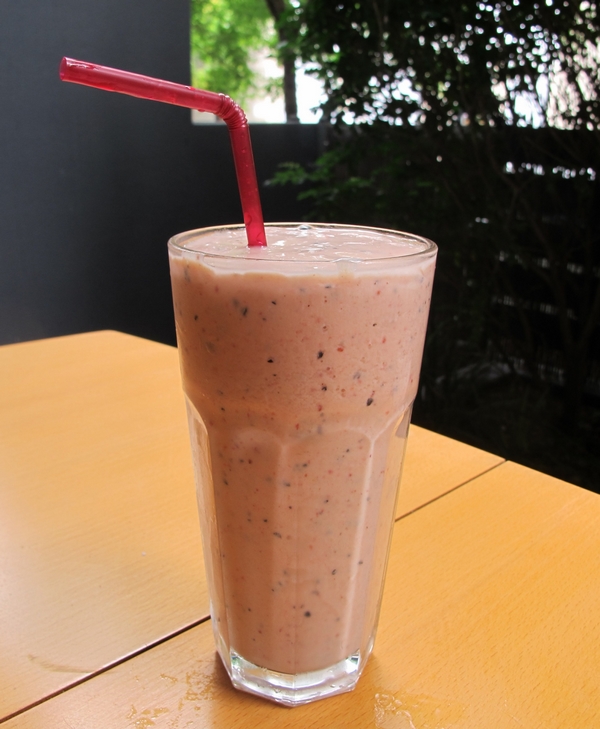 1. Make your smoothie mostly fruit
There are two reasons for this. Firstly, as someone who isn't a big fan of fruit unless somebody else has cut it up for me and garnished it with lashings of whipped cream, this is a sure fire way to get a big serve of multiple fruits in one go, without losing out on fibre as you do when juicing. Secondly, because milk isn't the main ingredient, those who are lactose sensitive/intolerant or like to avoid dairy won't be missing out – you can sub in juice, soy milk, soy yogurt, almond or rice milk, even coconut milk, as long as you chill it first.
2. Fill the glass, not the beaker/blender/food processor
In the past, I was forever getting the quantities (or the ratio of ingredients) wrong when it came to smoothies. I'd whack a bunch of ingredients in the beaker for my stick blender, blend away like mad, topple the lot into my glass and find I'd made too much/not enough/it was too watery. These days, I just fill as many glasses with fruit as needed, top with yogurt or ice cream, and fill to the brim with milk. Pour the glass/es into the blender and viola! The perfect size.
3. Freeze your fruit
This will give you a thickshake or melted ice cream consistency, making the smoothie feel treat-like rather than medicinal. It also means you can save your fruit before it goes strange by chopping, portioning and freezing it ready for smoothies. Your smoothie will be cold, delicious, and so thick you could eat it with a spoon. In fact, if you pop it in the freezer for half an hour you could even serve it as dessert.
4. Use 4 fruits or less
In the smoothie pictured, I have fresh mango, half a frozen banana, frozen strawberry pieces and the pulp of two passionfruit. I've noticed keeping things to 4 fruits or less gives a cleaner taste. Also, one of the strongest flavours in the smoothie is banana, which makes sense because bananas are one of the sweetest fruits you can buy, so I never put in more than half a banana unless I want that to be the only flavour. The worst smoothies I've had don't taste like anything in particular because there are so many kinds of fruit in there that no one flavour stands out. So whatever your fave fruit is, go heavy on that.
5. Use a straw
Ok, so this is just a personal preference of mine, but doesn't life just feel that much more luxurious when you're sipping your drink through a straw? I'm not saying you'll feel like you're on a northern Brazillian beach or anything, but a straw can't hurt. Hell, why not chuck in a cocktail umbrella for good measure.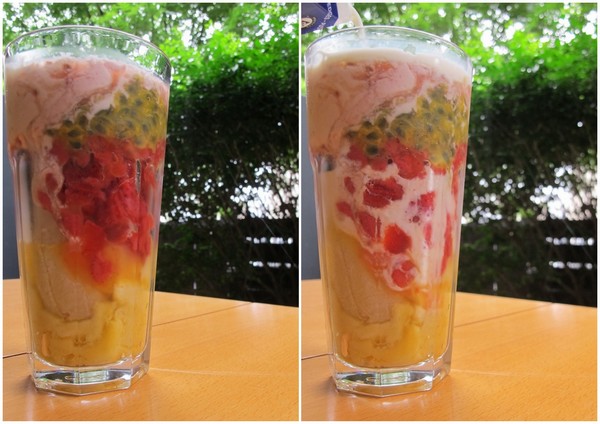 What's your fave smoothie recipe?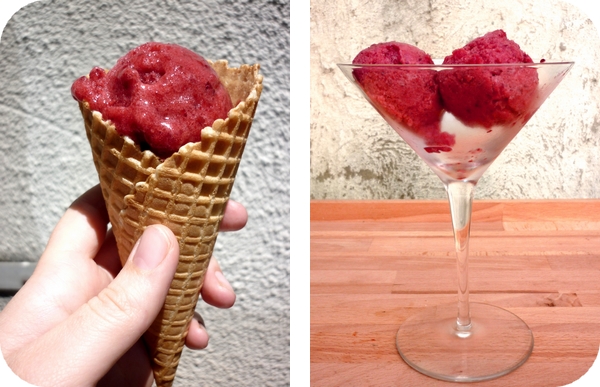 If you've paid attention thus far, you'll know I eschew any food prep that's complex or time consuming, unless I know it inside out. I'm also a massive declutterer so I'm not into purchasing appliances unless they're absolutely necessary (all part and parcel of having a tiny kitchen). In fact, the only thing that made me happier than my aunt giving me her old blender a few years back was a few months back when it broke. 'Huzzah!' I thought, 'Now I can get rid of something!'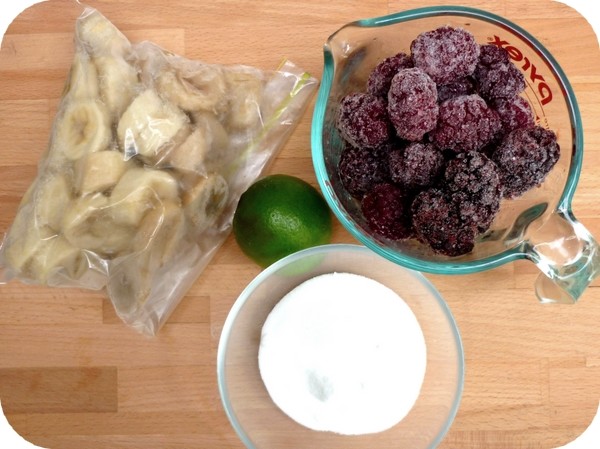 The problem with this philosophy is that sometimes you miss out on opportunities. From listening to my friend Gina talk, making ice cream is a complex process. It involves making a custard and having an ice cream maker taking up space in your freezer. Just thinking about doing either of these things makes me sleepy. As a result, I've never had a go at homemade ice cream, sorbet or gelato other than a few times with my Grandfather when I was a teen. Or a tween. Some marketing-type-word.
So when I went round to Gina's to watch her make ice cream I was surprised that it could be so easy. I figured since she was doing all the work, I should supply the ingredients, so we chose a blackberry banana sorbet as I had a kilo of what I thought were blackberries in my freezer at home as well as a banana I'd never gotten round to using. As soon as Ms. G saw them she said 'They're not blackberries.' So we made boysenberry banana sorbet instead.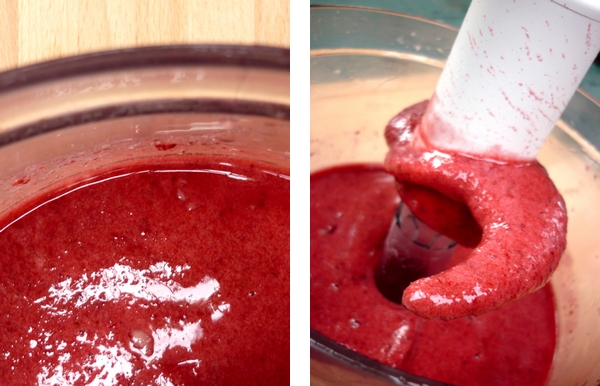 Since the majority of the ingredients were frozen it only took about 20 minutes in the ice cream machine and then maybe an hour of freezing. Gina picked her ice cream maker up on ebay for twenty bucks but she says that with this recipe, you don't even need one. Having blended everything together in a food processor, you would simply transfer it into another container and leave it in the freezer, stirring with a whisk every half hour until set. You could hypothetically do this with any recipe but it works best if the ingredients are already frozen. In fact, once the mix was blended we wanted to eat it with a spoon then and there!
Banana Boysenberry Sorbet (from 'The Perfect Scoop' by David Lebovitz)
1 medium ripe banana (mine was chopped and then frozen, but it doesn't matter).
2 cups of frozen boysenberries (you could really use any berries).
½ Cup caster sugar
1 Tablespoon fresh lime juice
Place all ingredients in the food processor and blend until most of the skins are liquidised. You can't really strain them out because you won't be left with much.
Chill in the ice cream maker as per its instructions or if you don't have one, place immediately in the freezer, whisking every half hour until set. Consume ASAP.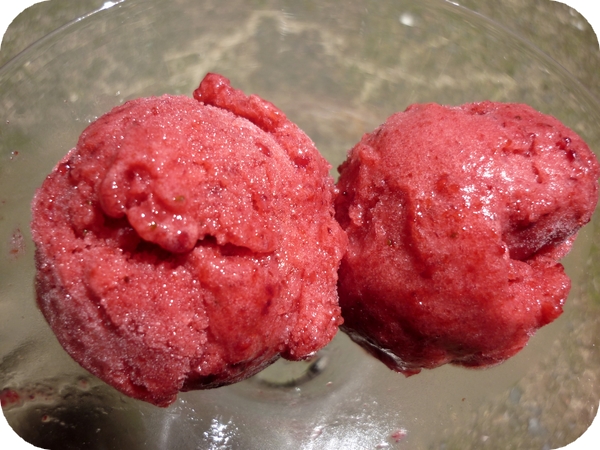 What's your favourite ice cream flavour?
About me

Sharing easy recipes, hunting down the

best coffee

. Honest accounts, nothing too serious.

Read more...

Popular posts this month…

This work is licensed under a

Creative Commons Attribution-NonCommercial 2.5 Australia License

.

Disclaimer:

All opinions in this blog are mine, an everyday, real-life person. I do not accept payment for reviews and nor do I write sponsored posts. I do not endorse the content of the comments herein.